15 Things to do on a Rainy Day in Pittsburgh
What to do when the forecast calls for rain in Pittsburgh? The many parks, zoo, bike trails, overlooks, and walkable neighborhoods are best explored during the warmer drier months. Luckily, there are many indoor attractions including top notch museums and theaters. Add in malls, movie theaters, bowling alleys, arcades, and there is plenty of fun to be had. Don't let Pittsburgh's unpredictable weather ruin your vacation plans. Below are 15 fun indoor attractions to keep you busy on a not-so-rare rainy day in the 'Burgh.
The Carnegie Museum of Natural History
This amazing museum should be tops on your list, especially on a rainy afternoon when you need to limit most of your activities to the indoors. This impressive museum houses an incredible dinosaur exhibit, a dazzling hall of gem and minerals, and over 2 dozen dioramas depicting wildlife of North America and Africa. Most tourists come to view the extensive dinosaur fossil collection, of which over 75% are real. Also the museum is home to many holotypes – examples used to identify species – including the Tyrannosaurus rex and Diplodocus carnegii. According to the museum, Andrew Carnegie purchased 130,000 unique and rare fossils from Western Europe in 1903.
The Carnegie Museum of Art
This impressive art museum was the first US museum dedicated to modern art. Today, the collection is quite large and you can spend hours exploring more than 34,000 incredible works of art. From beautiful impressionist paintings by Claude Monet, to contemporary art from around the world, there is something here for everyone. Most impressive is the Hall of Architecture featuring over 140 plaster casts of notable architectural wonders. Because this museum is housed in the same building as the Natural History Museum, you can explore both for one price. Thus, exploring both museums is definitely the best value on a rainy day.
Note: Admission to both Carnegie Museums is free the first full weekend of each month to Bank of America cardmembers as part of their fabulous Museums on US Program.
The Warhol Museum
This 7 floor museum is dedicated to the life and art of pop art icon Andy Warhol, one of Pittsburgh's most famous natives. This place is a must-see for fans of Warhol as it is very detailed and includes an expansive exhibit detailing his early life and works. Even if you are not a major Warhol fan, there are some really colorful and interesting pieces of artwork to explore here. Start your journey on the 7th floor for a chronological exploration of Warhol's life, from his early years in Pittsburgh to his high profile career in NYC. On an interesting note, this museum is the largest dedicated to a single artist and also home to the largest collection of Warhol art and archives worldwide. Check the website for the current special exhibition.
Note: Admission to the Warhol is also free to Bank of America cardholders the first full weekend of each month.
Gateway Clipper cruise
This top rated cruise travels a scenic course along the 3 rivers (the Ohio, Allegheny, and Monghala meet at Point State Park) in downtown Pittsburgh. Next to the overlooks and famous Duquesne Incline, taking a cruise is one of the best ways to enjoy the beautiful urban scenery and many mesmerizing bridges. While the boat offers outdoor seating for the warmer seasons, you can still enjoy the climate controlled indoor deck on cold and rainy days. In fact, smoking is allowed outdoors so it's probably better to sit inside anyways. Check the Clipper website for upcoming events and specials – they offer a number of fun holiday and dinner cruises.
Bicycle Heaven
For fans of the quirky and unusual, you will want to tour the world's largest bicycle museum and shop. This place is cool, funky, and jam packed with floor-to-ceiling bicycles, lots of rare and funky retro bikes, a neon sprocket room, and endless antiques and memorabilia pretty much anywhere you look. It's a unique place to stroll around even if you are not that into bicycles, if anything for the the cool retro vibes alone – it's like a blast to the past. Anyone who loves bicycles could probably spend hours here. Movie buffs will love seeing classics like Pee Wee Herman's bike and the E.T. bike on display. This museum is free. To justify the drive over, also visit Johnny Angel's Ginchy Stuff and Music Museum located just next door.
John Heinz History Center
Explore the history of the city at this Smithsonian affiliate featuring 6 floors of exhibits. Also included with your admission is the Western Pennsylvania Sports Museum. Learn more about the history of the Heinz company including how Henry John Heinz started the business in Sharpsburg, PA. Watch old advertisements, view historic bottles and packaging, and browse through rare artifacts. Also on-site is the actual set from Mr. Roger's Neighborhood. Unknown to many tourists, the show filmed in Pittsburgh! A memorial statue is located at North Shore Riverfront Park.
Local restaurants
Primanti Brothers is the most well-known restaurant in Pittsburgh. This popular sandwich shop opened up in the Strip District during the Great Depression. Today, you can enjoy a trademark sandwich (which is stacked high with meat, cheese, coleslaw, and french fries) just about anywhere in the metro. Pierogies, Pittsburgh salad (French fries top the salad instead of croutons), and rolled crepe style hotcakes from Pamela's Diner (a retro diner loved by everyone including President Obama) are must-trys while exploring the city.
Pittsburgh's foodie scene continues to grow with new restaurants opening every year. Today you can enjoy culinary choices across the board, with Thai, Indian, Chinese, Greek, and Italian restaurants in nearly every part of the city.
Local coffeehouses
Today, you no longer need to resort to a Starbucks or Dunkin' Donuts when exploring a new city. When you need a caffeinated boost, simply check out one of the many local coffee shops which populate almost every part of the city. Each section of town offers its' own assortment of interesting local gems, so you will have a great place to sip a cup of joe no matter where your adventures may take you. A few great choices:
Carnegie museum area – Commonplace (high quality coffee, nice presentation), Big Dog (spacious interior featuring unique art work)
Mt. Lebanon area – Mediterra (delicious bakery treats and breakfast entrees), Mel's Petit Cafe (great ambiance and crepes).
Strip District – Defer (high quality coffee and an eclectic vibe), Soluna (beautiful artwork and high quality Honduran coffee), La Prima AC Hotel (best espresso in the city)
Stroll around the mall
There are plenty of big shopping malls to waste away some time on a dreary day. The best options are The Mall at Robinson, South Hills, Ross Park, and Monroeville Mall. Take a look at a few of the highlights of each:
The Mall at Robinson – Nice Starbucks with a great central seating area for people watching, I Made It Market (a nice local store selling handcrafted specialties)
South Hills Village – Nice mix of casual and upscale shops, Pittsburgh Popcorn Co., AMC Classic
Monroeville – The Living Dead Museum (scenes were filmed in the mall), Cinemark Monroeville, Barnes and Noble, Pearl of the Orient (amazing Asian gifts)
See a play/concert/movie
The Benedum Center is the place to go to see any Broadway hits. It's located in the Cultural District downtown. Upcoming shows for the 2022-2023 season include Frozen, Hairspray, and Beetlejuice. Heinz Hall is home to the Pittsburgh Symphony Orchestra and the O'Reilly Theater houses the Pittsburgh Public Theater. Of course, you can always add seeing a movie to your rainy day to-do list if all else fails. There are a number of movie theaters throughout the metro. The best choices are Cinemark Robinson Township and Cinemark North Hills.
Upcoming Cultural District events
Play with cats at a cat cafe
While cat cafes have long been popular in Japan, the first cat cafe did not open in the US until 2014. Cat Town in Oakland sparked an ongoing trend of cat cafes popping up across the US. A cat cafe is basically a themed cafe where you pay a fee to observe/play with cats. Some cafes serve drinks. Most importantly, most of the cats are adoptable. This is a great way to find your new kitty. Even if you have no intention of adopting, you can feel good about supporting a great cause (funds go towards housing the kittens and paying the staff). The best cat cafe in Pittsburgh is Cats n'At in Wexford. The staff is very friendly, truly concerned about cat welfare, and the cat's living conditions are fantastic. Admission is just $8 per half hour and goes towards maintenance of the facility and cats.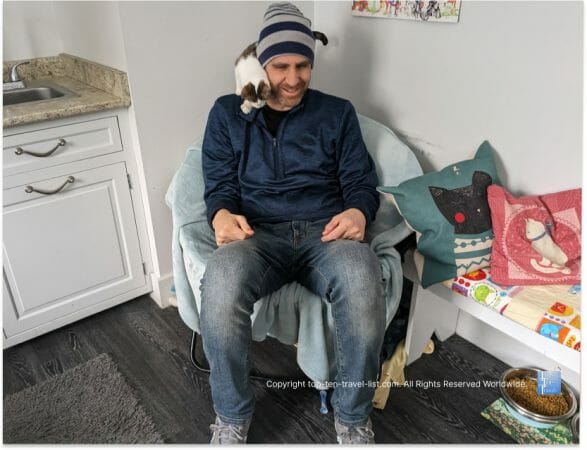 Dave and Busters
Take a break from your cell phone and enjoy some old-fashioned arcade gaming fun at Dave and Busters. Enjoy ticket redemption style games and cash in your tickets for fun prizes. Lots of retro carnival style games (goldfish bowl ball toss, skeeball) as well as modern gaming options like guitar hero. Also on-site is a restaurant serving comfort fare and appetizers and a large sports bar. With so many large flat screens, it's a great place to watch a game – check for special promotions! Overall, D&B is a fun place to enjoy a few hours indoors.
Bowling
Although overpriced nowadays, bowling is always a fun way to kill a few hours on a rainy day. Arsenal Bowl is the most trendy spot in the city. The ambiance is a bit more fun and flashy that your old-school smoke-filled alley and they host a number of fun events including 80's night and craft beer night. If you are looking to keep it cheap, head out to the suburbs. Also check the deals page for discounts at each alley – AMF Mt. Lebanon and Paradise Bowl are 2 good choices that offer a number of special promotions.
Phipps Conservatory
Enjoy a stroll through beautiful gardens in a cozy warm setting. The space is pretty small and a bit overpriced compared to most big city arboretums, however, it works as a nice escape on a rainy day. At Phipps, you will be able to explore 23 diverse gardens as well as a beautiful 14 room glass house. Along with enjoying the lovely gardens, you will get to see several gorgeous glass blown art pieces by amazing artist Dale Chihuly. Phipps offers a number of special events throughout the year including a holiday lights spectacular and seasonal flower shows. Check the events page for current exhibits. After your visit, there are many local restaurants and shops to enjoy in the Oakland downtown region.
Pinball Perfection
Enjoy hours of old school gaming fun at this massive indoor pinball museum. Seriously, this museum houses one of the largest pinball collections, as well as many other fun old-school games including stand up arcades, skeeball, foosball, arcade bowling, and more. For one low price ($15 pp), you can play to your heart's content. With over 300 machines, it's the largest pinball collection in the region. Lots of fun retro machines to play from the 50's through the 80's including a collection of Star Wars and Star Trek machines and even a rare Empire Strikes Back machine.