Attraction of the Week: The Carnegie Museum of Natural History in Pittsburgh
The Carnegie Museum of Natural History is one of 4 Carnegie Institute museums located in Pittsburgh. If you love dinosaurs, nature, wildlife, and history, then this is definitely the one to put near the top of your bucket list. The museum is most well known for its' expansive dinosaur fossil collection, an impressive 1300+ piece mineral and gem collection, and dozens of realistic dioramas spotlighting wildlife in North America and Africa. It is one of the country's largest natural history museums and has won numerous awards. In 2022, it was rated Best Museum in Pittsburgh by "Best of the Burgh" readers
Dinosaurs: In Their Time
The exhibit that draws so many tourists and locals again and again, Dinosaurs: In Their Time, features dozens of fossils from the Mesozoic Era. According to the museum, 75% of the more than 230 objects on display are original fossils. Most skeletons are real, not replicas. The display is very aesthetically appealing as dinosaurs are featured in realistic habitats. Each habitat is scientifically accurate according to the museum. This leads to an authentic experience where you can imagine life in this time period.
Holotypes within the collection include Apatosaurus louisae, Diplodocus carnegii, and Tyrannosaurus rex. This means that they are the standard fossils to which others of the same species are compared.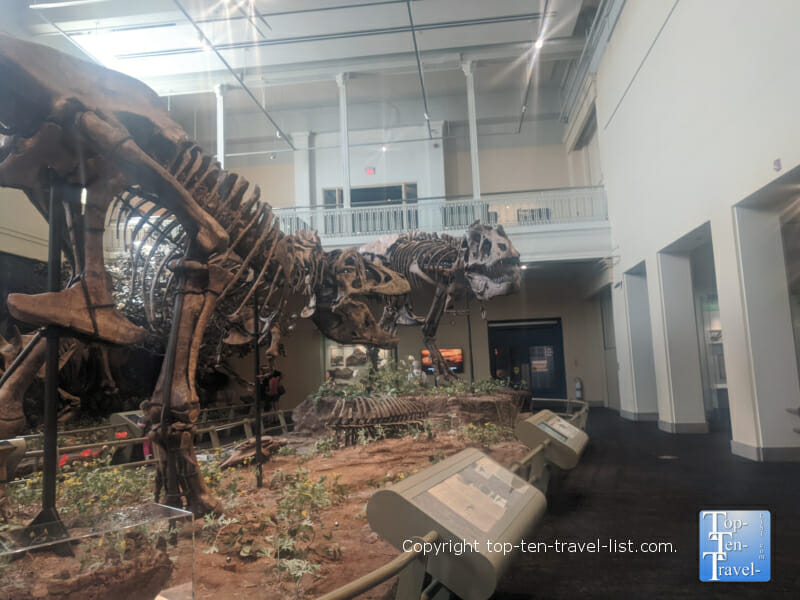 Note that this will be the most crowded section of the museum. If you want to take your time reading and exploring, it's best to visit right at opening. Or better yet, plan your museum visit for a slow weekday.
A brief tour of some of the best displays
Note that there is a great overview of the entire exhibit via the 2nd floor. This is a great place to take a picture.
Hillman Hall of Minerals and Gems
The most fascinating exhibit in this museum is the impressive collection of more than 1300 minerals and gems from around the world. If you love anything that sparkles, then you will love exploring the diverse range of sparkly, colorful, and unique natural gems. Besides just gazing at these colorful creations, you will get to learn more about each mineral, explore an exhibit dedicated to Pennsylvania minerals, and view a dazzling hall of jewelry. Learn why some minerals glow, why certain colors form, which can be transformed into jewelry pieces, and much more.
Cretaceous Seaway
Cool exhibit where you can explore underwater creatures which lived during the Dinosaur era. Highlights include a giant turtle fossil and a 40-foot mosasaur. This exhibit is connected to the Dinosaurs, although much less crowded. When you tire of the crowds, it's a nice little escape.
Age of Mammals: The Cenozoic Era
This exhibit highlights mammals which existed 66 million years after the dinosaur extinction. Highlights include a fossil from a Colombian Mammoth who lived during the Ice Age.
Hall of North American Wildlife

This exhibit features 23 dioramas depicting wildlife of North America, with a special section dedicated to Western Pennsylvania.
Hall of African Wildlife
View 12 scenes from Africa via detailed dioramas. Habitats represented include desert, mountain, savanna, and rainforest.
Hall of Botany
Explore the variety of plant life found in North America via realistic dioramas. A special section highlights plant life of Western Pennsylvania.
Polar World: Wyckoff Hall of Arctic Life
The dioramas featured in this section of the museum spotlight artic mammals. In this exhibit, you will learn more about how the Canadian Inuit adapted to a harsh life in the arctic. Realistic dioramas featuring native mammals, an igloo replication, sculptures, and info on the whaling industry of the 30's and 40's take you back in time. This exhibit room is nice and cool and a great escape on a hot, humid summer afternoon.
Learn more about the dioramas at The Carnegie
Alcoa Foundation Hall of American Indians
Explore 4 different Native American cultures via a variety of informative exhibits. On display, you will discover more than 1000 artifacts (including garments and artwork) of the Tlingit of the Northwest Coast, Hopi of the Southwest, Lakota of the Plains, and Iroquois of the Northeast. In the early 1990s, the museum worked with Indigenous advisors to create this unique and detailed exhibit. 50 Native people shared their historical and cultural knowledge, unique experiences and belongings, and artwork to make the exhibit what it is today.
Walton Hall of Ancient Egypt
In this exhibit, you will find over 5000 ancient Egyptian artifacts. The collection includes 1,132 objects from the Egypt Exploration Society (EES), as well as purchases from private collectors. I am personally enchanted by the strangeness, creepiness, and mysticism of Egyptian culture. If you are too, then you will enjoy reading about ancient Egyptian rituals, mummification, and other odd, yet fascinating cultural practices.
Carnegie Museum of Art
Your ticket to the Natural History Museum also includes admission to the impressive Carnegie Museum of Art. This is a great deal as you get to visit both for one low price. Plus, no need to find additional parking or carve out extra time for driving! Interestingly, this museum is billed as the first contemporary art museum in the US. While the main focus is contemporary art, the museum spotlights more than 30,000 objects through various means of artwork including sculpture, paintings, drawings, photographs, and video.
Location, Admission, and Parking
Address: 4400 Forbes Ave.
Hours: 10am-5pm (8 on Thursday).
Admission: $20 adults, $15 senior, $12 students and kids 3-18.
Discounts: Receive 50% off admission after 3:00 any weekday by using promo code after3 at checkout.
Free days: If you are a Bank of America cardholder, plan your visit on the1st full weekend of any given month. Cardholders receive free entry as part of the Museums on US Program. Really a great value as you save admission on dozens of museums throughout the US. Look into the program to see what other museums are included.
Parking: $7 flat fee for museum lot. Metered parking available in nearby Schenley Park. Note that parking is priced per hour, which may be cheaper depending on how long you intend to stay. Parking at Schenley is free on Sundays.
Dining
There is a nice cafe on-site which serves lunch, plus a full coffee bar. In addition, there are a number of great local coffeeshops in the area if you want to grab a cup of joe and pastry prior to your visit. My favorites include: Commonplace Coffee and La Prima Espresso.