10 local coffeeshops to check out in Pittsburgh
Pittsburgh is home to a growing lineup of independent coffeeshops. No longer are Starbucks and Dunkin' Donuts your only options when it comes to enjoying one of life's greatest simple pleasures (a great cup of coffee) outside of the house. Sipping a cup of joe in a cozy local coffeeshop on the weekend is a great budget friendly activity to enjoy anytime of the year. With various options spread throughout Pittsburgh's diverse neighborhoods, there is an option for you, no matter your personal style or where your day's adventures may take you. Great local coffeehouses can be enjoyed throughout the 'Burgh!
Below are 10 great local coffeeshops, each offering a different scene, style, and located within close proximity to some of Pittsburgh's best attractions.
1. La Prima Espresso
Locations: Strip District
What to try: Americano
What to do nearby: Pick up a sweet treat at Colangelo's Bakery
La Prima serves high quality Italian espresso and coffee. They offer over 20 varieties of locally roasted beans, including blends, single origin, seasonal and decaf options for purchase. La Prima operates several cafes throughout the city. The best location is found within The Strip District. This cafe features outdoor seating and is located nearby many local restaurants, bakeries, and ethnic grocers. Although they serve no food, you can order a delicious pastry next door at Colangelo's Bakery. Treat yourself to an authentic Italian cannoli, a chocolate croissant, Danish, or Sfogliatella. Pricey, but worth a splurge. Unfortunately, many smokers gather here. If smoking bothers you, visit the AC Hotels location (near the Heinz History center).
2. Commonplace Coffee
Location: Mexican War Streets
What to try: Coffee cake, Morning Glory muffin, Americano
What to do nearby: Take a walk and enjoy the lovely architecture. Also in the vicinity is Randyland, a colorful outdoor art exhibit open free to the public.
What started as a single cafe in the small community of Indiana has now blossomed into 8 shops including 4 in the Pittsburgh region. Commonplace serves specialty coffee plus local pastries. Although the food selection is limited, everything is quite good especially the coffee cake. Plus, the presentation is quite fancy compared to other options in the region. Do visit the charming Mexican War Streets cafe in one of Pittsburgh's oldest neighborhoods. The attractive setting amongst old Victorian row houses is quite nice. Bonus – the quaint outdoor patio is perfect for sipping and relaxing during the milder spring and fall season.
Note – the interior can get way too sunny during the summer months (I had to wear sunglasses inside) due to the large windows. Visit on an overcast day for the most comfortable experience.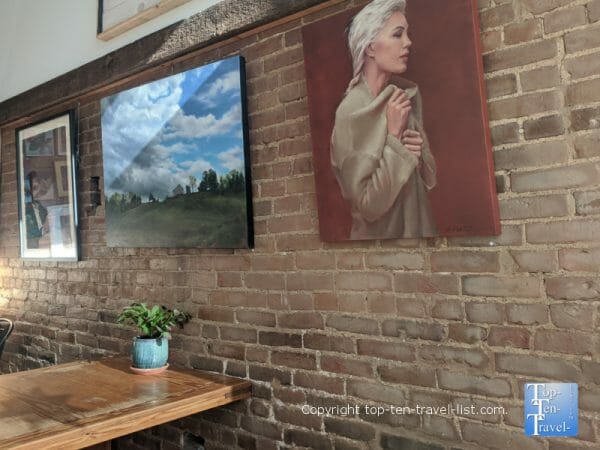 3. Mediterra
Location: Sewickley
What to try: House coffee, blueberry muffin, chocolate croissant, artisan bread, shashuka
What to do in the vicinity: Check out the local shops of downtown Sewickley. This charming tree-line Main St. is lined with independent businesses.
This wonderful Mediterranean cafe offers 2 convenient locations: historic downtown Sewickely and Mt. Lebanon. Here you can enjoy fresh artisan bread, specialty pastries, great coffee, and delicious healthy breakfast and lunch entrees all in the same place. They serve the best coffee and offer the nicest ambiance anywhere in the metro. Their bread is amazing – do try the Ref Fife or sprouted spelt. Entrees to try include Milk Bread French Toast, Shashuka, Avocado Toast, and Quiche. The pastry selection is amazing. Everting from the fresh blueberry muffins, to the chocolate croissants, to homemade pop tarts and cinnamon rolls are worthy of the caloric splurge!
Bonus – you receive points for each visit. After 10 points, you will receive a free loaf of bread, a coffee, or pastry! Fantastic deal!
4. Cafetano Coffee Roasters (now Soluna)
Location: Strip District
What to try: Acai bowl, house coffee
What to do nearby: Take a bike ride along the Three Rivers Heritage trail
This eclectic cafe features the most interesting ambiance of any Pittsburgh coffee shop. The decor is colorful and eccentric. In addition to serving gourmet coffee, they also offer a number of pastries, in addition to Italian and Honduran based specials. The coffee is delicious and available via several brewing methods. These include: Chemex, Aeropress, French Press, V60, Siphon, and Kalita. Smoothies and a number of Frappe drinks (try the Brownie or Cookies and Cream) will cool you down on a hot, humid summer day. As for the food menu, you will croissant sandwiches, panini, specialty toasts, waffles, and assorted pastries. Although overpriced, the acai bowl is a refreshing summertime cool down treat.
5. Defer
Location: Strip District
What to try: Matcha tea cake, Americano
What to do nearby: Shop for authentic Italian goods at Pennsylvania Marconi Company.
Defer is a wonderful local coffeehouse with 4 Pittsburgh locations including Market Square downtown and the Strip District. The vibe is trendy and hipster and the ambiance beautiful and inviting. The Strip District location features beautiful brick walls for the ultimate historic touch in an old neighborhood. What sets this cafe apart from others is the wonderful assortment of healthy menu items. Options include Chia seed pudding, raspberry lemon poppy seed oatmeal, sweet potato and chickpea hand pie, and toast with avocado/hummus or cashew butter.
If you have a sweet tooth, you will want to treat yourself to the delicious Matcha tea cake topped with orange lime buttercream and pistachios. Packed with powerful green tea antioxidants so at least it's a little bit healthier.
6. Redstart Roasters
This artisan small batch roaster is quite unique in that they have received the Smithsonian Migratory Bird Center's Bird-Friendly coffee certification. They source coffee beans from sustainable farms which preserve bird habitats. One of their partners in sustainability is top rated Pittsburgh attraction, The National Aviary. If you are a bird lover, you might want to put this one on your bucket list. As for the coffee, it is delicious. Numerous roasts are available, light or medium with different tasting profiles. The ambiance here is beautiful and spacious with an airy, clean, and well-maintained appeal. With lots of chargers, lamps, and a large table, it's also a great place to read or work.
7. Big Dog Coffee
Location: Southside Flats
What to try: Everything bagel with cream cheese, house coffee
What to do nearby: Shop and dine at Southside Works
This spacious, quiet coffee shop is a great place to work, meet up with friends, or just relax on a leisurely weekend morning. Unlike more cramped and rowdy coffeeshops, the ambiance is inviting and tranquil. Plenty of places to enjoy a seat all to yourself by a cozy fireplace, as well as a shady patio for the milder months. The decor and artwork are colorful and eclectic giving you something to look at while you sip your coffee. They serve premier Intelligista coffee and offer a variety of pastries. Also, there's smoothies and juiced drinks for anyone avoiding caffeine. It's also one of the few coffeshops to offer bagels, so definitely a plus!
Note: the coffee is served a bit too lukewarm (I like mine really hot!).
8. Delanie's
Location: South side
What to try: Veggie Quiche
What to do nearby: Check out Station Square, an entertainment complex home to several popular chains (Hard Rock, Melting Pot), the Gateway Clipper cruise, and the Duquesne Incline.
Delanie's is one of the best local coffeeshop options especially for those seeking a cozy setting away from the university and tourist areas. The attractive 2 floor layout really sets it apart from other local coffeehouses. The brick walls and eclectic art make the interior here quite appealing. The vibe is definitely cozy, inviting, and local. The coffee here is excellent, as are the pastries which come from a variety of local businesses. The highlight to try here is the delicious veggie quiche – a bit pricey, but worth the splurge.
9. Margaux
Location: East Liberty
What to try: Almond croissant, Americano, house coffee
What to do nearby: Take a stroll around beautiful Highland Park, featuring walking trails, a seasonal water fountain, and flower gardens
One of Pittsburgh's newest coffee shops is also the best for anyone seeking a high end coffeehouse experience. This European style cafe in Pittsburgh's East Liberty neighborhood serves specialty coffee, desserts, a decent sized breakfast menu, and pastries, in a gorgeous setting. The vibe is tranquil and refined and the space is big, open, filled with plants, and bright. Lots of cozy couches and relaxing chairs to enjoy a specialty espresso or decadent pastry (I recommend the almond croissant!). Service is great and refills on house coffee is a big perk!
10. Cafe Conmigo
Location: Wexford
What to try: Americano
What to do nearby: U-pick at Soergels Ochards, Enjoy delicious soup at Zuppa's Deli
This newer addition to Pittsburgh's coffee scene is quite unique. If you love plants and greenery, then you will definitely want to place a visit to Cafe Conmigo high on your coffee shop bucket list. This place is decorated with all sorts of beautiful plants. Really, it's a place to sit and relax or meet up with friends over a great cup of coffee in the most tranquil and zen setting in the metro. Lots of cozy seats where you can kick back and enjoy a great cup of joe (beans come from local roaster Commonplace). As a bonus, they serve treats from local bakery Mediterrea (and also offer a number of GF and vegan treats) and have a ton of plants available for sale. Bonus – leashed dogs are welcome!
A few more local gems
I wouldn't necessarily put these coffeehouses on the top of your list or go out of your way to visit, however, they are an okay choice if you happen to be in the vicinity.
Convive (McCandless) – Decent muffins and coffee (self service – 2 roasts available), plus a full espresso menu served at this family-owned cafe with 2 Pittsburgh metro locations. Pricing is on the high side although the free refills are appreciated! Note – the coffee here is quite strong! Bonus – they serve pastries from the best bakery in the metro (Mediterra).
Carnegie Coffee (Carnegie) – This spacious coffeehouse is located in an old post office in downtown Carnegie. They serve Lavazza coffee, a well respected brand. While the coffee is not the best in the city, the spacious layout and eclectic decor make this one worthy of a visit.
Redhawk (Sharpsburg) – While I am personally not a fan of the blah atmosphere, the drinks here are quite good. The historic building is nice, but the vibe is a bit bleak and depressing. On a positive note, the staff was very nice and the coffee was nicely presented.
Orbis – Cute local coffee shop and cafe in downtown Mt. Lebanon. The space is attractive and very clean. Nice selection of pastries, great bagels, and tasty breakfast food (including delicious veggie quiche). The setting is quaint, the coffee good (although sadly no refills), and location convenient.
Yinz (N. Ave) – Popular local coffee chain with 8 locations. Coffee is great and the sports decor is a nice bonus at the North side location. Food options are limited and drip coffee is unfortunately only served in paper cups.
Coffee Tree Roasters – Locally owned coffeeshop with numerous locations. Serves single farm sourced coffee from around the world. Both the coffee and presentation are great. Be on the lookout for seasonal specials including a delicious White hot chocolate. Food is sub par and wrapped in plastic. The Shadyside location is particularly spacious and attractive.
Do not recommend: Crazy Mocha, Adda, Anchor and Anvil, Espresso a Mano, Rock N' Joe, Friendship Perk and Brew