Attraction of the Week: The Pittsburgh Zoo & PPG Aquarium
The Pittsburgh Zoo is quite unique as it is one of only 6 US zoos that is combined with an aquarium. Although the aquarium is quite small, it's convenient to be able to explore both tourist attractions within a single visit. The zoo is located in beautiful Highland Park on 77 acres. Before or after your zoo visit, do take a little bit of time to explore this laid-back neighborhood and city park.
The zoo opened to the public in 1898 following a donation from philanthropist Christopher Lyman Magee. 2023 will mark the zoo's 125th anniversary. New exhibits and park improvements are currently underway via new leadership.
Home to more than 8000 animals
Currently, the zoo is home to over 600 species and 8000 animals. Sections of the zoo include: Forest Passage, African Savanna, The Islands, Tropical Forest, Jungle Odyssey, World's of Discovery, Water's Edge, and the PPG Aquarium. The entire walk should only take an hour (maybe 2) at the most. The layout is easy to follow and all exhibits are clearly marked.
During your visit, you will see everything from flamingos, to polar bears, to red pandas. Unfortunately, a few notable animals are missing including the okapi, grizzly and black Bears, and camels. Nevertheless, you will get to see many of your favorites up close, as well as some endangered and rare species.
A quick photo tour through the zoo…
The Red Panda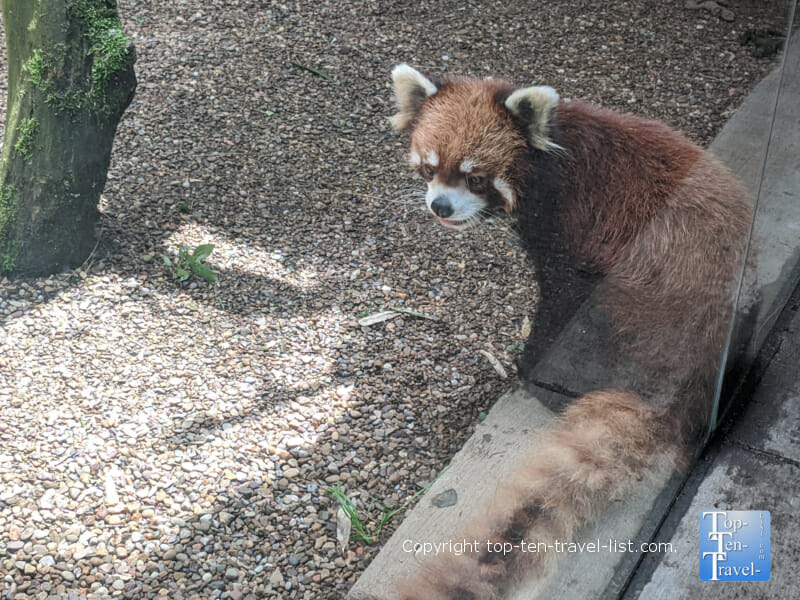 More than 25 endangered species call this zoo home including the Red Panda. Less than 2500 estimated remain in the wild, due to poaching (for their pretty coats) and habitat loss (they reside in temperate bamboo forests in the eastern Himalayas). You will notice that these beautiful mammals look a bit like a mix of a racoon and panda. This is because they are a relative of both. Fans of Super Mario Bros. 3 will likely remember the suit Mario transforms into via the leaf. However, while the fur looks similar to a red panda, this NES character's tanooki suit was actually based off of the "tanuki," the Japanese racoon dog.
Other interesting exhibits
Underwater polar bear viewing – Part of the Water's Edge exhibit, you will have the opportunity to see polar bears swim underwater via a viewing tunnel. Note that they only spend 10% of their time swimming so it's a rare sight to behold! This is a cute area of the zoo as it is modeled after a coastal village. You will also see sea otters and northern elephant seals.
Walk through kangaroo exhibit – The best part of this zoo is a walk through kangaroo exhibit. This one is hidden in the Kings Kingdom so you might miss it. Do make the trek over as I have not seen this unique experience at any other zoo.
Tropical Forest – An indoor rainforest exhibit which features 16 primate species and more than 150 tropical plants. Since opening in 1991, this lush exhibit has been a favorite of tourists. Not as nice as the Tropic World at Brookfield in Chicago, but a nice warm escape on a cold winter's day.
Underwater Northern elephant seals viewing – Located in Water's Edge near the polar bear viewing. Cool exhibit, great photo opps.
Saba elephant reserve – View African Lions, Masai giraffes, African elephants, Amur Leopards, and Grant Zebras in an environment that mimics their natural grasslands savanna habitat.
The gorgeous lions
The PPG Aquarium
As mentioned above, admission to the aquarium is included. This is nice as you do not have to plan a separate trip and deal with the hassle and parking associated with a big city downtown aquarium. Don't go in expecting The Shedd in Chicago.
While the aquarium is quite small, there are a few interesting exhibits:
Penguins – Two species of penguins live at the zoo: Gentoo penguins and Macaroni penguins. It's easy to tell them apart as Gentoo have tuxedo coloration, while Macaroni are known for their golden feathers atop their head. 18th century English explorers, while discovering these penguins in Antarctica, named them after the popular macaroni fashion of the time.
Shark tank – The highlight of the aquarium is a large wall sized tank which includes colorful fish of many varieties.
Stingray tank – Hands on exhibit where you can touch the stingrays.
The beautiful waterfall and tropical gardens
Location, Parking, and Fees
The Pittsburgh Zoo is located at: 7370 Baker St, Pittsburgh, PA 15206. Hours are 9:30am-5:30 pm (4:00 from Nov. 1st-March 31st), 7 days a week. Members get in at 9:00 (a great time to explore the zoo in peace!).
Pricing is $20 adults, $17 seniors, and $16 ages 2-13. During the winter months, rates are $16 for adults and $15 for kids and seniors. If local, consider a membership which will easily pay for itself in about 3 visits.
Parking is always free.
Dining at the zoo
There are a few on-site snack shops, ice cream and Dippin' Dots stands, and Jambo Grill featuring burgers and pizza. I recommend bringing a picnic lunch and enjoying more time in nature. If you need a pick me up before your visit, head over to Tazza D'Oro, a local coffeehouse which also serves delicious pastries.
Area attractions
Highland Park – Spacious park featuring trails, volleyball courts, picnicking areas, gardens, and a 2.7 mile trail along a reservoir.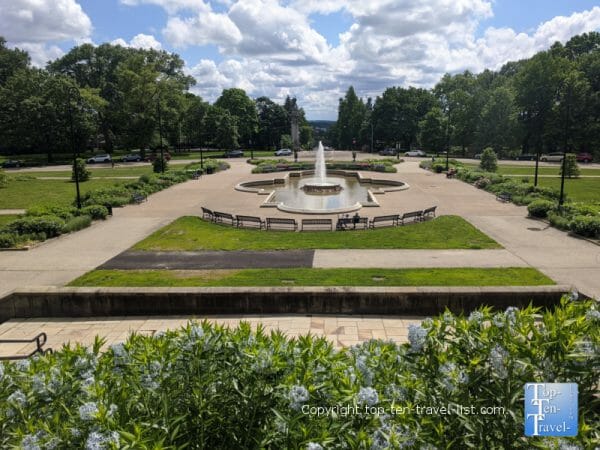 Strip District – Neighborhood just outside of downtown known for its' many restaurants, ethnic grocery stores, farmer's markets, coffee shops, and meat and fish markets. The area was once home to many factories. Today, local businesses, tech companies, and residential housing have taken shop in converted warehouses.