Asian Lantern Festival at The Pittsburgh Zoo
One of Pittsburgh's most most popular tourist attractions is the Pittsburgh Zoo and PPG Aquarium. While it may not compare to world-class zoos like San Diego and Brookfield, the zoo is a great place to spend the day while visiting the city. The zoo is known for its' many events including the highly rated Asian Lantern festival, held during the late summer-early fall season. If you are seeking something fun and interesting to do at night in Pittsburgh, consider adding the Asian Lantern festival to your bucket list.
The Festival
2021 was the first year that the Pittsburgh Zoo hosted the Asian Lantern festival. The event was so popular (over 100,000 attended) that it was brought back for a second year. Over 50 Asian and animal themed sculptures line the zoo's walkways. In addition, Asian themed food and entertainment are also on the lineup. It's fun to stroll around the zoo at night seeing all the colorful displays. If you select an earlier time slot, you may even get to enjoy a quick peek of some of the animals. All of the cats are particularly active at night.
Photos from the 2022 Event
The 2022 Festival features a diverse mix of sculptures, with the main theme being dinosaurs. If you love the Jurassic Park movies, then you are sure to love this event. Highlights include a gigantic walk through Dinosaur and several motion effects. Lots of really cool photo opportunities available at every turn so bring your camera or phone.
A look at a few of the incredible dinosaurs you will see!
Besides dinosaurs, you will also get to enjoy a variety of nature themed, Asian cultural, and endangered species displays. This event can get pretty crowded, so it's best (and cheapest) to visit on a value night so you can take in the sights without being surrounded by endless crowds!
Gorgeous walkways
Asian themed displays
Beautiful red lanterns, traditionally used for celebrations. In China, red represents wealth, fame, and prosperity.
The Chinese zodiac…find out which animal you are based on the year you were born. Find out more about the Chinese New year.
Nature/animal themed displays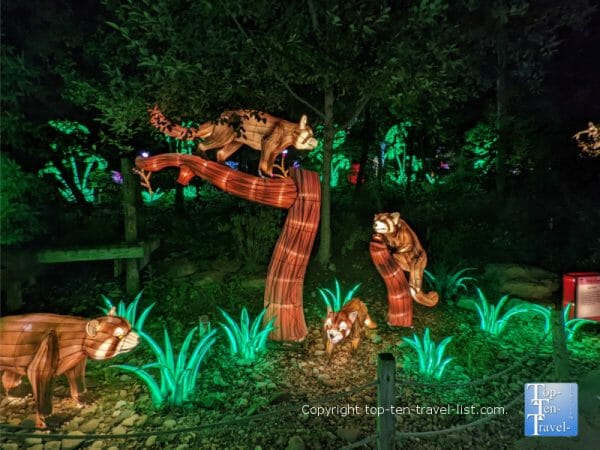 Pricing/Dates
Dates: The 2022 festival runs from August 12th-October 30th, Thursday-Sunday nights.
Pricing: $23 non members, $21 members, $20 non-member child (2-13), $18 member child.
Value nights: Discounts are offered Thursday and Sundays nights. Members save $5 and non-members save $3. Visit the zoo website for further details and booking.
Time: 6:30pm to 10:30pm. (gates close at 9:30). Tickets must be purchased online for a specific time slot. Note you will be able to stay as long as you like, however, you must enter the zoo within a half hour of your time booking.