Get back to Nature: 6 Pittsburgh Parks to Explore
Need a break from the urban congestion, traffic, and commotion? Taking a quick drive through Pittsburgh, you see much more urban clutter than green spaces. However, the city is home to 165 parks. While the park system may not be as impressive as that found in many larger cities located nearby mountain or coastal areas, numerous options exist if you want to refresh and rejuvenate in nature. From state parks, to riverfront parks, to small local gems, there is a park for you in Pittsburgh. Take a look at several great options throughout the metro area.
1. Frick Park
The best place within the city limits to take a refreshing hike is Frick Park. At 644 acres, this is the largest municipal park in Pittsburgh. Featuring miles of woodsy hiking and biking trails, Frick Park is the perfect place to escape the city for a morning of refreshing exercise. The trails are lined with tall trees which provide plenty of shade even on the sunniest summer days. The park has been referred to as Pittsburgh's Woodland Park. The 1 mile North to South Clayton loop trail is a great place to start. It's green, wildlife is abundant, and it's the perfect distance for a light workout. Tip- while you are in the region, check out The Frick, a small collection of historic museums which includes a car and carriage and art museum.
Location: 2005 Beechwood Blvd. Free parking and admission to the environmental center.
2. Schenley Park
This 456 acre park is home to a number of woodsy trails and a few of the city's most popular attractions including Phipps Conservatory and Botanical Gardens. Other amenities include a golf course, a winter ice rink, food kiosks and a full service restaurant (The Porch at Schenley), a seasonal swimming pool, and a historic carousel. The best thing to do here is to enjoy one of the hiking trails. The scenery is beautiful and wildlife is abundant (deer can frequently be seen in the morning hours). Consider hiking the 5 mile Double Loop trail which takes you through the entirety of the park.
Location: 101 Panther Hollow Rd. Parking is metered per hr (free on Sundays).
3. Highland Park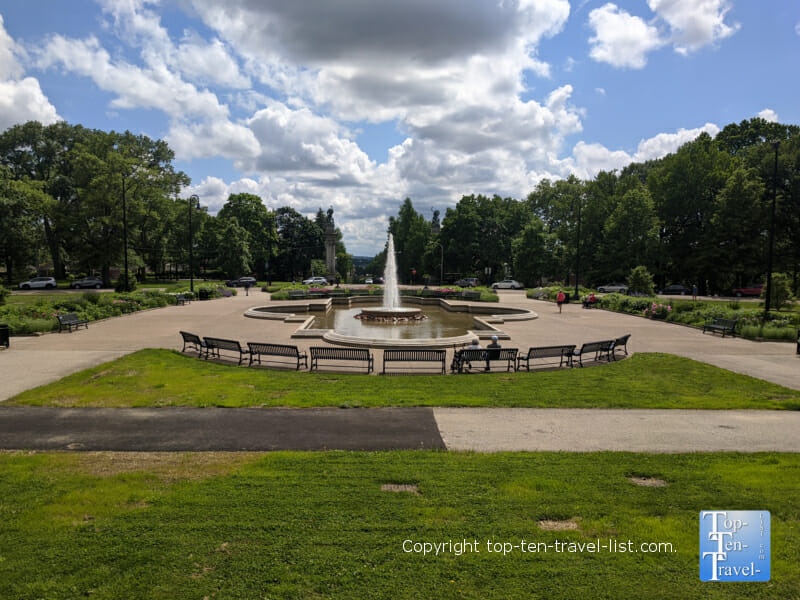 This park was created in 1879 due to the city's need for a municipal water system. Today, you can enjoy a 1 mile stroll around the reservoir. The highlight here is a beautiful flower garden and fountain with reflecting pool. This is a great place to take a stroll on cloudy days, just avoid visiting during most of the summer season as there is no shade. Other amenities including picnicking areas, playgrounds, and a number of small hiking trails through the woods. Also located within the park is the Pittsburgh Zoo and PPG Aquarium, one of the city's top rated attractions. Although quite small and overpriced, the zoo is a nice shady place to spend a morning.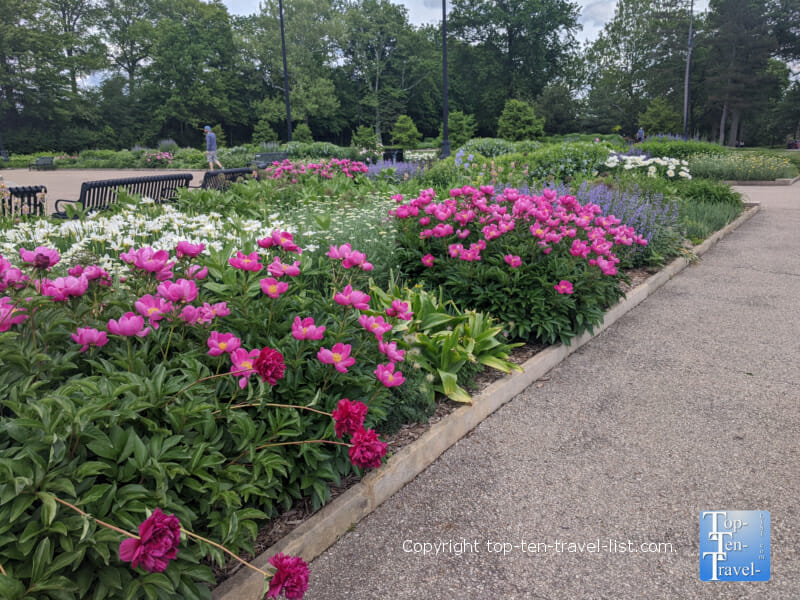 Location: 1467 N Highland Ave. Parking is free.
4. Settlers Cabin Park
This large 1600 acre park is located a quick 10-15 minute drive from downtown. Along with offering hiking trails, tennis courts, playgrounds, a seasonal wave pool, and picnic shelters, it's the only place in the area where you can enjoy a waterfall. The seasonal wave pool is quite popular during the hot, humid summer months. The waterfall is tiny (and pretty much non impressive if you have explored stunning waterfalls like those found in beautiful Western North Carolina and the Pacific NW). Nonetheless, it's still a waterfall. The 1.9 mile Green Loop trail will lead you to this waterfall. The trail is shady and lined with pretty green trees. Due to the heavy tree coverage, this is a great leaf peeping destination.
Location: 608 Ridge Rd. Parking is free.
5. Robin Hill Park
While this park is farthest away on this list, it's also the most scenic and quiet. You will find no tourists enjoying the quiet nature trails at this small community park. Although you will only find a few miles of trails here, the setting is really rustic and natural. Out of all the parks in the Pittsburgh area, this one reminds me most of the beautiful woodsy trails found throughout New England. Bonus – there are some nice hills here where you can really work up a sweat! Note: At the start of the trail, you will pass an old log cabin from the 1800's.
6. Moon Park
This is one of the largest parks in the metro area and one that offers the most amenities. Moon Township, a small town/suburb, is located about 25 minutes outside of the city. This park is usually pretty laid-back and quiet, and thus, the perfect escape from city life. Amenities include lighted tennis and basketball courts, baseball fields, playgrounds, free summer concerts and movies, and a beautiful hiking trail. There are over 3 miles of leafy hiking trails available so you can get in a good workout here. Trails are rarely used, and thus, enjoyably quiet. Like Robin Hill, this one is also gorgeous at the peak of fall.
Location: 1350 Ewing Rd. Parking is free.