5 Spectacular Fall Color Hikes near Pittsburgh
It's leaf peeping season in Pittsburgh. Golden, red, and yellow leaves cover the trees and trails at local parks. There is a refreshing chill in the air. Fall festivals are in full swing. Halloween is just around the corner. Now is the best time to enjoy any type of outdoor activity. The temps are comfortable enough to enjoy a hike without breaking out into a major sweat. Grab your pumpkin spice latte (from Starbucks or any local roaster) and enjoy some beautiful leaf peeping around the Burgh.
1. Tom's Run Nature Reserve
The best place for a fall hike in the metro is definitely Tom's Run Nature Preserve in Sewickley. The charming small town of Sewickley is located 20 minutes outside of the city. In addition to a historic downtown, there are many great parks in the area. Tom's Run is an excellent choice come fall. The quiet preserve features a 3 mile loop trail which is lined with gorgeous maple, oak, and beech trees. This preserve is quiet all the time – a fantastic place to escape the city congestion for a bit. Come fall, brilliant colors can be enjoyed via a brisk hike. In the Pittsburgh area, Tom's Run is by far the best place to view colorful foliage. As a bonus, you will get in a fabulous workout on this moderate trek.
What to do nearby: Treat yourself to an espresso drink and homemade pumpkin pastry at Mediterra, a wonderful local Mediterranean inspired coffeehouse.
2. Robin Hill Park
This small park in Coraopolis, near the suburb of Moon Township, is a great place to enjoy a nature stroll. While the trail here is fairly short, it's a gorgeous place to get back to nature in a quiet setting. The Log Cabin Loop is a 1 mile trek which takes you past an old cabin from the 1800's. As you meander along the beautiful wooded trail, you will notice a pleasant absence of people. No matter when you plan your visit, this park is always desolate, allowing you to get lost in nature. During the fall season, the trees are alive with a medley of golden hues. Be aware that this trail is quite hilly, so you will get to take in some great foliage while also getting in a fantastic workout.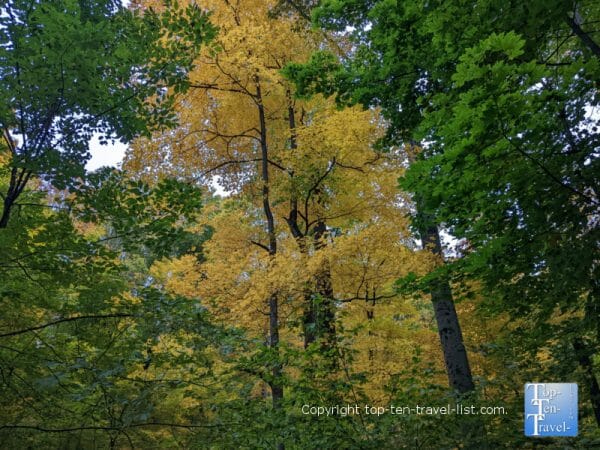 What to do nearby: Enjoy a few appetizers and local beers at Mike & Tony's Gyros. Check out the awesome happy hour deals.
3. Frick Park
Although this urban park can get quite busy on weekend mornings, it's still a beautiful place to enjoy a hike anytime of the year. You really cannot pass up the opportunity to hike here during the fall season as the colors are just amazing. Although there are miles of trails to choose amongst, the 1 mile North to South Clayton Loop trail is an excellent place to start. While short, you will still get in a decent workout due to the hilly landscape. Not only is Frick the largest park in Pittsburgh, it's also one of the 4 oldest. Despite the crowds, deer sightings are abundant. Additional amenities at Frick Park include tennis and basketball courts, a free art museum, and an environmental center.
What to do nearby: Enjoy falafel and other Mediterranean treats at Pasha Cafe.
4. Falls Run Park
This hidden gem is located just 8 miles from the city, but feels a world's away due to the secluded wooded setting. The highlight here is a small, yet attractive waterfall. As this is the only real waterfall in the region, it's definitely worth the quick trek from the city to see. The hike is short at just 1 mile and does not involve any major elevation gain, thereby making it a great choice for families, dog walkers, and anyone else looking to keep it easy. Come fall, Falls Run Park is loaded with the beautiful colors of the season. The trail follows a creek making the trek even more enjoyable.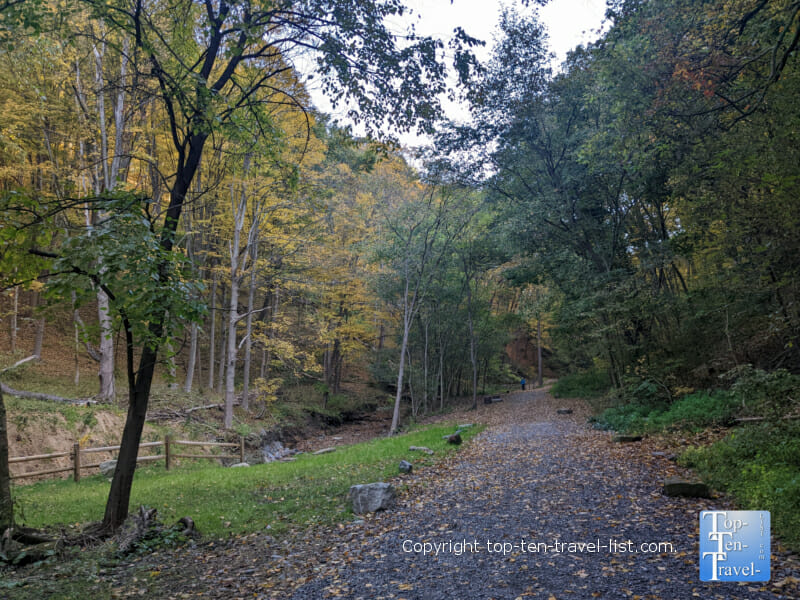 What to do nearby: Fuel up for your hike with a pastry and a cup of joe at Convive Coffee.
5. Moon Park
This large park is located in suburban Moon Township, about a 20 minute drive out of the city. Although this park receives a lot of traffic for its' wonderful amenities which include tennis, basketball, volleyball, and pickleball courts, plus playgrounds and picnic shelters, the trail system remains attractively quiet. Three miles of quiet wooded trail will give you plenty of time to enjoy nature and get in a great workout. If you wish to hike further, you can connect to the Montour Run Conservation Area trails. Beautiful anytime of the year, although this park really dazzles during the peak of fall, easily making Moon Park one of the metro's top leaf peeping sites.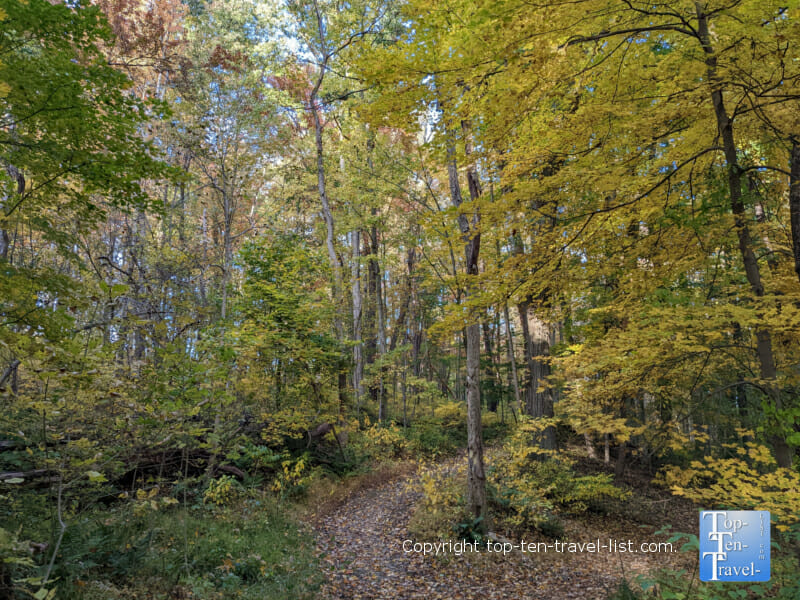 What to do nearby: Enjoy an iconic sandwich at Primanti Bros.
Leaf peeping at state parks
While the above mentioned parks are all fantastic, sometimes a relaxing drive far away from the city congestion is the best option. For a full day of fall fun in a more natural setting, consider these state parks, all located within an hour drive of downtown Pittsburgh.
McConnells Mill State Park – Home to a historic covered bridge, grist mill, and small waterfalls.
Raccoon Creek State Park – One of the largest and most popular state parks in PA.
Moraine State Park – Large park featuring 42 miles of shoreline on Lake Arthur.