The best fall activities in Pittsburgh
Autumn in Pittsburgh is the most beautiful time of the year. As soon as October rolls around, city parks begin to transform into a medley of golden hues. Temps are cooler and drier with daytime averages hovering in the mid 60's (although early snowstorms are not that unusual!). It's sweater weather and there is plenty to do outdoors. From picking your own pumpkins or apples at a local orchard, to sipping a pumpkin spice latte on the patio of a local coffeeshop, to taking a brisk leaf peeping walk at a local park, there are plenty of ways to enjoy fall, the best season in Pittsburgh.
Here are a few fun & budget friendly ways to enjoy the fall in Pittsburgh.
Leaf peep at a local park
Most of the parks throughout the Pittsburgh metro will be alive with the colors of the season sometime around mid-October. Not only are the leaves gorgeous, but the weather typically is too. Some of my favorite parks for leaf peeping include:
Frick Park – Large historic city park. Great hiking…amazing foliage.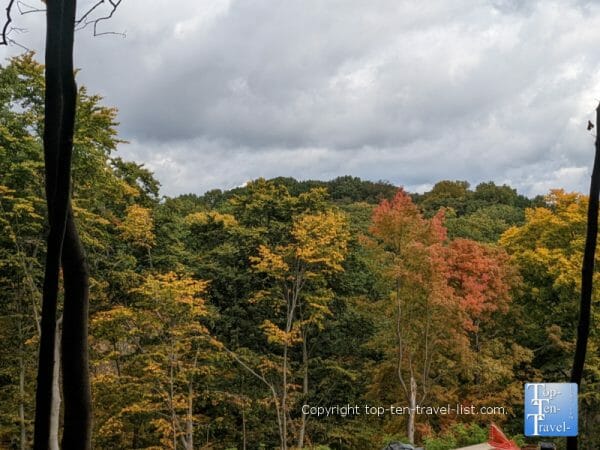 Tom's Run Nature Preserve – Hidden gem located in Sewickley. Moderate 3 mile trail meanders amongst maple, oak and American beech trees. Gorgeous fall foliage and super peaceful!
Allegheny Commons – Dating back to 1867, this is the oldest park in Pittsburgh. This park features a pretty lake and plenty of mature trees, and thus, the setting is perfect for fall photography. Lots of vivid foliage at peak. Bonus – it's located adjacent to the historical Mexican War Streets neighborhood. Stop by Commonplace for a delicious cup of locally roasted coffee before your walk.
Point State Park – This urban park marks the joining point of the 3 rivers (Allegheny, Monongahela, and Ohio rivers). Most notably, this park is known for its' iconic 150 foot fountain. Point State is a great place to take in fantastic city views and leaf peep. If you are up for a workout, consider biking a portion of the Three Rivers Heritage Trail.
Moon Park – Suburban park in Moon Township offers several miles of wooded trails. Also on-site: basketball and tennis courts, picnic facilities, as well as pickleball and volleyball courts.
Robin Hill Park – Beautiful underused park features a short, yet gorgeous wooded trail. Great terrain for a nice workout, never crowded, and especially beautiful in autumn! Located in Coraopolis.
Falls Run Park – 1 mile nature trail takes you past a small waterfall. The trail is quiet and features nice creek views.
Enjoy local fall treats
Many local restaurants and coffeeshops will be introducing a special fall menu this time of year. Coffeehouses oftentimes offer pumpkin muffins, pumpkin scones, their own version of the popular Starbucks' Pumpkin Spice Latte, and other seasonal drinks and goods. Restaurants may feature pumpkin or butternut squash ravioli on the fall menu.
One fabulous choice is Mediterra Cafe, a wonderful Mediterranean inspired bakery with locations in Pittsburgh and Sewickley (and now Lawrenceville too). The coffee/espresso here is always amazing and they offer a number of specialty drinks. While their bakery treats are always amazing, you may want to splurge on a Pumpkin Crumpet, croissant (pictured below), or cheesecake in October. And do pick up a loaf of homemade bread while you are here! (the red fife, sprouted spelt, and sourdough are all delicious!).
Pick apples /pumpkins at a local orchard
There are a number of fall festivals taking place at orchards and farms around the Pittsburgh metro area. Soergels is one of your best bets. First off, there is no entrance fee (although some activities do require a separate fee). Second, there are plenty of fresh fall treats to enjoy including delicious homemade cider (hard cider available at Arsenal), candy apples, and pumpkin ice cream. And third, the fall festival (held weekends late Sept-October) offers opportunities to take tractor rides, pick apples and pumpkins, and enjoy great seasonal foods.
Other top rated U-pick farms include: Trax, Triple B, and Simmons.
Take a walk around the zoo
Fall is the best time to visit the Pittsburgh Zoo and PPG Aquarium. While the zoo is packed to the brim almost daily during the summer months, the crowds begin to dwindle down in the cooler fall months (exception – Boo at the Zoo). The temps are so much more comfortable, the animals are out and about more, and you can freely explore the exhibits minus large crowds. And, because there are so many trees, it's also a great place to leaf peep. Several days in October a special Zoo Boo (featuring trick or treating stations) festival takes place. Although the zoo no longer offers a nighttime Halloween event, there is a pretty cool Asian Lantern festival to enjoy.
Take a ride on the Duquesne Incline
Fall is the best time to take the scenic 400 foot ride up to Mt. Washington. The temps have finally cooled down, crowds are non existent, and a hint of fall foliage can usually be enjoyed. While you can enjoy the fabulous view from the Incline viewing area without paying for the ride, the Duquesne Incline is an iconic Pittsburgh experience worth enjoying at least once. Tip – Drive to the top (the Upper Station) on a Sunday to avoid both the incline parking lot fee and the parking meters on Grandview Ave. The ride is $10 round-trip. Address: 1220 Grandview Avenue.
Take in the stunning views via the Grandview Overlook
Just down the street from the Duquesne Incline lies the beautiful Grandview overlook. Because they are both located in the same region, you can easily incorporate a quick stop here into your itinerary. While the views are not as grand as those found at the Incline overlook, it's another fabulous city viewpoint to take in. During the fall season, you may get to enjoy a little bit of leaf peeping as an added bonus. Tip – Visit on Sunday to enjoy free metered parking. Address: 136 Grandview Ave.
Cozy up with a bowl of warm soup
Fall is the best time to enjoy a bowl of delicious soup. When the weather is brisk, a bowl of minestrone, broccoli cheddar, or seasonal butternut squash just seems to taste that much better. While you could enjoy a predictably decent bowl of soup at chains like Panera Bread and The Olive Garden, there are a number of great local establishments to support. One of these is Zuppa's Deli with cafes in Wexford and Cranberry Township. Enticing options include tomato bisque, Italian wedding, lobster bisque, and spicy shrimp and corn chowder, along with fall seasonal specials like butternut squash. They also offer a big menu of specialty sandwiches and delicious deli sides.
Attend a fall festival
Fall is a great time temperature-wise to attend a festive event. A few of the special festivities you can look forward to include fall festivals at local orchards and farms, farmer's markets, food festivals, Oktoberfest, movies in the park, concerts, and more. One popular Halloween event to check out is the Monster Pumpkin Festival in the historic Strip District. The highlight of attending this event is seeing the Atlantic Giant Pumpkins which weigh up to 2500 lbs! Other activities/attractions include artistic pumpkin displays, seasonal food and drink, carriage rides, glass blown art demonstrations, pie eating contests, and more. Admission is free (extra cost for food and certain activities) and there are plenty of fun photo opps.
Take a haunted boat ride
Gateway Clipper is a popular riverboat cruise company which offers sightseeing as well as specialty cruises. From this 2 story paddleboat, you will take in beautiful views of Pittsburgh's incredible skyline and many bridges via a relaxing ride along the 3 rivers (Alleghany, Ohio, and Monongahela). Fall is a great time to schedule a cruise as you will get to see a bit of fall color. A number of seasonal Halloween cruises are available. Pick between a spooky dance party, haunted history tour, or a kid's costume party. Highlights include spirited decor, roaming ghosts, and tarot card readings. Don't worry if you cannot handle the cold as the boat is climate controlled. On one negative note, the cruise allows outdoor smoking 🙁
Explore PA state parks
Escape the city for a peaceful day of hiking, photography, and rejuvenating in the beautiful woods of western Pennsylvania. There are a number of great parks within a reasonable drive of the city. Most notably, McConnells Mill State Park is known for its' beautiful covered bridge, historic Grist mill, waterfalls, amazing fall foliage, and wonderful trail network. This natural gem is located just 45 minutes from the city. It's a wonderful place to leaf peep, get back to nature, and enjoy some time in nature away from the congestion, traffic, and pollution of the city.
Check out more great state parks in Pennsylvania
Go back in time at a historic covered bridge
Today, it is estimated that between 500 and 600 covered bridges remain in the US. It is crazy to think at one point in history that number was more than 10,000! Pennsylvania leads the pack with 200+ standing covered bridges. Venture back in time to "the simpler days" with a visit to one of Pennsylvania's remaining covered bridges. Washington County alone is home to 23. Autumn is one of the best times to take a covered bridge sightseeing roadtrip as the colors of the season add a special photo worthy backdrop. Take a look at this full guide to PA's covered bridges.
Splurge on a Pumpkin Spice Latte
Pumpkin spice is now the iconic flavor of fall. Walk into any grocery store and you will find shelf after shelf of pumpkin flavored goodies. While Starbucks started the trend in 2003 with the ever popular Pumpkin Spice Latte, many local coffee shops now make their own version of fall's favorite beverage. The drink, made using espresso, milk, sugar, and pumpkin pie spices, really is autumn in a cup. Whether you go with the classic that started it all at Starbucks or prefer to keep it local, nothing starts fall off on a tasty note quite like a delicious PSL.
Attend Halloween events
As soon as October rolls around, you can expect to find a number of festive Halloween celebrations. While Pittsburgh's Halloween season does not compare with hotspots in New England, a few fun frights are to be found. The most famous of these is Phantom Fest, an annual Halloween celebration held at Kennywood amusement park. Along with enjoying all the regular rides, coasters, and attractions, you will get to scare yourself silly via several haunted houses, indulge in festive treats, and enjoy special seasonal decorations. A few more Halloween events to add to your bucket list:
Haunted mini golf at Hopewell Windmill – Enjoy a 18 hole course with the addition of spooky decorations and music, plus glow in the dark balls. Buy one- get one on Thursday nights!
Scare House – Featured on the Travel Channel as "one of America's scariest haunted houses."
Haunted acres manor – Ranked as one of America's top haunted houses. Unique features includes a Buried Alive simulator voiced by horror icon Tom Savini.
Zoo Boo – Family-friendly annual event featuring trick or treating stations, spooky craft stations, Halloween parade, and costume contest. A bit too family-friendly, but a nice place to leaf peep and enjoy the fall ambiance.