10 Best Free Things to do in (and near) Orlando
Orlando is probably the furthest you can get from a budget friendly tourist destination. In fact, the average 7 day Disney vacation can easily run you thousands of dollars. With expensive flights, overpriced resorts, sky high theme park tickets, and pricey restaurants…budget and Orlando just do not mix. On the bright side, there are numerous interesting things to do outside of the theme parks, many of which are free or low cost. If you are willing to sacrifice a day or 2 of theme park action, you can really cut your costs quite a bit.
Asides from obvious tactics like visiting during the off season, booking a budget friendly hotel, renting a cheaper condo as opposed to a resort, cooking your own food, and focusing on inexpensive restaurants, incorporating a few free attractions/activities into your itinerary in place of theme parks can help you save hundreds of dollars. With the recent surge in ticket prices, now is the time to consider exploring some of the free parks, museums, and attractions around the Orlando region!
After living in the region for several years, I've come up with a list of a few of my favorite free things to do in (and near Orlando).
1. View the largest collection of works from Louis Tiffany
The Charles Hosmer Morse Museum of American Art is one of the hidden treasures of Orlando. If you are looking to save a few bucks, as well as escape the horrible heat and humidity for a while, consider a stroll around this unique museum. The collection includes amazing stained glass pieces, paintings, pottery pieces, and dozens of iconic Tiffany Lamps.
Art lovers will also want to check out the Cornell Fine Arts Museum and the Grand Bohemian Gallery (located inside the Disney Grand Bohemian resort, and open to the public), both of which are free.
Location: 445 N Park Ave, Winter Park, FL 32789
Hours: 9:30am-4:00pm (Tues-Sat), 1-4pm (Sun), closed on Monday
Admission: Free on Friday nights (4-8pm) from April-November. Nominal $6 charge all other days.
2. Take a hike at Tibet Butler Nature Preserve
With numerous parks scattered about the metro area, it's easy to find a quiet place to escape the tourist congestion in Orlando. Plus, the massive Ocala National Park is located just north of the city. While there are many great trails to explore at Ocala, there are numerous fantastic hiking areas which do not require an hour drive. One of the best places to enjoy a peaceful nature walk is Tibet Butler Nature Preserve, conveniently located just minutes from the theme parks.
Several miles of easy trails take you through pine forest, cypress swamp, and marsh habitat. For anyone who loves nature and birdwatching, this is one of the best places close to the city to get lost in nature. Keep an eye out for osprey nests, armadillos, and gopher tortoises!
Tibet is a picturesque place to rejuvenate and enjoy natural surroundings after several days of dealing with the crowds, heat, and commotion at Disney. Tibet is a welcome nature oasis amidst the surrounding suburban and theme park congestion.
Location: 8777 Winter Garden Vineland Rd, Orlando, FL 32836
Hours: 8am-6pm, 7 days a week
Admission: Admission and parking are both free!
3. Take a stroll around charming downtown Winter Park
The quaint community of Winter Park is a beautiful place to spend an afternoon. Park Avenue, the city's Main Street, is lined with both eclectic and upscale boutique shops. Asides from popping in and out of unique shops and enjoying the historical charm and old-fashioned cobblestone streets, Winter Park always has an interesting lineup of events to look forward to.
There is no need to shell out big bucks shopping to have a great time. Browse through hundreds of books at Writer's Block Bookshop, grab a cup of coffee at Barnie's, or head over to Central Park, a large park right in the city center. Check out the Winter Park Farmers Market, held every Saturday from 7am-1pm, and Popcorn Flicks, a free movie series held in Central Park on the second Thursday of each month.
And, if you do not mind shelling out a few bucks, the Winter Park scenic boat tour really is worth the small $15 fee.
Location: Park Avenue Winter Park, FL 32789
4. Enjoy free entertainment at Universal CityWalk
CityWalk is the entertainment/nightlife capital of Orlando: a place where you can continue having fun long after the theme parks close. Regardless of whether you are visiting Universal, hop on over to CityWalk to enjoy the festivities. This entertainment complex is home to an abundance of touristy restaurants, shops, mini golf, and a movie theater. You will find several themed restaurants like Hard Rock Cafe, as well as local gems like Vivo Italian.
Free water taxi rides to the Hard Rock Hotel, Loews Portofino Bay, and Loews Royal Pacific are available. Free live music and various other entertainment happenings sporadically add to the excitement. Overall, CityWalk is just a fun place to people watch and enjoy the lively scene. A few budget friendly ideas for fun include seeing a matinee (matinees are $9.50, Tuesday is $5 discount day), grabbing a coffee at Starbucks, and enjoying live karaoke at Rising Star ($7 entrance fee)
Location: 6000 Universal Blvd, Orlando, FL 32819
Hours: Open until 2AM every day
Admission: Entrance is free. Free parking is available after 6pm. From 11am-6pm, you can receive free parking with the purchase of 2 matinee tickets – not a bad deal really!
5. Enjoy the cityscape scenery at Lake Eola
Lake Eola, featuring a 1 mile long paved recreation path, is the perfect place to spend a free day out in nature. Located in the heart of the city, Lake Eola features the most gorgeous view of the Orlando skyline. Birdwatching is super popular here – you will see all sorts of exotic bird life during your visit. The picturesque background makes the park the perfect place to picnic and simply enjoy enjoy the natural setting far away from the theme parks.
Be on the lookout for ongoing events such as the Orlando Farmers Market, held every Sunday from 10am-4pm where you will be able to sample all sorts of regional goods. Also, keep in mind the free spring/summer movie series, typically held from April-August each year.
For a small fee, you can rent a swan paddleboat.
Location: 512 E Washington St, Orlando, FL 32801
Hours: 6am-Midnight
Admission: No admission fee, free parking along side streets
6. Plan a daytrip to the Gulf Coast
It would be a shame to visit Florida and not visit any of the beautiful beaches, especially while in such close proximity. The closest nice beaches to the Orlando region are found within the Tampa Bay & Sarasota region. Beautiful Clearwater beach and Siesta Key are both known for their fine powder white sand. At one point, Siesta won an award for having the best sand in the world (International Sand Competition, 1987). As the gas costs will not be remotely as high as theme park tickets for multiple people, a beach trip comes in as an attractive budget friendly alternative.
Clearwater/St Pete
The smoothest sand anywhere…and cool to the touch!
If you plan on heading to the Clearwater/St Pete region, there are numerous other free attractions in the vicinity. Check out Weedon Island Preserve, a quiet place to enjoy nature and see various small forms of wildlife (armadillos, gopher tortoises) and lots of birds. Boyd Hill Nature Preserve is another gem, a place where you can either hike or opt for a more relaxing tram ride. Alligator sightings are common! Also, be sure to head over to Sand Key Beach for amazing shelling! Best place to find a sand dollar!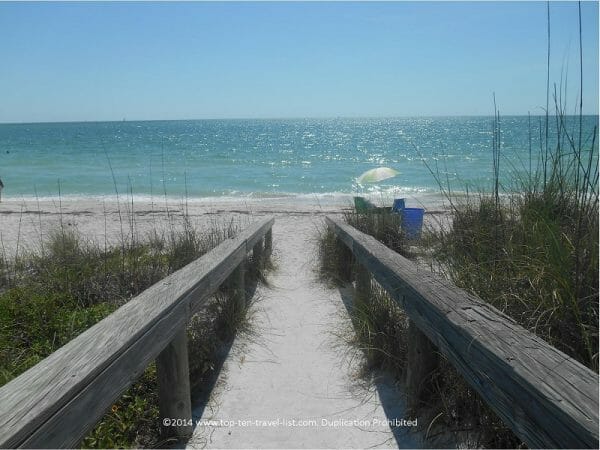 Sarasota
If you plan on heading towards the Sarasota area, Siesta Key beach, featuring over 99% pure quartz sand, should be your first stop. Another must-do in the area is searching for prehistoric shark teeth at Caspersen Beach. And finally, Myakka River State Park, Florida's oldest state park, is definitely worthy of a visit. There is a small admission fee (5 bucks), however, there is much to do here include nature trails, a canopy walk, an observation tower, airboat rides, and much more. Great place to bird and alligator watch!
So, pack a picnic, hit the road, and plan on spending a full day enjoying the beautiful natural surroundings of the Gulf coast.
7. Alligator Watch at Circle B. Bar Reserve
Florida is the best place in the country for alligator watching. Circle B Bar Reserve, the alligator hotspot of central Florida, is an easy half hour drive outside of Orlando. The preserve is located on beautiful Lake Hancock, which is home to one of the densest population of gators in the state. There is even a trail here named Alligator Alley! It's super narrow with gators lining both sides, sometimes more than a dozen! Definitely an exhilarating (yet super scary experience). Pretty awesome seeing these creatures in their natural habitat, although probably not something I would do again!
Asides from gators, you will see all sorts of small wildlife as well as tons of interesting birds! Bring your camera for sure! It gets hot here in the summer despite plenty of shade, so plan on hiking early in the day.
If you are not up for the treacherous walk, consider a safer tram ride around the grounds. Free rides are available each weekend. Also, keep in mind that winter, when gators come out to sunbathe, is prime gator season. Keep kids and pets far away from the water at any Florida park!
Location: 4399 Winter Lake Rd, Lakeland, FL 33803
Hours: 6am-6:30pm (5:30am-8pm during daylight savings).
Admission: Free (tram rides are also free).
8. Get back to nature at Kraft Azalea Garden
The gorgeous Kraft Azalea Garden is so beautiful that it is one of the top wedding and photography sites in all of Orlando. The park is small with a serene, secluded setting on Lake Maitland. If you are seeking a break from the theme park craziness, you can easily get back to nature at Kraft Azalea, or any other park in beautiful Winter Park for the matter.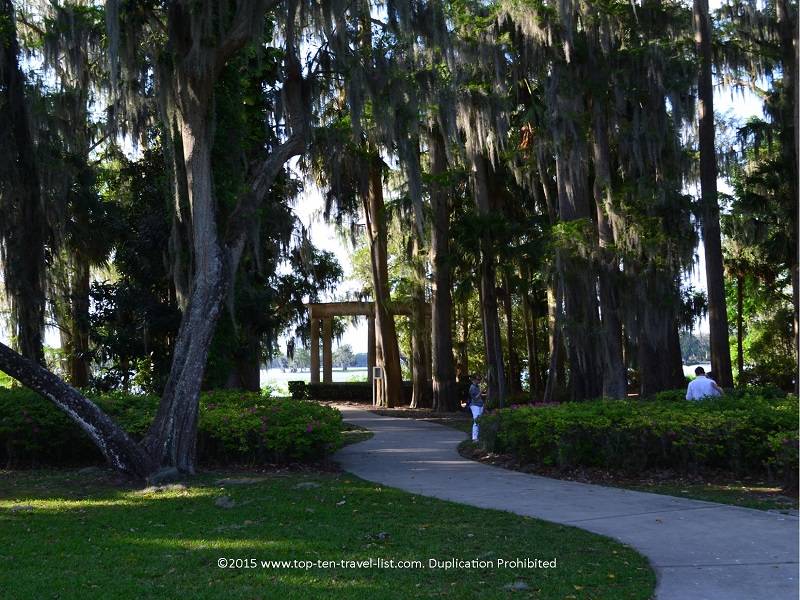 The park is shady and covered in gorgeous large cypress trees. Seeing a version of Florida which is basically the polar opposite of the theme parks is definitely a refreshing (and much needed) experience.
Location: 1365 Alabama Dr, Winter Park, FL 32789
Hours: 8am-Dusk
Admission: Free
9. Take a bike ride (or stroll) around Lake Baldwin
The Lake Baldwin trail is a short, easy 2.5 mile multi purpose path around a beautiful lake. This is a relaxing place to get out into nature and simply enjoy the sunshine and pretty lake scenery. The area has a nice local vibe and is located just 30 min or so from the theme park area. Unfortunately, the park lacks shade, so this one is best suited for the fall/winter season.
A number of parks are accessible via the trail, and if you want to extend your ride, you can connect to the 7.5 mile long Cady Way trail. Lake Baldwin park is popular for its' beach and is one of the only city parks where dogs can be off leash.
Various bikeshare locations can be found throughout the area. In fact, the entire area is biker friendly. Check out Village Center after your ride. This trendy area features a number of great restaurants and shops.
Location: New Broad & Jake St Orlando, FL 32814
Hours: Sunrise -sunset
Admission: Free (also free parking)
10. Spend the day exploring Disney Springs
Disney Springs, similar to CityWalk, is an entertainment complex known for its' themed restaurants and shops. As both admission and parking are free, this is a great budget friendly way to kill a few hours. Here you will find a number of fun touristy Disney shops to browse through. There is almost always some type of free entertainment on the main stage and the people watching alone makes for an interesting visit.
A few budget friendly ideas that will not break the bank include grabbing a coffee at Joffrey's (featuring unique Disney coffee art), grabbing a treat at Erin McKenna's bakery (everything is gluten free!), and taking advantage of the Early bird special at Splitsville luxury lanes (all-you-can-bowl/includes shoes for $14 from open-Noon).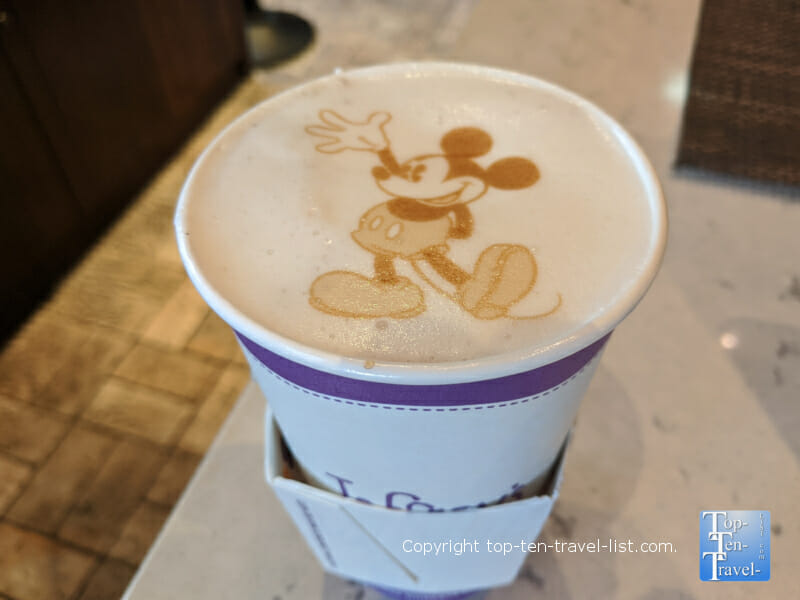 Of course, if you are up for spending a buck, there is plenty more fun to be had. Afterall, you are saving on the crazy theme park admission! Treat yourself to dinner at Raglan Road. Authentic Irish food, a pub shipped from the Emerald Isle, and live step dancing performances…what better touristy place to celebrate a night out at Disney?
Location: 1486 East Buena Vista Drive, Lake Buena Vista, FL 32830
Hours: 10am-Midnight
Admission: Free entrance and parking