The Best Free Things to do in Tampa Bay
With Busch Gardens, easy access to Orlando theme parks, endless miles of white sand beaches, beautiful preserves, and world-class museums, Tampa Bay is rightfully so a popular vacation destination pretty much all year round. There is fun to be had for every budget, around every corner, and even a handful of attractions which will cost you next to nothing.
With pricey theme parks, hotels, and restaurants racking up your trip costs, a few freebies will likely be a welcome addition to your itinerary! Below are 20+ free Tampa Bay attractions to add to your must-do list!
Bike the Pinellas Trail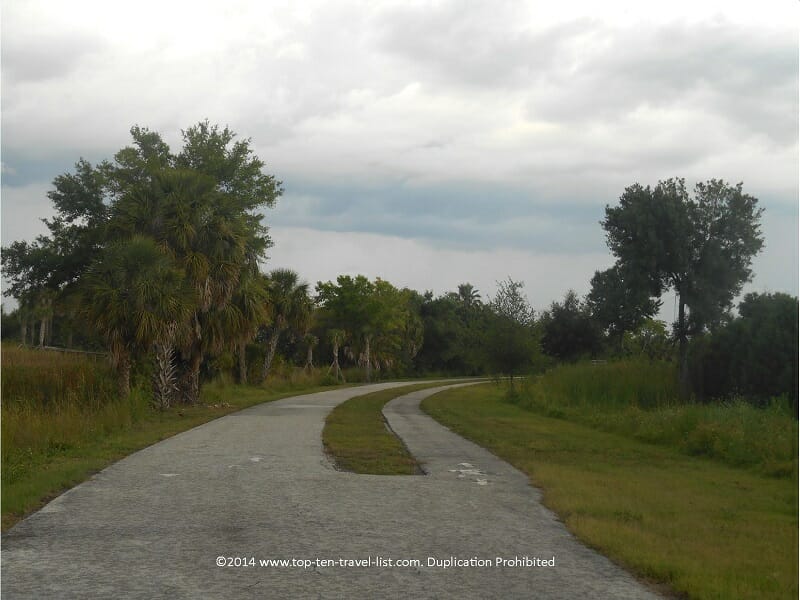 One of the best freebies in the region is the beautiful Pinellas trail, which has been rated one of the best rail trails in the country. The 50 mile long paved path runs the course of an abandoned railroad and can be accessed via numerous points in several cities. Whether you feel like jogging, biking, or taking a simple walk, this path is the best-of-the-best when it comes to a scenic place for a lengthy exercise session.
Points of interest along the way include the charming Main Street of Dunedin (featuring local coffeehouses, ice cream shops, galleries, & quaint boutiques), John Chestnut Park in Palm Harbor (alligator sighting hotspot), and Honeymoon Island State Park (one of the region's most scenic beaches is easy accessible via a 2 block detour).
The most picturesque portion of this path runs between Dunedin and Tarpon Springs for about 7 miles, making downtown Dunedin the perfect place to grab breakfast and a cup of coffee (I love Cork & Beans) prior to your ride!
Read more about the Pinellas Trail
Relax at Pass-a-Grille Beach
This beautiful laid-back beach located at the southern end of super congested touristy St. Pete Beach is "slightly" less hectic. In addition to enjoying the beautiful white sands and clear waters of Florida's West Coast, you will also have the opportunity to explore nearby historic Pass-A-Grille village.
Here you can enjoy various shops, stop for a quick bite to eat, or check out an art gallery. If you are seeking more of a quant vibe as opposed to a touristy party vibe, charming Pass-a-Grille may be the perfect option for you!
*Free parking along 8th Avenue in St Petersburg
Read more about Pass-a-Grille beach
Bike the world's longest continuous sidewalk
Bayshore Blvd, at 4.5 miles long, is considered to be the world's longest uninterrupted sidewalk. Many others around the country claim the same title, nonetheless, it's a beautiful ride surrounded by the Hillsborough Bay on one side and gorgeous mansions on the other.
What's more – the skyline views and palm landscaping make the ride all the more attractive. It's easy to stay motivated to complete the entire trek when surrounded by such beauty. Get up early enough to avoid the crowds and possibly see some wildlife (be on the lookout for dolphins and manatee!).
*Free parking near 320 Bayshore Blvd Tampa, FL 33606
Search for shells on Sand Key Beach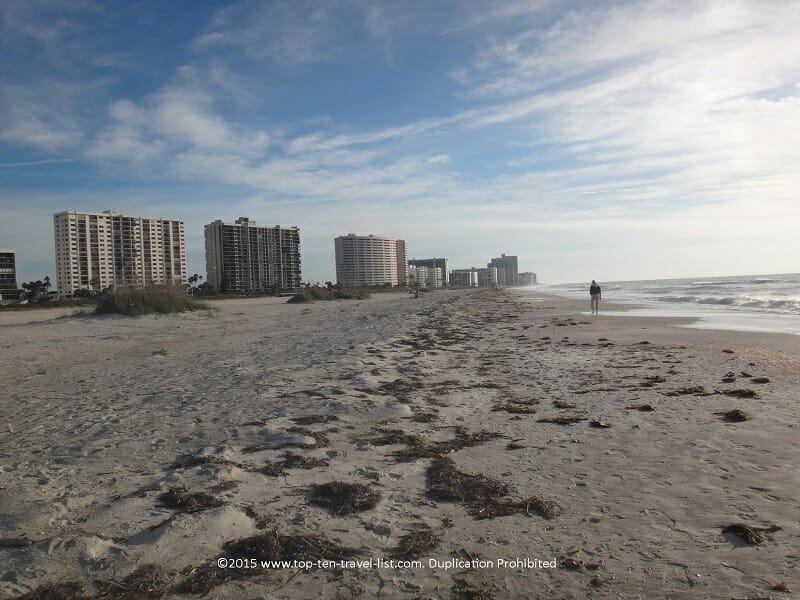 Compared to neighboring Clearwater Beach, Sand Key remains a hidden gem. While this beach does not offer the world renowned soft white sand that Clearwater is so famous for, it does offer endless opportunities for shelling. Sand Key is one of the best places to find a sand dollar. Just be aware that it is illegal to take one that is still alive! Sand Key is never overly crowded, and thus, the perfect destination for a quiet morning beach walk!
*Free parking is available at Belleair Beach Marina (Gulf Blvd Clearwater)
Take a stroll around Hyde Park Village
The best outdoor shopping area in the Tampa area is definitely Hyde Park Village. This complex is located just outside of downtown Tampa and is one of the few places where you can walk around comfortably anytime of year. There are plenty of shady trees covering most of the grounds. Be on the lookout for free events and festivals throughout the year. Lots of budget fun too – stop by Buddy Brew for a delicious coffee or treat yourself to a gelato at Sorrento's sweets.
*Free parking garage (1602 W. Stone Ave Tampa, FL 33606)
Enjoy the scenery at Boca Ciega Millennium Park
If you are looking for a great place to spend an hour or 2 in nature, Boca Ciega Millennium Park in Pinellas County does not disappoint. Out of all the preserves in the area, this one offers the most stunning vistas of the water via its' 35 foot observation deck. The park is home to 7 diverse natural habitats and is also located along the Great Florida Birding trail. Take a walk along the nature trail, pack a picnic, bird watch, or enjoy canoeing on Boca Ciega Bay.
*Free parking (12410 74th Ave N, Seminole, FL 33772)
Observe an alligator in its' natural habitat
Spring mating season and warm winter days (when gators are often seen basking in the sun) are the best times to plan your visit to a Tampa preserve. If it is too hot, the gators tend to stay underwater. On a mild, sunny winter day, head over to Lettuce Lake Park in Tampa, John Chestnut in Palm Harbor, A L Anderson in Tarpon Springs, or Weedon Island Preserve in St. Pete.
I have seen multiple gators at each of these gorgeous parks. Armadillos, tortoises, and plenty of interesting birds make a trip to any of these preserves even more exciting for the nature lover.
Marvel at the lush flora & fauna, & observe wildlife at The Florida Botanical Gardens
In Largo, you will find one of the Bay's top free attractions. The gorgeous 182 acre Florida Botanical Gardens is open year-round. Although the spring and summer season can be a bit too hot to leisurely stroll around, fall and winter mornings offer the perfect mild conditions for a nature stroll.
In addition to exploring 30 acres of maintained gardens, you will also have the opportunity to see wildlife as well as rare scrub and sandhill habitat via the on-site nature trails. Be on the lookout for gopher tortoises, bald eagles, and armadillos. Bonus – this is also a great bird watching destination!
*Free parking & admission (12520 Ulmerton Rd, Largo, FL 33774)
Map of the Florida Botanical Gardens
Explore the Tampa Riverwalk
One of the main sights of interest in downtown Tampa is a 2.5 mile long path known as Riverwalk. Although there are a handful of great restaurants and museums along this path, there are also plenty of fun free activities to enjoy as well. In addition to yearly events, you can also look forward to exploring great parks like Curtis Hixon, take a free yoga class, enjoy public art exhibits, and also explore a historical monument trail and heroes memorial.
Best of all, there are wonderful views of the bay for almost the entirety of the walk. Riverwalk is a fabulous place to get out and exercise, all while taking in some of the best scenery the city has to offer!
*Free street parking north of Kennedy Blvd after 6 (weekdays) and all day on weekends.
Spend a day of fun-in-the-sun at Fort De Soto Park
Fort Desoto Park is a popular tourist destination located just a few miles south of St. Petersburg. The white sandy beaches here often rank as the best in the country. Five interconnected islands, all featuring diverse natural habitat, comprise one of the Gulf's most gorgeous parks.
There's plenty of attractions here besides beaches including a beautiful 7 mile trail, dog park/beaches, and tranquil nature trails which pass through a variety of Florida habitats including mangrove forests, palm hammocks, and hardwood forests.
*$5 parking fee (3500 Pinellas Bayway S, St. Petersburg, FL 33715)
Read more about Fort De Soto Park
Go swimming at Indian Rocks Beach
Out of all the Tampa Bay area beaches, Indian Rocks is by far the best. It's rarely over crowded, the sand is smooth and soft, and cheap or free parking can easily be found. Park along the side streets for free and your day at the beach won't cost a dime. It doesn't get any better than that! Indian Rocks is the best beach to swim or boogie board at due to the presence of large waves, especially prior to storms. Oh, and if you get lucky, you may just see a dolphin or manatee (IRB is one of the best for wildlife sightings!).
Compared to super touristy beaches like Clearwater and St. Pete, this beach charms with a quaint local vibe. The town itself is so laid-back and relaxed with an attractive absence of big chains/commercialization.
*Free parking along Gulf Blvd in Indian Shores, FL. Or park for just a $2.50 per hour at Tiki Gardens (19601 Gulf Blvd).
Alligator watch at John Chestnut Park
This quaint park in the quiet Pinellas County suburb of Palm Harbor is the perfect place to take a nature walk. It's never over crowded with tourists and it is an excellent wildlife watching destination. There is a beautiful swampy boardwalk trail here as well as a nice overlook of Lake Tarpon. Alligator sightings are pretty common. Deer, armadillo, and gopher tortoise are also out and about. Groups of deer often group together right on the road or trails, especially if you time your visit near dusk.
Overall, this is a great little free park where you can watch wildlife, get in some healthy exercise, and enjoy the natural side of Florida.
*Free parking (2200 E Lake Rd S, Palm Harbor, FL 34685)
Read more about John Chestnut Park
Browse the Tampa Museum of Art
On Thursday nights from 4 to 8pm, Tampa's premier art museum operates on a pay-as-you-wish basis. This is a great opportunity for anyone who cannot regularly afford admission to explore the museum's small, yet impressive collection. The permanent exhibits include a large section of modern and contemporary paintings, as well as a section dedicated to ancient Greek and Roman art and artifacts.
*Free street parking after 6, or park for a small fee (just $1 per hour) at the William F. Poe garage (800 N. Ashley Drive)
Get lost in nature at Weedon Island Preserve
One must-do in St. Petersburg is visiting the wonderful (and free!) Weedon Island Preserve. If you love nature, this quiet park should be tops on your to-do list. With ample wildlife and bird watching opportunities, gorgeous views of the bay, and several miles of nature trails, this preserve will impress fitness buffs, animal lovers, and photographers.
Start with the easy 1 mile long Boy Scouts Loop. Enjoy the natural views of Florida pine flatwoods and maritime and xeric hammocks. It's pretty common to see armadillo and gopher tortoises slowly trudging about. Also be sure to enjoy the shady boardwalk trails which cross over mangrove forests and tidal flats. On clear days, you can see all the way to Tampa and St. Petersburg via the 45 foot observing deck.
*Free parking (1800 Weedon Dr NE St. Petersburg, FL 33702)
Read more about Weedon Island Preserve
Visit Madeira Beach/St. John's Boardwalk
Madeira Beach is a popular vacation destination, not just for the 2.5 miles of powder white sandy beaches, but also for St. John's Boardwalk, a quaint fishing village. The 1100 foot long wooden boardwalk is lined with restaurants, tiki bars, and shops. Even if you do not intend to spend a dime, it's still a fun place to stroll around. Take pictures of the water, be on the lookout for dolphins, and simply enjoy the beachy vibe.
On an interesting side note, the former fishing village is named after pirate John Levique who passed through the area in 1848.
*There is both metered and parking garages in the area (200 Boardwalk Place Madeira Beach).
Bike the Upper Tampa Bay trail
As one of Tampa's most easily accessible urban trails, the Upper Tampa Bay bike path is recommended for any cyclists visiting the city. While the trail is not very shady, there are numerous benefits. Namely, there are multiple access points, and most importantly, handy cold water stations are located along the route (a must in hot Florida!). The route is just 7 miles long, so perfect for a nice weekend ride.
Parking at 9201 West Waters Ave.Tampa, FL 33635 ($2 fee)
Read more about the Upper Tampa Bay trail
Explore the ruins of an old hot springs
Wall Springs Park in Palm Harbor was once a place where people would go to soak in healing mineral enriched spring waters. Unfortunately, the hot springs closed down in the mid 60's. Today, you can see the old spring ruins, plus enjoy a variety of nature trails. Also on-site is a 35 foot tower which overlooks The Gulf. And, as the case at nearly all Florida preserves, you will want to keep your eyes peeled for any wildlife, especially gators! Bonus – this park connects with the Pinellas trail.
*Free parking (3725 De Soto Blvd. Palm Harbor, FL 34683)
Stretch out your legs on Treasure Island Beach
Treasure Island is a big beautiful wide beach. There's plenty of room here for everyone to spread out even on the most crowded of days. Whether you feel like beachcombing, sunbathing, swimming, paddleboarding, playing volleyball (the only area beach with a dozen nets or so), or simply taking a stroll along the beach, Treasure Island has got it all.
As for the unique name? The story goes that back in the day a local hotel owner buried and discovered a hidden chest at the beach in order to draw tourists in. As this story spread, visitors began calling the beach Treasure Island.
*Parking at 10400 Gulf Blvd., Treasure Island, FL 33706 (small fee)
Dig your toes into the soft powdery sands of Clearwater Beach
Out of all the beaches in Tampa Bay, Clearwater is definitely the go-to option for most visitors. Tourists come from all over the world to dig their toes into the soft white sands. The sugar like consistency of the sand comes from the fact that it is nearly pure quartz. Not surprisingly, this beach has come up more than a time or 2 on various "best beaches" list.
Be on the lookout for the free Sunsets at Pier 60 year-round festival which features movies on the beach, live entertainment, and artisan craft markets.
*Free parking is available on various side streets (although it's hard to find on busy weekends.) Metered and lot parking also available for a small fee.
Read more about Clearwater Beach
Enter a natural oasis at Eureka Springs
Eureka Springs is the most beautiful of all the nature preserves in Tampa. This one started back in 1938 as a botanical garden, and thereby, still showcases rare tropical plants not seen at other preserves. While quite small at just 31 acres, this is a beautiful place to get lost in nature. Highlights include a rose garden, the largest collection of ferns in Florida, and a boardwalk which winds through cypress, tupelo, and maple floodplains.
*Parking is $2 per car (6400 Eureka Springs Rd. Tampa, FL 33610)
Observe exotic birds at the Seaside Seabird Sanctuary
If you intend on visiting Indian Shores Beach, consider planning a quick stop at the Seaside Seabird Sanctuary. While admission is free, any donation is appreciated as any money goes towards the treatment and care of injured wild birds. Rehabilitated birds are eventually released back into the wild.
During your walk around the 1.5 acre property, you will see more than 100 birds including Great Blue Herons, Eastern Brown Pelicans, and Sandhill Cranes. Also be sure to enjoy the incredible views of the Gulf via the observing platform!
*Free parking at 18328 Gulf Blvd, Indian Shores, FL 33785 (Donations welcome)
Read more about Seaside Seabird Sanctuary
Take a jog around Al Lopez Park
Al Lopez Park is a large city oasis featuring a nature path, playgrounds, a freshwater pond, dog parks, a wide paved running/biking trail, fishing docks, and exercise stations. Any fitness buffs looking for a great free place to workout will want to check out this lovely park.
The main paved loop is 1.2 miles long – perfect for a few running or biking loops. Anyone looking to get a more rustic can opt to take a walk on the shady boardwalk trail which winds around the lake.
*Parking is free (4810 N Himes Ave, Tampa, FL 33614)
Hike the Bald Cypress trail at Morris Bridge Park
This little visited gem is well worth a visit by any nature lover seeking a peaceful park. Along with a swampy boardwalk trail, you will also find a quiet nature trail which takes you through bald cypress habitat. The trail is short and scenic with nice views of the river, although it could be marked a little better.
Wildlife sightings are common at this park so be on the lookout for small native animals. You will see lots of strange birds and possibly a gator and tortoise if your visit falls at the right time of the year. Overall, it's simply a nice place to spend an hour or so soaking in nature in an otherwise mostly man made area! Note: This park is also popular with fishers and kayakers (boat launch on-site).
*Parking is $2 (13630 Morris Bridge Rd, Thonotosassa, FL 33592)
Stroll along the boardwalk trail at John B. Sargeant Park
This small Hillsborough County park is worth a visit for the pretty scenery and quiet setting. This park is best known for the Hillsborough River State Canoe trail which winds through the leafy greenery. No canoe? No problem – you can rent one. Or, opt to enjoy a nice leisurely stroll along the boardwalk trail and keep your eyes peeled for gators and exotic birds.
*Parking is $2 (12702 US Highway 301 N.Thonotosassa)
Relax at A L Anderson Park
Quiet A L Anderson Park in Tarpon Springs is one of the best picks for the nature lover. The park is very woodsy and shady, so perfect for anyone looking to take a nice stroll minus the oppressive sunshine. The trail is short, however, features lovely views of Lake Tarpon and natural Florida habitat. This is a gator sighting hotspot so keep your eyes open!
*Free parking (39699 U.S. HWY. 19 N., Tarpon Springs)
Observe wildlife at McGough Nature Park
Escape the craziness of the beaches in exchange for a quiet walk through oak hammocks and mangroves at this beloved local Largo Park. This park has been nicknamed "Turtle Park" for its' high population of aquatic turtles. In addition to plentiful wildlife, there is a mile long nature trail made of recycled tires. Other features include a playground with stand up zipline, firepit rentals, and a butterfly garden.
*Parking is free (11901 146th St N, Largo)
Enjoy a lakeside stroll at Moccasin Lake Nature Park
Moccasin Lake is a beautiful small park located just a short drive from Clearwater Beach. Because of its' secluded nature, it works well as a natural daytrip away from the beach crowds. Featuring shady oak hammock trails, a nature exhibit, and plentiful wildlife sightings, this is a great place to spend an hour or so getting back to nature. Additionally, the park houses a few injured birds of prey.
*Parking is free (2750 Park Trail Ln, Clearwater)
Take a quiet stroll at North Redington Beach
North Redington is one of the best Gulf beaches to enjoy a peaceful stroll. This hidden gem is often bypassed in favor of the more commercialized beaches, thus making it a great choice for anyone seeking to avoid the rowdy party ambiance. The soft white sands, beautiful scenery, and lack of crowds make it an ideal morning beach walk destination.
*Metered parking (18200 Gulf Blvd. Redington Shores)
Escape to the tropics at the Kopsick Palm Arboretum
Take a short stroll through hundreds of gorgeous palms from around the world at the Kopsick Palm Arboretum. Today, the park is home to more than 500 palms including 150 diverse species. Best of all, admission and parking are both free! This is a great add-on activity if you plan on visiting Vinoy Park, a beautiful waterfront oasis in downtown St. Petersburg.
*Free parking (605 11th Ave NE, St. Petersburg)
Bike the Flatwoods Loop
In North Tampa, you will find a popular 7 mile long paved biking loop through native Florida pine flatwoods. Although the trail is not shady, and thus quite miserable during the summer season, it's a great pick come fall and winter. The beautiful pines lining both sides of the path will easily motivate you to get in a great workout. Note: This park is busy and parking fills up fast, so plan a weekday visit if possible.
*$2 parking fee ( 14302 Morris Bridge Road)