Upper Tampa Bay Trail: An Urban Oasis in Tampa, Florida
The Upper Tampa Bay Trail is one of the best multi purpose paved paths I have come across in the Tampa region thus far. The 7.5 mile path is a nice distance for a weekend morning bike ride – not too much, but enough for a great workout! Because it is such a fast, smooth ride, the 15 mile round trip journey goes by in a breeze.
It is clean, well-maintained, and paved. It's a pretty smooth, flat ride with only one hill and just a few small inclines. Great for anyone, from beginning to advanced cyclists. But the path isn't just for cyclists. You will see everyone out here enjoying the Florida sunshine: dog walkers, skaters, runners, birdwatchers, and those just out for a nature outing.
Take a look at the hill below. This is the only one you will encounter on the trail. This is the small section where you go onto the overpass.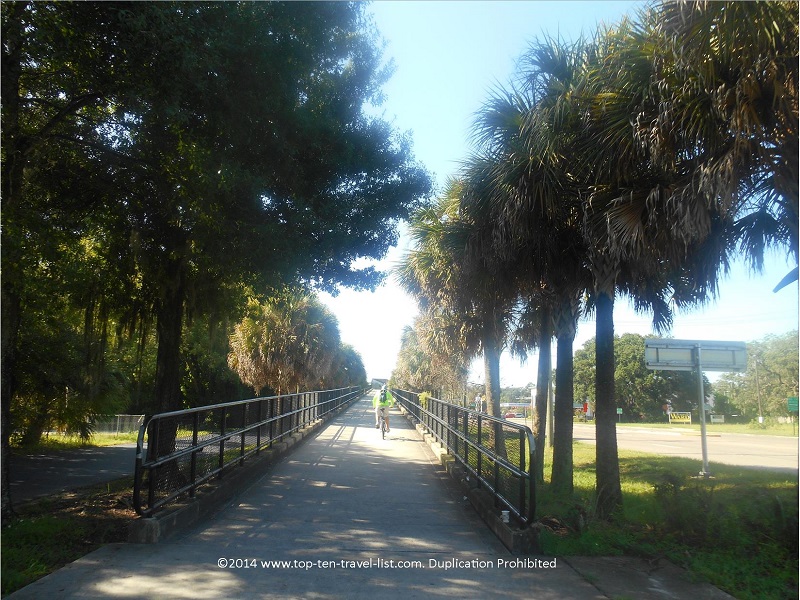 The trail is shaded for the majority of the route, allowing you the opportunity to exercise even on a hot summer day (very unusual for the area!). Beautiful trees cascade down on both sides of the path, making you forget that you are in clustered, overcrowded Hillsborough County.
Even though the path runs right next to a busy highway, it is not as noisy as you would expect. Trees are planted on both sides, and a portion of the path ventures a bit off the highway. The section that goes past an old landfill is actually pretty scenic as you finally get to take in some hills and open space.
This is definitely the best urban trail in the area. Very scenic, not too crowded, and wide enough to accommodate all types of exercisers. There is never too much congestion due to the width of the path. It's the place to go whether you are training for a marathon or just out for a leisurely weekend morning ride.
Spend some time away from beaches and crowded tourist attractions and enjoy Florida as it should be: peaceful and green. As is the case at all Florida parks, you have the opportunity of seeing various forms of wildlife along the way, including: alligators, turtles, and all different types of birds.
You can take a few short detours over the bridges for some beautiful water views. This is a great time to take a break and take out your camera. This is as rural as the Tampa area gets! Definitely a nice change of pace from the crowded suburban surroundings.
It can be hard to plan natural activities in the Tampa area due to a number of conflicting factors such as heat, traffic, and long driving times. However, the Upper Tampa Bay Trail offers the chance to enjoy exercise in a nice shady setting. And, there are multiple trail heads so you can park according to where you live.
There are beautiful views of the river throughout the path. Take a few looks below.
The Upper Bay Tampa Trail is a perfect year round escape. So, get out your bikes, jogging shoes, or skates and enjoy one of the best free activities Tampa has to offer.
For your convenience….
Cold water and bathrooms are found along the path.
Trail maps are provided at various points along the course.
Various benches along the way allow you to give your legs a rest, if needed.
Tips
Plan your ride as early in the morning as possible for cooler temperatures.
Check the weather forecast, especially during the rainy summer season.
If biking, make sure everything is properly tuned.
Bring with a GPS watch so you can track your distance.
Get out and stretch often to give your legs, shoulders, and feet a break.
Wear sunglasses and a hat to shield yourself from the sun.
Drink plenty of water. Exercise + heat equals easy dehydration.
Pack a few snack if completing the entire ride. You will get hungry, especially if combining a long ride with the driving time there and back.
Treat yourself to a nice healthy lunch after your ride. Try a casual salad and soup bar restaurant like Sweet Tomatoes or Jason's Deli.
Address & Parking Info
You can start the path at one of several trailheads. The southern end of the trailhead is Old Memorial Highway at: 7499 Montague St. Parking is $2. The northern end of the trail is located at: 203 Peterson Rd and Rails Rd. There is also a free parking lot off of Gunn Highway, however, you will have to start 2 miles or so into the trail.