The Magnificent Redwood Trees of California
I recently put together a photo book from my trip to the Redwood National Park and the Trees of Mystery attraction in Klamath, California. These trees are absolutely breathtaking and worth making the trip out to see!
The Trees of Mystery attraction is often called a "tourist trap," however, I had a great time and highly recommend the attraction! It was worth the small admission fee, in my opinion! They have a gondola ride that takes you up through the redwood trees. At the top, there is an observation deck with fabulous views of the trees and surrounding scenery. Along the trail, you get to read a lot of cool history about the redwoods. I also love the End of the Trail Museum, which has articles and "evidence" of area sightings of Bigfoot.
Photos from Trees of Mystery attraction
The gondola ride…
Another view of the gondola ride…
Scenic view from the overlook…
Another scenic view from the overlook…
Sun shining through the redwoods…
The Brotherhood Tree…
The Cathedral Tree (where many weddings take place each year)
Funny sign by a Baby Cathedral Tree…
A Rhododendron…
An upside down tree…
Wow…look at the size of this tree stump!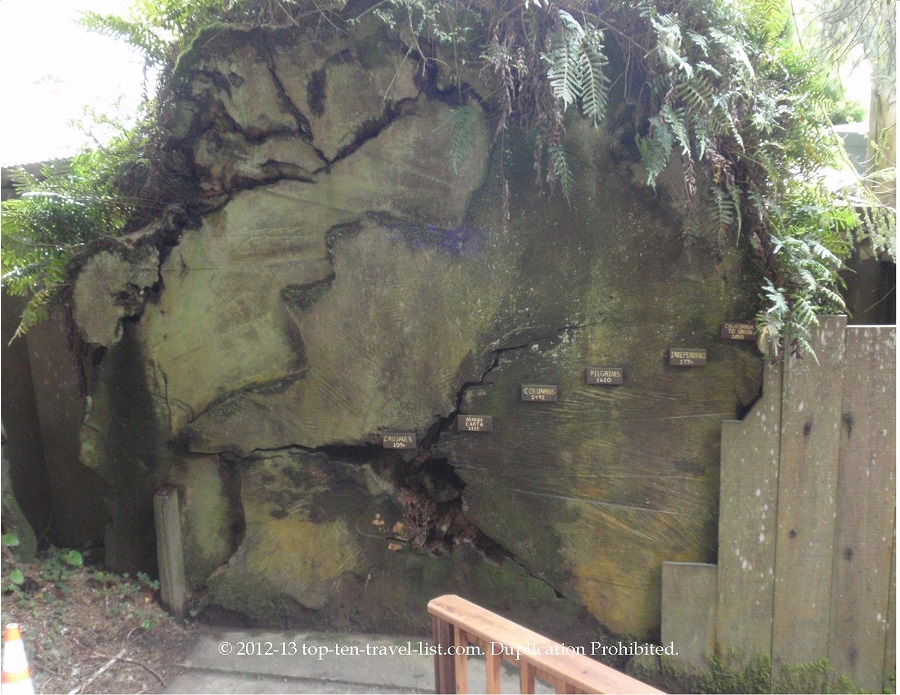 This redwood is old! Check out the dates on the stump!
A Bigfoot print at The End of the Trail Museum…
The gigantic Paul Bunyan and Babe the Blue Ox statue…
Scenic pictures from Redwood National Forest
Standing across a redwood to show its' tremendous size…
Roots on a redwood tree…
Beautiful redwood scenery…
The Gold Bear statue on Redwood Highway…
Directions and Pricing
Trees of Mystery
15500 U.S. 101
Klamath, CA 95548
Admission Prices (includes SkyTrail gondola ride, Forest Experience Trail, Wilderness Trail, Trail of Tall Trees, and the Kingdom of Trees.
General Admission (13-59): $20.00
Seniors (60 and over): $16.00
Kids 7-12: $11.00
Hours: The gift shop is open from 8:00am-7:00pm. Trails close a little earlier. The museum is open from 8:00am-6:30pm.
If you liked this post, then check out National Parks Worth Visiting…a few of my favorites!, Yellowstone Photo Gallery, Another Yellowstone Experience, and A Drive Through Yellowstone