100 Things to do in New England
New England is a picturesque & historical area of the country loaded with endless opportunities for recreation, entertainment, and education. Whether you are into history, sports, photography, great dining, or the outdoors, you are bound to find more than a few things to do. Massachusetts, Rhode Island, Connecticut, New Hampshire, Maine, and Vermont all have one thing in common: beautiful natural forested lands.
As you will see, many of my favorite activities in New England include those which provide both scenic views and a great workout, most of the time at no cost! Check out my list of 100 fun things to do while visiting New England. Note that this list is not all inclusive as I have not traveled as extensively through Maine, Vermont, and New Hampshire. Part 2 will be coming soon!
1. Walk the historic Freedom Trail
Boston's famous 2.5 mile journey takes you through 16 sights of historical significance, from America's oldest park, Boston Common, to the USS Constitution in Charleston. A brick pathway guides you along the way. You will want to bring the camera along as you will pass some of the country's oldest cemeteries, most beautiful architecture and parks, and most important landmarks. A trip to Boston is not complete until you embark upon the Freedom Trail.
Additional information on the Freedom Trail
Location: 139 Tremont St, Boston, MA 02108 (Starts at the Boston Common Visitors Center)
2. Take in gorgeous ocean and mansion views along Cliff walk
Newport's most extraordinary views can be enjoyed along the 3.5 mile oceanfront path known as Cliff Walk, conveniently located just behind the famous Newport, Rhode Island mansions, nonetheless, often overlooked by tourists who fail to notice this wonderful, free attraction. This breathtaking walk features spectacular views of both the ocean and the mansions. You will see many opulent mansions along the way, the most prominent being the extravagant 70 room Breakers at a whopping 125,000+ square feet! If you only have time for one Newport attraction, this is bar none the one to pick.
Additional information on Cliff Walk
Location: Cliff Walk, Newport, RI 02840
3. Hike the Mt. Battie trail at Camden Hills State Park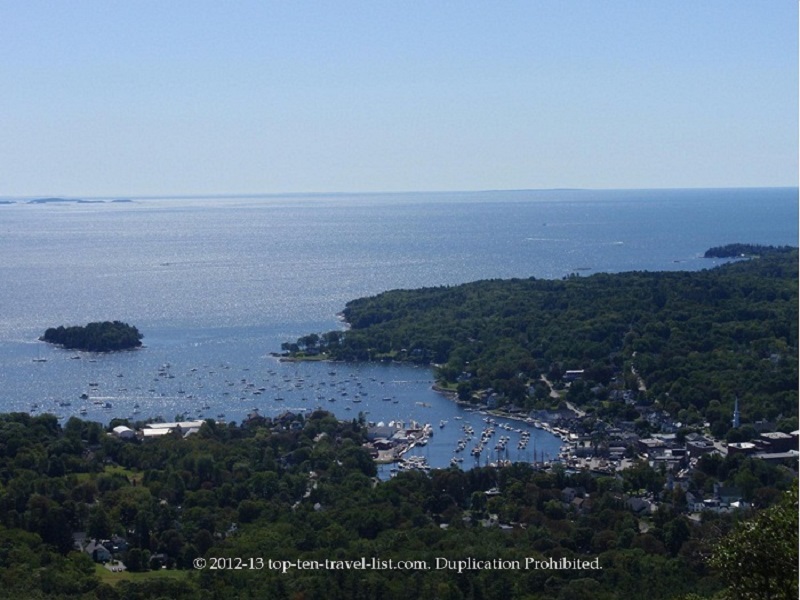 This beautiful coastal Maine state park is home to over 30 scenic hiking trails, including the iconic Mt Battie trail, which impresses with elaborate views of Penobscot Bay and the surrounding mountains. A steep 1/2 mile climb will lead you to one of the most impressive overlooks in the state. Camping, picnicking, hiking, and winter sports such as snowshoeing and cross country skiing trails are also available within this 5500 acre park. Tip: A hiking stick comes in handy for this hike as well as any others in the area.
Additional information on Camden Hills State Park
Location: 280 Belfast Rd, Camden, ME 04843
4. Get tickets to a Red Sox game
A visit to Boston would not be complete without catching a Red Sox game at historic Fenway Park, the oldest ballpark in America. 2012 marked the 100 year anniversary! Every fan should experience sitting in the Green Monster (the nickname given to the 37 foot tall left field wall) section at least once! If you love the Red Sox and really Boston in general, I recommend watching Fever Pitch! And, yes, the whole crowd really sings Sweet Caroline during the 8th inning home games! Read the story behind the tradition.
Location: 4 Yawkey Way, Boston, MA 02215
5. Take a picturesque ocean view hike at Sachuest Point Wildlife Refuge
Middletown's waterfront refuge provides a one-of-a-kind viewpoint of the coastline. This is a beautiful birdwatching destination. The scenic 2.5 mile Ocean Loop trail features peaceful ocean and marsh views. Sachuest is an extraordinary place for photography, bird watching, and wildlife viewing. After Cliff Walk, it ranks as the 2nd best place to take a nature walk in Rhode Island. Be sure to pack a camera! Deer sightings are very common, unfortunately so are ticks, so be sure to check yourself after your hike!
Additional information on Sachuest Point Wildlife Refuge
Location: 769 Sachuest Point Rd Middletown, RI 02842
6. Ride the tree-lined Minuteman Bikeway (in the fall)
One of Massachusetts' top bike paths, the Minuteman Bikeway, runs north of the city from Bedford to Cambridge along the route of a former railroad. The 10 mile paved path is flat, well-marked, and tree-lined for the entire route. Fall is an incredible time to visit; in fact, some of the best fall foliage in the area can be spotted along this gorgeous trail.
Additional information on the Minuteman Bikeway
Location: 110 South Rd Bedford, MA 01730 (starts at the historic Bedford Depot)
7. Spend a day exploring Plymouth's Waterfront
As you walk along the quaint Plymouth, MA waterfront, you will come across the Mayflower replica and Plymouth Rock. You will also come across a number of waterfront dining options, including local seafood and Italian options. Mamma Mia's is a fantastic local gem offering an expansive menu of Italian specialties, great service, and an outdoor terrace. Also, Plymouth is a fabulous destination for whale watching. Overall, this is one of my favorite summer coastal destinations.
Additional information on Plymouth's waterfront
Location: Water St. Plymouth, MA 02360
8. Ice skate amidst a snow globe setting at Nestlenook Farms
If you ever wondered what it would be like to step into the inside of a snow globe, skating while surrounded by a snowy mountain range, now is your chance! Jackson, New Hampshire's Nestlenook Farms resort is an absolute winter fantasy for ice skating, from the chime bells and horse drawn carriage rides, to the snow capped mountains surrounding the rink. Skating here is about as close as you can get to stepping inside a Hallmark Christmas movie! This 3 acre Victorian rink provides a perfect setting for holiday and winter recreation.
Additional information on Nestlenook Farms
Location: 66 Dinsmore Rd, Jackson, NH 03846
9. Take a hike through Devil's Hopyard State Park
One of Southeastern Connecticut's most beautiful parks is oddly named Devil's Hopyard (the origin is unknown but likely due to a local legend). Photographic opportunities await you at every turn, from beautiful Chapman Falls (a 60 foot waterfall surrounded by trees) to a historic covered bridge. This park offers the perfect fall New England setting – hundreds of trees, striking autumn colors, ponds and streams, and leaves scattered amongst the trails. This gorgeous park is even more incredible during prime fall foliage season. The beauty of the foliage surrounding the waterfall and covered bridge is unparalleled.
Additional information on Devil's Hopyard State Park
Location: 366 Hopyard Rd, East Haddam, CT 06423
10. Enjoy a Whale watching cruise aboard Captain John's boats
Massachusetts ranks among the best places in the world for whale watching. Plymouth, a beautiful harbor town, is the perfect place for a spring or summer whale watching adventure. Sightings on the Captain John cruise are guaranteed – a major bonus to anyone who has previously been disappointed due to a lackluster excursion. Don't worry though; we saw plenty of whales during our trip. And, as an added bonus, the views of Plymouth harbor (including Plymouth Rock) are absolutely gorgeous. Tip: Discount deals can often be found on Groupon.
Additional information on Plymouth whale watching tours
Location: 10 Town Wharf, Plymouth, MA 02360
11. Enjoy a hike in New Hampshire's White Mountain region
The White Mountains provide year-round fun for everyone. New Hampshire is home to Mt. Washington, the highest peak (6288 ft) in the Northeast. Driving the Mt. Washington Auto Road is the best way to experience panoramic views of the area. The spring and summer months are a great time to lace up your hiking boots and explore the variety of trails found within the White Mountains National Forest. In the winter, skiing is a popular pastime with 10 alpine skiing resorts and 5 Nordic skiing options. Bretton Woods, one of the largest Nordic centers in the US, is an excellent option for beginning cross country skiers.
Additional information on the White Mountains National Forest
Location: Mt Washington Auto Road: Rt 16, Greens Grant, Gorham, NH 03581, Bretton Woods: 99 Ski Area Rd. Bretton Woods, NH 03575
12. Bike along Cape Cod's beautiful Rail Trail
Cape Cod is home to a stunning bike route that follows the 22 mile path of a former railroad track. It is one of the nicest rail trails in New England, with beautiful natural forest scenery throughout. I love that this route is tree-lined for the entire distance; being surrounded by such beauty really keeps you motivated to finish. In addition, the route is well-marked and not as crowded as other bike paths in the state. Treat yourself to ice cream treat at Hot Sparrow Chocolate before completing the return route. For those who love seafood, there is a great little gem along the trail. Cobie's was rated one of the best clam shacks in New England.
Additional information on the Cape Cod Rail Trail
Location: Rt. 134 South Dennis, MA 02660
13. Take a sightseeing cruise around Newport Harbor
Taking a guided cruise is the best way to learn about Newport's rich history, while also enjoying the magnificent view. Gansett Cruises is an excellent, affordable option, and also centrally located in touristy Bowen's Wharf. The 90 minute cruises, offered in the morning, afternoon, and evening, all include a complimentary Rhode Island treat. The tour guides provide great historical information, while keeping it entertaining enough to hold your interest. You are sure to leave with a better knowledge of Newport, and of course amazing photos of the coast!
Additional information on Gansett Cruises
Location: 31 Bowens Wharf Newport, RI 02840
14. Plan a weekend getaway to the Mohegan Sun
Connecticut's beautiful 5 star resort and casino is one of the largest in the US. The interior design is absolutely gorgeous (be sure to check out the 55-foot tall Taughannock Falls of Tuscany and the gorgeous 3 story Chihuly crystal sculpture located in the shopping area) as is the picturesque location on The Thames River.
Guests have their choice amongst over a dozen restaurants, a handful of bars and nightclubs, and an entire section devoted to shopping. In terms of gaming, Mohegan Sun is home to a beautiful poker room, 5500 slots, and over 325 table games. While you are in town, make sure to check out the event schedule at the Mohegan Sun Arena, which is ranked as one of the best in the world. In addition, the Wolf Den provides free entertainment by some of today's top performers. For those looking for a relaxing getaway, you will want to check out Elemis Spa, a 22,000 square foot luxury spa.
Mohegan Sun hotel reservations
Location: 1 Mohegan Sun Blvd, Uncasville, CT 06382
15. Tour the allegedly haunted Lizzie Borden House
Fall River is perhaps best known for the Lizzie Borden murder trial, in which 33 year old Lizzie was accused and later acquitted of murdering her parents with an axe. Many claim that Lizzie still haunts the original residence, and numerous tourists have claimed to have spotted her face in the 2nd floor window.
Your friendly, entertaining tour guide will take you through the entire house, while explaining the trial in detail. Best of all, your tour guide will share mysterious paranormal encounters throughout the years. And, if you can handle it (we were told that many guests leave before the night is over), why not stay overnight in one of Massachusetts most haunted places?
Additional information on the Lizzie Borden house
Location: 230 2nd St, Fall River, MA 02721
16. Hike the Skyline Trail at Blue Hills Reservation
For a great view of Boston and the surrounding hills, head over to Blue Hills Reservation, an enormous 7000 acre park in Milton (just 20 minutes outside of Boston). The Skyline Trail is a steep climb, however, the views are magnificent. Here you will also find the oldest weather observatory in the US, Blue Hills Observatory, established in 1885. Tip: this is long, hard hike. I recommend a hydration backpack to stay hydrated. This will also give you plenty of pockets for storing essentials.
Additional information on Blue Hills Reservation
Location: 695 Hillside St Milton, MA 02186
17. Climb to the top of the Bunker Hill Monument
Bunker Hill, one of the 16 historic sights on Boston's Freedom Trail, also offers some of the best viewpoints of the city from its' observatory. After a challenging 294 step climb to the top, you will be rewarded with a bird's eye view of the skyline and surrounding landscapes. The tiring uphill climb is well worth the trek for the once-in-a-lifetime views. Plus, it's free!
What a view!
Location: Monument Sq, Charlestown, MA 02129
18. Spend a warm summer day relaxing at Second Beach
Sachuest Beach, aka Second Beach, is the best beach in Rhode Island for swimming or relaxing. The sand is so soft and clean, the waves are light, and the views are tremendous. This scenic beach is located just down the road from another great attraction, Sachuest Point Wildlife Refuge. Plan for a refreshing morning hike at Sachuest, followed by a relaxing afternoon at the beach!
Additional information on Second Beach
Location: Sachuest Point Rd. RI 02842
19. Test out ghost hunting equipment on the Plymouth Night Tour
Plymouth's Night Tour allows you to take a guided journey through Plymouth's most haunted locations (including Burial Hill cemetery and the Spooner House, 2 frequently reported haunted places in Massachusetts) with the aid of paranormal investigators and ghost hunting equipment (you get to test out EMF meters which detect fluctuations in electromagnetic fields).
This tour is a blast: entertaining, educational, and spooky all at the same time! Plan for a tour during Halloween season or any time of the year that you are looking for a Ghost Adventures-esque experience.
Additional information on Plymouth Night Tour
Location: 120 Water St, Plymouth, MA 02360
20. Take an old-fashioned sleigh ride at Nestlenook Farms
What could be better than a snowy sleigh ride while surrounded by New Hampshire's stunning White Mountains? Nestlenook Farms offers horse drawn sleigh rides that take you around their beautiful wintry New Hampshire resort. The setting is perfect: snow capped mountains, ice skaters gliding by on the Victorian rink, and beautiful chime music. This is one holiday experience you are sure to remember!
Additional information on Nestlenook Farm sleigh rides
Location: 66 Dinsmore Rd, Jackson, NH 03846
21. Get lost in nature at Myles Standish State Forest
Outdoor lovers will never run out of activities at Southeastern Massachusetts' largest recreation area. Athletes and nature lovers are treated to year-round fun, including 13 miles of hiking, 15 miles of biking, and 35 miles of equestrian trails. Prefer winter sports? Cross country skiing and snowshoeing the trails are popular winter sports following a big storm. On an interesting side note, Myles Standish is reportedly haunted, with various paranormal sightings reported over the years! Legend says that a mental hospital is buried deep within the woods!
Additional information on Myles Standish State Forest
Location: 194 Cranberry Rd, Carver, MA 02366
22. Cross country ski at Bretton Woods Nordic Center
Take the opportunity to go cross country skiing through the beautiful White Mountains of New Hampshire at one of the largest Nordic centers in the US. Bretton Woods offers trails for all ability levels, a variety of lessons, and of course serene, snowy views of the picturesque forests.
Additional information on Bretton Woods
Location: 99 Ski Area Rd Bretton Woods, NH 03575
23. Visit Salem's Essex Street during Halloween
The ultimate time to plan a trip to Salem is during Halloween season. Essex Street is home to Salem's 13 Ghosts, a unique 3D haunted house experience. In addition, you will find a variety of witch and Halloween themed shops, psychics, and outdoor vendors selling Halloween treats, costumes, and novelties.
The cobblestone streets, historic architecture, crisp weather, and beautiful fall foliage amplify the perfect Halloween atmosphere. During the entire month of October, Salem hosts Halloween themed costume parties, fairs, parades, and more! Also, if you are a fan of the Disney 90's classic Hocus Pocus, you will want to take a self-guided tour of the most famous filming locations!
Additional information on Halloween in Salem
Location: Essex St, Salem, MA 01970
24. Get back to nature at Great Neck Wildlife Refuge
Massachusetts offers no shortage of scenic & peaceful places to hike. Great Neck Wildlife Refuge in Wareham is a great place to spot rare wildlife species such as a wading heron or a great horned owl. Even if you encounter no wildlife along the trails, you will appreciate the peaceful serenity of the woods and marsh. Great Neck is a tranquil sanctuary that walkers and bird watchers of all abilities can enjoy.
Additional information on Great Neck Wildlife Refuge
Location: Stockton Short Cut St. Wareham, MA 02571
25. Visit Foxwoods Casino, the largest casino in New England
At 340,000 square feet, Foxwoods now holds the title of 2nd largest casino in the world (WinStar World Casino in Oklahoma recently overtook the number 1 position). Here you will find enough fun activities to fill anyone's day, even non-gamblers. In addition to table games and slots, you will find: a bowling alley, arcade, comedy shows, nightclubs, various shops, and a top notch spa.
You will never run out of restaurant options with over 30 places to choose amongst including Hard Rock Cafe and Hells Kitchen. The highlight here is definitely the expansive poker room, which comes in at the 2nd largest in the world (right behind the Commerce Casino in Los Angeles).
Location: 39 Norwich-Westerly Rd, Ledyard, CT 06338
26. Take a self-guided tour of Rhode Island on the East Bay Bike Path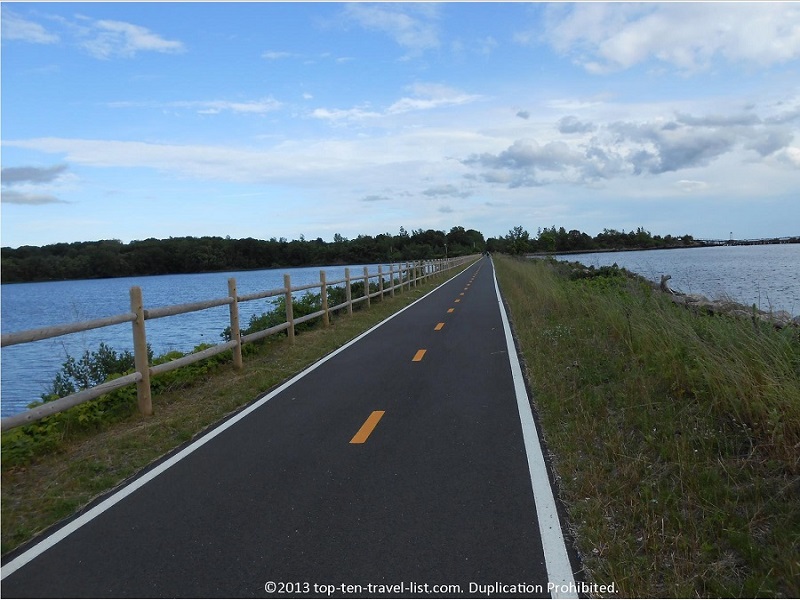 The best way to see the most beautiful portions of Bristol County, Rhode Island is by embarking on the 14.5 ride along the beautiful East Bay Bike Path. From Bristol to East Providence, you will encounter nothing but fabulous scenery, including: ocean views, lighthouses, parks, forests, marshes, and more.
The route is flat, well-marked, never overly crowded, and well-maintained. Highlights include views of: the Providence skyline, Haines Memorial Park, and Pomham Rocks lighthouse. Easy detours to downtown Providence. Bring with a camera to take advantage of all the lovely views. It's easily the most scenic bike path in the state.
Tip: A GPS watch is always handy on any long bike ride. You can track your distance, speed, and total time!
Additional information on the East Bay Bike Path
Location: Thames St Bristol, RI 02809 (Independence Point Park)
27. Explore historic trees from around the world at The Arnold Arboretum
Harvard University's Arnold Arboretum is located just a short drive from downtown Boston in Jamaica Plain. This gorgeous oasis is the perfect place to take a summer stroll. Walking through the 281 acre space you will observe 1000's of varieties of trees from all over the world. The bonsai collection is pretty impressive. On a historical side note, it is the oldest public arboretum in the US (est. 1872). For all the budget minded travelers out there, you will also be happy to learn that it is one of the only free arboretums!
Additional information on the Arnold Arboretum
Location: 125 Arborway, Boston, MA 02130
28. Book a snowy winter getaway at a mountain lodge
Located in the heart of the White Mountains, Bear Mountain Lodge offers an incredible setting for those looking for a peaceful New England winter getaway, compete with incredible scenery, cozy modern log cabin style lodging, and plenty of winter recreation.
This exquisitely built cabin has repeatedly ranked as one of the top inns in the country. One of the biggest perks includes on-site snowshoe trails and complimentary snowshoes. The innkeepers provide guided snowshoe tours for a small fee. Whether you feel like sipping a coffee and playing a game of Scrabble while taking in the snow capped landscapes, or working up a sweat on the trails, the peaceful winter scenery will surely impress.
Additional information on Bear Mountain Lodge
Location: 3249 Main St, Bethlehem, NH 03574
29. See a New England Patriots game and visit adjacent Patriot Place Mall
Gillette Stadium, home to the New England Patriots, is a must-see for any fans. Even if you can't attend a game, you can take in great views of the field from Patriot Place. CBS Scene has a TV at every table, and also a nice outdoor terrace, which is perfect because it faces the stadium.
In addition to traditional mall stores and eateries, you will also find a handful of themed restaurants (Toby Keith's I Love This Bar), The Hall at Patriot's Place (a museum dedicated to the Patriots), and Cinema de Lux, a 14 screen theater.
Location: 2 Patriot Pl, Foxborough, MA 02035
30. Visit Cape Cod's amazing Coast Guard Beach
Coast Guard is one of the most beautiful Cape Cod beaches. In fact, it is repeatedly ranks among the top ten beaches in the US. It is also a prime area for both swimming and seal watching. This beauty was referred to as "The Great Beach" by Henry David Thoreau. One interesting history tidbit: this beach marks the Pilgrims first sighting of land.
Location: 2 Ocean View Dr. Eastham, MA 02642
31. Visit a unique horror wax museum
You can't get much better than a horror themed wax museum! Horror fans and Salem Halloween visitors will love this dedication to the best horror movie characters, both past and present. Freddy Krueger, Jason, Pennywise from It, and so many more lifelike creatures of the night can be found lurking inside. Of course, Winifred from Hocus Pocus makes an appearance – did you know that scenes from the 90's cult classic were actually filmed in Salem? Bonus: During the month of October, the museum is transformed into a creepy haunted house!
Count Orlok's Nightmare Gallery tickets
Location: 285 Derby St, Salem, MA 01970
32. Explore the restaurants and shops on Newport's historic Thames Street
Newport's historic street is one of the oldest in the state of Rhode Island. Today, it is home to the most popular restaurants and shops in the city. Mamma Luisa Italian is a great home-style Italian choice (their ravioli is delicious!). During the summer months, this area is bustling with both tourists and locals. Whether you are seeking a lively pub, a quaint local shop, or a great lunch, Thames St. is where to find it! More to do in Newport!
A review of Mamma Luisa restaurant
Location: Thames St Newport, RI 02840
33. Explore the largest collection of battleships at Battleship Cove
Fall River is home to the world's largest collection of naval ships. At Battleship Cove, you will be able to tour both the insides and outsides of the USS Massachusetts, the USS Joseph P. Kennedy Jr., the USS Lionfish, Hidensee, and PT boats. As an added bonus, you will be treated to scenic views of the Taunton River and the Charles M. Braga Bridge. Tip: park your car in Fall Heritage State Park and take the mile long stroll along the river: this is where the best views and of the USS Massachusetts can be found.
Additional information on Battleship Cove
Location: 5 Water St, Fall River, MA 02721
34. Cheer on the Boston Celtics at TD Garden
Besides being a historical hotspot, Boston is also famous for being one of America's top sport cities. Locals are very dedicated to their teams. While many tourists flock over to Fenway for a Red Sox game, too many never consider the other major team in town! Nevertheless, loyal Celtics fans pack the Garden each season to cheer on their beloved team. Get ready to experience a fun game, packed with a lively, decked out crowd!
Location: 100 Legends Way, Boston, MA 02114
35. Enjoy a winter skating session at Boston Common
During the winter months, Boston's Frog Pond is transformed into a winter wonderland. Enjoy a skating session while also enjoying the beautiful city views of Boston, along with holiday music and lights. The setting is perfect for a holiday date or fun filled family afternoon. As a bonus, the rink is within walking distance to many attractions, as well as great restaurants and coffeehouses.
Additional information on Frog Pond
Location: 131 Tremont St, Boston, MA 02111
36. Take a ride along Newport's scenic 10 Mile Drive
Newport's popular Ten Mile Drive offers gorgeous views of the ocean, mansions, and serene green New England landscapes. The drive is a great way to see a lot in a short period of time. It will only take up a small fraction of your day, so it can easily be incorporated into your trip itinerary. There are plenty of places to get out and enjoy the views. Take the drive during the summer months for the freshest, greenest views.
Additional information on Ten Mile Drive
Location: 367 Bellevue Ave. Newport, RI 02840
37. Ski & stay in a woodsy lodge in Vermont
Vermont is beautiful anytime of the year, especially during fall foliage and the snowy winter seasons. The state frequently rates among the most active in the country, and Dover is no exception. During the winter months, treat yourself to a ski getaway at Mt. Snow Resort, which offers snowmaking on 80 trails. Mt. Snow is the only North American resort which uses a 6 passenger bubble chairlift. Festive events and special promotions are offered throughout the year.
Not a skier? Don't worry there are plenty of other great activities to partake in, including: tubing, sledding, snowshoeing, guided snowmobile tours, sleigh rides, and dog sledding. After your adventures, be sure to check out the various dining, shopping, and spa treatments at Nature Spa. The West Dover scenic overlook is also a must see on any trip. In terms of lodging, Kitzhof Inn is a great choice, with cozy lodging, great amenities, and a free shuttle to the resort.
Location: Mt. Snow Resort is located at 39 Mount Snow Rd. West Dover, VT 05356, Kitzhof Inn is located at 332 Vermont 100, West Dover, VT 05356.
38. Treat yourself to an Italian dinner in Boston's North End neighborhood
Boston's oldest residential community is well known for its' Italian heritage and abundance of quality Italian restaurants. The neighborhood is packed with restaurant after restaurant. Here you will find some of the best Italian choices in the city, including the highly rated Giacomo's (featuring homemade Italian specialties such as lobster ravioli and pumpkin tortellini).
Location: Hanover St Boston, MA 02113
39. Stroll around Boston Public Garden
This gorgeous, tranquil garden is located adjacent to Boston Common. It is beautiful any season, especially during the summer when the leaves return and flowers are in bloom. Don't rule out a winter visit either; the park is beautiful when covered with snow. Movie buffs will be interested to know that the famous Good Will Hunting bench scene filmed here!
Location: 69 Beacon St, Boston, MA 02108
40. Take a Harvard University tour
Harvard is one of the hardest colleges to get into with an acceptance rate of just 4%. This alone makes it intriguing. Did you know that Harvard University offers free tours to the public? Each weekday, you can sign up for a 1 hour student led tour through historic Harvard Yard. During the tour, you will learn interesting tidbits about the history of the school along with a current student's perspective on campus life. This interesting tour is sure to satisfy prospective students, history buffs, and anyone else that appreciates beautiful architecture.
Additional information on the Harvard University tour
Location: 1350 Massachusetts Avenue Cambridge, MA 02138
41. Take the ferry to Islesboro Maine
Islesboro, a small island off the coast of Maine, is a beautiful & relaxing summer vacation destination. A 3 mile ferry ride from Lincolnville Beach is the only way to access the island. The remote setting provides much needed relaxation and beauty for city dwellers. Bike riding, beach combing (sea glass is abundant), and nature walks are a few popular summer activities. The quaint setting and remote location makes the island especially attractive to celebrities: John Travolta, Kirstie Alley, Chris O'Donnell and various other celebs are part-time residents.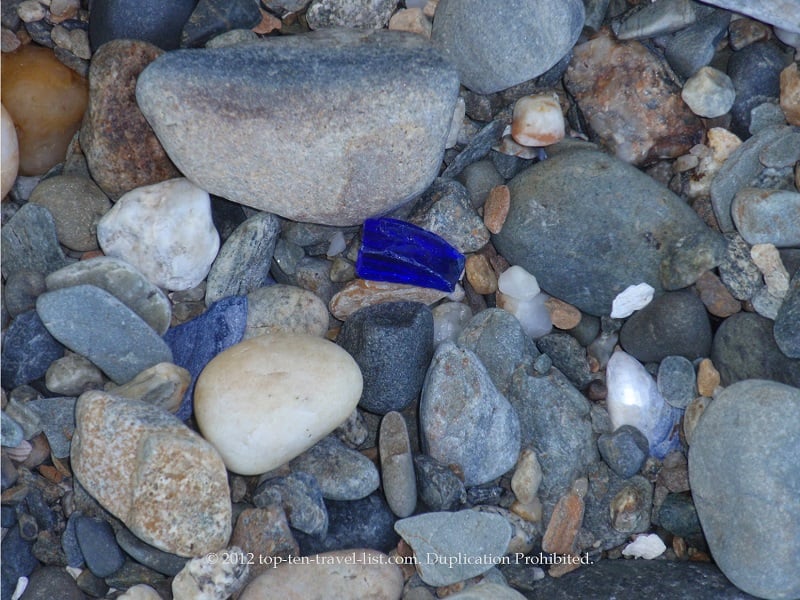 Additional information on Islesboro, Maine
Location: U.S. 1, Lincolnville, ME 04849 (Ferry leaves from Lincolnville Beach)
42. Visit the Worcester Art Museum
Although only the 2nd largest in the state, the Worcester Art Museum is a must-see for anyone interested in art. The collection is quite impressive. The museum is home to the largest floor mosaic in the US. The museum is small, although possibly one of the most beautiful I have encountered.
Additional information on the Worcester Art Museum
Location: 55 Salisbury St. Worcester, MA 01609
43. Enjoy a quiet morning stroll at West Island Town Beach
This hidden gem on the Southeast coast of Massachusetts provides gorgeous views anytime of the year. Laid-back and tranquil, West Island is the perfect place to take a summer morning stroll. The relaxing views of the water and salt marshes are well worth the drive.
Additional information on West Island Town Beach
Location: Fir Street Fairhaven, MA 02719
44. Plan a winter skate date at The Providence Rink
The Providence ice rink at the Bank Newport City Center is the nicest rink in both Rhode Island and neighboring Massachusetts. In fact, at 14,000 square feet, the rink is twice the size of Rockefeller Center! Plenty of room to skate here unlike Boston's packed Frog Pond. The season starts in November and ends in late March. Daytime and happy hour specials occur throughout the season. Be on the lookout for special events (recently they hosted a "Disney on Ice" performance).
Additional information on the Providence Ice Rink
Location: 2 Kennedy Plaza, Providence, RI 02903
45. Enjoy great views of Buzzards Bay at Allens Pond Wildlife Sanctuary
This beautiful coastal sanctuary includes a variety of trails with direct access to the ocean and gorgeous views of ponds and marshes. The best views of Buzzards Bay can be found along the Beach Loop Trail. Allens Pond is the ideal summer activity for anyone interested in the beach, bird watching opportunities (great blue herons are common), and hiking.
Additional information on Allens Pond Wildlife Sanctuary
Location: 1280 Horseneck Rd, Westport, MA 02790
46. Cool down at Rocky Neck State Park Beach
Connecticut is home to some of the best beaches in New England. East Lyme is a charming town with a Gilmore Girls-esque appeal. Thea area is home to many beautiful beaches with Rocky Neck being one of the best for swimming. The sand is soft and white and the waves are big enough to have some fun, without interfering with swimming. Great place for beach combing as well. Visit on weekday afternoons for the fewest crowds.
Additional information on Rocky Neck State Park
Location: 244 W Main St, Niantic, CT 06357
47. Take a ride along Pawtucket's Ten Mile River Greenway
Pawtucket, Rhode Island (just a short drive from the capitol Providence) is home to beautiful Slater Memorial Park, which is home to a scenic 3 mile bike path along the Ten Mile River. This picturesque paved path is new, clean, tree-lined, and provides lovely views of the river. It's one of my favorite short bike paths in the state.
Additional information on the Ten Mile Greenway
Location: RR 1A, Pawtucket, RI 02860
48. Take a stroll around Boston Common
Boston Common, the oldest urban park in America, is also the starting point of the historic Freedom Trail. During the spring and summer months, the park is a perfect place for a stroll. In the winter, you will find a festive ice rink on Frog Pond. This central park is also home to numerous ongoing city events such as the annual Christmas Tree lighting and New Year's Eve fireworks celebration.
Location: 131 Tremont St. Boston, MA 02111
49. Take a fall foliage cruise in Salem
Salem is a hot spot for leaf peeping during the gorgeous autumn season. A boat ride is a gorgeous means of taking in the scenery. Mahi Mahi is a Salem cruise line which offers various harbor cruises, including special fall foliage and Halloween cruises throughout October. The Halloween cruise is scenic and entertaining, although a bit chilly, so dress warm and arrive early to get an inside heated seat! During the cruise, you will listen to haunted stories of Salem's past.
You will also have the opportunity to engage in a number of on board festive holiday activities such as: tarot card readings, fortune teller readings, and Halloween face painting. A full bar and snacks are available. Overall, this cruise is a great, festive experience for everyone in the family!
Additional information on the Salem Mahi Mahi Halloween cruise
Location: 24 Congress St, Salem, MA 01970
50. Enjoy fresh seafood
There is no better place to enjoy fresh seafood than in New England. One of my favorite destinations is Plymouth. There is a great little local seafood gem here called Wood's Seafood. The setting is gorgeous and the food is delicious and affordable. Also, Newport's Bowen's Wharf area is home to a handful of waterfront dining options. The Lobster Bar is the best bet for those seeking traditional New England fare, such as lobster, oysters, and fish. Fresh local seafood, a tempting raw bar, and outdoor seating facing Newport Harbor – it doesn't get much better than this for seafood seeking tourists. Another tourist favorite is Bell in Hand Tavern (the oldest pub in America) on The Freedom Trail.
The Fisherman's Platter here is fabulous!
More great seafood in New England
51. Take a walk through Burial Hill, one of New England's oldest cemeteries
Historic Burial Hill dates back to 1620. Numerous Mayflower passengers are buried here, including Governor William Bradford. Because earlier grave markers were made out of wood, they are no longer legible today. Walking around you will notice how weathered the earlier gravestones have become due to the hands of time. The earliest stone marking is that of Edward Gray, marked 1681.
This cemetery is quaint and peaceful. Because of its' location atop a hill, tremendous views of the ocean can be seen while you are strolling around. In fact, the cemetery provides the best views in town.
Additional information on Burial Hill
Location: Leyden St Plymouth, MA 02360
52. Bike the Cape Cod Canal Trail
This 7.5 mile trail features great views of the canal and Sagamore Bridge. It's not uncommon to see a tugboat passing through. The Army Corps of Engineers uses and maintains the path. This ride is completely flat, although it can get windy. Check the weather forecast in advance to avoid the dreaded windy ride. After your ride, relax at beautiful Scusset State Beach reservation, conveniently located near the end of the trail.
Additional information on the Cape Cod Canal Trail
Location: Rt 134 South Dennis, MA 02660
53. Enjoy nature and explore wildlife at Emilie Ruecker Wildlife Refuge
Enjoy a peaceful nature walk at Tiverton's 55 acre wildlife preserve, a quaint place featuring great views of the woods, marshes, and Sakonnet River. Bird watching opportunities, notably egrets and great blue herons, are ample. One of the best places in Bristol county to take a scenic nature walk.
Additional information on Emilie Ruecker Wildlife Refuge
Location: Seapowet Ave Tiverton, RI 02878
54. Explore the Salem Witch Trials Memorial
Salem is perhaps most well-known for the infamous witch trials of 1692. In the late 1600's, 20 men and women were executed after being found guilty of witchcraft. The Salem Witch Trials Memorial consists of 20 stone benches with the names of those who lost their lives. After visiting the memorial, you can walk over to the adjacent Old Burying Point Cemetery where John Hawthorne, one of the primary judges in the trial, is buried.
Additional information on Old Burying Point Cemetery
Location: Liberty St. Salem, MA 01970
55. Take a peaceful drive during fall foliage season
New England is known for being the prime destination for beautiful fall foliage. No matter where you go you will find yourself surrounded by dazzling fall colors, whether on a drive, in a park, or scattered throughout a city. One of my favorite areas to drive around during fall foliage season is East Haddam, Connecticut, which is ranked among the top US towns for foliage.
56. Spend the day shopping at historic Olde Mystic Village
Shopping at this quaint New England village is like taking a step back in time. The antique stores, combined with beautiful landscaping and architecture, make a visit to Mystic Village a must when visiting Southeastern Connecticut. Note: Don't miss out on Raining Cats & Dogs, a fantastic pet store filled with anything you can imagine for your furry friends. Hallmark fans will be interested to know that a new Christmas movie is currently filming throughout the area!
Additional information on Olde Mystick Village
Location: 27 Coogan Blvd, Mystic, CT 06355
57. Be Amazed at the Jack O'Lantern Spectacular at Roger Williams Park Zoo
Rhode Island's great little zoo is more well known for their annual Halloween extravaganza, the Jack O'Lantern Spectacular, which has been featured on Travel Channel's Halloween Crazier special.
This is one of the best Halloween events in New England. 5000+ intricately carved pumpkins light up the festive Halloween trail, which features a special theme each year, ranging from movies, politics, history, etc. Halloween will never be the same again with this seasonal event that is sure to entertain everyone.
Additional information on Providence's Jack O'Lantern Spectacular
Location: 1000 Elmwood Ave, Providence, RI 02907
58. Head over to Fairhaven for the Phoenix Bike Trail
This scenic 3.5 mile bike path in the Southeast Massachusetts town of Fairhaven packs in a lot of scenic views for its' short distance. The route is tree lined the entire distance with great views of marshes along the way.
Additional information on the Phoenix Bike Trail
Location: 8 Main St Fairhaven, MA 02719
59. Escape the hustle and bustle of the city at peaceful Copicut Woods
Fall River is a former manufacturing city with only a handful of green areas. However, if you head over to Copicut Woods you will find a secluded 516 acre park which offers the perfect escape from the traffic and noise of the city. There are a handful of short, yet scenic hikes providing great views of the forest and streams.
Additional information on Copicut Woods
Location: Indian Town Rd, Fall River, MA 02790
60. Dine Italian style in the historic Little Italy of Providence
Providence is well known for its' high concentration of Italian restaurants, especially in Federal Hill, also known as "Little Italy." There are dozens of great restaurants to choose amongst including top rated Sienna and Camille's. Tip: There's almost always at least one Italian restaurant featured on Groupon. Save some money and check out a new restaurants at the same time – it's a win-win! Pictured below is a delicious Shrimp Scampi entree at Andino's – one of the best local Italian restaurants in Providence.
Location: Atwells Ave. Providence, RI 02903
61. Plan a summertime escape to Jamestown Island
Located just 5 miles from Newport, Jamestown is the perfect quick daytime destination. Spending the day enjoying scenic beaches, a whale watching cruise, and dining at local restaurants round out a great day on the island. The island's many beaches are often ranked as the best in Rhode Island for collecting sea- glass. In fact, cobalt blue glass (one of the rarest colors) is abundant.
Additional information on Jamestown Island
Location: Jamestown, RI 02835
62. Stop by for a friendly drink "Where Everybody Knows Your Name"
Boston is home to Cheers, a pub widely popular from the 1990's TV sitcom. The original Cheers is located on Beacon Street, while a replica is found in popular tourist hotspot Faneuil Hall. Bull & Finch Pub was the original name of the Beacon Street location, until it was renamed in 1992.
Although exterior shots of the bar were used for filming, the interior was not used at all, and the bar does not replicate that seen in the TV show. If you are looking for a replica of the TV show, head over to the Faneuil Hall location where the inside has been built to resemble that shown on the TV program.
Location: 84 Beacon St, Boston, MA 02108 (Beacon Hill location) & 1 S Market St, Boston, MA 02109 (Faneuil Hall location). UPDATE: The Faneuil Hall location is now closed.
63. Take a fall foliage chairlift ride
Many ski resorts offer scenic fall color lift rides as soon as the hues begin to change. Blue Hills ski area in Milton offers scenic chairlift rides every October. On selected dates, you can take a ride to the top of the hill and enjoy the beautiful views. Once on top you can choose amongst various hikes, including the short walk over to the Elliott observation tower for colorful views of the hills and a bonus view of the Boston skyline from afar.
Additional information on Blue Hills fall foliage chairlift rides
Location: 4001 Washington St, Canton, MA 02021
64. Explore nature at Buttonwood Park Zoo
This small zoo in New Bedford is worthy of a visit for the well-maintained grounds and up close views of the animals. It's a great place to get out for a bit of exercise – you will find a walking path around the zoo and a small scenic pond. This friendly zoo hosts various events throughout the year, including Holiday ZOOboolie and Boo at the Zoo.
Additional information on Buttonwood Park Zoo
Location: 425 Hawthorn St, New Bedford, MA 02740
65. Visit downtown Camden, Maine
Camden, located in Mid-coast Maine, is one of the most beautiful towns in the US. The quaint downtown area is perfect for a summer stroll. Great local restaurants and shops, pretty landscaping, and coastal views make for a very enjoyable afternoon. Tip: Have lunch at Camden Deli and make sure to sit on the rooftop terrace: you will be treated with stunning views and great food!
Location: Main St, Camden, ME 04843
66. Tour the Mayflower replica
Along Plymouth's historic waterfront, you will find a replica of the Mayflower that brought the Pilgrims to Plymouth back in 1620. For a fee, you are able to tour the inside of the ship and hear stories about the Pilgrims (complete with actors in period costume).
Additional information on the Mayflower tours
Location: Water Street Plymouth MA, 02362
67. Enjoy a nature trail at Massasoit State Park
This heavily forested Southeastern Massachusetts park is perfect for a summer hike. It's not as big as some of the other state parks in the area, however, the trails provide decent views of ponds and cranberry bogs. You will also find plenty of shady areas for an afternoon picnic.
Additional information on Massasoit State Park
Location: 1361 Middleboro Ave, East Taunton, MA 02718
68. Bike along Cape Cod's Province Lands Trail
Cape Cod's scenic Province Lands Trail, a 5.25 mile long loop, is a great way to explore the beautiful scenery in the area, especially the dunes. If you bike a bit further you can visit Race Point Beach, which is consistently ranked as one of the top beaches in the US.
Additional information on the Provincelands Bike Trail
Location: Race Point Road, Provincetown, MA 02657
69. Plan a summer day at Lincoln Woods State Park
Lincoln Woods State Park is home to a covered bridge, offering beautiful photography opportunities during the summer and fall foliage seasons. The 627 acre Rhode Island park features hiking and horseback riding trails, in addition to a freshwater lake, which is perfect for summer swimming. Eastern Mountain Sports Kayak School offers rentals and lessons for those interested in getting out onto the water.
Additional information on Lincoln Woods State Park
Location: 2 Manchester Print Works Rd, Lincoln, RI 02865
70. Take a scenic nature walk at Gertrude M. Boyden Wildlife Refuge
Boyden Wildlife Refuge, a volunteer run sanctuary, is one of the nicer places to take a peaceful walk in Southeast Massachusetts. It's a great place for photography due to the scenic location on Taunton's Three Mile River.
Additional information on Boyden Wildlife Refuge
Location: 1298 Cohannet Street, Taunton, MA
71. Explore covered bridges
Visiting a historic covered bridge is like taking a step back in time. New England is home to about 200 remaining covered bridges. Vermont is home to the most at just over 100. The 160 year old West Cornwall covered bridge in Connecticut is an iconic 172 foot long beauty over the Housatonic River. It is one of the oldest in New England and at one point was the largest. Pictured above is the gorgeous covered bridge at Devil's Hopyard State Park in East Haddam.
The best covered bridges in each New England state
72. Shop, Dine, & be entertained at Faneuil Hall Marketplace
Faneuil Hall, a popular marketplace in Boston, is home to numerous restaurants, bars, and shops. Street performances take place every weekend. Dining options consist of 14 restaurants/pubs including popular theme restaurants, as well as local seafood cafes. Faneuil is also home to the Quincy Market Colonnade, a collection of 36 international food vendors, the largest food hall in New England.
Additional information on Faneuil Hall
Location: 4 S Market St. Boston, MA 02109
73. Explore gorgeous waterfalls
New England is home to many gorgeous waterfalls. The tallest is Arethusa Falls in New Hampshire. This beauty is located in Crawford Notch State Park and stands a magnificent 140 feet. You don't have to complete a big hike to see a beautiful waterfall. Even the smaller waterfalls throughout the states are gorgeous due to the secluded and natural setting. One of my favorite hidden gems is the Enders Fall trail in Granby, Connecticut. The hike is short (1/2 mile), easily accessible, and features numerous viewpoints of the falls.
The tallest waterfalls in the White Mountains
Location: 1 Mohegan Sun Blvd, Uncasville, CT 06382
74. Tour the Crow's Nest bar used for The Perfect Storm filming
Gloucester, Massachusetts is home to Crow's Nest, the bar referenced in The Perfect Storm movie/book. The actual bar was not used for filming the movie; however, a replicated set was used in California. The movie actors did frequent the bar while staying in town to film scenes around Gloucester. Movie memorabilia and pictures of the cast/crew/and real life crewmen adorn the walls of this friendly, local hangout. Bartenders are eager to share their personal stories.
Additional information on the Crow's Nest
Location: 334 Main St Gloucester, MA 01930
75. See a classic movie at the historic Jane Pickens Theater
Newport's art house cinema screens both first run and classic films. This past holiday season, the holiday classic White Christmas was screened free to the public. The historic theater, built back in 1919, is elegant and timeless, especially with the old-fashioned architecture and velvet opening curtains. Wine and luxury snacks are available to accompany the movie.
Movie Schedule at Jane Pickens
Location: 49 Touro St, Newport, RI 02847
76. Climb to the top of the Provincetown Pilgrim Monument
The Pilgrim Monument was built in the early 1900's to memorialize the first landing of the Pilgrims. Contrary to popular belief, the Pilgrims did not land first in Plymouth. Plymouth is where they decided to settle after spending 5 weeks first in Cape Cod's Provincetown. Guests can climb to the top of the monument and take in the breathtaking views.
Additional information on the Pilgrim Monument & Museum
Location: 1 High Pole Hill Rd, Provincetown, MA 02657
77. Visit movie filming sites
Lots of iconic movies have filmed in the New England states, particularly in the Boston area. Popular filming locations include: Acadia National Park in Maine, Dartmouth College in New Hampshire, Brown University in Rhode Island, and Yale University in Connecticut. The best place to tour a bunch of movie sites in a single visit is downtown Boston. Several walking movie tours are available. My favorite movie site in the city is Boston Public Garden – home to the famous Matt Damon/Robin Williams bench scene in Good Will Hunting.
List of movies filmed in New England
78. Stroll around the Roger Williams Park Zoo
The Roger Williams Park Zoo is small, yet clean, well-maintained, and super easy to navigate. It's much nicer than the more popular Boston metro zoos and usually less crowded. It was founded in 1872, making it the 3rd oldest zoo in America. The woodsy setting makes the zoo very attractive to walk around and there is plenty of shade for the hot, sunny summer season. If you are in town around Halloween, do get tickets to the Jack O'Lantern spectacular – it is one of the best Halloween events in New England!
Additional information on the Roger Williams Park Zoo
Location: 1000 Elmwood Ave, Providence, RI 02907
79. Take a stroll along Providence's Blackstone Boulevard
Rhode Island is home to many beautiful parks and recreation areas, including the Blackstone Boulevard Walking Path. This 3.5 mile stroll (round-trip) is tree-lined the entire route, making it especially scenic during fall foliage season. The path is limited to foot traffic (there is a separate bike trail), so runners and walkers will appreciate having the space to their own. The path is picturesque with beautiful historic homes lining the side streets, tall trees, and fresh flowers during the summer months.
Additional information on the Blackstone Boulevard Path
Location: Blackstone Blvd & Hope St Providence, RI 02906
80. Visit Plymouth Rock & other historical sites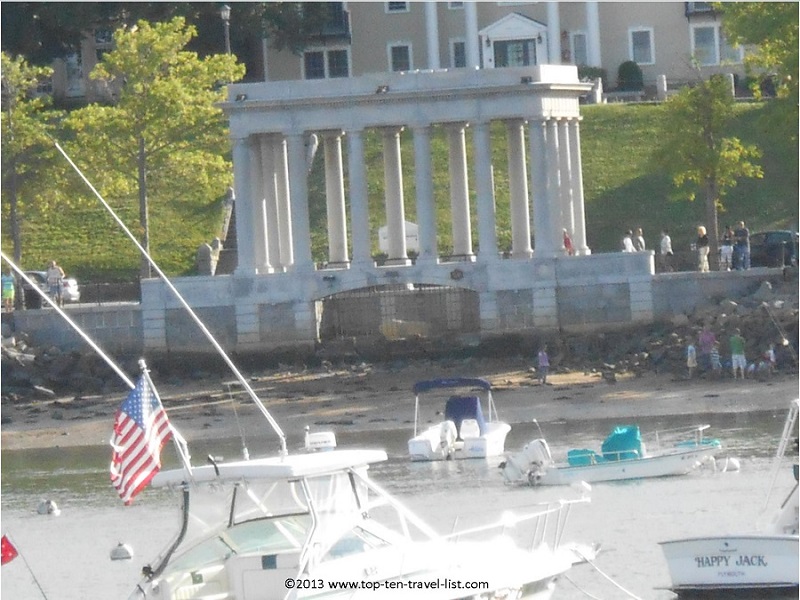 Plymouth Rock is located at Pilgrim Memorial State Park, the smallest state park in Massachusetts. The rock symbolizes the landing of the Pilgrims in 1620. The Plymouth waterfront is beautiful with lots to do, including: touring the Mayflower replica, whale watching, tourist shops, and waterfront dining. Did you know that this tiny state park is the most visited in the country with over a million visitors per year?
Also while you are in Plymouth, you will want to take a self-guided tour of the city's most prominent historical sites. Of particular interest is the breathtaking National Monument to Our Forefathers – This massive 81 foot tall statue (the world's largest solid granite monument) is dedicated to the Pilgrims.
Additional information on Pilgrim Memorial State Park
Location: Water St Plymouth, Massachusetts 02360
81. Hike at Breakheart Reservation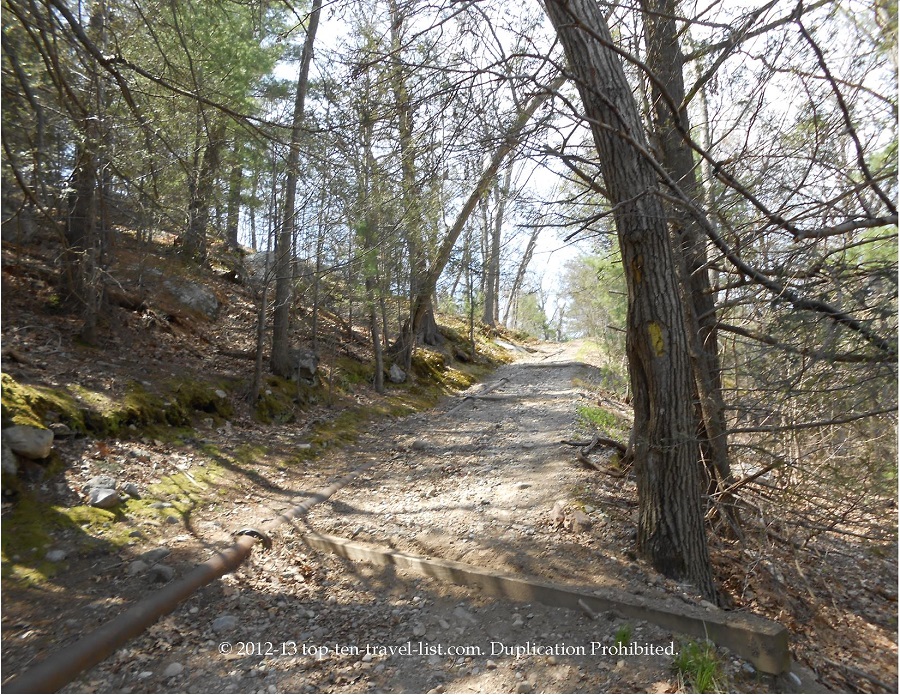 This year-round Massachusetts park, located in Saugus and Wakefield, offers biking, hiking, and cross country skiing trails. Great views, including those of the Boston skyline and surrounding rural landscapes, can be seen from several of the hills. The best time to visit Breakheart is during the warm summer months, especially with 2 freshwater lakes for swimming. With lots to do in the outdoor department, this is a great summer daytrip destination from Boston.
Additional information on Breakheart Reservation
Location: 177 Forest St, Saugus, MA 01906
82. Savor a traditional Irish meal at an authentic Irish Pub
There are no shortage of authentic Irish pubs in every New England state. The top 5 states with people claiming Irish ancestry are all New England states. The Boston metro area is home to the most Irish people and the best Irish pubs. My favorite Irish pub is located in Worcester – an area also known for hosting a killer St. Pat's Day parade. O'Connor's offers a charming dining atmosphere, plus great food, nice Irish décor, and a beautiful bar. They also offer a full vegetarian menu (pretty rare!), featuring plenty of tempting choices, even for meat-eaters! St. Patrick's Day, or not, O'Connor's is the best place to go for an Irish meal in a great pub atmosphere.
A review of O'Connors Restaurant and Bar
Location: 1160 W Boylston St, Worcester, MA 01606
83. Browse through the collection at the Plymouth Museum of Art
Plymouth's art museum is one of the best non-waterfront attractions in town. It's a great place to visit while in Plymouth. Although small, the museum is elegant and impressive. It's conveniently located just steps from the waterfront. Throughout the year, special exhibits and live music will possibly accompany your visit.
Additional information on Plymouth Center for the Arts
Location: 11 North St Plymouth, MA 02360
84. Enjoy the peace and quiet at Hole in the Wall Beach
A laid-back beach featuring gorgeous views, Hole in the Wall is the perfect summertime escape for those seeking something a bit less touristy and congested. Whether you feel like reading the latest novel, sunbathing, or just walking along the coast you are sure to experience much needed R&R. One of the top beaches to check out in Southeastern Connecticut.
Additional information on Hole in the Wall Beach
Location: McCook Pl. East Lyme, CT 06357
85. Run through Gillette Stadium at the Finish at the 50 5k race
Every summer, Foxboro's Gillette Stadium hosts a 5k & 10k race, where runners get to cross through the field and finish at the 50 yard line. This is a great opportunity for any Patriots fans. A section of the race runs through the stadium ramps, providing fantastic views of the stadium below. Not the easiest 5k around (those ramps really give your legs a workout); however, the opportunity to step inside the field of your favorite players is pretty incredible! As a New England fan of many years, this is one of my favorite 5ks I have ever participated in!
Additional information on the Finish at the 50 race
Location: 1 Patriot Pl, Foxborough, MA 02035
86. Explore the Boston coffee scene
Coffee lovers will definitely want to plan a trip to Boston. The city frequently ranks as one of the best coffee cities in the country. In 2021, Wallet Hub ranked it the 10th best in America. The beautiful architecture and historic sites in the city make grabbing a local cup of joe even more appealing. One of my favorite stops is Thinking Cup on Newbury Street. In addition to serving top end espresso and pastries, the historical setting (and outdoor patio) are both gorgeous. Cafe Vittoria is another fabulous option. This quaint European style cafe serves great espresso, desserts, and gelato!
More great coffeehouses in Boston
87. Enjoy a fun filled day of recreation at Slater Memorial State Park
Pawtucket's largest and oldest park has it all! Here you will find a wide range of amenities, including: tennis courts, 13 picnic sites, a 3 mile bike path along the 10 Mile River, the oldest Loof standing carousel, several hiking trails, a large dog park, a pond with seasonal paddleboat rentals, The Rhode Island Watercolor Society, and Daggett Farm. Slater Memorial park is one of your best bets in the area for summer recreation.
Additional information on Slater Memorial Park
Location: RR 1A, Pawtucket, RI 02860
88. Take a winter stroll along Little Harbor Beach
It may seem strange to visit a beach during the winter months, however, the beautiful icy winter scenery at Wareham's Little Harbor beach is incredible. A random stop led us to a hidden gem: a quaint, peaceful beach with gorgeous Buzzard's Bay views! Tip: while in the area, be sure to check out Great Neck Wildlife Refuge, another beautiful recreational hotspot in Wareham.
Additional information on Little Harbor Beach
Location: Little Harbor Rd. Wareham, MA
89. Take a tour of the Rhode Island State House
Providence, the capital of Rhode Island, is home to the elaborate State House building. Although the building was originally constructed in the early 1900s, it was later remodeled in the 1990's. The beautiful dome is one of the largest self-supporting marble domes in the world. Weekday tours of the inside are available for free to anyone interested in exploring the interior.
Additional information on the Rhode Island State House tours
Location: 82 Smith St Providence, RI 02903
90. Book a relaxing getaway at The Inn at Ocean's Edge
There are so many beautiful inns and bed and breakfasts available in Maine that it can be an overwhelming experience figuring out which one is best. The Inn at Ocean's Edge, located in coastal Lincolnville, offers a picturesque setting right on the ocean. The amenities here are top notch: an infinity pool, meticulously manicured grounds, private access to the water, an on-site restaurant, and a complimentary breakfast in the waterfront dining room. Note: the inn is seasonal and typically opens sometime in early May.
Book your stay at The Inn at Ocean's Edge
Location: 24 Stonecoast Rd. Lincolnville, ME 04849
91. Shop, Dine & People Watch on Commercial Street
The main street in historic Provincetown is known as Commercial Street. Cape Cod's vibrant street is home to numerous restaurants, bars, galleries, and shops. This is the place to stop in Provincetown for any type of food or entertainment. It's also a great place to people watch and admire the great architecture. Visit during the summer months as some restaurants are only open seasonally. Furthermore, summertime is typically when most festivals and events take place.
Visit the Provincetown website for information regarding annual events.
Location: Commercial St. Provincetown, MA 02657
92. Take a riverfront walk at Fall River Heritage State Park
This 14 acre park in Southeast Massachusetts sits on the banks of the Taunton River. The 1.25 mile long walking path offers excellent views of the river, the Charles M. Braga Bridge, and Battleship Cove. After your walk, be sure to stop by Jerry Remy's Sports Bar for lunch and a game on the enormous 6½ by 11 foot TV screens!
Additional information on Fall River Heritage State Park
Location: 200 Davol St Fall River, MA 02720
93. Stroll along the beautiful Boston waterfront
While downtown, take the time to explore Boston's beautiful waterfront area. If you are interested in a whale watching cruise, CityPass offers a great package which includes the cruise, as well as admission to the New England Aquarium, the Museum of Science, and Skywalk Observatory for one low price. This is a really great deal! Massachusetts consistently ranks among the top places in the world for whale watching. Harbor Walk is a great path for walking, jogging, or cycling while taking in the serene views. There are plenty of great restaurants in the area (Legal Sea Foods offers fabulous waterfront seating), as well as places to grab a coffee to accompany your walk.
Location: Boston, MA 02113
94. Shop, dine, & play at Providence Place Mall
You could spend the entire day at Rhode Island's largest mall and never get bored. This urban mall features great views of the city from its numerous floor-to-ceiling windows. Inside you will find over 100 stores, 10+ restaurants, a Dave and Busters, a 16 screen theater, an IMAX theater. The mall is clean and modern looking and usually not very crowded unless you visit during prime times. Conveniently, there is a Westin hotel connected via skywalk for guests visiting from out of town.
Location: 1 Providence Pl, Providence, RI 02903
95. Grab a coffee and relax at Somethin's Brewin'
In the small town of Lakeville, Massachusetts, located in Plymouth county, you will find a cozy little coffee shop called Something's Brewin'. This comfortable, friendly shop brews organic, locally roasted coffee and offers comfortable couches and home-style décor, which changes depending on the season. The atmosphere is warm and inviting, and the coffee always excellent! This place also holds historic significance as the building was a library back in the day. Today, you can purchase used books.
Update: Unfortunately, this cute cafe closed down!
Additional information on Somethin's Brewin'. Check out this guide to the best coffeeshop in every New England state.
Location: 241 Main St, Lakeville, MA 02347
96. Take a tour of Old Burying Point Cemetery Salem
Visit the oldest burying ground in Salem and one of the oldest in the country. Because it was established in 1637, the vibe is ancient and creepy with many weathered, illegible headstones. Judge John Hawthorne of the Salem Witch Trials is buried here. The Salem Night Tour gives you a chance to walk around the graveyard at night, along with a team of paranormal investigators.
Location: Charter Street Salem, MA 01970
97. Enjoy home made ice cream
I have been to many local ice cream shops throughout the country during my years of traveling. New England is hands down home to the most delicious homemade ice cream anywhere. No matter where you are staying, you can find a great locally run creamery. The best? The Ice Cream Barn in Swansea – a small town about 20 min east of Providence. All ice cream is made fresh on-site and they offer a delicious assortment of flavors which vary seasonally.
More great ice cream shops in New England
98. Tour historic Benefit Street in Providence
Take a mile long walk along one of the oldest streets in Providence. You will be treated to some of the best colonial architecture in the US. This cobblestone walkway is often referred to as the "Mile of History" as some of the oldest US attractions are located along this road, including the 4th oldest library (The Providence Athenaeum) and the oldest running little theater (Barker Playhouse).
Location: Benefit St. Providence, RI 02903
Additional info on Benefit St.
99. Head to Boston Common for the annual tree lighting ceremony
The Boston tree lighting ceremony is a fun, festive event for the entire family. Each year various entertainment acts, including popular singers from shows such as American Idol, come to Boston Common for one of the country's best tree lighting ceremonies. To add to the excitement, the Skating Club of Boston hosts a free ice skating performance prior to the lighting. Zoo Lights, a festive seasonal ice skating rink, and seasonal productions such as The Nutcracker give endless opportunities to get into the holiday spirit!
Location: 131 Tremont St, Boston, MA 02111
More Christmas fun in the Boston metro
100. Take a summer break at Horseneck Beach
This extremely popular South coast beach, located in Westport, features some of the biggest waves in the state. Swimming here is fun because of the humongous waves, however, it tends to get very crowded so plan for a weekday visit if possible.
Additional information on Horseneck Beach
Location: Rt 88 Westport, MA 02790