48 Things To Do In Tucson When It's Too Hot!
Although Southern Arizona's hot & dry summer season is often considered to be more tolerable than the hot, humid summers typical of the Southeast and Midwest, this really is not the case. In all reality, the "more bearable dry heat" is in all reality much more miserable. When you combine unending months of 100+ degrees, constant blazing sunshine, no shade, and a lack of natural water for recreation, summers in Southern Arizona can be quite intense. There is a reason why the snowbirds leave as soon as March rolls around!
Luckily, you can still find interesting things to do even during the hot summer months. Even hiking and biking are tolerable early enough in the morning. And, the scenery truly is spectacular. There is nothing more incredible than hiking right before a monsoon rolls in. And better yet, the summer months are almost devoid of traffic. Despite the heat, the summer is my favorite time of the year as I do not have to deal with insane traffic and crowds.
Below are a few ways to beat the heat on the hottest of days. Note: some attractions are located within an easy daytrip of the city.
1. Treat yourself to a delicious scoop of gelato
Tucson's really hot season typically lasts for at least 5 months. Tucson sees an average of over 50 days per year with 100 degree or hotter temps. 1994 was a record breaking year with 99 days of brutal 100+ degree heat! Thankfully, Tucson has no shortage of ice cream shops. If you have never tasted Italy's version of ice cream, which is denser, creamier, and more flavorful, you will have no problem doing so in Tucson as there are more than enough gelato shops to choose amongst.
The best local gelato shop is Frost, which was founded in Tucson in 2006. Since then, locations have popped up across the country. Frost offers the most decadent flavors including a to-die-for dark chocolate. There are dozens of options to choose amongst and you can sample as many as you like.
Location: 7131 N. Oracle Rd, Suite 101, 2905 E. Skyline Dr Ste. #286, & 7301 E. Tanque Verde Rd
2. Go back in time at a retro pinball arcade
A number of old-fashioned pinball arcades are beginning to pop up in trendy locations around the country. D & D Pinball in downtown Tucson houses a few dozen machines from the heyday of pinball. It's not the biggest (this honor goes to the Pinball Hall of Fame in Vegas) nor best in the country, however, it is a fun way to escape the heat for a bit, not to mention budget friendly at just 50-75 cents per game.
Location: 331 E 7th St Tucson, AZ 85705
Update: As of 2022, the original location is closed. You can now play their pinball machines at various businesses throughout the city including Copper Mine Brewing. Tournaments held on Sundays.
3. Relax at a local coffeehouse
Although there seems to be a chain coffeehouse in every Strip mall plaza in Tucson, the city is also home to a number of quality independent coffee shops. The best are Cartel Coffee Lab and Exo Roast in downtown Tucson, as well as Presta Coffee Roasters at the beautiful Mercado at San Agustin plaza. All 3 brew amazing coffee and espresso drinks.
Plus, each cafe offers a nice ambiance where you can hang out for a bit to escape the heat. Presta is located in a beautiful shady outdoor courtyard, and is one of the few places shady enough to be bearable on a hot summer morning.
Location: 210 E Broadway Blvd (Cartel), Exo Roast ( 403 N 6th Ave), & Presta (2502 N 1st Ave #100)
4. Cool off in a pool
When the desert temps hover in that neverending 100+ degree range for months on end, your best bet is simply relaxing around the pool. Whether your own, a lavish resort pool, or a community pool, a refreshing swim is usually your best bet for cooling off during a hot Tucson summer. Westin La Paloma and Loews Ventana Canyon are both home to amazing resort style pools. Be sure to look into the special summer staycation deals offered at various resorts.
5. View the impressive collection of the Tucson Museum of Art
The Tucson Museum of Art boasts a pretty impressive collection for such a small city. It also happens to be one of the few attractions downtown, so if you are looking for a day out in the city, breakfast/lunch plus a visit to the museum is one of your best options. Summer is the best time to visit as you really cannot do much outside in the 100 degree heat. If you are on a budget, the museum offers free admission on the 1st Thursday(5-8pm) and second Sunday of each month.
On-site is Cafe a la C'Art, one of the best breakfast choices in Tucson, They serve the best skillets in town. This cute little Tucson gem is frequently regarded as one of the best museum restaurants in the world.
Location: 140 N Main Ave, Tucson, AZ 85701
6. Take a scenic drive up the Mt Lemmon Scenic Byway
This gorgeous drive starts about a half hour outside of Tucson and continues up about 30 miles until you reach the cool pines and cooler temps (about 20 degrees) of Summerhaven. As the elevation rises from 2000 feet to over 7000, you will get to witness the landscape change as well from the cacti studded desert to the majestic high altitude pine forests. It's a pretty cool drive, especially for those who have never lived or visited the Southwestern states.
There are numerous scenic overlooks along the way, hiking trails, a man-made stocked lake, and picnicking areas, so you can enjoy a full summer day out in a cooler setting. Once you reach the base at Summerhaven, you can enjoy outdoor patio dining, pick from a number of beautiful trails, take a scenic chairlift ride, or treat yourself to a giant cookie at The Cookie Cabin.
7. Trade in used books & movies for credit at Bookmans
What better way to escape the heat for a while than loading up on new books, movies, and music? Bookmans is a regional trade-in media shop where you can trade in all your old media for credit to be used on anything in the store. Browsing through Bookmans is fun in an old-fashioned sort of way and takes you back to the good ole days of browsing through random movies at your local Blockbuster store.
There are plenty of new titles as well as old hard to find DVDs and books and so much more including video games, musical instruments, sheet music, board games – basically everything you need to survive a brutal Tucson summer!
Location: 6230 E. Speedway Blvd, 3733 W. Ina Rd., & 3330 E. Speedway Blvd.
8. Cool off at a waterpark
Tucson's only waterpark closed in 2018. Sometimes, the best way to cool down on a really hot day is to hit the waterslides and lazy river! As Phoenix is just an hour and a half away, it's worth the drive for a full day of fun-in-the-sun. The 2 best Phoenix waterparks are Wet N'Wild in Glendale and Golfland Sunpslash in Mesa.
Wet N' Wild features the only water coaster (so much fun!) and the longest most relaxing lazy river. The lazy river is so lush and shady with a really attractive theme. Sunsplash in Mesa has a huge wave pool and lots of fun slides, plus they offer special night hours at reduced pricing. Both parks often offer deals through Groupon and Wet N'Wild offers special summer rates for Tucson residents! And if you are looking for more to do in Phoenix during the summer season, here's 19 things to do when it's too hot in Phoenix.
Location: Sunsplash (155 W Hampton Ave, Mesa), Wet N'Wild (4243 W Pinnacle Peak Rd, Glendale)
List of attractions & pricing info for Wet N' Wild and Sunsplash 
9. Feast on authentic breakfast tacos at Mercado San Agustin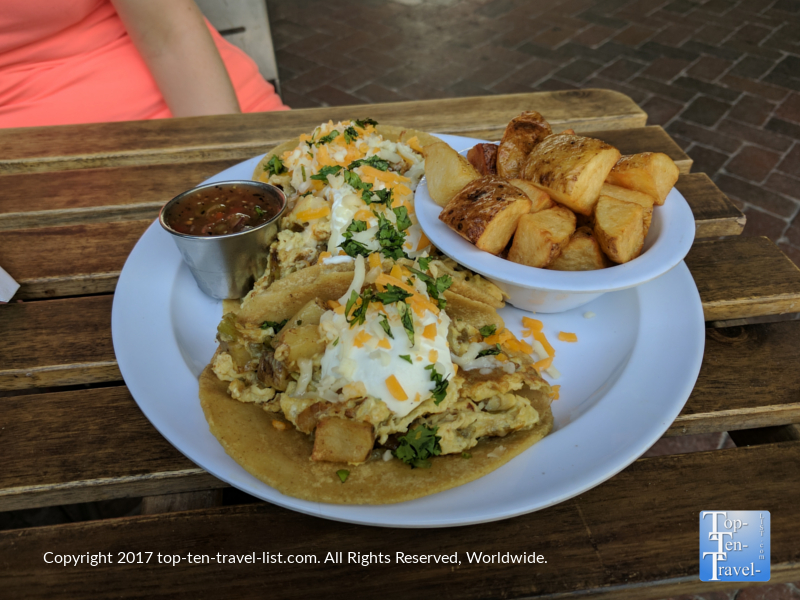 Mercado San Agustin, a cozy little public market near downtown Tucson, offers one of the city's most attractive outdoor dining spaces. Because its' so shady, it is one of the few places you can sit outside for breakfast during the summer season. Really, who wants to sit cramped up in stuffy indoor spaces all summer long? However, keep in mind that you should get here as early as possible as the temps begin to crawl up to that unbearable range by 9am or so.
At Mercado, you'll find a number of authentic Mexican bakeries, a few restaurants, and an excellent local coffee shop. Grab a fresh brewed cup of delicious coffee at Presta and wait in line at Seis for the best breakfast tacos in town (the wait is worth it). Sit back, relax and enjoy breakfast in this mini tree covered oasis in the heart of the city.
Location: 100 South Avenida del Convento suite 200, Tucson, AZ 85745
Mercado directory & events lineup
10. Play an early morning or late night round of mini golf
As golfing does not take up nearly as much energy as more intensive sports, it's almost bearable during the summer as long as the sun is not blaring in your face. Golf N' Stuff is the best course in Tucson. The course is really shady with an attractive nature theme which includes lots of trees, so it feels like a mini escape from the desert. Plus, they are open really late (open til 1) so you can wait until the brutal sun goes down to enjoy a round or 2!
Location: 6503 E Tanque Verde Rd, Tucson, AZ 85715
Golf N'Stuff pricing & special discounts
11. Attend a movie event at Casa Film Bar
Casa Film Bar is a trendy bar located inside Casa Video, an old-school video rental shop which is said to be home to the second largest collection of movies in the country. If you miss the good ol' days of Blockbuster Video, you will want to stop by here simply for nostalgia sake. Casa Film Bar hosts a variety of fun events throughout, from a look alike Ferris Bueller dress up contest, to a special Hocus Pocus celebration for Halloween, to classic TV trivia nights.
Location: 2913 E Speedway Blvd, Tucson, AZ 85716
12. Host a fun movie marathon
It's always fun to crank up the air conditioning, pick out a few of your favorite movies, get some snacks, and enjoy a lazy day movie marathon. It's even more fun in Tucson as it is the coolest way to beat the heat all day. Whether you pick up a few new flicks at Redbox, browse through HBO Max or Disney Plus, browse for old favorites at the Casa Video rental store, or simply choose from your own collection, a movie marathon is by far the most relaxing & comfortable way to beat the summer heat of the desert!
13. Treat yourself to an ice cream flight
At the Screamery's 3 locations around Tucson, you can treat yourself to a unique flight of ice cream, similar to a beer tasting flight, although more delicious and more appropriate considering Tucson's hot climate. For the flight, you get to mix and match 6 of The Screamery's delicious natural flavors, all made using organic ingredients and grass-fed milk and cream.
The Screamery offers over a dozen flavors, ranging from old time favorites like Cookie Dough to unique local creations. Try the Cowboy Cookie, which is sweet cream base mixed with oatmeal cookies, caramel, chocolate chips, and walnuts. A visit to the Screamery or any other ice cream shop for that matter, is the perfect cool down on a hot summer day in the desert!
Location: 50 South Houghton Rd, Suite 120, 2545 E Speedway Blvd, Suite 145 , & 250 East Congress St
14. Stroll around the Tucson Mall
As the largest mall in Tucson, the Tucson Mall is your best bet for escaping the heat for a few hours. Home to over 200 shops and a bunch of popular restaurant chains including The Cheesecake Factory, there's plenty to do if you are looking to kill a few hours in the air conditioning.
Location: 4500 N Oracle Rd, Tucson, AZ 85705
15. Go bowling
Bowling is always a fun option for escaping the summer heat, particularly in really hot climates like Tucson. Fortunately, there are a number of options throughout town including Golden Pin Lanes, Tucson's largest bowling alley with 48 lanes. Sundays they offer a nice little special -$1.29 shoes and games all day. This is a pretty nice deal as bowling is typically pretty pricey especially if you have a large party. If you are looking for a budget friendly way to escape the heat, head over to Golden Pin for a few hours.
Location: 1010 W Miracle Mile, Tucson, AZ 85705
Golden Pin pricing & specials – Update: Golden Pin closed in 2019 after 59 years! Fortunately, there are plenty of great options around the metro!
16. Take advantage of summer resort deals
During the summer months much of the Tucson population escapes to cooler destinations like Flagstaff, San Diego, and Pinetop each weekend. Summer is also the slowest season tourist-wise, quite obviously due to the intense heat. Thus, the resorts begin to drastically lower their rates, enticing locals to save money by opting for a staycation. Many of these resorts have all sorts of fun summertime amenities including huge resort style pools, golf, and much more. Special events and dive in movies are typically on the roster.
Rates at the fancy 4 and 5 star resorts drop to the lowest of the season, and often include extra perks like free breakfast or spa credits and waived resort fees. If you are up for a drive, the Arizona Biltmore in Phoenix offers an awesome all inclusive deal!
List of summer resort deals in Tucson 
17. Treat yourself to an authentic tea experience at Seven Cups
Due to the extensive collection of authentic Chinese teas and beautiful ambiance, Seven Cups is frequently rated amongst the best tea houses in the country. The tea to try here is the Eight Treasures blend, a herbal mixture of 8 healing Chinese herbs, all known to benefit various systems in the body. This delicious tea is light and refreshing and just perfect for the summer season.
The presentation in a see through glass teapot just makes the experience all the more special. The tea house itself is gorgeous as well and includes a colorful saltwater tank and beautiful decor. A trip to Seven Cups is a perfect way to escape the heat, if only for an hour or 2.
Location: 2516 E 6th St, Tucson, AZ 85716
18. Explore 100's of miniature dollhouses
The Mini Time Machine Museum of Miniatures is one of the most unique museums you will find in the West. It's a must-do for any first time Tucson visitor, particularly if your visit falls during the heat of the summer. At this unusual museum, you will be able to explore over 400 mini dollhouses spread out through 3 sections: The Enchanted, History, and Exploring the World rooms. Each piece truly is a unique work of art with an indescribable amount of detail put into each tiny piece. Many of these artistic wonders took years to create including the 30 year Chateau Meno project!
Location: 4455 E Camp Lowell Dr, Tucson, AZ 85712
19. Visit the zoo during Summer Safari Nights
Reid Park Zoo offers a special summer event known as Summer Safari Nights, held select Saturday evenings from 5:30-8:30pm, June-August. At this time, you can comfortably (as comfortable as you can get in Tucson that is) stroll around the zoo without the sun blaring in your face. Special food and drink specials and live entertainment are also on the lineup. Reid Park Zoo is very, very small, although worth visiting if you are looking for something to do outside. Although quite small at 24 acres, the zoo is nicely maintained and home to a nice variety of animals despite the size limitations.
Location: 3400 E Zoo Ct, Tucson, AZ 85716
20. Enjoy old-school gaming fun at Dave & Busters
Put down your phone for a bit and enjoy some nostalgic old-fashioned gaming fun at D&B. With a full restaurant, bar, and dozens of arcade games, a trip to D & B can easily help you forget about the intense heat for a while. From old school classics like Skee-Ball, to carnival inspired games like the Goldfish bowl toss game, to modern favorites like Beer Pong, Dave and Busters is a place for both the young and young at heart. Be sure to sign up for the Player's Card as they frequently send out coupons!
Location: 1390 E Tucson Marketplace Blvd, Tucson, AZ 85713
21. Shop for authentic Southwestern treasures at The Happy Saguaro
The Happy Saguaro sells all sorts of beautiful Southwestern style decor and knick knacks. If shopping is your preferred means of escaping the heat, then I urge you to keep it local. At this little Tucson gem, you will find all sorts of unique treasures including hand painted pottery pieces, glass blown art, eccentric decor, handcrafted furniture and much more.
Location: 7974 N Oracle Rd, Tucson, AZ 85704
The Happy Saguaro online store
22. Head up to Sedona/Oak Creek Canyon for the day
One of the most gorgeous places in the US is located just 3 and a half hours north of Tucson. The gorgeous red rocks of Sedona are one of the most awe-inspiring sights in the Southwest, if not the entire country. At an elevation of 4000 ft, summer temps in Sedona are not nearly as hot as Tucson. Plus, if you get too hot you can simply take a leisurely drive down shady Oak Creek Canyon, a natural wonder like no other which lies in between Flagstaff and Sedona.
The 14 mile picturesque Oak Creek Canyon drive, which includes scenery ranging from towering red rocks, to tranquil creeks, to the tall ponderosa pines, is an absolute must-do. It's a drive like no other in the country. You must also plan for a stop at Indian Gardens (the best breakfast & coffee in Arizona), take a leisurely hike along the West Fork Trail, and stop at the Oak Creek Vista overlook for a gorgeous overlook of the area.
For more fun in Sedona – check out 12 hikes to check out in Sedona! & 29 must-do's in Sedona.
23. Set your alarm for a sunrise hike
About the only time you can even consider hiking on a hot Tucson summer day is during the early morning hours. Plan on a short hike (preferably under 2 miles) and be sure to complete your hike before 8am. Carry plenty of water and choose a nature stroll over a vigorous uphill climb. Catalina State Park is home to a number of easy nature strolls and is one of the most scenic places to hike in the metro. It's one of the few places where you can hike a trail or 2 in under an hour before the mid-morning heat starts up. With fabulous mountains views and lots of Saguaro cacti, it's definitely one of the must-do's in the Tucson area.
More great short hikes for the Tucson summer season
Location: 11570 N Oracle Rd, Tucson, AZ 85737
24. Fill up on all-you-can-eat salad at Jason's Deli
Jason's Deli is the place to go if you are craving a big salad. Sweet Tomatoes was actually a bit better, unfortunately they closed down all locations. Although I usually prefer to keep it local, Jason's Deli is a nice treat, particularly if you have been out in the heat all day and are craving something fresh, light, and healthy. Jason's is home to the biggest salad bar in Tucson, with every topping imaginable. Something about the intense heat just makes you crave a salad. In addition to salad, fresh soups, sandwiches, and sides are also available.
Location: 6202 E Broadway Blvd & 4420 N Stone Ave
25. Cool down at an Arizona lake
Surprisingly, there are a number of pretty lakes spread throughout the state. The closest to Tucson is Patagonia about an hour and a half south. Although this lake isn't the prettiest, it's an okay option if you want to keep your drive short. One of the most scenic lakes, Saguaro Lake, is a bit further away in Mesa. The scenery here is really gorgeous with all the cacti covering the mountains. If you are new to the area be sure to take the narrated Desert Belle Cruise, which is a wonderful opportunity to learn more about the history of the area and take tons of photographs, all in the comfort of an air conditioned boat.
Location: 14011 N Bush Hwy, Mesa, AZ 85215
26. Tour the historic Mission San Xavier del Bac
About 20 minutes outside of Tucson lies the oldest European structure in the state: the beautiful Mission San Xavier del Bac. This work of art was built in 1692 and declared a National Historic Monument in 1960. This Spanish Mission is quite a sight to behold – the architecture is magnificent. Self guided tours area available from 9am-4pm unless a special event is in session.
Known as "the white dove of the desert," this gorgeous Catholic church really stands out amongst the barren desert. Featuring Byzantine and Moorish-inspired architecture, elaborate sculptures, colorful murals, an an ornate front entrance, and a lavish altar dedicated to St. Francis Xavier, it's an architectural wonder like no other in Arizona.
Location: 1950 W San Xavier Rd, Tucson, AZ 85746
27. Spend the day exploring Casino del Sol
Casino del Sol is the premier entertainment destination in Tucson. There's lots to do and see here including a spa, several restaurants, the usual casino games, Bingo, ongoing shows and live entertainment, a nice tropical themed pool area, and special events. Whether you decide to spend the night or simply plan a day trip, you'll have a diverse offering of indoor activities to help you escape the intense heat for a bit.
Location: 5655 W Valencia Rd, Tucson, AZ 85757
Attractions & gaming at Casino del Sol
28. Enjoy brunch at the Tohono Chul Gardens
The Tohono Chul Garden Bistro offers one of the shadiest patios in the city, thus making it a prime choice for outdoor dining during the hot summer season. There are so many trees here that it feels like a mini oasis in the middle of the desert, which of course is not a bad thing during the brutal summer season. I would recommend checking the gardens out during the milder winter months. The garden cafe, however, is worthy of a special visit. Service is terrific as is the food. Try the homemade Quiche of the day! The gift shop is also fantastic (and fortunately you do not need to purchase a ticket to take a browse around!).
Location: 7366 N Paseo Del Norte, Tucson, AZ 85704
29. Go old style at the 2nd run theater
Those classic 2nd run theaters which were so popular in the 90's are getting harder and harder to find in this day and age. Fortunately, Tucson is home to one of the few remaining in the state and it is put to good use during the hot summer season. Century Gateway 12 is well-maintained with a pretty decent screen size and sound system. Take advantage of those old-fashioned movie prices – just 3 bucks for regular admission and $1.50 on Tuesdays! Update: this great theater is unfortunately now closed! Century at Oro Valley Marketplace is a beautiful new theater which offers affordable matinees for just 7 bucks.
Location: 770 N Kolb Rd, Tucson, AZ 85710
Movie showtimes at Century Gateway 12
Update: Unfortunately, Tucson's last dollar movie closed in 2022! For budget friendly entertainment, visit any theater before 5 for special matinee pricing!
30. Take the scenic summer chairlift ride at the Mt. Lemmon Ski Resort
A day out in the cool pines of Mt. Lemmon makes for the perfect summer activity. Not only are the temps super cool at 8000 ft, but the beautiful pine scenery is such a refreshing change from the desert cacti. If you are sick of seeing cacti and brown mountains, you will want to plan for a relaxing scenic ride at the Mt. Lemmon Ski Valley. The gorgeous pine views and cooler 70-80 degree temps will make you feel as if you have completely escaped the desert, even though in reality you are just an hour away. The ride is 15 bucks and even cheaper in the summer if you purchase the Tucson Attractions Passport where you will receive a 2 for 1 deal.
Location: 10300 E Ski Run Rd, Mt Lemmon, AZ 85619
31. Plan an early afternoon picnic at Aqua Caliente Park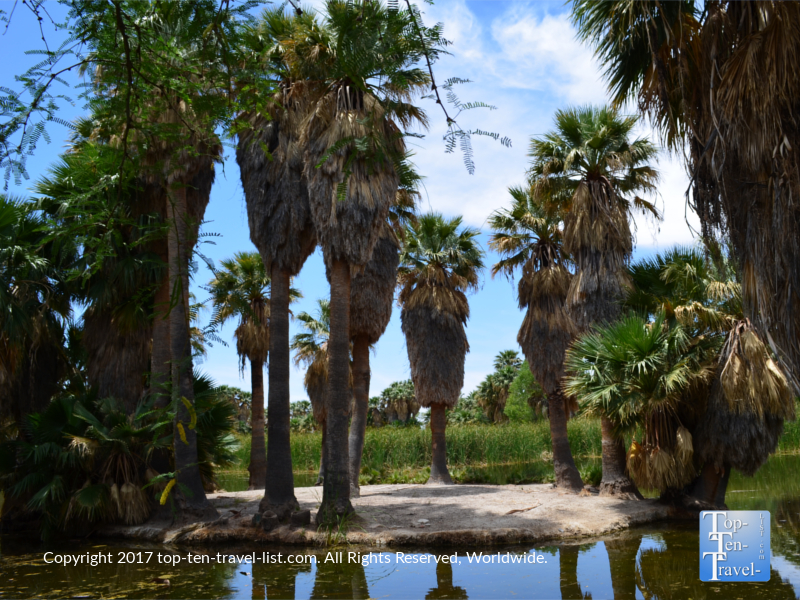 While most parks in Tucson area are absolutely not the place to plan a picnic on hot summer days, there is one that is doable if you arrive early enough in the day. Beautiful Aqua Caliente is a shady oasis with a rare setting consisting of tropical palms and natural springs. This tropical park really is an oasis in the desert, and luckily does not get all that crowded as it is a located bit out of the city. Pack some snacks and drinks in the cooler and enjoy a quiet day enjoying a rare tropical setting not found elsewhere in the city.
Location: 12325 Agua Caliente Park Road, Tucson, AZ 85749
32. Catch up on that series you've been meaning to watch
I would not be surprised if hot areas like Phoenix and Tucson have the most Netflix users in the country. It really can be a lifesaver when you have 6 months of intolerable heat. Amazon Prime, Hulu, and HBO Max also have a lot of great old classics available. Summer is the time in Southern Arizona to catch up on any shows you have been longing to see since you can't really do anything outside for too long. Supernatural, Weeds, Revenge, Stranger Things, Friends, Cobra Kai, Step by Step, Ghost Adventures, Lost, Breaking Bad, and Dollhouse are a few really engaging shows which will easily make you forget that you are boarded up inside. Amazon Prime, Hulu, and HBO Max also have a lot of great old classics available.
33. Check out local galleries
Although you will not find nearly as many galleries in Tucson as in some of the smaller artsier communities of Arizona like Tubac and Sedona, there are a few interesting choices spread around here and there. If you combine a few, it can make for a fun afternoon art tour and a great choice during the summer when it's too hot for outdoor recreation.
Philabaum showcases some pretty spectacular glass blown art, or you can test your hand at making your own glass blown art and even taken home a pretty cool glass souvenir at the Sonoran Glass School. On the second Saturday of each month, the usually quiet streets of downtown Tucson come alive for the 2nd Saturday Art Walk, featuring special exhibits, live entertainment, and restaurant specials.
More info on Tucson art galleries
34. Reread a favoirte book series
Whether from your personal collection, the library, or Amazon, there is no better way to pass the time during a long summer season in Tucson than engaging yourself in an intriguing novel. Make a pot of coffee, crank up the air, and enjoy a long leisurely day catching up on that novel or series you have been meaning to reread.
35. Attend the Summer Nights celebration at the Arizona Sonoran Desert Museum
With absolutely no shade, the Arizona Sonoran Museum is about the worst place to visit on a 100+ degree summer afternoon in Tucson. That's a shame for first time tourists as this popular zoo/aquarium/botanical gardens is frequently rated amongst the top attractions in the Southwest. Luckily, the museum has started a summer evening program called "Cool Summer Nights" where you can enjoy the sights sans the bright sun in your face. As an added bonus, many of the nocturnal animals not seen much during the day are out and about. This event runs from 5-9pm each Saturday from June to late August.
Location: 2021 N Kinney Rd, Tucson, AZ 85743
36. Enjoy an early morning bike ride along the Rillito River Path
Biking requires a bit less energy than hiking or running, so if you get up early enough (before 9am), you can enjoy a nice leisurely ride along the Rillito River Path before the hottest part of the day. This 11 mile paved multi use path has several access points around the city. As this path is really flat and easy, it's the perfect option for those wanting to get in some light exercise during the summer season. The temps will likely be in the lower 80's early in the morning which is much better than 105! However, there really is no shade, so be sure to wear a hat and sunglasses to block some of the sun.
Location: 4200 N Campbell Ave Tucson, AZ 85719
More info on the Loop bike trail 
37. Shop for local produce & goods at the Rillito River Farmers Market
All year-round, you can shop for fresh local produce and handmade goods at the Rillito River Farmer's Market located at the Rilltio River Park. All sorts of family farms, local vendors, and specialty food producers are on hand at this popular festival. Here you can pick up farm fresh eggs and produce, sample locally made prickly pear kombucha, treat yourself to a homemade burrito, pick up specialty pastas, and so much more. Get here right at opening (9am) and you will be able to enjoy walking around sans large crowds, during the more comfortable morning hours. The St. Phillip's Farmers market, held on Saturdays and Sundays, is another one to check out.
Location: 4502 N 1st Ave, Tucson, AZ 85718
List of Rillito Park Farmer's Market vendors 
38. Stroll around the Tucson Premium outlets (at night)
The Tucson Premium Outlets is a newly built outlet mall in Marana, just 15 minutes outside of Tucson. With over 60 premium outlets including Nike Factory, Michael Kors, and Banana Republic, it's the top choice for outlet shopping in Southern Arizona. The space is clean and nicely landscaped with palm trees.
There is a fair amount of shade and misters to help you keep cool, although a night visit is definitely the way to go if being comfortable is a priority. On the downside, there are not a lot of restaurant choices and no entertainment (a movie theater or D & B would be nice!). If you are looking for a bite to eat, check out the fantastic local Italian restaurant Dominick's, which is just a short drive away.
Location: 6401 Marana Center Blvd, Tucson, AZ 85742
Tucson Premium Outlets Directory
39. Treat yourself to a massage
Being that Tucson is a popular winter destination for those escaping the snowy climates of the Midwest, there are a number of luxury resorts in the area, all of which are known for their exclusive spas. If you are looking for something more affordable, the local chain Rubs Massage offers massages for well under 100 bucks and has several convenient locations around the city.
Top 6 spas by the Arizona Foothills magazine 
40. Make the trek up to Flagstaff
Flagstaff offers a completely different ambiance than Tucson in every aspect. First of all, the temperatures typically stay in the upper 70's-low 80's for the majority of the summer season. Second, the smallish town feels more local and is not overflooded with as many chains and resorts. Third, the town is located within the largest ponderosa pine forest, meaning the trails here are beautiful & shady.
If you are missing trees in the desert, Flagstaff is the place to go. The high altitude (7000 ft), 4 season city is the perfect daytrip/weekend escape from the hot climate of Tucson and is accessible via a quick 4 hour drive. It's worth the drive for the cooler temperatures, pretty alpine scenery, local restaurants/coffeehouses, and abundance of gorgeous high altitude hiking trails. Check out 12 of my favorite Flagstaff hikes.
51 fun & affordable things to do in Flagstaff
41. Head south of Tucson for some Southwestern style boutique shopping
Several small Southern Arizona communities like Bisbee & Tubac are located a bit higher in elevation than Tucson, and thus, the summer weather is about 10 degrees cooler. Tubac is just 40 minutes south of Tucson and is most well known for its' many boutique shops and art galleries. The summer temps are only slightly cooler, although anything really helps after endless 100 degree days! Bisbee, a bit further at 2 hours away, is another popular day trip known for its' charming historic downtown. In Bisbee, you will be treated to an old-fashioned small town setting that you do not find amidst the suburban congestion in Tucson.
42. Stroll around the 4th avenue shops
Tucson's 4th avenue street downtown is the most eclectic spot in the city. Here you will find all sorts of weird shops, eclectic murals, and funky restaurants. Although it is quite hot walking this street during the summer months, you can duck in and out of various air conditioned restaurants, shops, treat yourself to ice cream, and kill some time inside the pinball arcade. Check out Cafe Passe, a cute little coffee house and Antigone Books, the only solar powered bookstore in the country.
Location: 4th Ave, Tucson, AZ 85705
43. Escape the heat with a nice relaxing pot of tea
Although Seven Cups is by far the most refined and authentic tea experience in Tucson, The Scented Leaf Lounge is another decent option. This one is a bit more convenient with 2 locations, one at Main Gate Square near the University of Arizona and another downtown. They offer a very diverse selection of loose leaf teas in a contemporary setting. Lots of refreshing caffeine-free herbal as well as immune boosting and cooling green tea options on the menu. Pricing is cheap and teas are very flavorful. The Scented Leaf is popular place to work or read while enjoying a nice mug of tea, and makes for a great afternoon escape during the summer.
Location: 943 E University Blvd #165 & 308 E Congress St
43. Cool down with a smoothie
A smoothie is always delicious, and even more so on a really hot day. There are a few local shops to choose amongst or you can stick with a chain classic like Jamba Juice. After a long hike in the desert, I really crave a fresh cold fruit smoothie. Nekter Juice bar is my personal favorite. Their Elderberry smoothie is delicious and packed with beneficial antioxidants!
44. Skip the chains and check out a local restaurant
Southern Arizona is commonly associated with being overrun with typical restaurant chains. This is true, however, as is the case in all cities, you can still find a number of independent gems lurking about. A few good choices are Dominick's Real Italian, The Polish Cottage, and Reilly's Craft pizza downtown. And if you are more of a breakfast fan, check out my top 5 picks for breakfast in Tucson. Tucson is becoming more of a foodie destination each year and more and more local businesses are starting to set up shop.
45. Dinner & a movie
Roadhouse Cinemas is just one of the many dinner & a movie theaters sprouting up around the country. No, it is not the best one I have ever been to, however, it does come in handy during Tucson's hot summer season. In addition to a full food menu, Roadhouse also offers local gelato and beer and wine. Instead of the standard popcorn and candy, you can order pizzas, tacos, sandwiches, and much more! Although if you are craving popcorn, their GMO-free, real butter popcorn is a great deal at just 9 bucks (includes 1 refill). The reclining seats are quite comfortable and they even have a button on them so you can ring your waiter when you need assistance!
Location: 4811 E Grant Rd #150, Tucson, AZ 85712
Roadhouse showtimes & specials
46. Plan a hiking adventure at Mt. Lemmon
The high altitude trails of Mt Lemmon (8000-900o ft) are one of the few places where you can safely hike in the afternoon on a hot Tucson summer afternoon. Unlike the desert hiking trails where you have to inconveniently set your alarm and rush out of bed to beat the heat (and the temperatures are still way to hot), you can comfortably make your way over to Mt. Lemmon and enjoy an abundance of shady trails loaded with pretty pine and aspen trees. The temps at Mt. Lemmon are typically about 20 degrees cooler and boy does it make all the difference! Check out the Meadow trail or the Marshall/Gulch Aspen loop.
47. Go back in time at the drive-in
Although Tucson no longer has a regular drive-in theater, the Cactus drive-in hosts a number of pop up events at the Tanque Verde Swap Meet. Past showings have included Grease, La La Land, and The Princess Bride. An alternative is to make your way up to Glendale for an old-fashioned night at the West Wind Drive In, a long running Phoenix area drive-in which screens 2 movies each night for just $8.50 per person.
Location: 4100 S Palo Verde Rd (Cactus drive-in),  5650 N 55th Ave, Glendale, AZ (West Wind Drive-In)
48. Enjoy a scenic meal at one of the resorts (minus the winter crowds)
Summer is the best time to enjoy a fine dining experience at any of the Tucson resorts as the area is pretty desolate this time of year. The Grill at Hacienda del Sol offers one of the most scenic dining rooms in town with outstanding views of the Catalina mountains via the gigantic windows. The food and service are just mediocre, however, overall it's a pleasant dining atmosphere and the views cannot be beat!
Location: 5501 N Hacienda Del Sol Rd, Tucson, AZ 85718
**NOTE** This list is intended more for Tucson and Southern Arizona locals looking for things to do during the summer season. I do not recommend planning a vacation to Tucson (or any other low altitude Southern Arizona area like Phoenix) during the months of April-September). As most of the tourist worthy, most memorable sights in Tucson involve hiking and other outdoor based activities, it's best to save your trip for the fall or winter season when it is bearable enough outside to explore the wonderful desert landscapes without rushing through it all.