5 Easy & Scenic Tucson Hikes for the Hot Summer Season
Finding things to do during the summer months in Tucson can be a real challenge. The city does not offer much in the way of world-class indoor attractions, however, it is surrounded by 4 beautiful mountain ranges, and thus, offers plenty in the way of outdoor recreation. In fact, the trails surrounding Tucson are amongst the most mesmerizing in the country. Unfortunately, temps hover in the 90-100+ degree range for more than half of the year. During the summer season, temps can easily reach 90+ degrees by 9am. Add in intense sunshine and little shade, and doing anything outside becomes even less desirable.
For most locals, a typical summer in Tucson consists of hiding in the air conditioning day after day. Fortunately, for the nature & fitness buffs, there are still a handful of doable shorter hikes which, can be enjoyed early in the morning. Morning temps usually range in the more tolerable 60-80 degrees, however, you have to get out there ASAP as the temps rise rapidly this time of year. Nighttime is a different story, with temps still hovering in the high 90's at sunset, thus, hiking at this time is not recommended.
I recommend getting on the trail no later than 7am and keeping you trek under 2 miles, especially during the months of May-September.
Here are 5 great hikes, all no longer than 2 miles, and all incredibly scenic!
Linda Vista trail
The Linda Vista trail is the best hike in the Tucson metro area for those looking to keep it short without sacrificing the views. This extremely picturesque hike is located in Oro Valley, a suburb just 30 miles north of Tucson which sits at the base of the magnificent Santa Catalina Mountains range. At just over a half mile long, the easy Linda Vista loop hike is the perfect choice for a quick, scenic morning workout.
Tremendous views of the mountains, diverse plant life, and the high likelihood of seeing a bobcat, keep things interesting despite the short distance. This hike is one of the few which you can still enjoy at sunset because of the limited time you will be out in the heat – a half hour at most. The sunsets are pretty spectacular in Tucson with the silhouette of the cacti and the beautiful array of colors as the sun sets over the mountains.
Location: 730 E Linda Vista Rd Oro Valley, AZ 85737 (Parking is free)
Honeybee Canyon trail
Honeybee Canyon is another scenic, relatively short trail in the Oro Valley region. This one also features beautiful panoramic views of the majestic Catalina mountains. While this trail is slightly longer and steeper at certain points, it's still a great summer choice if you hit the trail early. The trek is just 1.5 miles and features the most scenic overlook of the Catalinas anywhere in town. You will find one steep section going up to the overlook, but the payoff is well worth it for the tremendous view!
Interesting plant life lines the trail and you will definitely have more than enough opportunities to take your picture next to a towering Saguaro cactus. Don't get too close though or you will be picking dozens of tiny needles out of your skin! Trust me, it hurts! Wildlife is abundant due to the serene setting and birdwatching is a popular pastime amongst locals.
Despite being just minutes away from numerous HOA communities, this trail remains pretty isolated throughout the year. In fact, it's a rare sight to see anyone else on the trail. Enjoying the majestic desert landscapes all to yourself sure is an awe-inspiring experience. Great photo opps await you at every turn, so don't forget your camera! You will also get in a fabulous little workout, without the need to subject yourself to the heat for too long.
Location: 13880 N Rancho Vistoso Blvd Oro Valley, AZ 85755 (Parking is free)
Valley View Overlook Trail at Saguaro National Park West
Saguaro National Park is one of the country's most interesting national treasures. This park is split into 2 sections: The Tucson Mountain (West district) and the Rincon Mountain (East District). Both sections offer their own advantages, with the Tucson District being more secluded and rustic, and the Rincon district featuring more spectacular mountain views as well as a scenic paved drive. If you have time, I recommend visiting both as your pass is good for 7 days and includes entry to both.
The Valley View trail is a short 0.8 mile loop which takes you past a diversity of desert plant life before eventually leading you up to a scenic overlook of the area. This trail is easy enough for hikers of all abilities, just be sure to get out here early. To get to the trail, you will get to drive the scenic & rustic (although quite bumpy and unpaved) Bajada Loop Drive, which is lined with thousands of interesting cacti. The drive is so natural & rustic, giving you the unique feeling of driving through the Sonoran before it became overpopulated. And the drive to Saguaro National Park itself is equally stunning.
Other interesting summer trails at SNP: Signal Hill (a 1/2 mile hike to ancient pictographs), Desert Discovery trail (a 1/2 mile paved trail with interpretative signs highlighting the diversity of desert plant life).
Location: 2700 N Kinney Rd Tucson, AZ 85743 Entrance fee: $20 per car (good for 7 days)
Canyon Loop Trail at Catalina State Park
Catalina State Park is another gem in the Oro Valley area. Despite being located on a very busy road, the park remains peaceful year-round. More than 5000 Saguaros are located within this park. The cheap entrance fee (just 7 bucks) makes this park a nice budget friendly alternative to pricey Saguaro ($25 per car). Catalina is a perfect summer hiking destination as most of the trails here are pretty short. Easy summer options include a mile long birding and nature loop and a 0.75 mile interpretive trail.
The 2.3 mile long Canyon Loop Trail is the best bang-for-your-buck summer option as it's short & scenic & relatively easy for most hikers. This hike should take no longer than a hour or so, and thus, is a perfect quick option on summer mornings.
Hiking at Catalina is so relaxing and picturesque. Grand mountain vistas provide a stunning backdrop to every trail, and tons of varieties of cacti including the Saguaro, Cholla, and prickly pear are there to explore. There are never more than a handful of hikers out, so it's easy to take uninterrupted photos. You'll see lots of lizards crossing the paths here as well as many interesting birds (the park is home to more than 150 species).
Location: 11570 N Oracle Rd, Tucson, AZ 85737 Entrance fee: 7 bucks per car
Hidden Canyon Bowen Loop trail
The Hidden Canyon Bowel trail is a relatively easy 1.8 mile loop hike which begins at the luxurious JW Marriott at Starr Pass Resort. Not only is this hike incredibly scenic, it's also completely free, yet just as scenic as the big, pricier parks in town. If you are looking for solitude, you are in luck as this trail is deserted most of the time due to the hidden location. While tourists lounge around the resort's pools, you can enjoy the incredible desert scenery all to yourself! Regardless of whether you are staying at the resort, you should plan some time to hike this amazing trail.
This trail lies within the beautiful Tucson mountain range and the views are tremendous for the entire trek. Like all other Tucson trails, you will travel through the most amazing desert landscapes, coming across many different species of cactus including the Saguaro only found in the Sonoran desert.
Bobcats frequent the area especially during the early morning hours, so keep your eyes peeled. The trail is well-marked, however, there's lots of loose rock so you have to constantly look down! Fortunately, the overlook vista features the most enchanting views of the canyon.
Location: 3800 W Starr Pass Blvd Tucson, AZ 85745 (Free parking)
A few more short scenic summer hikes to consider…
Other decent summer hikes include the nature trails at Sabino Canyon, although the entrance fee is steep here for what you get and it's always difficult to find parking. What Sabino does offer is an awesome tram ride which will take you past the incredible canyon scenery without the need to break a sweat in the heat.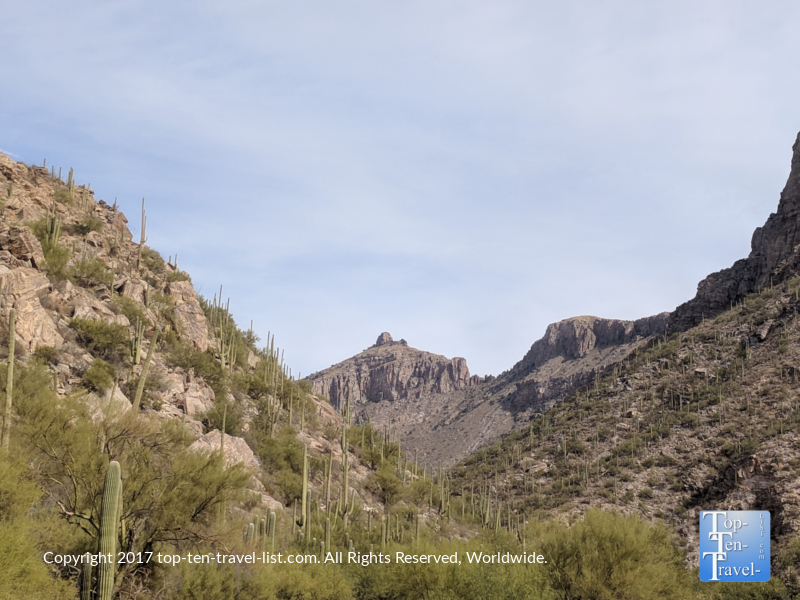 Sweetwater Preserve is a newer trail system which features 11 miles of interconnected trails, so you can basically customize your own hike to your preferred distance.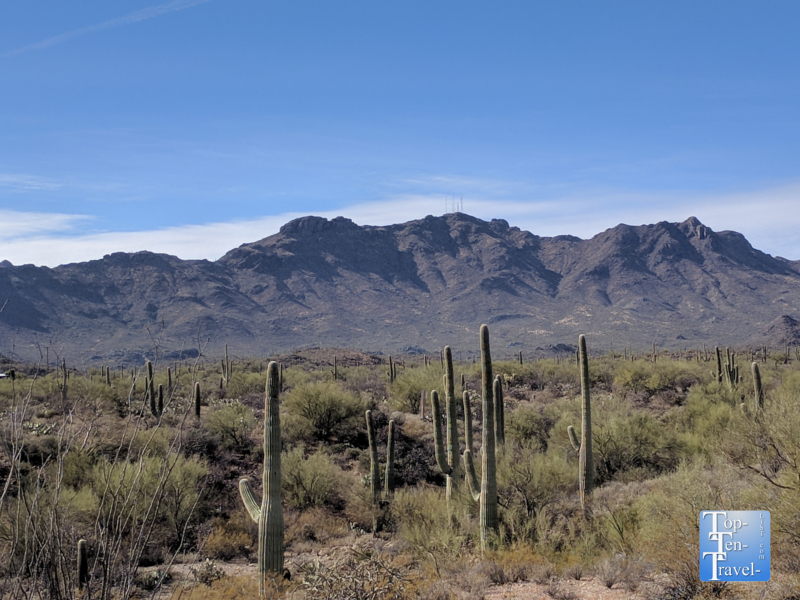 And of course, the best option of all during the summer is to take a drive up to Mt. Lemmon where the temps are typically 20 degrees cooler. Just an hour away from the heat of the Sonoran, you will find numerous pine and aspen lined hikes, along with a scenic chairlift ride and a few restaurants nestled in the trees. The drive up the Catalina Scenic Byway is a long, slow 27 miles, but worth it for the interesting scenery changes and drastic drop in temperature.
Hiking Alternatives
If you are not a hiker, consider a bike ride or walk along the Rillito River Path. This is a wonderful city wide system of almost 100 miles of paved multi-use recreational trails. The path is flat, scenic, and is mostly interrupted with only a few road crossings. A good starting location is at Rillito River Park, which is also home to a great year-round farmers market.
The Canada del Oro Riverfront Path, a 7 mile paved multi use path in Oro Valley, is even more scenic with the towering Catalina mountain comprising the backdrop.
Tips for a great Tucson summer hike
*Bring with plenty of water and snacks containing electrolytes.
*Always wear sunglasses due to the strong glare.
*Remember that the summer season is also monsoon season. Check the forecast and be prepared for a random storm even if it looks sunny when you first set out.
*Do not approach any wildlife. Javelinas and bobcats have been known to attack, both humans and especially pets! Leave all snakes alone – most attacks occur when people mess around with them! Take a look at these rattlesnake safety tips.
*A good hiking stick and hiking shoes are always a must.
*A GPS watch helps to more accurately judge the distance as in the desert distance can be deceiving.