Attraction of the Week: The Pinball Hall of Fame in Vegas
Go back in time with an afternoon of nostalgic youthful fun playing classic pinball machines from the 1950's up until the 1990's. As soon as you walk into the massive 10,000 square foot space dedicated solely to pinball, a feeling of nostalgia will overcome you. As someone who watches tons of 80's movies and wishes I could step back into time and visit an old-fashioned arcade, a visit to the Pinball Hall of Fame was a dream come true. This is as old school as it gets it now ultra modern Vegas!
Fun off The Strip!
Sure, all the bright lights and high tech entertainment of The Strip are exciting. However, sometimes a little break is needed to recover from all the stimulation. This is where unique attractions like the Pinball Hall of Fame come in. It's about a 10 minute drive off The Strip, however, so worth it for anyone who is a fan of old-fashioned retro gaming. Here you will find mainly pinball machines, and also a few arcade games, air hockey, and those beloved stuffed animal loaded claw machines that are so hard to win!
Update: The Pinball Hall of Fame has moved into a new bigger 25,000 square foot facility. The new location is right on The Strip across from the Welcome to Las Vegas sign/Mandalay Bay.
In today's high tech world, we could all use some more old-fashioned fun! This offbeat attraction offers an interesting, exciting, and budget friendly alternative to the casinos. It's a welcome opportunity to explore one of the numerous exciting activities located off The Strip, one of which most tourists are unaware even exists.
Budget friendly fun for all!
One might expect prices to be jacked up here like the rest of Vegas, however, quite the contrary. Most games are just 50 cents a piece, while a fewer of the oldest games are just a quarter! You can cash in a $10 and enjoy hours of fun! Lets just say a visit to the Pinball Hall of Fame offers a lot better investment for your money than gambling at the casinos.
Not to mention, it is the perfect entertainment alternative for those under 21 and anyone else who prefers not to gamble. Here, you will have just as much fun (probably more so), only with the added benefits of greater affordability, fewer crowds, and a smoke-free atmosphere.
A few of the oldest pinball machines from the 1950's. These are really fun and just a quarter per play!
They have so many fun selections here, with the majority based on favorite movies, TV shows, and games from the 90's such as Terminator 2, Jurassic Park, The Addams Family, Ghostbusters, The Simpsons, and Super Mario Brothers. All the games are in great condition and we did not have any issues with a game stealing money. All machines are refurbished, and thus, are in excellent playing condition. In addition to pinball, you will find arcade games (you must try the original Super Mario Brothers), those fun claw machines (both stuffed animals and a rubber duck game), air hockey, and more.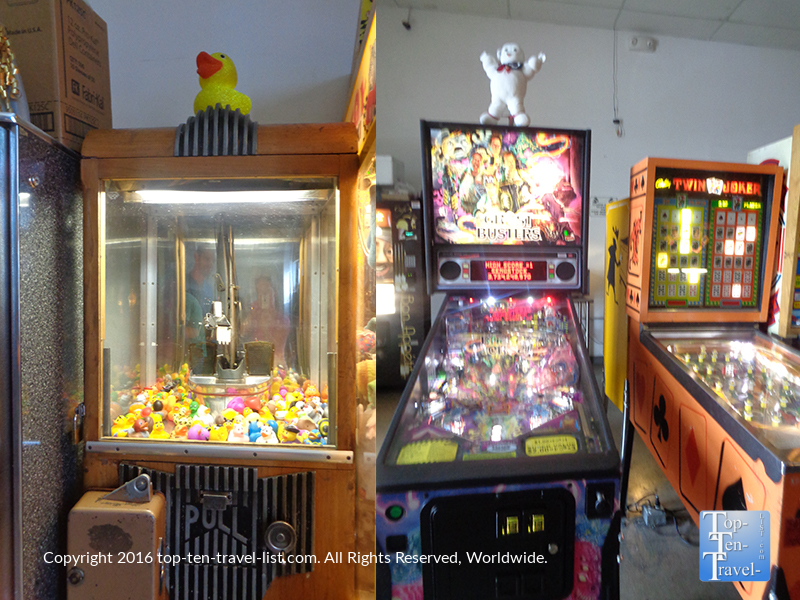 A step back in time
This place is so simple with no frills, just classic pinball machines. This is part of the reason it is so great. It's a step back in time without the flashiness and craziness of The Strip.
If you are looking for something a bit different to do in Vegas rather than your ordinary Strip attractions, then The Pinball Hall of Fame is the way to go. This offbeat attraction really is one of a kind – you really do not see anything else like it much anymore in this day and age.
The Las Vegas Pinball Collectors Club runs this non profit organization. They opened the museum in 2009 to display the world's largest collection of pinball machines. Machines range in date from the 50's-90's. Most of the games are from the 60's-80's, a time period considered the "heyday of pinball."
Read more about the history of The Pinball Hall of Fame
An affordable activity for non gamblers!
All too many people leave Vegas upset because they lost too much money at the casinos when the whole point of coming to Vegas is to have a great time. Spend a few hours at The Pinball Hall of Fame and you will have a lot of fun without losing a lot of money! It's a great activity for the whole family, non gamblers, and gamblers alike, unlike the casinos.
Be sure to take some time off from the excitement of The Strip for some old-fashioned gaming fun that is sure to be the most entertaining and worthwhile thing you do in Vegas. With all the money you spend in Vegas today (seriously it has gotten so expensive today with the shows, restaurants, and hotel costs bordering on insane), it's nice to find that a few pockets of affordable & fun entertainment still exist today.
Location
The Pinball Hall of Fame is located at: 4925 Las Vegas Blvd S, Las Vegas, NV 89119
Hours are 10am-9pm (10pm on weekends).