8 Fantastic Off-the-Beaten Path Vegas Attractions
Once you finally land in Vegas, its quite hard to draw yourself away from the excitement of The Strip. And really, with all the fabulous restaurants, shows, casinos, and endless entertainment, there really is no need to step a foot off The Strip. However, if you have already been to Vegas a time or 2 and are seeking a more unique, offbeat experience, then taking some time to explore non-Strip attractions may be something to consider.
For those willing to leave the glitz and glamour behind (if only for a few hours), there are plenty of exciting and eclectic activities to keep you busy. Below are my top picks for unique attractions off The Strip!
1. Pinball Hall of Fame
Located just minutes off The Strip is the really eclectic Pinball Hall of Fame, home to the largest collection of pinball machines in the world! Nostalgia overload hits anyone who grew up spending free time in old-fashioned arcades. As soon as you step in the door, you are taken back in time, back to the days where everything was simpler, cheaper, and more fun! From a classic Simpsons pinball machine, to a Super Mario's Brothers joystick arcade game, to one of those old time claw prize machines, the Pinball Museum is simply classic old-fashioned fun at its' best.
The large collection includes pinball machines from the 50's-90's. And fortunately, the pricing is also more in line with the past with games ranging from just 25-50 cents! Where else in Vegas can you walk in with just 5 bucks and leave happy?! Unlike Vegas casinos which very often do not provide a great return on investment, The Pinball Hall of Fame is a great time for Vegas visitors of all ages.
Update: The Pinball Hall of Fame has moved into a bigger space on The Strip. The new address is: 4925 Las Vegas Blvd S (across from the Mandalay Bay).
More info on the Pinball Hall of Fame
2. The Neon Museum
The Stardust, Fitzgeralds, The Aladdin…have you ever wondered where all these old neon casino signs actually end up? Lots of Vegas casinos have come and gone over the years and the remaining signs have to go somewhere, right? Fortunately, The Neon Museum started preserving these vintage treasures in 1996. Today, we can all reminiscence the old days of Vegas before LED technology began to take over! YESCO, a leading sign manufacturer, donated many of the neon signs. These flashy signs were stored in their "boneyard."
Touring The Neon Boneyard is an essential Vegas must-do for history buffs and anyone else who remembers the old days of Vegas. Tours run both day and night, although nighttime is a real treat as 19 of the signs have been restored and lit up. Not to mention, you get to avoid the less-than-pleasant super hot afternoon weather! For just over 20 bucks a person, the Neon Museum comes in as a unique budget friendly activity where you can learn more about the history of Neon signs, take some really cool photos, and enjoy a quiet setting away from the commotion.
3. Red Rock Canyon
Who knew such a gorgeous natural area could be found just 20 minutes from the man-made splendor of The Strip? For those who have never ventured off The Strip, Nevada is actually a pretty gorgeous place with so many beautiful state parks and recreational areas. Really, minutes after driving away from The Strip, you are transported into a totally different world.
One of the best of these natural areas is Red Rock Canyon, featuring 19 gorgeous trails and a 13 mile scenic drive. It's the perfect activity for hikers, joggers, bikers, and anyone else looking for a peaceful nature escape from the city action. Red Rock is the perfect day trip after a few exhausting days of exploring The Strip.
While it's hard to pull yourself away from all the action, once you arrive at Red Rock, the beauty of these colorful towering rock formations will take your breath away, thus making you glad you took the detour. As soon as you start your scenic drive or hike, you will forget about all the Strip attractions and begin to fully immerse yourself in the beautiful natural desert scenery surrounding you in every direction.
4. Ethel M. Chocolate Factory
Now here's a reason to leave the Strip – free chocolate tastings! At Ethel M. Chocolates in Henderson, you can take a free self-guided tour of a working chocolate factory, sample some tasty candies, and even pre register for a more intense chocolate tasting experience (just $25).
Also on-site is a beautiful cactus garden with many varieties of the unique desert plant lining all sides of an easy nature trail. With over 300 species, it's one of the world's largest cactus gardens! Assuming the weather isn't too unbearable, the garden is a really nice place to take a rejuvenating stroll, especially after dealing with endless crowds and loud casinos! This one is a good half hour from The Strip, however, there's plenty more to explore in Henderson including the Lion Habitat Ranch and the Henderson Bird Viewing Preserve.
More info on Ethel Factory tours
5. Mermaid Swimming Show at the Silverton
One of the best freebies in Vegas is found just 5 miles or so off The Strip at the eclectic rustic themed Silverton Casino. The lobby of the hotel features a massive 117,000 gallon salt water tank, loaded with all sorts of colorful and exotic fish. And the Mermaid Lounge next door features two 500 gallon jellyfish tanks, so you can relax with a drink in this totally unusual, yet exciting setting.
While this is all great, the best part yet is an unusual mermaid swimming show which takes place several times throughout the day. This quirky attraction, combined with a cool restaurant directly facing the tank (with great happy hour app specials), makes the Silverton a worthy detour off The Strip. Oh and also be sure to check out the massive Bass Pro Shop – one of the largest and most unique!
More info on Silverton entertainment
6. The Fremont Street Experience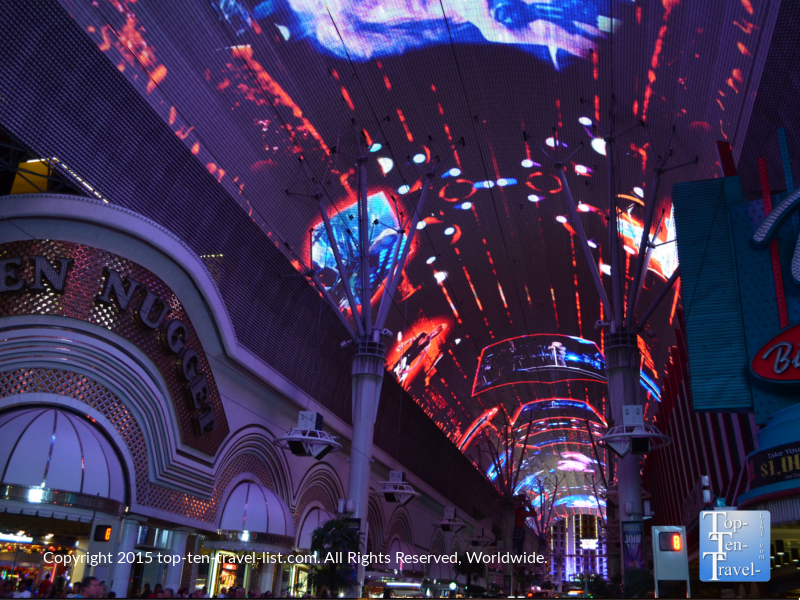 Fremont Street, located in downtown Vegas, is known for being home to some of the last remainders of old-school Vegas. Fremont is one of the few places where you can still feel that "old Vegas" charm. However, it seems to be getting more modern by the year, so you will have to get here soon. Every night 1000's and 1000's of tourists crowd the streets for the amazing Fremont Street Experience, a spectacular light and sound show on a gigantic LED screen known as the Viva Vision. Viva is the world's largest at 1500 foot long by 90 foot wide! For a really thrilling experience, you can take a zip line ride right beneath the lights!
Adding into the uniqueness, all of the casinos go dark prior to the show! This is a really unique experience as Vegas is known for never turning off the bright lights. The show runs from 6pm-2am at the top of the hour, every hour.
With classic Neon signs, coin operated slots (inside Main Street Station), a signed poker table at the birthplace of the World Series (Binions), there's plenty of interesting things to do at Fremont which you won't find on The Strip. It's a unique area that still preserves some of the Vegas charm, but for how long?
Update: Sadly, Main Street closed all its' coin slots. If you are wondering, Circus Circus is the last Strip casino still offering old time coin slots!
7. Shark tank slide at the Golden Nugget
The Golden Nugget, located downtown on Fremont Street, is home to one of the most interesting pools in the world. In fact, you've probably seen it spotlighted on the Travel Channel at one point. A thrilling glass enclosed water slide takes you right through a shark tank for an experience like no other in Vegas (or elsewhere for the matter)! Or, simply relax poolside with a tropical drink in hand as you enjoy this colorful tank. Note: Although the pool is open only to guests, you can still check out the tank!
More info on Golden Nugget hotel amenities
8. Christmas cactus garden at Eiffel M. Chocolates
During the holiday season, the pretty cactus garden at Ethel M. Chocolate Factory transforms into a gorgeous winter wonderland with a million+ lights adorning all the exotic desert plants. Seeing all these rare desert plants dressed up for the holidays is a really unique sight, especially for those of us not originally from the Southwest.
This display is quite different from the norm. It's not too often we get to see exotic plants draped with Christmas lights! If you find yourself visiting Vegas in December, it's worth a visit. And the best part of all, it is completely free to stroll the gardens and you will also get to try out some delicious chocolate! And of course, you must also check out the gorgeous holiday displays at The Bellagio and The Wynn.
More Christmas activities in Vegas!
Other Strange & Unusual Sights of Interest
National Atomic Testing Museum – Learn about the nation's atomic testing program.
Erotic Heritage Museum – A really odd museum which preserves erotic fine art and film.
Kiss Mini Golf – A cool glow in the dark Kiss themed miniature golf course inside The Rio.
The Mob Museum – An interactive journey through organized crime of the 21st century.
Burlesque Hall of Fame – Learn more and explore artifacts and costumes from the burlesque industry.
The Zombie Apocalypse Store – Your defense against the undead.