10 reasons you should visit Vegas even if you are not a gambler
Once upon a time, Vegas lived up to its' reputation as a place solely for the over 21 gambling and drinking crowd. Today, this is no longer the case. Vegas now reigns as "the entertainment capital of the world." Award-winning celebrity chef restaurants, opulent themed resorts, spectacular shows, luxurious spas, and designer shops line the 4 mile jam packed extravaganza known as The Strip. Visiting Vegas as a non gambler is now better than ever with endless opportunities to enjoy The Strip excitement without ever pulling a slot or betting on a Blackjack table.
And, let's not forget about all the beautiful natural sights which lie just outside of the city! With over 300 mountain ranges, Nevada ranks second only to Alaska in terms of most mountainous states.
Today, it's really easy to spend an entire weekend in Vegas without giving a second thought to gambling. In fact, by cutting back on the gambling, you will save so much money that you can treat yourself to more memorable activities like world-class shows, spas, and dining. If anything the question is not what can you do, but rather what can you not do in Vegas? So much to do, so little time!
Below are 10 reasons why you should visit Vegas even if you are not a gambler!
1. The shows are incredible!
Back in the day, Vegas was most famous for its' lounge shows. Visitors could see Elvis and other emerging talents for as little as 5 bucks. The entertainment offerings eventually became flashier and more extravagant as time went on. Vegas today offers the most diverse lineup of shows anywhere in the world. From stand up comedy acts, to enchanting Cirque du Soleil productions, to big name musicians of today and yesterday, to classic magic acts like David Copperfield, you can find a wide range of entertainment offerings any given weekend.
The Beatles Love Cirque Du Soleil is a must-see if you are a true Beatles fan. Besides incorporating many of the best Beatles hits, this is a highly entertaining, visually creative show with lots of fun acrobatic acts. The best budget friendly show in Vegas is definitely the Mac King Comedy Show. Mac is an extremely talented magician/performer who perfectly combines comedy and magic. Mac King's show is quick witted, filled with laughs, and most of all, loaded to the brim with incredible magic feats that will keep you guessing long after the show ends!
Check out this interesting article detailing the history of show business in Vegas. Also, take a look at the the lineup of current Vegas shows.
Tip: Discount show tickets are available at various Tix 4 Tonite booths throughout the Strip.
2. The resorts are amongst the most lavish in the world
If you are the type of person who likes to have a lot of ritzy amenities on hand while vacationing, then Vegas is your type of place. In a city with unlimited glitz, it's no surprise that these massive casino/hotel resorts offer the same luxurious appeal. Award-winning restaurants, elegant spas, casinos, designer shops, and multiple pools, are just a few of the convenient amenities you may find on-site. Today, you could literally spend your entire vacation at a single resort without ever feeling the need to leave.
In a city not known for holding back, most casinos are themed with extravagant over-the-top decor. Fortunately, you do not have to be a high roller to enjoy these grand resorts – there are options for every budget.
Where to stay?
From the Roman themed Caesar's Palace, to the Mediterranean inspired Venetian, to the tropical oasis The Mirage, there are just so many fabulous options to consider. If you are looking for something casual, the laid-back decor and tropical ambiance of The Mirage will surely please. If you are going for romantic, the sophisticated, architecturally impressive Palazzo and Venetian are contenders. For all around luxury, you really can't top the classic Bellagio resort. Great budget friendly choices include Palms Place, the Flamingo, and the Paris hotel.
3. Every resort has an amazing pool
In Vegas, it is well over 100 degrees on average 70 days of the year. Assuming your visit falls during the summer season, you can bet on it being insanely hot. The pools are there waiting for you when you tire of getting blasted by a hair dryer every time you step outside. Fortunately, Vegas resorts are home to some of the best pools anywhere in the world.
Lazy rivers, swim up bars, lush landscaping, waterslides, even a real sand beach…these are no ordinary pools! In fact, the pools are just as marvelous as the resorts themselves. Guests of The Venetian/Palazzo will have access to 10 unique pools! In recent years, swim up blackjack has made a comeback with casinos like The Flamingo, Tropicana, & Caesar's Palace getting into the action. Whether you are seeking an elegant place to sunbathe or a trendy daytime pool party, you can find it in Vegas.
A few of the best Vegas pools
A mini vacation to the tropics – The Mirage pool features lush palm trees, a large hot tub, waterfalls, pool side bars, and cabanas. You will definitely feel as if you have left the desert and entered a tropical oasis. This is the perfect pool for sunbathing although it does get quite busy on summer weekends! You can even reserve your spot to be a "dolphin trainer for a day" at the Siegfried and Roy dolphin habitat.
A day at the beach – At the Mandalay Bay, you can dig your toes into a real sand beach! This 11 acre aqua oasis features 2700 tons of real sand. For the more active beach goer, you can enjoy some fun-in-the sun via the wave pool. And the lazy river is the perfect place to waste away a hot summer afternoon. When it's too hot to do much else, you can always count on a great Vegas pool to cool you down!
The most unique – Slide down a shark tank at The Golden Nugget's eclectic indoor pool.
Most gorgeous architecture – Caesars Palace with its' Roman style pools and amazing architecture.
Best Pool parties – MGM Grand and The Wynn.
A few more fantastic Vegas pools to look into
4. Unique attractions abound both on and off the Strip
Who says you have to stay on the Vegas strip to have fun? Today, this is no longer the case. In fact, some of the best attractions are located off-the-beaten path. Have you ever wondered where the retired Vegas neon signs end up? The Neon Museum, aka the Neon Graveyard, is officially "where Vegas signs go to die." Here you can see all the classic retired neon signs from yesterday via a guided tour, available both day and night. History buffs and old-time Vegas fans will definitely want to put this near the top of the bucket list!
Love the retro arcade culture of the 80's? Go back in time and test your old fashioned gaming skills at The Pinball Hall of Fame (Update – now located on The Strip across from Mandalay!). Even the suburbs offer their own host of amenities. In Henderson, you can tour a working chocolate factory, sign up for tastings, and stroll around one of the largest cactus collections.
Check out 8 funoff-the-beaten path Vegas attractions for more ideas.
5. Mesmerizing natural wonders lie just outside the city
As soon as you leave the bright lights and glamour of The Strip behind, the wide open vistas of the Nevada desert surround you in every direction. The scenery is really surreal, a striking contrast to the man-made splendor of The Strip. All too many tourists come and go without exploring the tranquil natural side of Nevada. Numerous state and national parks lie within easy daytrip distance. If you can pull yourself away from The Strip excitement, even for just an hour or 2, there really are some spectacular sights to see while you are out here.
Daytrips within an Hour Drive
Red Rock Canyon is one of the quickest and most picturesque places to add to your bucket list. Located just 20 minutes from The Strip, this beautiful recreation area includes a 13 mile long picturesque drive and miles of hiking trails. Towering rock formations jut out amongst the surrounding flatter desert landscapes for a truly out-of-this world setting.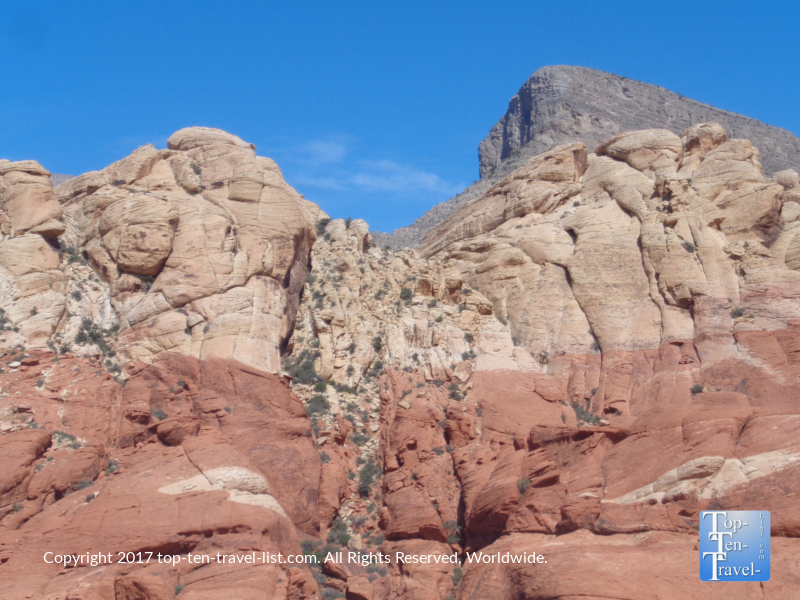 Another gorgeous escape nearby is Lake Mead. Whether you feel like taking a relaxing cruise or simply enjoying a picnic, the lake is a prime place to escape The Strip congestion for a bit.
A bit further, but worth the trek!
If you are up for a longer drive, Zion National park is one of the country's most mesmerizing preserved spaces. The park's abundant colorful rock formations make Zion a prime place for hiking and biking. The Zion Canyon scenic drive features some of the most breathtaking scenery in the Southwest. A bit of a trek at 2.5 hours, but totally worth it!
And although it's quite a drive at 4.5 hours, a daytrip to the South Rim of the Grand Canyon may be worth the trek if you do not envision yourself making a separate trip at any point in time. More time would be obviously preferable. However, if that's not a reality, it's better to see it once real quick, then never at all! Here's a quick guide to visiting the Canyon.
6. The diversity of restaurants is unparalleled
In Vegas, you can find any type of restaurant imaginable. Dining with a prime seat to The Bellagio Fountain show? Check. A trendy celebrity chef restaurant? Check. A decadent over-the-top treat/pastry shop? Check. A romantic dinner destination with impeccable food, service, and ambiance? Check. Amazing views of the Strip? Check. Extravagant all-you-can-eat buffets? Check.
Indulgent restaurants pretty much line the entirety of the 4 mile Strip. Although healthy fare is also in abundance, let's be honest, we all want to treat ourselves on vacation! Whether you are seeking quality ethnic food, a romantic ambiance, 5 star food and service, gorgeous views of the lights, the finest desserts, a fun themed restaurant, the list goes on and on.
A handful of fabulous restaurants you need to add to your itinerary!
Bouchon – This quaint French restaurant is located in the quiet Venezia Tower of The Venetian. Not only is the food excellent, but the ambiance perfect for a brunch date. Chef Thomas Keller won the "America's Best Chef" honor by Time magazine. Try the Quiche du Jour or Assortiment de Pâtisserie (a delicious array of pastries including Croissant, Pain au Chocolat, Cheese Danish, Almond Croissant, Fruit Danish, and Blueberry Muffin).
Mon Ami – This charming French restaurant inside the Paris Hotel features one-of-a-kind people watching opportunities via its' massive outdoor deck. This is the best place for a lazy weekend brunch. Try the Creme brulee French Toast or the Chicken and Mushroom crepe. The coffee is excellent too!
Eiffel Tower restaurant – This popular tourist restaurant is located on the 11th floor of the Paris Hotel. As you can imagine, the views are nothing short of amazing. If you visit during the slower brunch hours, you are almost guaranteed a window seat with a bird's eye view of the fabulous Bellagio fountain show. The service is exceptional and the menu offers a bit of something for everyone.
Il Fornaio – Excellent authentic Italian restaurant inside the New York, New York casino. Home to one of the best Butternut squash ravioli dishes I've ever tried. Also home to a fantastic patio and the service is great!
The Wynn Buffet – Vegas has a buffet for everyone. Even those who are normally turned off by the thought of an ordinary buffet will find that Vegas buffets are a different ballgame altogether. Many of these buffets are extravagant, with a focus on both quality and quantity. The Wynn is by far the fanciest buffet in town. The decor is whimsical and as much a part of the dining experience as the food itself. The buffet spread includes many fine foods as well as gluten-free and vegan selections. A+ all the way and worth every penny.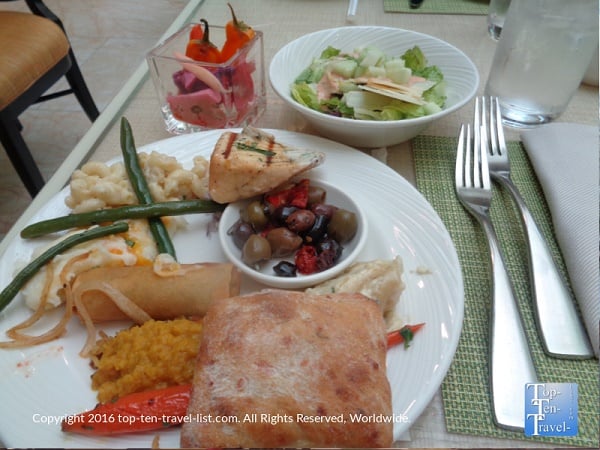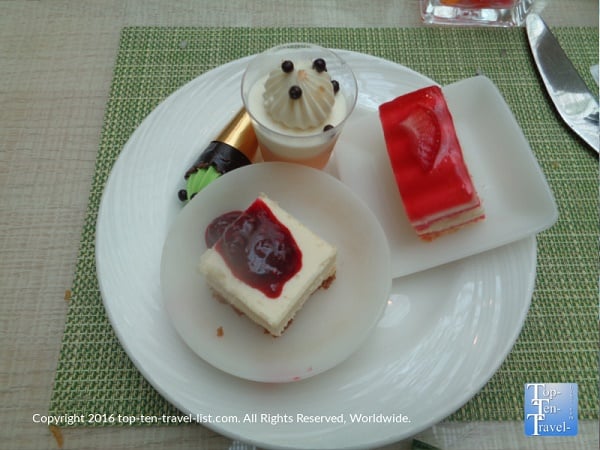 Ri Ra Irish Pub – A great dining choice if you are seeking a laid-back ambiance and some hearty pub fare. Live music and nice decor. Excellent fish and chips and the best appetizers (try the traditional potato cakes!).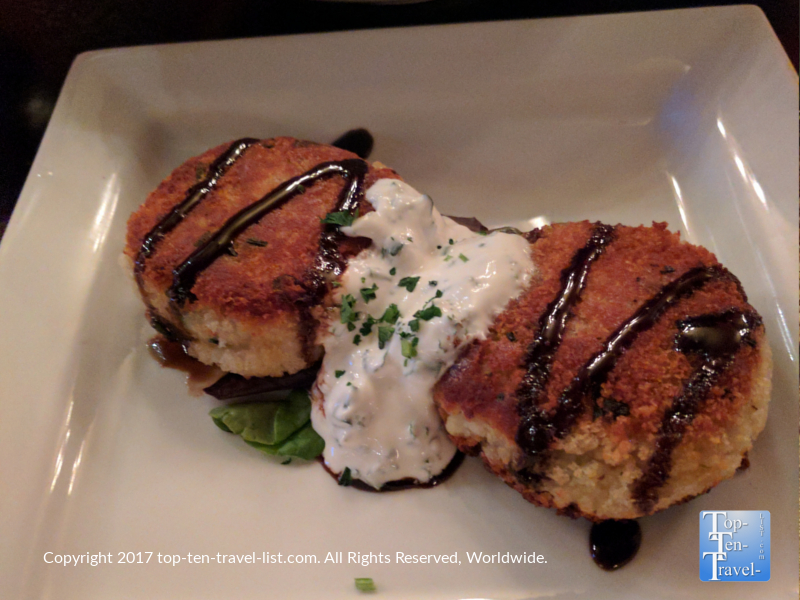 Grand Lux Cafe – Great place on The Strip for indulging in high calorie tasty comfort style foods. Affordable and open 24/7 inside The Venetian. So many tempting appetizers! Treat yourself to the Double Stuffed Potato spring rolls!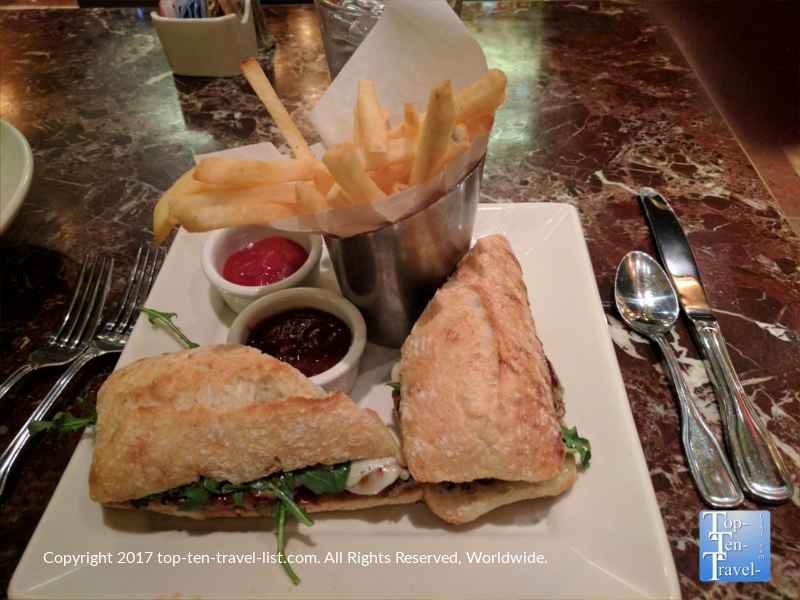 Don Vito's – An Italian gem located at the South Pointe Hotel, a nice resort just a few miles from the Vegas Strip. Don's is a traditional classy Italian place where you can expect excellent service, authentic food, and an elegant date night ambiance. The desserts are amazing! Treat yourself to the Cappuccino cheesecake.
Check out the Forbes list of best Vegas restaurants
7. Free entertainment lines The Strip
You really do not need to shell out a bunch of cash to have a good time in Vegas. On the contrary, the most spectacular shows and attractions lurking in and outside of each casino are completely free. Here are a few of the best-of-the-best you will not want to miss out on!
Bellagio Fountain show – This mesmerizing choreographed fountain show features dazzling lights and special effects as the fountains dance along to popular Broadway, pop, and classical tunes.
Wynn fountain show – It's not as popular or as grand as the Bellagio, however, this show holds its' own. Definitely worthy of a visit if you plan on exploring the Wynn. While it is not a destination in and of itself like the Bellagio show, it's a nice extra bonus if you are in the vicinity.
Mirage Fountain show – Amazing volcano eruption show, featuring shooting fireballs, and accompanied to rock music.
Bellagio Conservatory and Gardens – This beautiful indoor conservatory in the Bellagio lobby changes its' theme along with the seasons. The Christmas display, featuring more than 28,000 poinsettias, is definitely the most visually stunning.
The Wynn Gardens – The Wynn Gardens are highly impressive, being that there is a huge carousel and hot air balloon constructed entirely of flowers. In fact, the entire resort is elegant with refined decor and numerous high end shops and dining choices. Keeping up with the grandeur of the Bellagio, The Wynn gardens are also decorated exquisitely for Christmas.
Fremont Street Experience – You will have to head off The Strip to see this popular free show. This dynamic LED light show is broadcast on Viva Vision, the world's largest screen. If you are up for a real rush, treat your senses to an experience like no other via a zip line ride right beneath the bright lights.
Other free attractions worth checking out include the Flamingo Garden, The Welcome to Las Vegas sign, and the nightly free acrobatic shows at Circus, Circus.
Check out this handy guide to the best freebies in Vegas.
8. The nightlife is amazing
It comes as no surprise that a city nicknamed Sin City offers no shortage of choices in the nightlife department. However, the Vegas nightlife scene is so much more than simply nightclubs. There are plenty of things to do come dusk that do not involve shelling out big bucks for nightclubs and drink service.
The Linq High Roller – Soar 550 feet above The Vegas Strip in the comfort of a climate controlled gondola. One of the newer and more popular attractions in Vegas, the Linq now claims the title as "the world's tallest observation wheel."
The Eiffel Tower Experience – You do not have to go all the way to Paris to see the Eiffel tower as Vegas is home to a half-scale replica. An elevator travels 460 feet up to the observation deck where you will then proceed to take in 360 degree views of the Strip. This is the best place in town to soak in the city lights and enjoy a fabulous sunset over the mountains.
Skyroom at the Waldorf Astoria – Formerly known as The Mandarin Oriental Bar, the Skyroom is still the best place in Vegas for a drink. Here you can enjoy a glass of wine/champagne while gazing out the floor-to-ceiling windows which overlook The Strip. Coffee and a few other non alcoholic drinks are available. Skyroom is a nice sophisticated choice for anyone seeking a quiet place to enjoy a night out on the town.
Note: This hotel also offers an exceptional afternoon tea service, complete with mini sandwiches, scones, desserts, and a fresh pot of tea (the wellness teas are the perfect recovery drink after all that walking!). Adjoined to the Skyview, you enjoy the same fabulous views. This is a must do for tea lovers!
9. It's the best place for a day of spa pampering
Vegas spas are no quick in/quick out Massage Envy style experience. After walking the strip endlessly, your feet and mind will both be in need of much needed restoration. While Vegas is more often thought of as a place to indulge in vices, healing wellness spas are also one of the most sought after reasons many visit Vegas today.
From the highly touted Aquavana experience (steams, saunas, rain showers, & even a cool mist igloo experience) at the renowned Canyon Ranch spa at The Venetian, to the Turkish inspired Hammam experience (Middle Eastern style steam room) at The Cosmopolitan Sahra Spa, to the immune/respiratory boosting Shio salt room at the Aria resort, the list of unique spa amenities is quite impressive. In fact, Vegas is a spa lover's dream destination. Instead of an afternoon spent boozing and carelessly throwing away money at the slots, treat yourself to a day well spent rejuvenating your body and mind.
10. You can shop til you drop
In a city where luxury abounds at every turn, shopping is no exception. The Forum Shops at Caesar's Palace is the most impressive shopping destination. Not only is the space itself huge (over 160 stores in a 167,000 square foot space), but the Romanesque design is amazing. A colorful fish tank and a cheesy animatronic Falls of Atlantis show add to the excitement. Retailers include mainstream shops as well as high end designers like Versace, Dior, Armani, Gucci, & many more.
Planet Hollywood houses another premier Vegas shopping mall. The 1.3 mile long shopping oasis known as The Miracle Mile shops is a favorite of tourists. In addition to 170+ specialty stores, you will find dozens of restaurants and entertainment options including magic and comedy shows. For dinner treat yourself to an authentic Italian meal at Lombardi's Romagna Mia, then swing by DoughP for some a scoop of "safe to eat" cookie dough.
The Grand Canal Shoppes at the Venetian is another must-see while in Vegas. This upscale shopping area features designer boutiques and a number of great restaurants. The beautiful cobblestone walkways and Italian style architecture make it a romantic day destination. Gondola rides add the perfect touch!