Western North Carolina daytrips: 10 for the bucket list
Despite being surrounded by the beautiful Blue Ridge mountains, Asheville has become a tourist destination in and of itself thanks to a trendy assortment of foodie restaurants, a thriving craft beer scene, numerous artsy offerings, and an eccentric lineup of events throughout the year. People come from all over the country to enjoy the highly touted arts and food & drink scene. Nevertheless, the main highlight of the city is actually its' close proximity to so many beautiful places.
There is much to do and see outside of the Asheville city limits. Here are 10 interesting daytrips to consider once you tire of the crowds.
Daytrip 1: Greenville, South Carolina
Highlights: A thriving downtown district with local shops and restaurants, a beautiful waterfall in the midst of downtown, located within close proximity to numerous waterfalls & state parks, great art museum and local theaters, excellent year-round events, diverse choice of local coffeehouses, 20+ mile multi-use bike path
How to get here: Greenville is located about an hour south of Asheville via I-26 West. Start your day off exploring Main St.
By now, you have probably heard of this bustling city in Upstate, SC. Like Asheville, it has become very popular due to its' emerging foodie scene and thriving downtown district. The trendy city even has its' own hashtag, "YeathatGreeville," and continues to draw more and more tourists to its tree-lined Main Street. From a summer Shakespeare festival, to a winter ice rink, to an extremely popular Saturday Farmer's Market, interesting events are on the lineup all year round.
All this aside, what draws most people back is the beautiful natural centerpiece of Main St: Falls Park on the Reedy. Home to lush gardens and a beautiful waterfall, this is the main congregation point which has influenced both repeat visitors and transplants.
A few local restaurant gems to check out
Kitchen Sync – Eclectic restaurant specializing in diverse homemade fare. Try the Southern style tomato pie and treat yourself to the S'mores for dessert!
Handi Indian – Great Indian food (although a tad on the spicy side). Best lunch buffet in town! Best choice for vegetarians! Update: Handi closed in 2021.
Greektown Grille – Delicious authentic Greek fare. Excellent spanakopitas and great lunch specials. Love the pitas!
Soby's – Popular Southern style restaurant with an excellent Sunday brunch buffet featuring made-to-order omelets, breakfast & lunch fare, and a full dessert table.
In terms of activities, consider stopping by the Greenville Museum of Art (featuring the largest collection of watercolors by Andrew Wyeth), a bike ride along the Swamp Rabbit trail (a multi-purpose recreational trail with numerous starting points throughout town), and swinging by the Shoeless Joe Jackson museum (a must for baseball fans!).
Sample itinerary: Stop by for a quick steamed bagel and cup of joe at Sully's, take a stroll around Falls Park, visit the Greenville Art Museum, Lunch at Greektown Grille, Browse the boutique shops (be sure to check out Mast General Store, the Spice and Tea Exchange, and Poppington's), Take a bike ride or walk along the Swamp Rabbit trail, and then treat yourself to a gelato at Luna Rossa. For dinner check out Kitchen Sync, Jianna (great Italian), or Yellow Ginger (great Asian fusion cuisine).
Daytrip 2: Chimney Rock & Lake Lure
Highlights: Home to one of the tallest waterfalls in the East, gorgeous views of the Blue Ridge mountains, fun shops and a quirky ambiance, beautiful scenery around town, a great place to get in a workout, just a short drive from beautiful Lake Lure (where much of Dirty Dancing was filmed).
How to get here: Chimney Rock is located about 45 min southeast of Asheville via US-74. The state park is located at: 431 Main St, Chimney Rock, NC.
Chimney Rock State Park
Chimney Rock is the place to go if you seeking the best-of-the-best in terms of Blue Ridge mountain scenery. Although the trek to this oddly shaped rock outcropping is quite a challenge at 1000 steps RT, the panoramic views definitely make all that sweating & post workout muscle soreness worth it! For those who would prefer to save their lower body the stress, you can opt for an elevator ride up the mountain (one of the few of its' kind in the world!).
Get ready for hundreds of stairs…fortunately the views along the way will keep you motivated!
The park is quite expensive compared to others in the region at $17 per person. To make your trip more worthwhile, be sure to take advantage of other park amenities besides the Chimney Rock climb. Hickory Nut Falls, a towering 404 foot waterfall, is absolutely spectacular and accessible via an easy 1 mile nature stroll. While it may seem undesirable to set off on another hike right after the monster stairclimb, this is more of an easy stroll where you can recover a bit and enjoy the natural surroundings.
Chimney Rock Village
Post-hike, take a stroll around Chimney Rock Village, conveniently located right outside the entrance to the park. The vibe is a bit on the weird side considering all the Bigfoot memorabilia and wacky Southern souvenir shops, although this really is just part of the fun. Stop by Bubba O'Leary's General Store for the old-fashioned candy bar, grab a cup of joe at Coffee on the Rocks, browse around the various tourist shops and pick up a few unique southern souvenirs, and stop by any local cafe for a healthy post-hike lunch.
Lake Lure
You will likely be wondering why there is so much Dirty Dancing memorabilia around town. Not surprisingly, the small town decided to capitalize on nearby Lake Lure's famous movie filming sites. The Carolina lake was used as the setting for the famous dance lift water scenes. For Dirty Dancing fans, you can hop aboard a narrated cruise and "have the time of your life" seeing several movie hotspots including the steps which Baby practiced her dance moves on!
Daytrip 3: Carowinds
Highlights: Best theme park in North Carolina, Best waterpark in the Carolinas, awesome winter festival, on-site Starbucks, relatively cheap in comparison to other theme parks, located just a short drive from Charlotte if you want to do any shopping/dining
How to get here: Carowinds is located about 2 hours east of Asheville via I-26E and US-74E. Admission: Tickets vary in price, depending on time of the year. Discount tickets and special packages available online.
Carowinds is a popular theme park located on the border of the Carolinas. From carnival favorites like the Zephyr and Himalayan, to family favorites like the Scrambler, to thrilling coasters, Carowinds offers a bit of something for everyone depending on just how much adrenaline you are seeking.
The park is easily walkable and not as exhausting as most other theme parks. However, due to the intense summer heat and humidity, is best visited during the cooler fall and spring seasons. If you do visit during the heat of a Carolina summer, opt for a day cooling down at Carolina Harbor water park. Featuring numerous slides, a wave pool, and a lazy river, it's one of the best places to cool off in the Carolinas.
Winterfest
The best time to visit is during the holiday extravaganza known as Winterfest. A massive Christmas tree, spirited holiday shows & dance numbers, and over-the-top decor give the park a fun and cheery holiday ambiance not really found elsewhere in the state. A fun place to visit if your visit coincides with the holiday season.
There are numerous dining choices within the park including popular name brands like Chick-Fil-A, Edy's Ice Cream, and Starbucks. The Juke Box Diner with its' 60's theme is a cute place for a quick lunch. Of course, after your visit to the theme park you can opt to make the half hour drive over to Charlotte which offers no shortage of luxury dining.
Daytrip 4: Triple Falls trailhead at Dupont State Forest
Highlights: 3 incredible waterfalls via 1 hike, amazing fall foliage, Hunger Games filming site.
How to get here: Dupont State Forest is located about an hour south of Asheville via I-26E. Free parking is available at 89 Buck Forest Rd.
Driving out to a waterfall or 2 should definitely top your bucket list when visiting Asheville. This region is home to some of the most spectacular waterfalls on the East coast. Asheville is located just an hour away from Transylvania County, appropriately nicknamed "Land of the Waterfalls."
One of the highlights in the region (a big feat considering the multitude of natural wonders) is the Triple Falls trail within Dupont State Forest. Along this trail you will have access to three wonderful falls, all viewable via a moderate trek of just over 2 miles each way. Hunger Games fans will likely recognize Triple Falls as it was featured in one of the scenes.
3 for 1 – the best bang-for-your-buck waterfall hike!
Despite the immense crowding & lack of parking on nice days, the forest itself remains surprisingly tranquil. Autumn is the time to enjoy the beautiful colors & crisp weather of the season, while winter offers you the opportunity to enjoy the barren desolate ambiance and possibly see a frozen waterfall. While spring is the best time temperature-wise to hike, it's also the most crowded, so be sure to arrive early in the morning preferably on a weekday if visiting this time of year.
Check out more great easy and moderate waterfall hikes near Asheville.
Note: there is not much out this way in terms of dining. I recommend grabbing a bite before leaving Asheville (Biscuit Head, Green Sage Cafe) or stopping in nearby Hendersonville (grab a bagel and cup of joe at Black Bear Coffee on Main St.) for breakfast.
Daytrip 5: Grandfather Mountain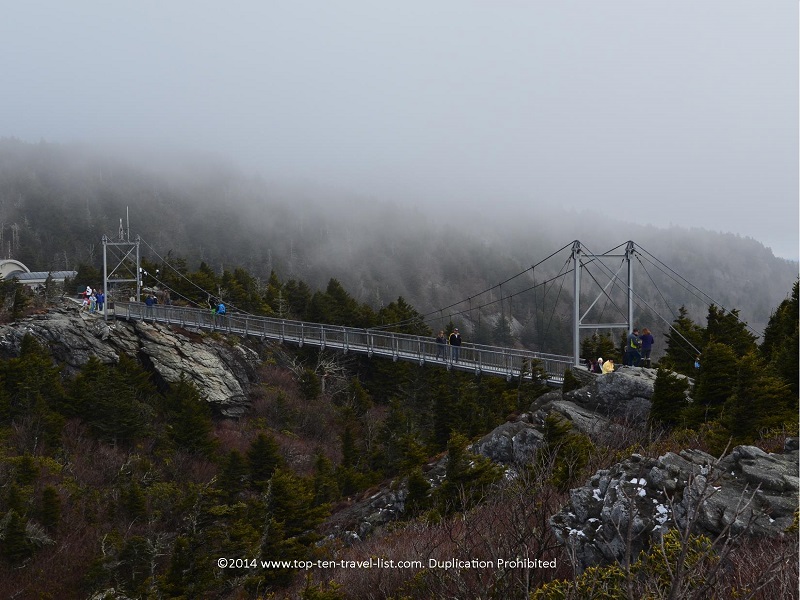 Highlights: Incredible views via a mile high pedestrian bridge, beautiful scenic drive, easy hiking trails, great visitor's center, amazing foliage in the fall.
How to get here: Grandfather Mountain is located about an hour and a half north of Asheville via I-40E and US-221N. Admission: $24 per adult, $22 senior, $10 youth (ages 4-12).
Grandfather Mountain is known to be the granddaddy of Western North Carolina natural attractions. In an area loaded with mesmerizing trails, waterfalls, and natural wonders, Grandfather Mountain stands out as one of the most iconic. If you have the time, it's a worthy day trip for the nature lover/photographer/hiker. Asides a number of great hiking trails and a beautiful scenic drive, the highlight here is the Mile High Swinging Pedestrian bridge.
This iconic attraction affords panoramic views of the Blue Ridge mountains. Thousands and thousands of nature lovers have crossed the mile high bridge since its inception in 1952. If you can brave the cold, winter is quite desolate, thus, enabling you to enjoy the scenery all to yourself.
Other on-site activities include a nature museum, a wildlife habitat, and 11 trails including a variety of backcountry options for the avid hiker. All in all, the scenery is pretty incredible here, thus making this one of the best bang-for-your-buck daytrips via Asheville.
In terms of dining, there is a grill and snack shop on-site, in addition to 100 picnicking sites. Pack a lunch and enjoy the beautiful natural surroundings!
Daytrip 6: Caesar's Head State Park
Highlights: 300+ foot tall Raven Cliff Falls, outstanding fall foliage, far away from any commercialization, a gorgeous scenic drive up the mountain, located within close proximity to numerous other waterfalls, located adjacent to Jones Gap State Park (also features a great waterfall hike).
How to get here: Caesars Head is located about an hour south of Asheville, via I-26 E. The visitor's center is located at: 8155 Geer Hwy, Cleveland, SC
Caesars Head State Park
Caesar's Head is the gem of Upstate South Carolina. Although, with this beauty, comes a price as finding weekend parking is near impossible during the prime season. Highlights here include an overlook looking out upon the Blue Ridge Mountains, a unique natural feature with a spooky legend, and miles of beautiful hiking trails.
This park is best visited during the fall. The bright golden hues which comprise the trails and the picturesque drive over makes it one of the best leaf peeping destination in the Upstate. The hike to Raven's Cliff waterfall, a 2.2 mile out-and-back moderate journey is incredible this time of year.
Don't worry if you are not up for a hike, as the scenic drive up the mountain, beautiful overlook, and pretty picnicking areas justify the drive for just about anyone. Any leaf peepers & nature lovers will especially appreciate the beauty of Caesars Head.
Nearby attractions
Also in the vicinity is beautiful Wildcat Falls, a 30 foot tall roadside waterfall which is definitely worth the short detour. If you are up for a longer adventure, you can hike a mile long trail to see the Upper Falls.
For a grand vista of the Blue Ridge mountains, continue on another 3 miles or so to Bald Rock Heritage Preserve. No hiking is required to enjoy the view. This is a nice detour where you can get out of the car stretch your legs and enjoy the view. Sadly much of the rock has been covered in graffiti, however, the view is still quite incredible.
Like Triple Falls, there really is not a whole lot in the way of restaurants in this area. Consider stopping for a quick breakfast in Asheville before hitting the road. High Five is a great stop for a quality espresso with delicious bagels with homemade cream cheese also available for a quick no-fuss breakfast. If you prefer a sit down, check out Tupelo Honey, a popular Southern style breakfast spot – try the Old Skool Breakfast Bowl (2 eggs, potato cracklins, cheddar cheese, black-eyed peas, served over goat cheese grits).
Daytrip 7: Whitewater and Dry Falls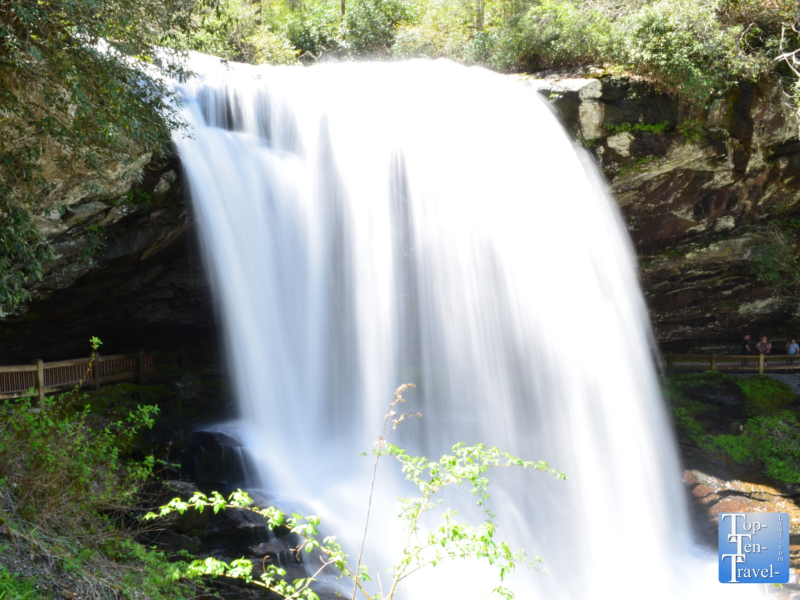 Highlight: 2 amazing waterfalls located within a half hour of each other, little hiking required to see these beauties
How to get here: Upper Whitewater is located about an hour and a half south of Asheville via NC-280W & US-64W. Continue on another half hour or so to Dry Falls via NC-107N. Whitewater parking area is off NC 281. Parking for Dry Falls on US 64W. Both require a small fee (cash only).
As the Western North Carolina region is loaded with more waterfalls than you could ever possibly visit over the course of one visit (or one year for the matter), it's hard to choose just which ones to place high on your bucket list. The best way to go is to plan a daytrip combining a number of the best-of-the-best.
Whitewater Falls
Whitewater is an exhilarating 411 foot waterfall surrounded by uninterrupted forest land. Due to the isolated location, it remains under visited. An easy paved trail of just a quarter of a mile leads you to a stunning overlook. For a better view, you will have to go down 154 steps – nothing too difficult really considering the outstanding views.
Dry Falls
From Whitewater, continue on to Dry Falls. Dry Falls is a mesmerizing 75 foot waterfall which cascades beautifully over a cliff. It's one of the few waterfalls in the region which you can (safely) walk behind. The trail is less than a quarter mile long, thus, minimal effort is required to see this beauty.
The drive in between the 2 waterfalls is quite beautiful as well. Bring with a picnic lunch as there is no shortage of picturesque picnicking areas along the route.
Daytrip 8: Blue Ridge Parkway
Highlights: Ability to drive as little or as long as you like, numerous waterfalls, hikes, attractions, & viewpoints along the way, one of America's best fall drives, completely isolated in winter, often open for winter recreational activities.
Whether you feel like exploring 20 miles or 200, the Blue Ridge Parkway offers endless opportunities for hiking and enjoying the sights and sounds of nature. Referred to as "America's favorite drive," it comes at no surprise that this drive tends to get packed during the prime seasons (summer and fall). The 469 mile drive spans 2 states, connecting Shenandoah National Park in Virginia with The Great Smoky Mountains National Park.
Fall is a gorgeous time to enjoy the beautiful Carolina foliage, take advantage of the crisp weather, and roll down the windows and enjoy the fresh breeze as you cruise along one of the most picturesque drives on the East coast.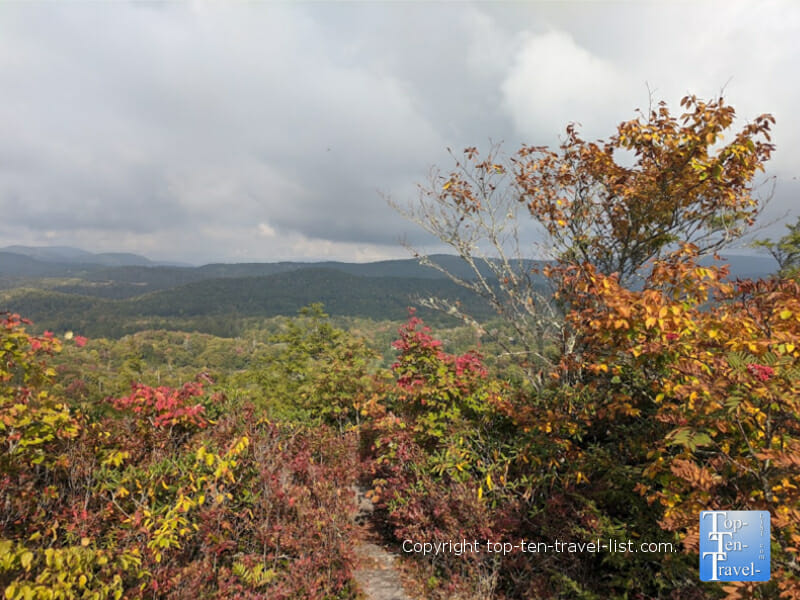 Lots of scenic viewpoints, attractions, and hikes along the way make this a worthwhile half day activity. Linville Falls is one of the most popular waterfalls in the state and just over an hour from Asheville. Graveyard Fields and Crabtree are more amazing waterfalls to add to your bucket list. Craggy Gardens is a popular viewing point although often closed in the winter. If you do get the opportunity to visit after a big snowstorm, the highway is closed to vehicles, but open for cross country skiing and snowshoeing. This is the prime time to enjoy the tremendous scenery all to yourself!
Check out my top summit hikes on the Parkway and best Parkway attractions near Asheville posts.
Daytrip 9: Smoky Mountains
Highlights: Endless opportunities for recreation and fun, gorgeous affordable cabin rentals, miles of rustic hiking, America's only free national park, beautiful waterfalls, lots of touristy restaurants and attractions in nearby Gatlinburg, the longest pedestrian bridge in the country
Location: Gatlinburg is located about 2 hours west of Asheville via I-40. Start your day off at Crocketts (1103 Parkway).
Another amazing daytrip from Asheville which has to be high up on your list is the Smoky Mountains/Gatlinburg region. Gatlinburg is a great base point for exploring all the wonders of the Smokies. If you have the time, a cabin rental is the ideal way to experience the area. Prefer to take the daytrip route? No worry, The Smokies are a convenient 2 hour drive from the city, so really there is no need to book a hotel.
A multi day stay would be preferable, so if you have the time, consider a cabin rental (pictured here is Life's a Bear from Timber Tops) to soak in the mountain scenery!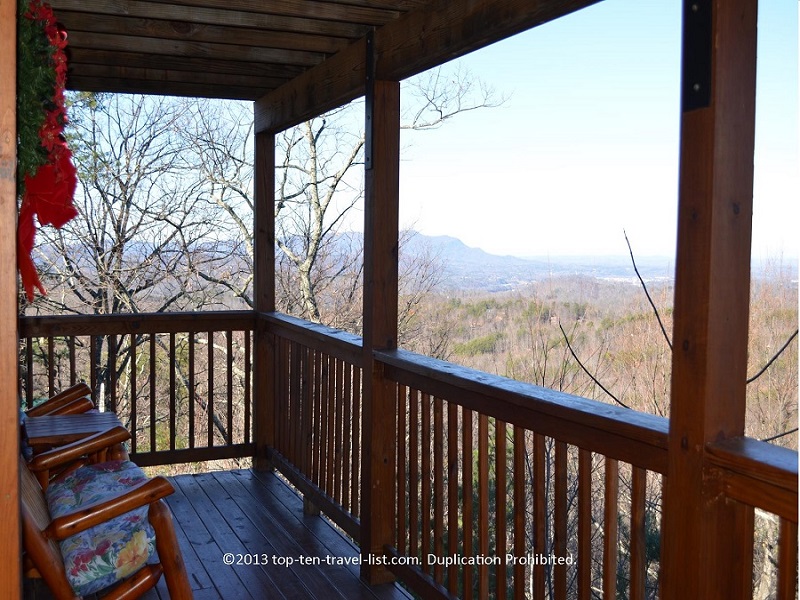 There is an abundance of things to do in the Gatlinburg area to justify the short drive over. For incredible views, head straight over to the Gatlinburg Sky Lift and Bridge (the world's longest pedestrian swinging bridge) or Ober Gatlinburg, both of which offer gondola rides, the only difference in the first being open air and the latter enclosed. No matter which route you choose, terrific views of the mountains is a guarantee.
Hiking in the Smokies
Hiking in the area (as expected) is also fantastic. The area is loaded with picturesque trails of varying difficulty, with numerous waterfalls to enjoy. For a leisurely stroll with an amazing 80 foot waterfall, consider the hike to Laurel Falls. This trail is just 1.3 miles and paved, so really accessible to everyone.
The Smokies is home to the highest concentration of black bears in the US. Over 1500 bears are said to call the park home. Sightings are not at all uncommon. In fact, I saw a bear within 10 minutes of hiking Laurel Falls. Pretty crazy as I have been hiking around the country for over 10 years and have never seen a bear until visiting the Smokies! Keep your distance and do not feed or bother any wildlife!
If you are not up for a hike, consider one of the many scenic drives in the region. The Foothills Parkway is one gorgeous option loaded with incredible mountain views. The drive is split into a Western (17 mile) and Eastern (6 mile long) section.
Entertainment – Shows/museums/themed dining
You will also find lots of touristy attractions in the region – Ripley's Believe It or Not, Hollywood Wax Museum, the Hollywood Movie Car museum, a Salt and Pepper Museum, Guiness Book of World Records museum, alpine roller coasters, and numerous other quirky attractions. Themed restaurant are in abundance too. I always prefer Hard Rock Cafe for the fun rock n' roll ambiance and delicious comfort fare. Sadly, the Gatlinburg location closed, however, you can drive over to Pigeon Forge if you are craving some comfort food.
The Movie Car museum is quite pricey, but definitely worth a visit if you are a big film buff. I loved seeing the Back to the Future and Ghostbusters cars! Other popular movie cars include those used in the Fast and Furious, Twister, Transformers, Batman, & many more.
Pigeon Forge
Nearby Pigeon Forge (an easy 20 min drive) offers a host of entertainment offerings. Dollywood, the Hollywood Wax Museum, the Smoky Mountain Opry, the famous Titanic Museum, alpine mountain coasters…and the list goes on.
Overall, the Smokies region is a great daytrip destination, whether you are a hiker, nature lover, or simply looking for a tourist destination with absolutely no shortage of things to do.
Sample itinerary: Start off with a hefty country style breakfast at either the Pancake Pantry or Crockett's Breakfast Camp. Head over to Laurel Falls and enjoy one of the most scenic and easily accessible trails in the Smokies. Next, take your pick between the Gatlinburg Sky Lift or the Sky Bridge, a recently completed pedestrian bridge which now stands as the longest in America. Afterwards, you can take your pick amongst dozens of nearby lunch hotspots.
Breakfast at Crockett's is a great way to start the day! Love the country ambiance and friendly southern hospitality!
Enjoy a few of the museums/attractions mentioned earlier. The Aquarium of the Smokies is also in the area and extremely popular. There are more than enough stores to keep you occupied. Stop by The Village, an old world themed shopping destination with over 20 boutique shops.
Also check out my guide to the top 10 attractions in the Smokies and the most scenic easy waterfall hikes in the Smokies.
Daytrip 10: Historic Hendersonville/Looking Glass Falls
Highlights: An abundance of local restaurants & boutique shops, a fantastic pinball museum, great used bookshop, access to numerous parks and waterfalls, lots of orchards and apple picking in the fall
Location: Hendersonville is located about a half hour south of Asheville via I-26E
Downtown Hendersonville
Hendersonville is home to one of numerous charming Main Streets in the North Carolina region. Here you will find local restaurants, boutique shops, and a variety of attractions including a retro pinball museum. Start your day off with a coffee and light breakfast at the Black Bear Coffee Cafe. The decor is adorable and they serve delicious NC based Counter Culture coffee.
Afterwards, take a stroll along the tree-lined Main Street. Mast General Store is a must particularly if you are into outdoor apparel and/or nostalgic old time gifts. Joy of Books is an independent bookstore offering a decent sized selection of used books, DVDs, and records. For lunch, enjoy a sandwich and bowl of homemade soup at Mountain Deli. For a treat, grab dessert at CA's cheesecakes.
The must-do here is the Appalachian Pinball Museum. For just 10 bucks, you can play old-fashioned pinball and arcade games to your heart's desire. Really, it's a refreshing step back in time to the 80's where arcades could be found just about everywhere, from your local 7-11 to your favorite pizza parlor. As the summer season is hideously hot and humid, this is a perfect time to take advantage of an indoor activity.
Looking Glass Falls
Like Asheville, Hendersonville is located amidst many natural wonders. While you are out this way, consider getting on the road for another half hour or so to see Looking Glass Falls. This 60 foot tall roadside waterfall wonder requires absolutely no hiking and is widely considered to be one of the most beautiful natural sights in Western North Carolina. It's definitely worth the detour!
The Apple Picking Capital!
Hendersonville is considered "the apple picking capital." There are numerous locally owned orchards within a short drive of the city. You can pick your own apples or purchase apples plus other specialty fall treats on-site. From fresh apple cider, to apple cider donuts, to candy apples, there are enough choices to keep anyone with a sweet tooth more than interested.
Grandads is a great local choice. They offer pre picked apples or you can go the rustic route and pick your own! During the fall season, you can also pick your own pumpkins! Amenities include a corn maze, lots of special fall treats (their donuts are delicious!), and a country store jam packed with apple flavored jams, apple pie, and more.