19 Things to do in Phoenix When It's Too Hot!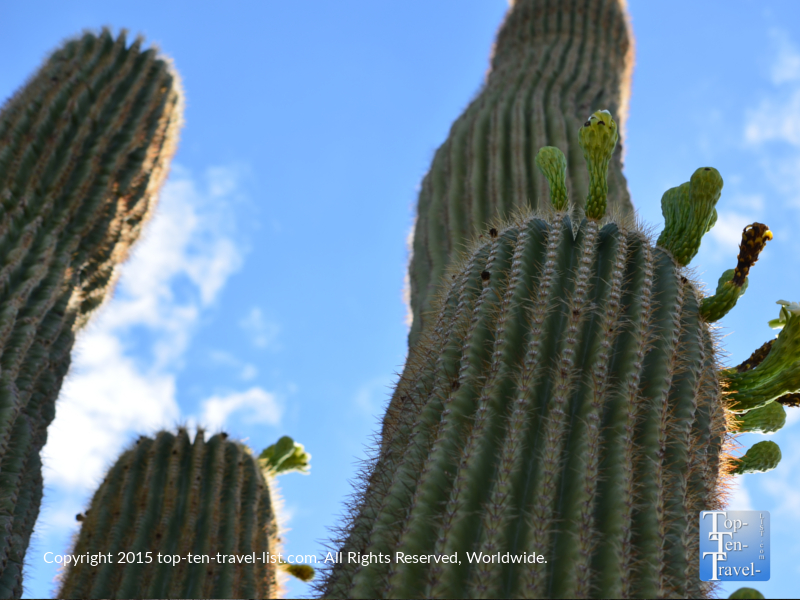 While Phoenix is a wonderful winter oasis for many coming from cold dreary climates in the East, the summer weather is more often than not quite unattractive. So what do you do when the thermometer keeps crawling up past 100 on a regular basis for months on end? In order to stay entertained during the harsh summer season, you will have to find ways to beat the heat while still having fun at the same time, which surprisingly, is not that difficult.
I am not going to lie and say that a dry heat is more tolerable. In my honest opinion, the dry heat is much more intolerable, especially when you factor in intense sunshine and a lack of shade. Not to mention chapped lips, dried out sinuses, & dry eyes. Most of the time the air literally feels like you opened the oven door. If you can drag yourself out of the house by 6am, a little light hiking is okay. However, being outside past mid-morning is just plain miserable. However, staying cooped up inside for months on end is even more miserable. Luckily, there are enough attractions & activities that you do not have to hide inside all day in the air conditioning.
Take a look at 19 fun things to do when it's just too darn hot in Phoenix!
1. Cool off at a waterpark
One of the best ways to enjoy a hot Phoenix summer day while still being outside in the fresh air is spending the day at one of the area's massive waterparks. Just because it's over 100 is no reason to hide inside all day! Cool down, enjoy some youthful fun-in-the-sun without overheating. It's the perfect activity when the temps begin to crawl pass that tolerable level.
At just 20 bucks or so, a waterpark really is the best deal in Phoenix come summertime. It's no surprise really that the Phoenix metro area is home to several large waterparks. Your best bet? Sunsplash in Mesa which offers several thrill rides, bonus evening hours (7-10pm) and the most relaxing lazy river ever. Other great attractions include a water coaster, a massive wave pool, and several tube and body slides.
2. Spend the day at the lake
Nothing says summer quite like a day at the lake. And although this may come as a surprise to some, the Phoenix metro actually is home to a number of large lakes which are perfect for cooling down on a hot summer's day. While many may see Phoenix as a dry ugly desert with endless strip malls, there are still many beautiful areas to escape the man-made clutter for some natural recreation.
Saguaro Lake, named for the many tall cacti surrounding the shores, is one of the best picks. Saguaro offers endless opportunities for cool summer fun and the scenery is breathtaking. This lake is perfect for boating, kayaking, fishing, and water skiing. Or, go the more relaxing route, and take a narrated cruise aboard Desert Belle where you can soak in the views & learn more about the lake's history.
3. Relax in a local coffee house
It's hard not to be a coffee drinker today with all the fantastic specialty shops seemingly popping up everywhere. Cartel Coffee Lab, with 6 Phoenix area locations, offers the best espresso drinks in the city. Enjoy a leisurely afternoon break sipping your coffee in a cool, air conditioned setting. Cartel is one of those places where you can linger around for a while, whether working, playing an old-fashioned board game, reading, or just chatting the hours away with friends. Visiting one of the area's independent shops over a Starbucks is one of your best bets to beat the heat while still having a great time.
4. Take advantage of summer resort deals
Most 4 and 5 star luxury resorts in the Phoenix area offer their best deals during the summer months. Because they cannot fill all the rooms at this time, they begin to roll out enticing promotions. These fantastic deals tend to draw the locals in for a fun & affordable staycation at an otherwise uber expensive resort.
The Arizona Biltmore offers the most incredible summer deal of all. For just 200 bucks, you will receive a full breakfast buffet, lunch, and dinner credit each day of your stay. This deal also includes parking, the resort fee, and discounts off the spa. This beautifully landscaped architectural wonder (Frank Lloyd Wright was a consulting architect) offers lots of shady seating areas to enjoy the serene desert scenery. And most impressive of all, the resort is home to 7 pools! More summer fun includes a water slide, a swim up bar, live pool entertainment, and even Saturday night dive-in movies.
5. Stroll around a mall
Not surprisingly, Phoenix is home to its' share of malls – indoor, outdoor, outlet mall…you name it. If you are looking to kill a few hours in a cool setting, head to one of the massive indoor malls like Paradise Valley Mall or Chandler Fashion Center. Both of these feature 100+ stores, plenty of diverse dining choices, and a movie theater. With all the amenities, you'll easily be busy in the cool air for several hours.
Once the sun goes down, you will want to check out one of the metro's beautiful open air malls. Both Desert Ridge and Tempe Marketplace offer many amenities including a Dave & Busters, an IMAX theater, lots of great restaurants and shops, and even free weekend entertainment. Both are beautifully landscaped with fountains and palms. It's still quite hot at night (oftentimes still hovering into the low 90's) although there are plenty of misters to cool you down.  San Tan Village in Gilbert is even more impressive with more stores, a nicer theater, better restaurants, and nicer landscaping.
6. Eat pizza while enjoying music from the world's largest Wurtlizer pipe organ
While the Phoenix metro area is overflowing with common restaurant chains, there are a number of local hidden gems here and there. One such place is Organ Stop Pizza in Mesa, which happens to be home to the largest Wurlitzer pipe organ in the world. This is a really unique place for dinner as it doubles as an entertainment destination. In an area with a lot of typical chains, dinner at Organ Stop makes for a refreshing change of pace.
The pizza is decent enough, but you really come here to listen to the live music, which is tremendous. The musicians here are truly talented, playing anything & everything, from old Beatles classic, to Disney favorites, to random audience requests. For an unusual alternative to the common restaurant chain, be sure to plan for a fun night at Organ Stop. It's a great way to escape the heat for a few hours, enjoy some pizza & other assorted junk food, and listen to some great live music.
7. Take a scenic (air conditioned) cruise on Saguaro Lake
Desert Belle is a fantastic cruise line which offers narrated cruises along Saguaro Lake, the most picturesque of numerous lakes in the Phoenix region. As you relax and take in the gorgeous desert scenery from the air conditioned deck (arrive early to ensure an indoor seat as it is first come, first served), your captain will point out sights of interest and treat you to a little background history of the lake.  It really is a gorgeous ride with unending views of the amazing Saguaro cactus, as well as opportunities for wildlife sightings. Live music cruises with beer & wine tastings are available.
8. Treat yourself to some tasty gelato!
Sometimes, the best thing to do on a brutally hot summer day in Phoenix is to enjoy a cool treat. Smoothies, ice cream, or my favorite gelato, all hit the spot when the temp reaches a scorching 110 degrees! Of course, there are dozens of places to choose amongst. However, if you want to really treat yourself, head straight to Frost Gelato. If you have never had gelato before, you are really in for a treat! Italy's version of ice cream has a smoother texture and overall more dramatic flavor.
Frost offers dozens of different options, all of which you can sample before committing to an order. I recommend all chocolate lovers without hesitation to try the truly decadent Dark Chocolate! Frost originally started in Tucson, however, today you can enjoy locations throughout the country including 2 in the Phoenix region (San Tan Village in Gilbert and the Biltmore Shopping Center).
9. Enjoy old-fashioned arcade games at Dave & Busters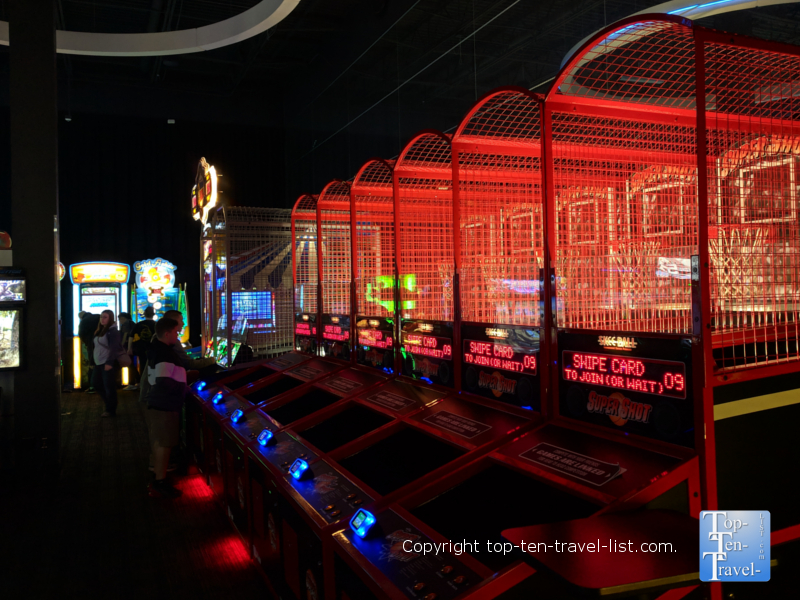 D&B is the place to go for youthful laid-back fun no matter your age. It's a great choice if you are looking for a date idea a bit different than your standard dinner and a movie. Featuring a mix of old and new games (Skeeball, ticket redemption style games, arcade games, and even a few cool carnival inspired games like ring toss and the goldfish bowl toss game), as well as a full bar and restaurant, Dave & Busters is definitely a place where you can hide in the air for hours! For hours of indoor fun, it doesn't get much better! A bit pricey, although you can sign up for their email list and receive ongoing coupons.
10. Take advantage of early zoo admission
From June 1st-August 31st, the Phoenix Zoo offers extra early admission starting at 7am as opposed to the usual 9am opening time. Members get in at 6am! This allows you to beat the heat and also the crowds! If you arrive right at opening, you pretty much will have the entire zoo to yourself! Even on 100+ degree days, it will likely be in the low 80's this early in the morning – yes, walking around at 80 degrees vs. 110 does make a drastic difference! Get there right at 7 and you will have about an hour or so before the weather becomes completely unbearable. The cool misters everywhere also help cool you down a bit, as does the shade, of which the zoo surprisingly has a lot of considering its' location in a dry desert.
The landscaping is beautiful here, the exhibits are all spacious and clean, and the layout is very easy to follow with plenty of signage. It's a great little zoo and luckily even a summer visit isn't off limits due to the early hours. In fact, it's a much more tranquil time to visit versus the insanely crowded winter months. Remember timing makes all the difference between a comfortable vs. miserable visit in the summer. So get there right at opening and you are sure to have a fantastic time!
11. Explore a local museum/art gallery
The hot summer season is the perfect time to check out Phoenix's diverse museum scene. A few great options include The Musical Instrument Museum, The Phoenix Art Museum, Scottsdale's Museum of the West, and The Heard Museum. Spending a few hours strolling an air conditioned museum is the perfect opportunity to escape the heat, while simultaneously enjoying a fun & educational activity! Or, check out one of the many art galleries in and around Phoenix and the suburbs. Scottsdale is your best bet as you will find not only dozens of galleries, but also a wonderful free art walk on Thursday evenings.
12. Check out the largest aquarium in the Southwest
Surprisingly, the Phoenix area is home to a pretty impressive aquarium, which you really would not expect in a desert environment. The newly built OdySea Aquarium is a massive 200,000 square foot facility which makes it the largest aquarium in the Southwest. There are more than 50 exhibits here, with the best including an enclosed elevator fish tank, a restroom shark fish tank which ranks amongst "the best bathrooms in the US", and the Living Sea Carousel, a rotating exhibit which takes you past 4 exhibits including a massive shark and sea lion tank. Strolling the aquarium is the perfect way to beat the afternoon heat!
13. Hit the trails early in the morning (really early)
Just because the temps may reach 115 by mid afternoon does not necessarily mean that you have to skip the wonderful trails all summer long. Although intense adventures like Camelback Mountain and Pinnacle Peak are better suited for the cooler winter months, you can still enjoy a variety of short trails at South Mountain Park, Mesa's Usery Mountain Park, and Scottsdale McDowell Sonoran Preserve. All of these quiet desert oasis destinations offer an interesting mix of both easy and advanced trails.
If you get up early enough, the temps/sunshine won't be as brutal. However, you still need to keep it very short. Do not hike more than a few miles and do not set out any later than 6am or so. Bring with a camelbak and pour water over your head frequently to stay cool.
A good choice is a 2 mile sunrise hike along the Kiwanis trail at South Mountain, an attractive, short option which offers endless views of the cacti and beautiful mountains. Bring with plenty of water and snacks, take it easy, and enjoy a peaceful early morning hike with no crowds. At this time, it will be just you and the unending cacti!
14. Trade in old books & movies at Bookmans
Bookman's Entertainment Exchange is a popular trade in entertainment company with several locations throughout the state. At Bookman's, you can trade in old entertainment goods you no longer need for new DVDs & books you want. What better way to spend a hot Phoenix afternoon then browsing endless shelves of books, movies, games, and even a small section of antiques? There are lots of cozy little nooks and crannies to kick back read and relax in the cool air conditioning. Take a look around- who knows what you may find!
15. Try out a new restaurant
Yes, you can find your share of popular chain eateries in Phoenix. In fact, they seem to be everywhere you turn around. However, there are still a number of unique local establishments. If you feel like spicing it up in favor of a unique experience, then you should ditch the chains and check out the diverse local food scene in Phoenix. Scramble is the best breakfast joint in town. They serve healthy, delicious food at affordable prices. Also, the patio is a cute little shady oasis you can enjoy most of the year.
16. Laze around the pool
Sometimes the best choice on a hot Phoenix summer day is lounge away the afternoon at a pool. A pool day is the perfect opportunity to still be outside in the fresh air without risking overheating: a nice alternative to hiding inside all day in the air conditioning. Don't worry if you do not have your own pool – the resorts all offer their lowest rates during the summer. Or go the more budget friendly route, and check one of the city's many public pools.
17. Plan a day trip to Oak Creek Canyon
Oak Creek Canyon is a magnificent area of the state, located halfway between Flagstaff and Sedona. The 14 mile gorge is home to a diverse mix of trees and wildlife. It's one of the best leaf peeping destination in the state come fall. While Sedona itself doesn't offer much of a refuge from the extreme Phoenix heat, Oak Creek is situated at a bit of a higher altitude and is home to many leafy deciduous trees, therefore, making it a great day escape on a hot Phoenix summer dayday. There are lots of places to cool off (check out Slide Rock state Park, home to natural waterlsides make out of the slick red rock) and also lots of shady hikes like the popular West Fork Trail featuring 13 creek crossings.
Be sure to stop for an amazing espresso and breakfast at Indian Gardens which is home to the area's most lush garden patio. Other fun things to do on this 14 mile scenic drive include shopping at unique Native American craft markets, fishing, relaxing by the creeks, taking photos at various scenic overlooks, and much more. The day trip to Oak Creek is definitely worth the time (just 2 hours away) for the gorgeous views, cooler temps, and abundance of fun & shady summer activities.
18. Head north to Prescott
At just 1.5 hours, Prescott is a popular day destination for Phoenix residents seeking a change of scenery and temperatures. While not as cool as Flagstaff, summer temps in Prescott still average in the low-mid 80's. In fact, Prescott is usually rated having one of the top 4 season climates in the US.
And there's lots to do here including a historic downtown that is loaded with individual shops, galleries, historic saloons, and restaurants. Check out Rosa's Pizzeria, Cupper's Coffeehouse, and Wild Iris. Other fun day activities include a visit to the Heritage Park zoo, hiking the trails (check out Thumb Butte), a leisurely bike ride along the Peavine trail, and checking out a local museum. All these activities will surely keep you busy enough for a full day of fun.
19. Drive north to Flagstaff for the ultimate cool down
At 2+ hours of driving time one-way, Flagstaff is the furthest day trip option. However, the small mountain city offers the biggest refuge from the summer heat. Average daily temperatures barely go above mid 80's here, with temps in the mid-upper 70's being much more common. Lows can get down into the 50's, requiring you to have a sweater handy both morning and night. Talk about the ultimate cool escape from the desert heat! Flagstaff is a very popular day trip destination for Phoenix residents, not only due to the attractive mild summer climate, but also due to the diverse range of attractions, proximity to natural attractions, and pretty mountain scenery.
A Hiking Oasis
Hiking is the main draw in Flagstaff, and there are more than enough options to keep you busy. A variety of high altitude hikes will take you through tall aspens and pines for a nice change of scenery. The Aspen Nature Loop, Kachina Trail, and Inner Basin are some of the prettiest options to consider. Check out my list of the top 12 hikes in the Flagstaff region.
More things to do in Flagstaff
If hiking isn't your thing, Flagstaff's historic downtown is loaded with local restaurants, and also hosts numerous summer events such as Movies on the Square, 1st Friday Art Walk, and the Sunday Farmer's Market.
Other attractions in town include the Lowell Observatory, a movie theater, and an ice rink. There's lot of art galleries to browse and cozy local coffee houses to hang out in. Check out Rendevous in the historic (and haunted) Monte Vista for the best setting (large windows to people watch all the action downtown) and tasty espresso drinks!
Daytrips from Flagstaff
Quick day trips to many wonderful places include the Grand Canyon (1.5 hours), Walnut Canyon (15 minutes), and the Petrified National Forest (1.5 hours), makes Flagstaff a great starting point for exploring all these natural wonders.
A diverse selection of activities, plenty of new restaurants to check out, seasonal activities, pretty mountain and pine scenery, and most of all, cooler temperature, make Flagstaff my preferred escape from the Phoenix heat.
More ways to beat the 100+ degree heat in Phoenix!
Antique shopping in Cave Creek
Cave Creek is a small community just north of Phoenix which is known for its' abundance of eclectic shops. Check out the Town Dump, referred to as "one of the world's most unusual stores." You will find all sorts of weird knick knacks here, including many Southwestern themed specialties. For breakfast & coffee, check out The Grotto Cafe which offers a nice shady outdoor patio.
Day trip to Kartchner Caverns State park
The temp is always 60 degrees here!
Plan a weekend trip to Vegas
My favorite summer choice as the pools are fabulous and there are more than enough indoor activities to keep you out of the heat. Check out my guide to must-dos in Vegas!
Old fashioned roller skating
There are several rinks in the Phoenix area including Great Skate in Glendale and Skateland in Mesa. Or better yet, cool down in an ice rink – there are plenty in the area and it's even more fun than roller skating in my opinion.
Cool down with a smoothie
I like Planet Smoothie and Jamba Juice. There are also a number of great independent shops too – I highly recommend 24 Carrots for their delicious smoothies, juiced drinks, and great snacks! Locally sourced and organic produce and fruits are used for most items and you really cannot beat the diversity of vegan choices here!
Binge watch a TV series on Netflix/HBO Max
Sometimes, your best bet is simply hiding in the air conditioning all weekend. My picks? Friends, Supernatural, Lost, Revenge, Gilmore Girls, Freaks & Geeks, Seinfeld, The Wonder Years, Dollhouse, and Stranger Things.
Treat yourself to a healthy buffet at Jason's Deli
Jason's Deli is my top choice for a refreshing lunch on a hot day in the desert. It's hard to eat hefty when it's over 100 degrees. The salad bars feature endless toppings for you to customize your own healthy lunch, plus the soups are amazing (can't beat the broccoli cheddar!) A great local place with good salads is Pomegranate Cafe.
Use your library!
It's easy to put the library to good use in a hot area like Phoenix. Summertime is the time to check out that novel you have been longing to read!
Go back in time with old-school Nintendo games
Really, what's better than reliving childhood classics like Super Mario 3?! This game is really long, thus making it the perfect way to beat a really hot weekend!
Go Bowling!
It's fun year-round, but even more fun when it's too hot to do anything else! Bowlero in Gilbert is pretty nice, plus it's pretty close to the fantastic San Tan Village mall, my favorite in the Phoenix area.
Plan a spa day
There are tons of resorts with nice spas throughout Phoenix. Spa Lamar in the Scottsdale area is super affordable, plus offers nice amenities including a pool, steam room, and sauna. Or go the budget friendly route and simply treat yourself at home.
Mini golf after the sun goes down!
Golfland in Mesa has the best course and they are open super late (11pm!)
Plan a movie marathon
Pick a theme (mystery, horror, 80's movies, trilogy), get some snacks ready, turn up the air, and enjoy a relaxing cool weekend.
Plan an old-fashioned board game party
Invite some friends over and relive your favorite childhood games like Trivia Pursuit, Scrabble, Monopoly, etc.
Plan a cool day trip to Mt. Lemmon
Many Phoenix residents make the escape to Flagstaff on summer weekends. While Flagstaff is great, Mt. Lemmon is just as close with the advantage of being less crowded. Enjoy a variety of high altitude trails, take the scenic summer chairlift ride, and enjoy a picnic in the pretty pines.
**NOTE** This list is intended for locals living in Phoenix year-round. I highly recommend avoiding a vacation to Phoenix during the months of May-September. The intense heat, lack of shade, and lack of indoor attractions do not make it a great summer destination. Phoenix (and much of the rest of Southern Arizona) is more of a place to visit for the sights you can't anywhere else in the world especially the magnificent Saguaro cactus. So save your vacation for the fall or winter season when it is cool enough to explore all the spectacular trails Phoenix has to offer!
What are some of your favorite things to do in Phoenix on a really hot summer day?