15 Amazing Fall Color Hikes
Fall is the best time of year for much of the country. Crisp cool weather and sunny skies, bright golden foliage, and pumpkin spice everything. The leaves transition into a colorful medley of hues, transforming the green forest into a picture-perfect fall painting. Hiking is the best way to soak in the glorious colors of the all too short-lived season. Fortunately, many areas throughout the country offer an abundance of gorgeous fall color hikes to take advantage of this time of year.
To the surprise of many, New England is not the only area alive with color this time of year. From the Blue Ridge Mountains of the Southeast, to the high altitude forests of Arizona, almost every portion of the country offers an abundance of leaf peeping opportunities for the fall lover.
Below are a few colorful hikes to add to your leaf peeping bucket list!
1. Catawba Falls
Catawba Falls is an incredible waterfall hike in Western North Carolina, located just 20 minutes from tourist hotspot of Asheville. While the main feature here is a dazzling 50 foot tall multi cascade waterfall, another advantage is the spectacular fall foliage the trail sees each autumn. If you love leaf peeping and happen to be visiting Asheville around this time of year, you will definitely want to add this one to your fall bucket list.
While you in the vicinity, consider a cruise along the Blue Ridge Parkway, known as "America's Favorite Drive." It is widely known to be one of the top leaf peeping destinations in the country. A brief video taken near the peak of fall on Oct. 20, 2021, from Milepost 408 to 422.
2. Raven Cliff Falls
Caesar's Head is one of the best places to leaf peep in Upstate South Carolina. This region of the state surprisingly sees a pretty decent fall color season most years. The high altitude (3000+feet) means cooler temps and thus a dazzling array of colors each fall.
The trail to put on your to-do list here is Raven Cliff Falls. This moderate hike includes a 2.2 mile walk through woodsy forest with the brilliant hues of autumn surrounding you in every direction. The ending payoff is even more spectacular with a prime view of the state's largest waterfall, the 400+ foot stunner Raven Cliff.
3. Aspen Nature Loop
The Aspen Nature loop is located in Flagstaff, a beautiful Northern Arizona town known for its' spectacular fall season. Compared to "hot all year" Phoenix, this active mountain community sees 4 distinct seasons. The most dazzling of all is the colorful fall season when the high altitude aspens all turn a brilliant golden color.
The Aspen Nature Loop is an easy 2 mile trail located at Arizona Snowbowl, the state's most impressive ski resort. Along this quiet trail you will be taken on a picturesque journey through golden groves of aspen forest. The trek is under 2 miles and easy enough for beginners, although getting acclimated to the high altitude is a must before embarking on any trail. To top it off, the mountain views are also fantastic. This hike is such a treat for leaf peepers, and really easily one of the most beautiful fall color hikes anywhere.
4. Kachina Trail
The Kachina Trail is another fantastic trail located at Arizona Snowbowl in Flagstaff. This hike is longer and more intense than the Aspen Loop, and thus, perfect for avid fitness buffs. Anyone up for a longer adventure through the gorgeous high altitude forests of Northern Arizona will want to embark on the moderately intense Kachina trail.
Despite the immense beauty of this trail and others in the region, Kachina remains peaceful and way under visited, even during the prime of fall. As an added bonus, this is one of the few trails in the region where black bears have been sighted. While you are unlikely to come across a bear, it always helps to be bear aware! Note: this trail is about 5 miles out-and-back with 1500 feet in elevation gain, so definitely a tough one! Fortunately, hiking just 2 miles or so will enable you to enjoy the fall leaves aplenty.
5. The Inner Basin
Out of all the gorgeous fall color hikes in Flagstaff, Inner Basin is the big stunner. This one draws traffic from across the state and elsewhere. For jaw dropping autumn scenery, the Inner Basin is right up there with the best-of-the-best. This is not just a contender for best of Flagstaff, but rather best leaf peeing anywhere. The foliage here rivals some of the top fall foliage destinations in New England. The trek is slightly challenging at 1.7 miles each way with an elevation gain of 1200 ft. Fortunately, the picture-perfect fall scenery overrides any sore muscles the next day!
What an incredible experience to stroll through dense groves of golden aspens for miles on end. The fresh mountain air, the comfortable cool dry air, the quaking of the aspens in the wind…this is fall like nothing you have ever experienced before. Pretty crazy that you can enjoy this level of leaf peeping, in Arizona of all places!
6. Rough Ridge trail
Rough Ridge is one of the best leaf peeping destinations on the Blue Ridge Parkway. For this easy trail, you will follow a boardwalk trail up to the Rough Ridge summit. At an elevation of 4773 feet, the views are stunning. From up here you will take in gorgeous vistas of Grandfather Mountain. Vistas are stunning anytime of the year, but even more dazzling during the peak of fall. Combine with a trip to Grandfather Mountain (one of NC's most popular tourist attractions) to extend your day out.
There are many beautiful overlooks and hikes along this section of the Blue Ridge parkway. Don't miss the Beacon Heights trail (MP 305.2) and Linville Falls (MP 316.4), one of the Parkway's most outstanding waterfalls. Consider staying in nearby Asheville, a wonderful fall vacation destination in and of itself.
7. Chapman Falls
This beautiful trail is located within Devil's Hopyard State Park in the leaf peeping hotspot of East Haddam, CT. It's a must-do for every fall lover out there. This is one of the best parks in the state for fall photography. The colorful foliage combined with a beautiful waterfall and covered bridge backdrop easily puts it on the "best of list" for photographers, nature lovers, & leaf peepers.
Devil's Hopyard really is the quintessential New England fall hiking oasis. Surprisingly, the park does not get overly crowded, thus allowing you to fully soak in the beauty of the season in a more private way.
8. The Arizona Trail
The Arizona Trail stretches on for a massive 800 miles through the states of Arizona, New Mexico, and Utah. This trail travels through many different ecosystems, thus giving you the opportunity to enjoy the unique diversity of the Southwest. From the cacti studded Sonoran desert to the high pines of Flagstaff, you will see that the Southwest is much more than simply barren desert. One of the most scenic sections is accessed via Snowbowl Rd -about 5.5 miles up this incredibly scenic drive (a fall activity in and of itself).
This section of the trail is a lengthy strenuous 7 miles, however, you can simply turn back once you get your fill of leaf peeping. The altitude comes in at a whopping 8800 feet and continues to rise above 9000 in the course of the journey. While the hiking is tough at such a high elevation, this is hands down some of the most magnificent scenery you will lay your eyes upon. Walking through these tall aspen groves, all of which are bright yellow at peak, surely is an experience you will not soon forget.
9. East Head Reservoir trail
Myles Standish is the premier place to hike in Southeastern Massachusetts. With miles of trails traversing serene desolate wilderness, it's the best place in the region to get lost in nature. It's even worthy of the drive from Boston if you are seeking the ultimate in solitary recreation.
From Kettle ponds, to cranberry bogs, to one of the largest continuous pitch pine / scrub oak forests, Myles Standish sure is an interesting place. While this park is beautiful all-year round with diverse seasonal changes, fall really is the standout time to visit.
Autumn is the perfect time take a stroll along the 2.5 mile long East Reservoir trail. While the forests consists mostly of pines, you will find there is no lack of leaf peeping this time of year.
10. Veit Springs
Veit Springs is another Flagstaff fall stunner, this one located about halfway up Snowbowl Rd. Due to the hidden location, it sees very little traffic. Most tourists continue to the top of the road to enjoy the stunning mountain scenery. While the ending vistas are fantastic, Veit Springs is definitely worthy of a hike during the spectacular fall season. This hike is short, with little elevation gain, and thus, suitable for most hikers.
The mix of pines and aspens really lends to some amazing views come fall. The intermixing of the green pines and gold aspens truly is an awe-inspiring sight which you will not find in many other places.
11. West Fork trail
The West Fork trail has been dubbed "New England of Arizona." While Sedona is more well-known for its' jaw dropping red rock scenery, many Phoenix locals make their way out here to enjoy the traditional foliage each autumn. After taking a stroll along this trail, you will quickly see why it was nicknamed as such. It's quite a shock to see such a medley of brilliant hues in a place better known for exotic desert scenery.
Nevertheless, this trail is gorgeous year round. With crunchy leaves, golden & red hues surrounding you in every direction, and even a hint of red rock scenery – this is fall with a desert twist. Where else can you enjoy both red rock vistas and leaf peeping at the same time?
12. Minuteman Bikeway
The Minuteman is a multi purpose former rail trail which is now popular with bikers, joggers, and walkers. The lengthy distance (10 miles) makes it the perfect choice for a leisurely weekend activity. It begins in Bedford, not too far from downtown Boston. Thus, biking or walking this trail is the perfect tourist activity for leaf peepers.
Although beautiful anytime of the year, this trail definitely shines the most during the fall. Golden, orange, and red hues line the bulk of this trail. This is the best trail near Boston for leaf peepers and nature lovers. Biking is the best way to take in the beauty of the trail as you can cover so much more ground, thus enabling you to enjoy even more fall color.
13. Skyline trail at Blue Hills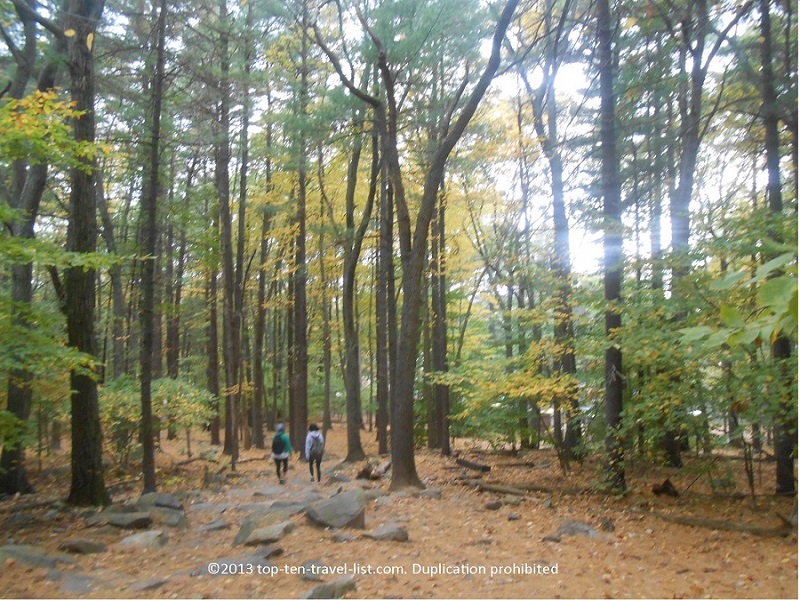 Blue Hills is a massive recreation area, conveniently located just outside of downtown Boston. This is the place to go for a full afternoon of hiking. With over 125 miles of trails and close proximity to the city, it's one of the country's best urban escapes. There are miles and miles of gorgeous trails to choose amongst. Most newbies decide to check out the Skyline trail, which offers a grand vista of the beautiful Boston skyline.
The best time to plan your hike at Blue Hills is during the peak of fall season. At this time, you will get to enjoy great city views plus amazing fall foliage. However, the best part of all is taking some time to soak in nature. Escape the city commotion for a bit to enjoy a refreshing walk in the woods. You will walk out refreshed ready to explore more of our country's great history.
14. Bear Jaw trail
Like the Inner Basin trail, Bear Jaw is another stunning trail on the San Francisco Peaks. The trail is a short 2 miles, although it's very steep with a 700 foot gain in elevation. Fortunately, you will be more than motivated to push on til the end when surrounded by the inspiring colors of the season.
This one is a bit of a hassle to get to and 4WD is definitely recommended to navigate the rough road! While parking can be hard to find, the trail itself remains quiet.
15. Enders Falls Trail
Enders State Forest is located in a gorgeous secluded area of North central Connecticut. Miles of trails cut through 1000s of acres of pristine wooded forest. Streams, waterfalls, and wetlands make this a peaceful place to enjoy a hike.
Enders Falls is a short scenic hike to add to your fall bucket list. In addition to strolling past several small waterfalls, you will also get to enjoy the colors of the season. This really is a quaint little place to hike, a postcard worthy New England destination. While super busy during the summer, the trail sees little traffic during the fall.