10 interesting daytrips within an hour of Greenville, SC
Although Greenville's tree-lined, trendy Main Street gets all the attention these days, the true advantage of the Upstate's largest city is its' close proximity to natural wonders. The picturesque Blue Ridge mountains, dozens of enchanting waterfalls, and a number of historical attractions all lie with an easy day's drive.
if you have the time, you will definitely want to venture outside of Main Street to explore a few of these mesmerizing natural sights. Below are 10 interesting daytrips, all within an easy hour drive.
Daytrip 1: Chimney Rock & Lake Lure
Distance from Greenville: 1 hour
Location: 431 Main St, Chimney Rock, NC 28720, Admission fee: $17 adult/$8 youth
Highlights: Best mountain views in the region, home to the state's second tallest waterfall, popular movie filming site
Tip: Treat yourself to a pastry and cup of joe at On the Rocks (conveniently located in Chimney Rock Village) prior to your hiking adventure.
More info on Chimney Rock State Park
Chimney Rock State Park
Though located in North Carolina, Chimney Rock State Park is (rightfully so) extremely popular with both NC & SC tourists, especially those staying in the nearby cities of Asheville & Greenville. Although admission is a bit hefty, the scenery is incredible and the trails well-maintained.
Challenge your lower body to a 500 step climb up to a uniquely shaped rock outcropping, or opt for a more relaxing elevator ride up the mountains (one of the few places in the world where you can do so!). No matter which route you take to get to the top, you are rewarded with the same standout view of the picturesque Blue Ridge region. On a clear day, the view stretches out for 75 miles, with Lake Lure and the Hickory Nut gorge forming a near picture-perfect backdrop for photos.
Hickory Nut Falls
The park is also home to one of the state's largest waterfalls, the enchanting 404 foot wonder, Hickory Nut Falls. And fortunately, it does not take all that much effort to view this beauty. A simple 1 mile journey will lead you to this awe-inspiring natural wonder. After trekking up 1000 steps, this hike will feel like an absolute breeze – if anything a nice recovery period where you can cool down and replenish your water stores. On an interesting side note, this waterfall was featured in The Last of the Mohicans.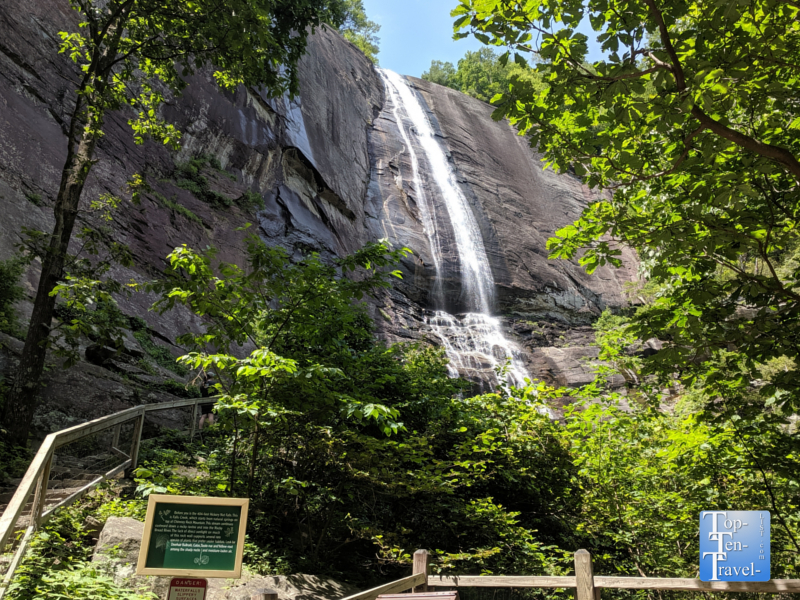 Chimney Rock Village
When your legs can't take any more of a beating, head over to adjacent Chimney Rock Village for an afternoon of shopping and dining. Medina's bistro is the place to refuel with a healthy veggie and protein packed wrap. Enjoy a local caffeine boost at the quirky On the Rocks coffeeshop. The village is home to quite the electric range of shops, many specializing in eccentric Bigfoot and Southern style souvenirs. Be sure to check out the general store featuring memorabilia and and old time candy bar.
If you are a Dirty Dancing fan, you are sure to be impressed by the various movie memorabilia around town. Huge fans of the Patrick Swayze 80's classic will want to head a few miles outside town to Lake Lure. Take a relaxing cruise and see the steps where Baby practiced here dance moves.
Daytrip 2: Asheville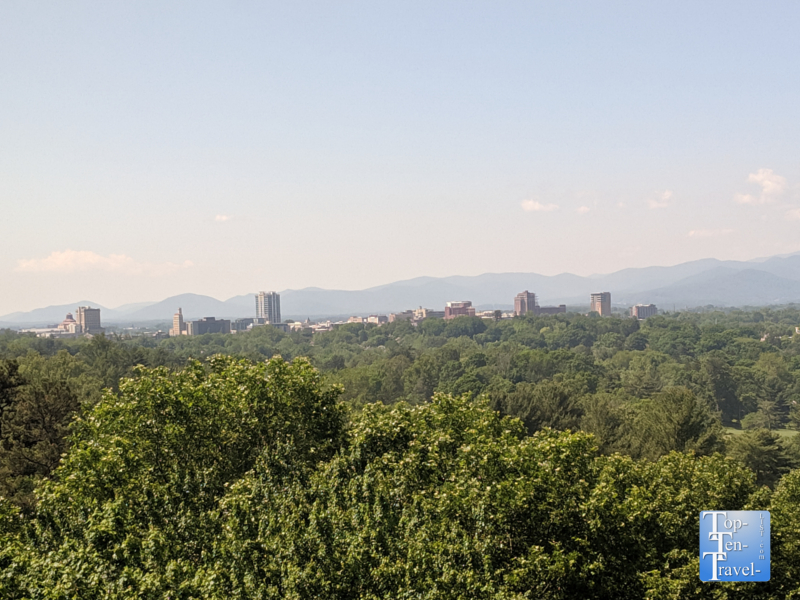 Distance from Greenville: 45 minutes
Highlights: Biltmore estate, renowned foodie scene, retro Pinball museum
Tip: Start your day off with a delicious breakfast at Corner Kitchen, an underrated gem in the quaint Biltmore Village area.
Asheville is a fun and convenient day trip from Greenville, and as an added bonus, the drive over is incredibly scenic. Like Greenville, Asheville has been making headlines in recent years for its' diverse foodie scene. In fact, numerous foodie hotspots which originated in Asheville can now be found in Greeneville i.e. Biscuit Head, White Duck Taco, Tupelo Honey. These restaurants are all great, however, there are so many other local establishments to check out.
Chai Pani specializes in Indian Street fare. Vinnie's is the place to go for authentic Italian meal. And although not as highly touted, The Blue Ridge Artisanal Buffet at the luxurious Omni Park Grove Inn offers a terrific brunch buffet and the views are simply breathtaking. Asheville is definitely a foodie haven, with everything from farm-to-table, to Southern BBQ, to diverse ethnic fare on the menu. Consider a foodie tour to enjoy the full spectrum of Asheville food offerings.
The Omni Park Grove wins the award for most scenic setting!
A gateway to natural wonders
Food aside, the real highlight of Asheville is its' prime location within the beautiful Blue Ridge mountains. From here, you can drive a portion of the Blue Ridge Parkway (rated America's favorite drive), access hundreds of miles of hiking trails, and enjoy over 200 waterfalls throughout Transylvania county, aptly nicknamed Land of the waterfalls. Here are 5 NC stunning waterfalls within an hour of Asheville.
Of course, the city offers a number of amenities of its' own. You are probably familiar with the Biltmore Estate, built in the late 1800's by George Vanderbilt, grandson of railroad tycoon Cornelius Vanderbilt. The extravagant 35 room home (the largest private residence in the US) is open for tours. The mansion was built at the cost of 6 million dollars, which today is the equivalent of 1.6 billion! When the holidays roll around, you can reserve your spot for a winter sleigh ride around the gorgeous property.
Other must-do's include the Asheville Pinball Museum (play over 75 pinball and arcade machines unlimited for just 15 bucks), Battery Park Book Exchange (pick up your next classic while enjoying a glass of champagne), and the Asheville Botanical Gardens (a quiet nature escape from the tourist herds).
Daytrip 3: Dupont State Forest
Distance from Greenville: 1 Hour
Location: Free side street and lot parking. Park at the High Falls lot (89 Buck Forest Road, Cedar Mountain, NC 28718).
Highlights: 3 incredible waterfalls accessible via a moderate hike
Tip: Visit during the off-season for ease of finding parking.
Dupont State Forest is one of the most worthwhile daytrips for waterfall lovers. On this 2.5 mile out-and-back trek, you will get to see 3 stunning waterfalls, as well as a historic covered bridge. Known as the Triple Falls trailhead, you will get to awe at the beauty at not one, but 3 incredible falls. Along the moderate trek, you will come across 125 foot tall Triple Falls, 125 foot High Falls, and Hooker Falls which makes up for what it is lacks in with its' impressive width and volume.
The trail is moderate without too much elevation gain – a real bang-for-your-buck considering how little effort is required to see 3 natural wonders. This trail is especially gorgeous in fall when a colorful palette of golden hues paint the backdrop. And if you can brave the often crisp and icy winters, this really is a time to enjoy the solitude of the forest and obtain uninterrupted photos of nature at its' best.
Yes, parking can be a bit of a hassle due to the popularity, so try to get out here on a weekday, early in the morning, if possible.
Unfortunately, there is not much in the way of restaurants in this area. If you are up for a sidetrip, head over to downtown Hendersonville, home to a charming Main St. Otherwise fill up before you leave at one of these great Greenville breakfast establishments.
Daytrip 4: Oconee County
Distance from Greenville: About an hour depending on which part of the county you visit.
Highlights: Home to some of the most spectacular waterfalls in the state.
Tip: Grab a quick breakfast in Greenville before taking off as dining is limited in the area. Port City Java is a nice local coffeehouse with great drinks and the most delicious muffins in town. Oatmeal and smoothies also available.
Oconee, the westernmost county in South Carolina, was recently voted one of the "50 last great places in the world" by National Geographic Magazine. This region is a true oasis for outdoor types. Lake Jocassee and Lake Keowee are both popular destinations for water lovers. The Lake Jocassee boat tour is popular with tourists seeking a leisurely, no-stress vacation activity.
Oconee County Waterfalls
If you are up for more of an endurance challenge, simply choose from the long list of hikes in the region – Oconee State Park is a great place to start. The most stunning waterfalls to add to your must-see list include Yellow Branch (best viewed after a major rain storm), King's Creek (easy hike to a stunning 50 foot waterfall), Issaquena Falls (easy 5 minute walk to a 200 foot cascading beauty), and Station Cove Falls (stunning secluded stepped waterfall).
And, if you are up for a more intense adventure consider a whitewater rafting trip down the Chatooga River.
Daytrip 5: Caesar's Head State Park/Wildcat Branch Falls
Distance from Greenville: 50 min
Location: 8155 Geer Hwy, Cleveland, SC 29635.
Tip: Arrive at the trailhead early in the morning, preferably during the off-season. This is a very popular place and parking is extremely limited.
Caesars Head State Park
Caesar's Head State Park is one of the gems of the Upstate region – a definite addition to your must-do list. The highlight here is the moderately challenging 2.2 mile hike to Raven Cliff Falls, a gorgeous 350 foot waterfall viewable via an observation deck. Views are a bit far off in the distance, however, the leafy scenery surrounding the falls (particularly during the vibrant fall season) is what really sets this waterfall apart.
Leaf peeping season…best time to visit Caesar's Head!
The great thing about Caesars is that you do not necessarily have to be a hiker to enjoy this park. First off, the drive over is stunning, particularly in autumn as the colorful hues of the fall dominate the landscape. Second, there is a gorgeous overlook (just a short walk required) where you can enjoy 360 panoramic views of the area. Other activities for non hikers include fishing and picnicking.
Wildcat Branch Falls
About 20 minutes into the drive to Caesars, you will come across an amazing roadside waterfall. At a mere 30 feet, Wildcat Branch Falls is not all that tall, however, the water flow is always extremely strong. Plus, it's one of the few waterfall hikes which requires zero effort to see. This is a quick detour directly on the route near the small town of Cleveland. You will see a small parking lot and loads of people around if it's a nice day.
Again, this area is a bit secluded, and thus, quite limited in terms of dining options. Filling up on a quick breakfast in Greenville prior to leaving is your best bet. Sully's Steamers is an excellent local bagel shop where you can order all sorts of flavorful bagel combinations. Plus they serve Methodical coffee – a local roaster which has won numerous awards.
On your return route, stop by for a quick lunch in Travelers Rest, a small community directly on the route. Sidewall is a popular local's favorite for pizza.
Daytrip 6: Spartanburg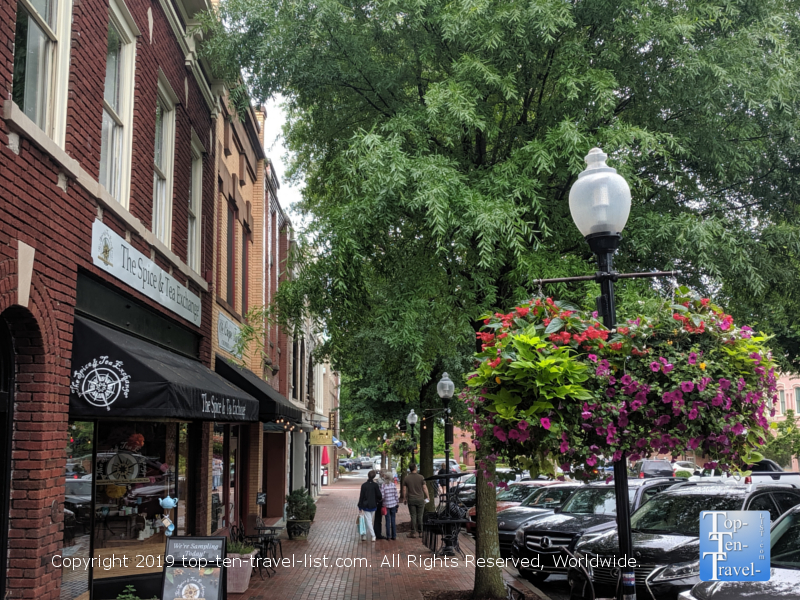 Distance from Greenville: 45 minutes
Location: Start off at The Crepe Factory (137 W Main St, Spartanburg, SC 29306).
Highlights: Hub City bookshop, Waterfall at Hatcher Garden preserve, the only contemporary art museum in the Upstate
Tip: Check the lineup for upcoming shows, concerts, and events at the Chapman Cultural Center.
Spartanburg is an interesting daytrip from Greenville, particularly for history buffs. The town is most well-known for its' role in the Revolutionary War. In fact, the name arises from the Spartan regiment, a local militia who helped win the Battle of Cowpens. Admission to the Cowpens National Battlefield site is free.
Similar to Greenville, the charming downtown is a hotspot for local dining and boutique shopping. The Crepe Factory is a great place to start off your morning. Afterwards take a stroll down the tree-lined street and admire the historical architecture and various boutique shops. The Tea and Spice Exchange offers an amazing array of loose leaf tea and spice blends. Stop by Little River Roasting Co for a quality espresso on the patio and then browse through local and national treasures at Hub City Books, one of the region's few independent bookstores.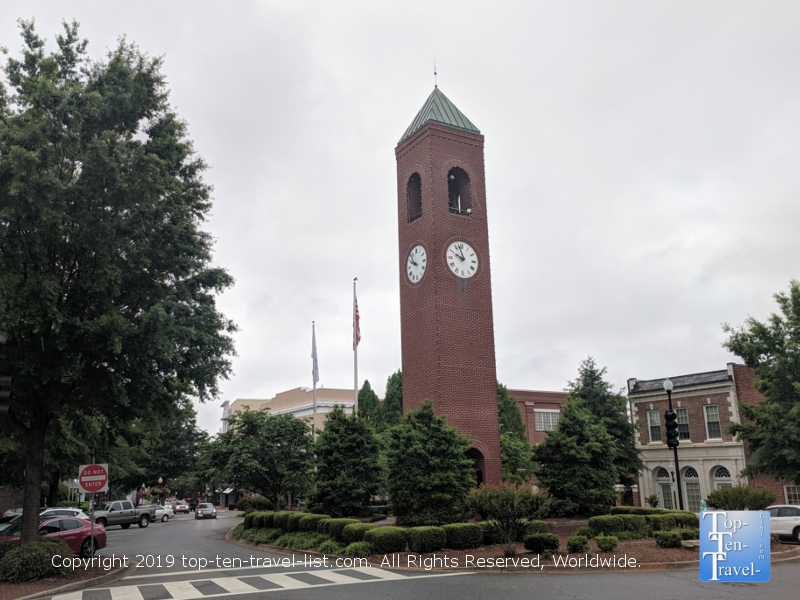 The Chapman Cultural Center houses a theater, a regional history museum, and an art museum. Both the art and history museum are free, so a great value if you are looking to keep your trip budget friendly.
Vintage Warehouse is a must stop for all treasure hunters. Dozens of independent vendors are on-site in this massive space. Lots of great finds here including quality furniture, fantastic art, and regional specialities.
If getting lost in nature is more your thing, head over to Hatcher Garden for a tranquil stroll around this woodsy nature preserve. Hikers will want to venture out a bit further to Croft State Park, home to over 10 miles of trails.
Daytrip 7: Jones Gap State Park
Distance from Greenville: 1 hour
Highlights: Relatively uncrowded, gorgeous maintained trails, beautiful fall foliage
Tip: Save this hike for the fall – the foliage is spectacular!
Jones Gap and Caesars Head are both in the same vicinity, so if you are not overly tired, you can save some time and visit both on the same day. However, as the hike to Raven Fall is a bit exhausting, Jones Gap is better saved for a separate day. Combined the two parks comprise a massive 11,000 acre wilderness area known as the Mountain Bridge wilderness area.
While the hike to Rainbow Falls draws the majority of visitors to Jones Gap, this is a very strenuous trek which involves over 1000 feet of elevation gain. If completely busting your butt does not sound like a fun vacation activity, you may want to consider one of the park's easier, but still rewarding trails. A great often overlooked alternative is the hike to Jones Gap falls, a beautiful secluded 1 mile hike to a pretty 50 foot waterfall which cascades down a rocky staircase.
Bird watching is popular here as is the Annual Hawk Watch.
Daytrip 8: Table Rock State Park/Twin Falls
Distance from Greenville: 30-45 minutes
Highlights: Easy hiking, terrific fall foliage, pretty waterfalls in the region
Tip: Consider a quick detour to Bald Rock Heritage preserve, a quick stop featuring an overlook with tremendous views of the mountains.
Pickens County is another easy daytrip which offers much bang-for-your-buck. Located just a half hour away, the picturesque country drive far away from the Greenville tourist congestion alone makes a daytrip to Pickens worthy of consideration. The region is home to numerous outdoor based attractions, and thus, is perfect for nature enthusiasts.
Start your day off at Coyote Coffee Company in downtown Pickens. This cute local shop serves delicious coffee and pastries, along with light breakfast fare. After your caffeine boost, take a quick walk downtown and check out the antique shops. Really not much to see or do here besides a few boutique shops and local restaurants.
Table Rock State Park
Table Rock State Park is one of the more popular parks in the region. The arduous climb up Table Rock is only suitable for the most dedicated hikers. However, the Carrick Creek Nature trail is perfect for casual walkers and nature lovers. This short 1 mile stroll features several small waterfalls. The hike is tranquil and quiet and you will likely hear nothing but the soothing sounds of the creek.
Twin Falls
Twin Falls is another must-see while in the vicinity. This beautiful double waterfall is one of the most mesmerizing in the state. Best of all, a simple 20 min nature walk is all that is required to see this marvel of nature. Twin Falls is an easy 10 mile detour from Table Rock.
Other attractions to check out include the Pickens County Museum of art, B Well Honey Shop, and Finders Keepers Antiques. The Pumpkintown General Store is located right on the route. This is a great place to take a little break, browse around, and perhaps grab a quick bite to eat.
Daytrip 9: Campbells Covered Bridge/Poinsett Bridge/Pleasant Ridge County Park
Distance from Greenville: About a half hour
Highlights: Beautiful waterfall at Pleasant Ridge, the last covered bridge in the state, Haunted history of Poinsett
Tip: Start your day at Pleasant Ridge County Park (before it gets too hot and crowded), then Campbell's Covered Bridge, and finally Poinsett
Pleasant Ridge County Park
This peaceful park is located just 20 min or so out of Greenville and just a short detour from the 2 bridges. A beautiful half mile nature trail leads you to Pleasant Ridge Falls. The 6 mile JFA trail is also popular with hikers as well as mountain bikers.
Campbell's Covered Bridge
A handful of interesting historical sights are scattered throughout the Upstate. Two of the most interesting make for a nice little relaxing daytrip from Greenville. Campbell's Covered bridge is the last remaining covered bridge in the state. This is a beautiful place for photography, especially during the peak of fall and following a winter snowstorm. You will likely see lots of couples out and about taking engagement photos. The serene natural backdrop is perfect for family photos.
Poinsett Bridge
Poinsett Bridge is another interesting historical landmark to add to your bucket list. This fascinating piece of architecture was built in 1820 and still stands completely intact as the oldest bridge in South Carolina. The bridge was originally built as part of a road which ran from Columbia to Saluda mountain. The 14 foot Gothic arch and secluded creepy setting gives the bridge a mysterious otherworldly vibe. Supposedly the bridge is haunted, which makes this detour all the more interesting during the Halloween season.
The 2 bridges are about 20 min apart. The mountainous scenery in between is quite beautiful. The drive is relaxing with barely a hint of traffic. Along the route, you can test out some southern boiled peanuts and pick up some fresh seasonal fruit & produce. If you are looking for a bite, the small community of Travelers Rest offers a number of popular eateries. Tandem serves delicious crepes and excellent coffee from local North Carolina roaster, Counter Culture.
Daytrip 10: South Carolina Botanical Gardens
Distance from Greenville: 45 minutes
Location: 150 Discovery Ln, Clemson, SC 29634, Hours: 10am-5pm, 7 days a week.
Highlights: Over a dozen beautifully maintained gardens, an impressive geology museum.
Tip: Save this one for the cooler season!
South Carolina Botanical Garden at Clemson
The South Carolina Botanical Garden is an overlooked gem which is worthy of a look if you are seeking more to do in the Upstate. While it wouldn't necessarily be number one on my list, it's a good add on if you have the time. Located just 40 minutes outside of Greenville, this is an easily doable daytrip for nature lovers. The garden is located on the campus of Clemson University and is open to the public free of charge 365 days a year.
The massive 295 acre space includes a variety of gardens and nature trails. Over a dozen unique gardens include a desert garden, a butterfly garden, and a flower display garden. The Bob Campbell Geology Museum houses more than 10,000 rocks and minerals.
A few views around the botanical gardens & museum
Keowee-Toxaway State Park
After spending a few hours at the garden, hop in the car and proceed 20 minutes to Lake Keowee. Keowee-Toxaway State Park is a beautiful place for a boating adventure (rentals available). For hikers, the Natural bridge nature trail is a peaceful walk through isolated nature, complete with small waterfalls and creek crossings. At just 1 mile and no more than moderate intensity, this is a great choice for hikers of all abilities.