10 Must-Try Breakfast Restaurants in Tucson
When summer in the Sonoran desert rolls around each year, bringing with it blazing sunshine and oftentimes triple digit heat, the morning is your friend. On any summertime visit to Tucson, you will quickly learn to take advantage of the (slightly) cooler morning temperatures. As you will likely be out and about much earlier that you are accustomed to, you will want to know the best places in the city for a great breakfast. Before venturing out on any of the unique hikes or attractions in Tucson, give one of these local breakfast hotspots a chance, as opposed to resorting to the convenient, common chain.
1. Seis Kitchen
Tucson is known for its' wonderful array of local Mexican dining establishments. The city is home to "the best 23 miles of Mexican food in the country." Seis Kitchen is a great place to start in terms of quality, affordable, authentic Mexican fare. Seis serves award-winning Mexican street fare. The cafe is located inside the beautiful Mercado San Agustin, an attractive Southwestern style open air shopping & dining market. A new location also opened in suburban Oro Valley.
This is one of my favorite places for a relaxing meal after a long bike ride or hike. The casual ambiance makes it a great pre/post workout dining choice. There is plenty of shady here, and thus, it's one of the few outdoor dining areas which is still bearable on hot summer mornings. The menu is long & diverse, featuring cuisine from 6 regions of Mexico. You really cannot go wrong with any of the Breakfast Tacos -they are by far the most delicious in Tucson! In terms of nice outdoor patios in Tucson, Mercado comes in near the top with its' abundance of shady leafy trees.
The best part of all is that there is a great local coffee shop in the courtyard (Presta), so you can enjoy a delicious cappuccino, mocha, or regular cup of joe alongside your breakfast.
Location: 100 South Avenida del Convento suite 200, Tucson, AZ 85745, Opens at 8am
What to do nearby: Check out the gorgeous Hidden Canyon Bowen trail, located at the secluded JW Marriott Starr Pass Resort. This trail is quiet, free, & loaded with incredible views of the Tucson mountains.
2. Cafe a La C'Art
Cafe a La C'Art is a fantastic restaurant on the grounds of the Tucson Museum of Art. Food & Wine Magazine recently ranked it as one of the top 10 museum restaurants in the country. This is a bit of an overstatement imo, however the food itself is delicious, and the menu creative. The Cafe is one my top picks for breakfast in Tucson, especially if you are already heading downtown for another activity.
The pretty garden patio, high quality food, and excellent food presentation make it the perfect place for a weekend brunch date. The cafe is even more romantic at night with pretty lights strung up in the garden. The Market Skillet is the absolute must try here, although there are plenty of enticing options to try out. And of course, you cannot leave without trying one of the tempting pastry treats, all made fresh in house daily.
Location: 150 N Main Ave, Tucson, AZ 85701, Opens at 8am Sat & Sun (10am Wed-Fri)
What to do nearby: Check out the Tucson Museum of Art, which boasts a pretty impressive collection of more than 8000 pieces. Combining brunch at Cafe a la C'Art with a visit to the museum makes for a nice little downtown day out.
3. The Coronet
The Coronet is an upscale European restaurant just outside of downtown Tucson. This is definitely the top pick in town if you consider yourself a foodie. The Coronet offers the most eclectic variety of brunch fare. Coronet works with numerous local companies including Barrio Bread, the best local bakery, and Caffe Luce, a popular coffee roaster. The presentation, service, and ambiance are always top notch, making the Coronet the perfect choice for a romantic brunch date. Two great picks here are the Eggs Hominy and Eggs Florentine.
Location: 402 E 9th St
What to do nearby: Check out the D&D Pinball museum, where you can play old-fashioned pinball machines from the 60's-90's for just 25-75 cents a game. Update: D & D is sadly closed! However, there are many other shops to check out on 4th ave downtown.
4. Welcome Diner
Welcome Diner is a great local breakfast restaurant, which serves up comfort food in a charming revamped 50's style setting. This is one of the more eclectic restaurants in town, and definitely the most interesting place for breakfast. The secret is out and more and more people are discovering Welcome Diner, so expect a lengthy wait on any given weekend.
While the food takes forever, it's definitely worth the wait. Welcome Diner works with a bunch of local companies including Barrio Bread (the best bakery in town), Presta Coffee (one of the top roasters in town), farmer's markets, and more. Everything is fresh and delicious here, especially the biscuits.
As far as entrees go, you will find a mix of traditional, contemporary, and Southwestern style sections. Check out the Roasted Vegetables dish, a delicious unique dish consisting of 2 eggs your way, sauteed with all types of veggies, cotija cheese, topped with fresh salsa, and served alongside hand pressed corn tortillas and the best hash browns in town.
Location: 902 E Broadway Blvd
What to do nearby: Take a hike up Tumanoc Hill, a challenging steep 1.5 mile trail which rewards with the most magnificent overlook of the city.
5. Tohono Chul Garden Bistro
Like Cafe a la C'Art, The Garden Bistro at Tohono Chul offers another nice attractive garden like dining space. In an area where heavy tree coverage is not the norm, a lush garden patio comes in as a real treat. In fact, you may even forget you are in the desert. Dining here for brunch really feels like a mini trip to a tropical oasis. Birds chirp around you, lush plant life abounds, so it really is a perfect setting for a laid-back slow paced brunch.
The food here also is not too shabby, with more than the standard breakfast fare offered, including the most delicious homemade Quiche of the Day. As an added bonus, the service here is amongst the best in Tucson. On the downside, the food is pretty overpriced, however, the nice setting justifies the upcharge. In terms of overall dining experience (ambiance, food, and service), Tohono Chul Garden Bistro is a real winner.
Location: 7366 N Paseo Del Norte, Tucson, AZ 85704, Opens at 8am
What to do nearby: Stroll around the gardens, or better yet head over to nearby Catalina State Park for a day of hiking, birdwatching, and the most gorgeous mountain scenery in Tucson. (11570 N Oracle Rd-$7 per car)
6. Cup Cafe
Cup Cafe is a little gem inside the historic Hotel Congress in downtown Tucson. The ambiance is charming and the outdoor patio is the perfect cozy place to people watch while enjoying a nice brunch. As it is one of the few restaurants with any sort of historical charm, it's definitely worthy of a look on your Tucson trip. Although the wait is long on weekends and hostess service could definitely be a bit friendlier and more organized, the home style food more than makes up for the minor inconveniences.
The breakfast entrees here are really high quality and the potatoes so perfectly cooked, definitely the best I've tried in Tucson. The cafe offers a nice mix of traditional and specialty dishes, along with a decent size selection of GF options. The must try here is The Deposition, which includes 2 cinnamon flapjacks with 2 eggs your way and bacon. The Cast Iron Baked Eggs, the Quiche du Jour, and the Huevos Rancheros are also great choices.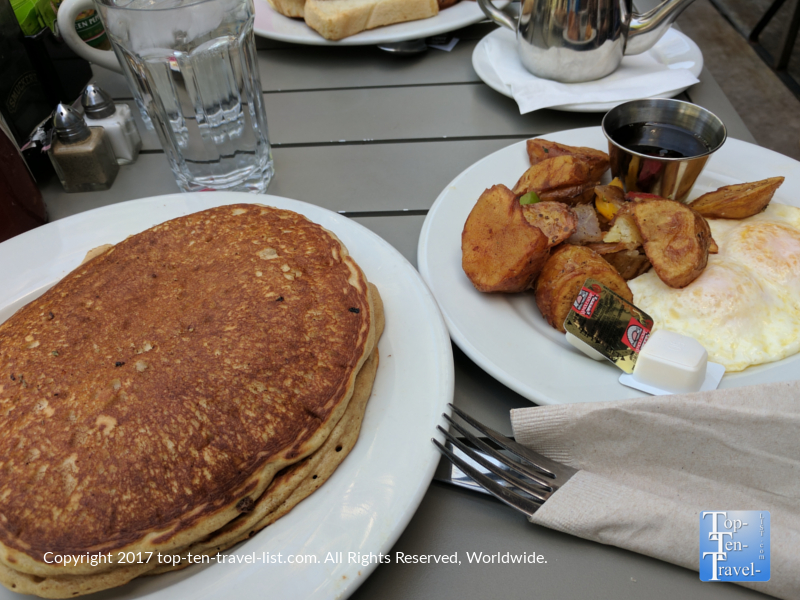 Location: 311 E Congress St, Tucson, AZ 85701, Opens at 7am
What to do nearby: Stop for a delicious cup of coffee at Cartel Coffee Lab (210 E Broadway Blvd ), one of the best local roasters in Arizona. Not in the mood for coffee? Take the short drive over to the Center for Creative Photography, featuring 80,000 works from 2000 photographers. Free admission. (1030 N Olive Rd)
7. Maynards
Maynards is a charming restaurant located in the old train depot in downtown Tucson. The restaurant is small, intimate, and classy, thus making it a great choice for a date brunch or celebratory meal. The service is professional, and the ambiance refined, yet still casual. The food here is delicious and well presented. Maynards uses local ingredients, so it's a nice choice for the health conscious.
You will find lots of fresh baked pastries in the Market section of this restaurant, while Maynards Kitchen serves the most luxurious breakfast entrees. I highly recommend going with the Baked Eggs, which was both different & delicious.
Location: 400 N Toole Ave Suite A, Tucson, AZ 85701, Opens at 7am (9am on Sunday)
What to do nearby: If you are looking for another quaint date hotspot in the city, head over to Seven Cups Tea Lounge, which has been rated one of the 6 best tea shops in the US by Travel & Leisure Magazine. Tea is pricey, but worth it for the beautiful ambiance. (2516 E 6th St)
8. First Watch
As the only chain on this list, First Watch deserves a spot due to a winning combination of healthy organic fare and a gorgeous mountain setting. First Watch is a nationwide chain which originally opened in California in 1938, and has since then expanded to include over 200 locations in 26 states. There are numerous locations throughout Tucson. The best being the Oro Valley cafe located across from the beautiful Santa Catalina mountain range.
The food is excellent, the coffee is excellent, and the service is always excellent. The best part about dining at First Watch is leisurely enjoying your breakfast outside on the patio early on in the morning, gazing upon the quaint mountain vistas before the noisy afternoon traffic begins to disrupt the view. There's lot of interesting choices here on the menu, both traditional and modern and healthy fare. Be sure to test out the amazing Pumpkin pancakes in the fall. And for those on specialty diets, there is a decent selection of gluten-free & vegetarian fare.
As far as day to day entrees go, I recommend the Biscuits and Gravy and the Market Skillet pictured below.
Location: 5055 N Oracle Rd
What to do nearby: Take a hike at gorgeous Honeybee Canyon Park, located just several miles away in the quaint suburb of Oro Valley. The trail is just 1.5 miles RT and features stunning vistas of the Catalinas.
9. Le Buzz
Le Buzz is a cute European style cafe on Tanque Verde Rd. Thanks to the convenient location, the relaxed cafe is very popular with hikers and cyclists heading up to Mt. Lemmon via the Catalina Scenic Byway. This cafe is a good choice for those who want to enjoy a delicious light breakfast as well as a good cup of coffee. As there are not many breakfast places in town which offer offer both great food and coffee, Le Buzz is a rarity.
Le Buzz offers a giant selection of pastries and has a similar vibe to Panera Bread, although with a bit more local charm. Le Buzz offers a selection of light breakfast fare, with the daily Quiche and paninis being the highlight of the menu. The outdoor patio is a great during Tucson's milder months, although it does tend to fill up super fast each weekend!
Location: 9121 E Tanque Verde Rd
What to do nearby: Take a scenic drive up the 30 mile long Catalina Scenic Byway and spend the day exploring the high altitude trails of Mt. Lemmon.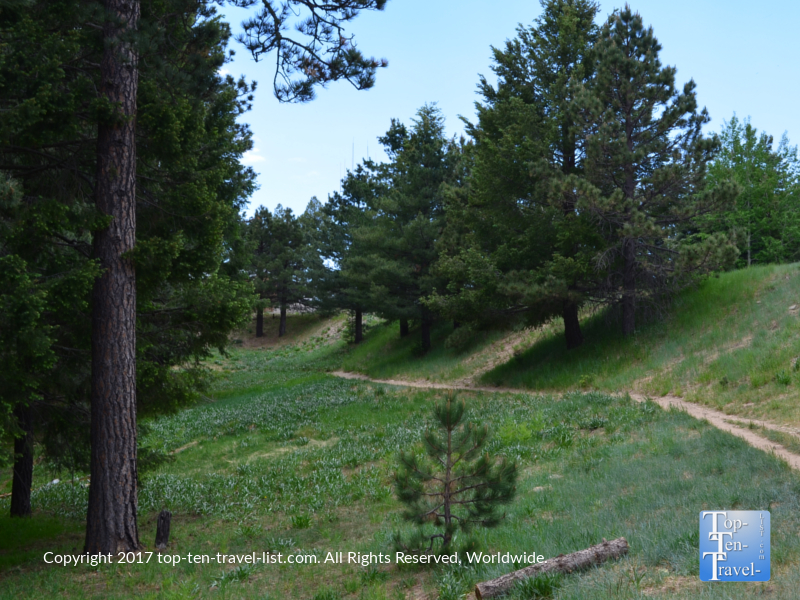 10. Audubon Bar
The Audubon Bar is an upscale casual brunch choice, located inside the historic Arizona Inn. This restaurant is the perfect choice for those who want to enjoy breakfast in an elegant, non stuffy environment. The Arizona Inn offers a wonderful brunch, as well as many specialty buffets throughout the year.
Creative regional cuisine, as well as traditional favorites, can be enjoyed at the Arizona Inn. The dining room is very pretty with a charming Southwestern style garden design theme. From traditional omelets, to contemporary favorites like Avocado toast, to Southwestern specialties like Breakfast tacos and blue corn pancakes, The Arizona Inn is sure to please every brunch lover.
Location: 2200 E Elm St
What to do nearby: Take a stroll around the Reid Park Zoo.
Note: Above are my personal picks for the best restaurants for breakfast in Tucson. Of course, your experience may differ completely from mine based on the type of food you order, your personal preferences, and service of the day.
A Few More Great Breakfast Choices Around Tucson
In the case of a longer trip (or for repeat visitors looking for new ideas), here are a few more decent breakfast options to add to your itinerary!
Agustin Kitchen
Agustin is another great find in the Mercado San Agustin market. While not as fantastic as Seis, this cafe still offers delicious food and the same relaxed, shady outdoor setting. Agustin is a bit more upscale, so if you are in the mood for a fancier vibe or a great date destination, it's the better choice. Brunch includes an assortment of breakfast plates, as well as seafood and salads.
Location: 100 South Avenida del Convento #150, Tucson, AZ 85745, Opens at Noon, 11am weekends
What to do nearby: Browse around the Mercado shops or take a drive up "A" Mountain (1000 S Sentinel Peak Rd), where you will be treated to some nice overlooks of the city. If you are looking to get more active, take a leisurely bike ride along the Santa Cruz Riverway (1345 W Irvington Rd).
The Grill at Hacienda
This is one of the better resort dining options in Tucson. The Grill is one of the few places in the city which offers dramatic views of the mountains. It's the only restaurant I have come across where you can see a giant Saguaro right out the window. Although the setting is spectacular, the food, service, and coffee are a bit on the mediocre side.
Regardless, The Grill offers unbeatable views along with tasty breakfast entrees, although the menu is a bit limited in terms of creativity. If you are more interested in the ambiance than the food, then The Grill should please. My advice: Save your morning coffee for one of the great local roasters (like nearby Savaya).
Location: 5501 N Hacienda Del Sol Rd, Tucson, AZ 85718, Opens at 7am, Brunch buffet Sunday 10am-2pm.
What to do nearby: Stroll around La Encantada, an upscale outdoor shopping center. While here be sure to treat yourself to a decadent gelato from Frost, a popular Italian gelato chain which originated in Tucson. (2905 E Skyline Dr)
5 Points
5 Points is a small local cafe and market just outside of downtown Tucson. They offer a great create your own breakfast plate where you can mix and match all sorts of items. The potato pancakes here are so delicious, as is the Giant Pancake served with clarified butter and real maple syrup. They also offer fresh housemade pastries daily. If you are a health conscious diner, 5 Points is one of the best choices as they use a lot of locally sourced ingredients, i.e. you can sub free range eggs.
The ambiance is really nice with an upscale casual vibe, however, the noise level is bordering on ridiculous, so much so that holding a conversation is nearly impossible. Also, service is just so-so and the menu is pretty basic and in need of a few creative additions. Nonetheless, the food we did try was delicious and the atmosphere charming, despite the noise level. And I could say that I would definitely order the humongous pancake again, especially after a long hike!
Location:  756 S Stone Ave, Tucson, AZ 85701. Opens at 8am (Closed Tues & Wed)
What to do nearby: Check out "The Loop", a flat paved multi use path which is perfect for leisurely biking or jogging. A great section of the trail can be found at Santa Cruz River Park (1345 W Irvington Rd).