29 Must-Do's in Beautiful Sedona, Arizona
26. Cool off at a creekside swimming hole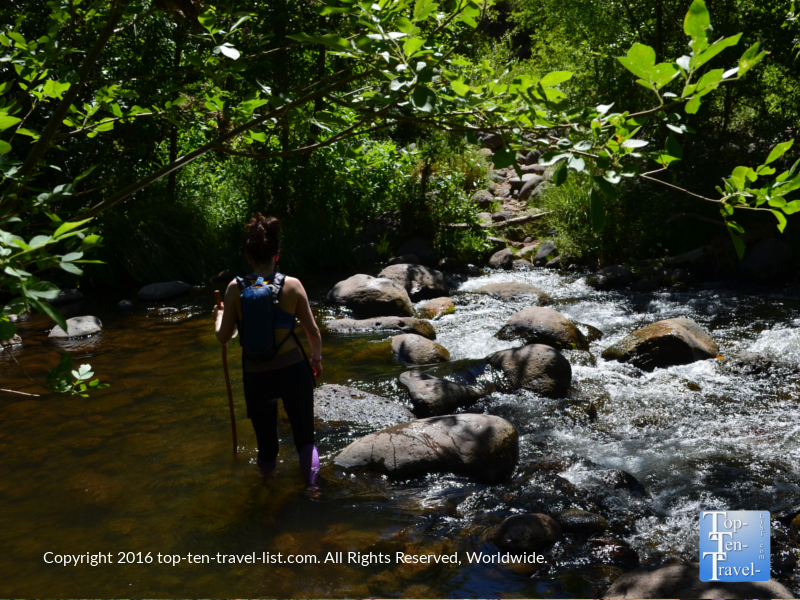 The most famous summer cool off hotspot is Oak Creek Canyon's famous Slide Rock State Park, made famous from the unique natural waterslides carved out of the sandstone. However, it is a bit pricey and insanely crowded the entire summer season, so if either a hefty price tag or lengthy wait bother you, then you might just want to check out one of Sedona's many "secret" swimming holes. From Midgley Bridge, you can take a short downhill trek along the Huckaby to a secret swimming hole. Other options include the Templeton Trail, Grasshopper Point, and Red Rock Crossing – a popular scenic picnicking site.
27. Hike the amazing Airport Mesa Loop*
Not only is the Airport Mesa trail one of the 4 vortex hikes in Sedona, it also offers some pretty fantastic red rock views. Tremendous red rock scenery is visible for almost the entire 3.5 mile loop, so you will definitely want your camera handy for this one! This trek is relatively easy, although the beginning section includes a few very scary drop offs. The lush prickly pear cacti which line the route set this trail apart from others being that they are the greenest and most alive I have seen on any Sedona trail!
More info on the Airport Mesa hike
28. Treat yourself to handcrafted chocolates from Chocolatree
Chocolatree is a local vegetarian restaurant which also specializes in homemade chocolates of all kinds – truffles, peanut butter cups, cakes, basically anything you could possibly think of. With an on-site chocolate factory, everything is totally fresh and delicious. Everything is gluten-free and several sugar free selections are available. They serve one terrific hot cocoa as well. Asides from the sweet treats, Chocolatree is home to one of the best outdoor patios in town – lush and green with trees, fountains, and even relaxing hammocks! Also, the healthy burritos are awesome!
29. Stargaze
With sunny skies most of the year, low light pollution, and plenty of open space, Sedona is one of the top stargazing destinations in the Southwest. Sign up for a guided stargazing tour or simply go out on your own and enjoy the starry skies in the open desert.
A few more things to do…
*Hike Brin's Mesa – Brins Mesa is one of Sedona's most gorgeous trails. Unfortunately, it's a bit too overcrowded with tourists, and thus, would not be my top choice for visitors wanting to explore this beautiful area in a more remote setting. However, if you have the extra time, go for it!
*Enjoy a creek side brunch. Several restaurants in town offer nice views of the creek. Check out Etch Restaurant in the beautiful L'Auberage resort for a fine dining option, and Ken's Creekside for a more casual ambiance.
*Treat yourself to the best pizza in town at Pisa Lisa. Excellent woodfired pizzas, terrific homemade gelato, and an attractive casual ambiance make Pisa Lisa a great choice post-hike when you just want to refuel with some tasty carbs!
*Try out some cactus fries at the Barking Frog Grille (update closed) or Cowboy Club. It's always fun to try out something new and interesting, especially anything made with regional prickly pear!
Daytrip Destinations
*Day trips to Flagstaff, Jerome, and Cottonwood. Flagstaff should be the first consideration for a day trip as it is home to a number of great hiking trails, a world renowned observatory, and a historic downtown with lots of local restaurants and coffee shops. Also the city is home to the gorgeous San Francisco Peaks – the highest mountain range in Arizona with a peak of 12,637 feet!
Jerome is a historic town which bills itself as "the largest ghost town in America." Ghost tours, art galleries, restaurants, and a state park are the main attractions here. The town is very overrated in my opinion, although The Asylum is a pretty good restaurant with nice views of the Verde Valley. Unless you run out of things to do in Sedona, Jerome probably isn't worth the drive other than dinner at the Asylum. The Halloween season is pretty fun due to the many ghost tours and spooky parties around town.
Cottonwood is home to a tiny downtown where you can try out a few independent restaurants and enjoy local wine tastings. Tea lovers must relax and enjoy a pot of prickly pear tea and homemade cupcake at Wild Rose!