Hiking Hotspot: A Stunning Climb Up Doe Mountain in Sedona
For the most spectacular 360 degree views of Sedona's stunning red rocks, plan for a climb up Doe Mountain. Although it may seem like a big feat, the 0.7 mile climb up to the mesa of Doe Mountain features a series of switchbacks with just 400 feet in elevation gain, thus making it a great option for anyone in relatively good shape. There are many harder hikes in town that do not feature nearly as stunning views. Doe Mountain is a contender for "best of Sedona" considering the breathtaking scenery and relatively crowd-free atmosphere.
So many gorgeous photo opportunities await you on the climb up. What's more – the views are even better when you arrive at the top of the mesa. Upon reaching the summit, you will be able to enjoy a leisurely stroll around admiring the red rock scenery. Likely, there will not be anyone else up here so you can enjoy the views all to yourself. As you stroll around the mile long self guided trail, you will get to enjoy local plant life and possibly even see some animal tracks.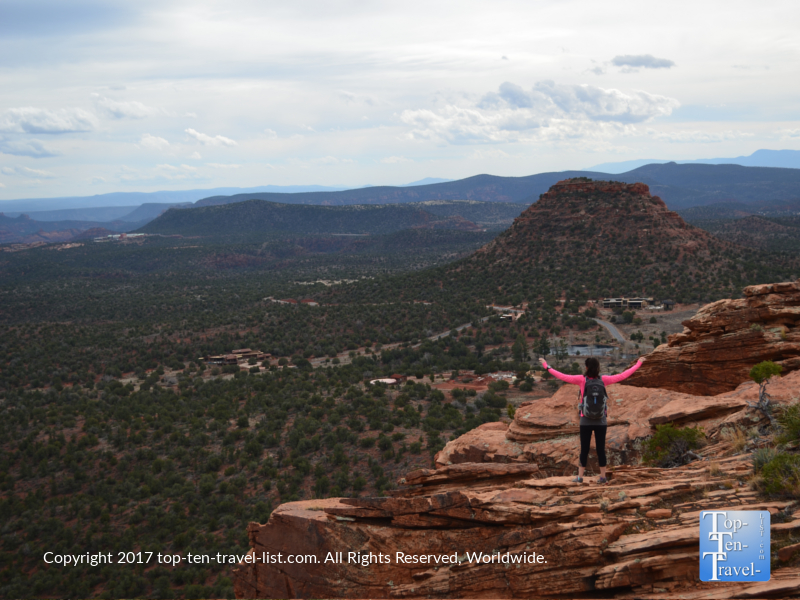 Why Doe Mountain should be on your Sedona Bucket List
The views are spectacular every step of the way and you will find yourself repeatedly pulling out your camera! Out of all the trails in the Sedona area, Doe Mountain is one of the few worthy of completing more than once. In fact, it is the one trail that I find myself going back to over and over again. The ease of finding parking, the stunning scenery, the absence of heavy tourist crowds, and the fantastic workout one receives without too much effort, all combine to make Doe Mountain one of Sedona's most rewarding hiking choices.
Few hikes anywhere feature such tremendous views in exchange for such little effort. The climb up really is not that bad, that is unless you are terrified of heights as there are some pretty scary steep drop offs. For big views with no more than moderate effort required, a hike along Doe Mountain should be considered during your time in Sedona. Doe Mountain is a must-do for any fitness enthusiasts & photographers visiting this beautiful area of the Southwest.
Doe Mountain details
Location: 97-99 Callisto Ct Sedona, AZ
Distance: 0.7 miles out-and-back, plus another mile for the stroll around the mesa
Difficulty: Moderate
Pet friendly: Dogs must be leashed.
Restroom available at trailhead.
Tips: Bring with plenty of water and a few snacks.