10 Fantastic Daytrips (less than 2 hours) from Tampa
Tampa is a fun and exciting vacation destination for those who love the sun, fitness, and theme parks. With easy access to white sandy beaches, lush nature preserves, abundant gator sightings, tree-lined bike paths, a diverse restaurant scene, theme parks…there's just so much fun to be had just about anywhere you go. Nevertheless, if you are looking to venture out a bit and explore more of Florida's exciting Central & Gulf Coast region, there are many exciting daytrips within a 2 hour drive.
From the well-known touristy theme park capital of the world Orlando, to little known beach gems like Anna Maria Island, there is something here for everyone, whether you are seeking an exhausting day of over-the-top vacation-y theme park fun, or an isolated day basking in the sun at a quiet beach.
From theme parks, to desolate beaches, there is a daytrip for everyone!
Below are 10 diverse daytrips to consider incorporating into your Tampa vacation plans!
Daytrip 1: Sarasota
Distance from Tampa: 1 hour
Location: Siesta Key (948 Beach Rd -free parking), Myakka State Park (13208 State Rd 72 -$6 to park), Sarasota Jungle Garden (3701 Bay Shore Rd – $25 per person)
Highlights: Award-winning beaches, shark tooth capital, lots of touristy restaurants and shops, beautiful scenery and landscaping
Siesta Key
Beautiful Siesta Key Beach, featuring the softest sugar white sand you will ever step foot on, is by far the number one daytrip you will want to consider. The highlight of Sarasota, breathtaking Siesta Key Beach, has been ranked number 1 US beach on more than one occasion. As soon as you dig your toes into the super soft, snow-like texture of the sand (made up of 99% pure quartz), you will never want to leave.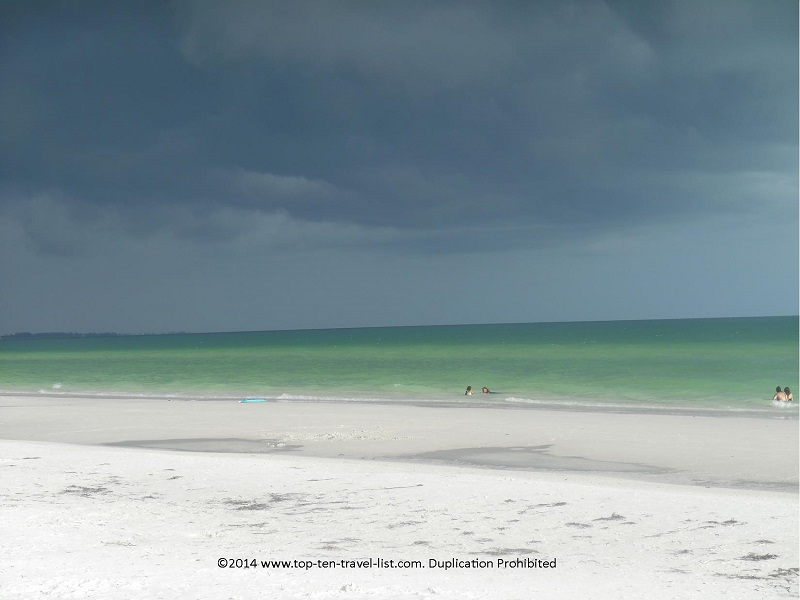 This beach is wide with plenty of space for everyone to lounge, sunbathe, build sandcastles, search for shells…basically anything and everything. Adjacent to the beach you will find Siesta Key Village, a fun touristy shopping and dining area. Stop by Mojo Risin' prior to your beach visit for a cup of coffee in a laid-back surf style setting.
Myakka River State Park
Myakka is one of Florida's oldest and largest parks. This is hands down one of the best natural sites anywhere near the Florida coast. Lush tropical hiking through unspoiled wetlands, hardwood hammocks, and prairies, alligator watching, bird watching, bike riding – basically you can do just about anything which makes Florida great here.
Hiking here is a real treat as tortoises, osprey, and armadillos often come right out on the trails. The canopy walkway (one of only a few in the world) and the observation tower both offer tremendous views. And last but not least, a cruise aboard the Gator Gal airboat (the largest of its' kind) is a must! Alligator sightings guaranteed!
With gorgeous scenery all around and so much to do – Myakka really is a hidden gem – a fantastic place to spend a few hours enjoying uninterrupted nature.
Sarasota Jungle Gardens
See free roaming flamingos as well as many species of exotic birds at this beautifully landscaped botanical garden. This is the perfect place to stroll around for an hour or 2 to kill some time.
St. Armands Circle
St. Armands is a hotspot for unwinding after a full day out in the heat exploring the sights around Sarasota. Check out Columbia's, Florida's oldest Spanish restaurant, and by far the best restaurant in Sarasota, if not the entire Tampa region. The Cuban Black Beans dish is the best I've ever tried – I continue to make a copycat recipe to this day! Asides from dining, there are numerous shops to browse around and various events on the lineup year-round.
Daytrip 2: Honeymoon Island/Dunedin
Distance from Tampa: 45 min.
Location: Honeymoon Island SP (1 Causeway Blvd, Dunedin, FL)
Highlights: Smooth sand beaches, access to Caladesi Island, separate dog beach, on-site hiking trails, best sunsets in the region
Honeymoon Island is one of the more popular beaches in the Tampa Bay area. In fact, it gets crazy crowded most summer days & holiday weekends. If you are seeking more of a laid-back day of fun-in-the-sun, plan your trip on a weekday, and if possible, during the off season. Regardless of the popularity (and resulting crazy traffic), this sure is a gorgeous place that should be near the top of your Florida Gulf Coast bucket list.
Not only do you get to explore several beautiful beaches here, you will also have the opportunity to hike through rare Florida virgin slash pine habitat and possibly see a Bald Eagle, Osprey, or Great Horned Owl. If you don't mind shelling out a few bucks, consider taking a ferry over to Caladesi Island, one of Florida's few remaining undeveloped barrier islands. Here you can enjoy fantastic beach combing (best place to find sand dollars), soft white sand beaches, and snorkeling.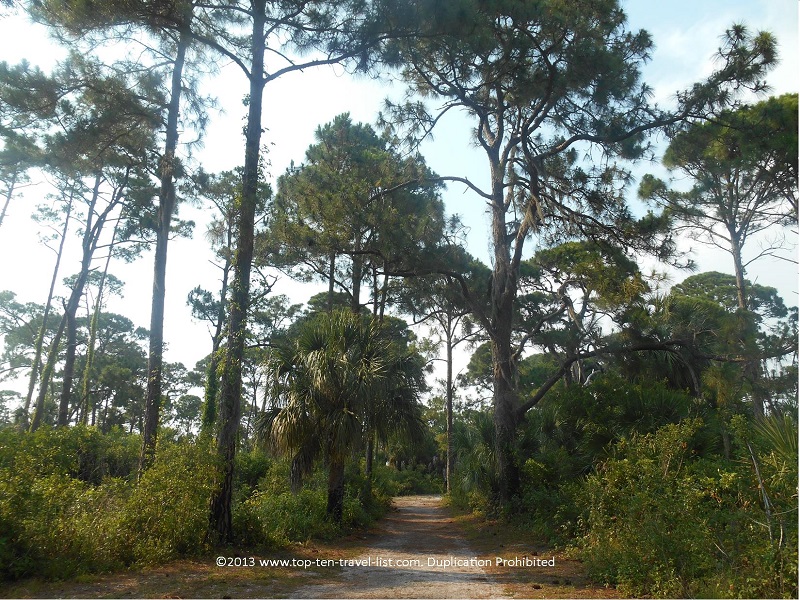 After your day out at the beach, plan for an afternoon exploring Dunedin's charming Main Street, a beautiful tree-lined downtown lined with local restaurants and boutique shops. Plan for lunch at The Living Room on Main – an eclectic restaurant serving diverse fare. The Pinellas trail bike path (rated one of the best rail trails in the US) passes right through Main Street. The vibe is great here, the energy high, and the variety of dining and shopping tremendous. Overall, it's the perfect touristy place to end your beach day!
Daytrip 3: Fort de Soto
Distance from Tampa: 45 minutes
Location: Fort de Soto Park (3500 Pinellas Bayway S, St. Petersburg)
Highlights: Beautiful beaches, paved multi-purpose recreational trail, excellent beach combing, good for swimming
Fort De Soto is a gorgeous Pinellas County Park located on 5 offshore islands: St. Jean Key, Madelaine Key, Bonne Fortune, St. Christopher Key, and Mullet Key. There is plenty enough to do here to justify the 45 min drive from Tampa. In fact, Fort de Soto's North Beach has been the recipient of numerous awards, and this alone makes the trip worthy.
Sunbathing, collecting seashells, hiking, biking, fishing, and kayaking are all popular past times here. A ride along the 7 mile long bike path is the perfect leisurely weekend activity for anyone who wants to enjoy nature as well as get in a great workout. The hiking trails are beautiful and easy, not to mention a great place to bird watch and simply enjoy the tropical scenery. Check out the easy 1.5 mile nature trail. Ferry access to beautiful Egmont Key Island, home to a historic lighthouse and nature preserve, is also available.
Numerous dining choices are available in nearby St. Pete beach. Casual cafes, waterfront restaurants, seafood, cuban restaurants, delis, ice cream shops, healthy fare – you will find a bit of everything. Head over to Pass-A-Grille village, a cute historic neighborhood with many touristy shops and beach themed restaurants.
Daytrip 4: Orlando
Distance from Tampa: 2 hours
Location: 6000 Universal Blvd (Universal Studios) 1180 Seven Seas Dr, Lake Buena Vista (Magic Kingdom).
Of course, the close proximity to Orlando is one of the many advantages of Tampa. However, there is so much to do in and around Tampa, that really, there is no need to even make the 2 hour trek to Orlando. Regardless, if you want to squeeze in a trip to Orlando while in the vicinity, it's definitely doable.
A full day out at any of the Disney Parks or Universal easily justifies the 2 hour drive. With a new Harry Potter and Jurassic World ride at Universal, now is a great time to check out the park.
Both parks are equally fantastic with awesome rides, thus the park-to-park tickets are a must!
Of course, there is much more to Orlando besides theme parks if you are interesting in exploring beyond the Magic Kingdom.
Sample itinerary
Choose your park. I recommend a park-to-park Universal tickets as both Universal and Islands have so much to offer, including movie themed rides, water rides, great shows, and The wonderful Wizarding World of Harry Potter. Universal is definitely the better summer choice due to the numerous water based attractions. Surprisingly, you can cover much ground at Universal/Islands of Adventure in a single day.
Head over to popular attractions like Harry Potter first and be sure to download the Wait Time app so you can adjust your day accordingly as to not waste precious time. Mythos (rated the world's best theme park restaurant) is a great mid afternoon lunch break within the park. After a long day at the park head over to CityWalk where you will find all sorts of entertainment, shops, & restaurant. Vivo is a wonderful Italian restaurant!
Daytrip 5: Anna Maria Island
Distance: 1 hour
Location: 55 miles south of Tampa via I-75 south
Highlights: Secluded, lack of commercialization and tourism, "Old Florida" vibe, great shelling, excellent bird watching
Anna Maria Island is the quaint picture-perfect beach area which seems to exist today only as a fleeting memory on a postcard. This is a rare beach that maintains that charming "Old Florida" vibe, particularly during the off season, where you are pretty much guaranteed a beach spot all to yourself.
Anna Maria Island is one of the few Gulf Coast beaches not overrun by congestion. This 7 mile barrier island is reminiscent of a time long gone before heavy beach commercialization took over. You will not find a ton of tacky resorts, restaurants, and over commercialization in this region, but rather pure Florida beach. This is the perfect beach choice for a lazy, laid-back afternoon sunbathing, enjoying the shorebirds, and collecting shells.
In town, you will find quiet inns, local restaurants, and an overall friendly local, non touristy vibe. The island is just 7 miles long so really easy to get around. Consider renting a bike or golf cart as there are lanes everywhere, or take the free trolley in between various sights. As for dining, check out The Sandbar located right on the beach.
Daytrip 6: Clearwater/St. Petersburg
Distance from Tampa: 30-40 min
Location: Clearwater Beach (112 S. Osceola Avenue). St. Pete Beach (4700 Gulf Blvd.), Weedon Island Preserve (1800 Weedon Dr NE St. Petersburg)
Highlights: Some of the most gorgeous beaches in the state, amazing sunset and dolphin cruises, plenty of restaurants and shops in the vicinity, Clearwater Marine Aquarium (A Dolphin Tale filmed here), amazing preserves, excellent birdwatching
More info on Clearwater and Weedon Island
Clearwater
The Clearwater/St Petersburg area is one of the most popular tourist destinations within the Tampa Bay region, and for good reason. Wonderful beaches, preserves, recreational opportunities, and restaurants can be enjoyed throughout both cities. As an added bonus, this area is a really quick drive from Tampa, and thus, the most easily accessible daytrip in the area.
Clearwater is widely known for its' smooth sand beaches, and frequently rates amongst the best beach towns in America. The fine grained sand is comprised almost entirely of quartz and stays cool to the touch even on the hottest of days. These gorgeous white sand beaches & crystal clear waters draw people from all over the world. Even Orlando tourists find a way of making it over to Clearwater for a much needed break from the theme park congestion.
However, do not come to Clearwater expecting a relaxing day in the sun. A break from walking on your feet all day at the theme parks – yes. Relaxing, not really! Clearwater, while a fun active beach, is far from the most relaxing. If a day of swimming, beach sports, enjoying a live event on the beach, and perhaps taking a scenic sightseeing cruise sounds like fun, then by all means go ahead with planning a trip to Clearwater.
Beachcombers will want to head next door to Sand Key Beach, known as one of the shelling hotspots of the Gulf. This is one of the best beaches on the Gulf for finding sand dollars and all sorts of colorful shells. Plus, it's really quiet in comparison to the neighboring touristy beaches.
St Petersburg
Pass-A-Grille beach in St. Petersburg is another one to add to your bucket list. It gets quite busy most summer afternoons, however, it's got that old school charm and is surrounded by a low-key dining and shopping area known as Pass-A-Grille village.
Pass-a-Grille – the quieter side of St. Pete Beach.
Exploring Weedon Island Preserve should also be high up on your to-do list. Not only can you hike a variety of trails here, but you can also see all sorts of wildlife in their native habitat, from alligators, to armadillos, to tortoises. And the bird watching is incredible. Be sure to climb the observation tower which affords stunning views of the Tampa Bay region.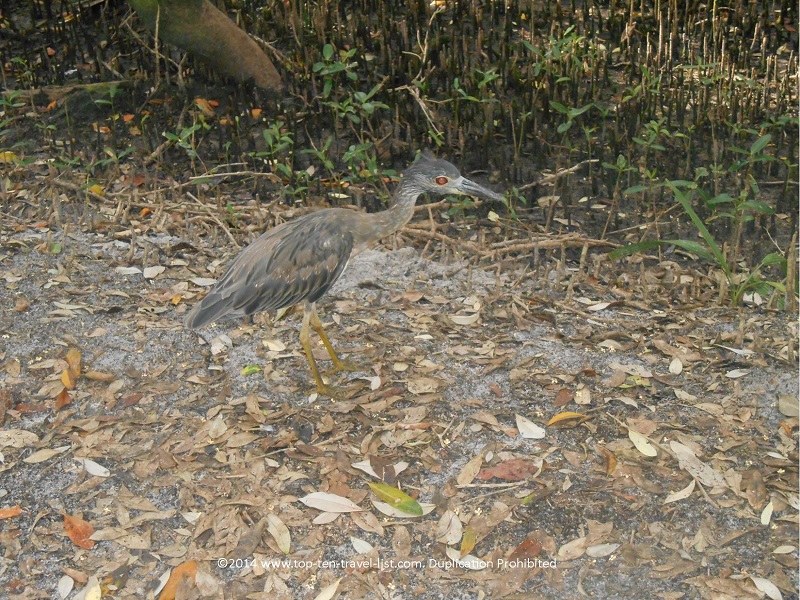 Lots of great beach-y style restaurants can be found in both St Pete and Clearwater, with many of them directly on the waterfront. Or, if weather permits, enjoy a picnic at Sand Key. The setting is beautiful and the beach never gets too overcrowded like others in the region.
There's much more to do in the Clearwater/St. Petersburg area. Check out this top 10 list of things to do.
Daytrip 7: Tarpon Springs
Distance from Tampa: 45 min.
Highlights: Excellent Greek food, fun festivals year-round, quiet and relaxing tourist destination, Beautiful nature surrounding the city, historic healing mineral spa
The Greek Capital
Tarpon Springs is a Florida Gulf Coast city rich in Greek history. If you like Greek food and culture, you will definitely want to plan a daytrip here. Check out the Original Mamma Maria's Greek Cuisine or Hellas for an authentic Greek meal. Greek sponge divers settled here in the 1900's, and today tourists come from all over to see the historic sponge docks along the water, lending to the town's nickname the "sponge capital of the world."
You will also find a number of tourist shops and the cutest little local coffeeshop. Eco Beans features terrific coffee, the most delicious pastries (a number of which are vegan and/or gluten free), and a beautiful lush outdoor patio. Update: Eco Beans is now closed. However, Copenhagen Cafe (great Danish pastries) and Urban Grounds are great alternatives.
Beautiful parks & beaches
Food and history aside, the area is home to a number of pretty parks and beaches. Fred Howard Park is a beautiful place to watch a sunset. AL Anderson Park is a gator watching hotspot. The best portion of the 45+ mile long Pinellas trail also runs right through downtown. As one of the most scenic portions of the path, it's well worth starting your bike ride in Tarpon Springs.
The city also offers an interesting lineup of events throughout the year. The Opa! Greek festival is a hit each June. The Sponge Docks Seafood festival is a big hit each fall. There's Snow Place like Tarpon Springs is a big hit with locals and tourists alike come December. The cheerful holiday event features a number of festive activities including real falling snow!
While in the vicinity stop by Palm Harbor for a quick stroll around John Chestnut Park. A number of tranquil nature trails can be enjoyed here and alligator sightings are frequent! Plan your visit around dusk to see the deer. I've never seen so many deer in my life!
Daytrip 8: Safety Harbor
Safety Harbor, most well-known for being home to a healing mineral springs, is the place to go if you like spas. At the Safety Harbor Spa & Resort, you can soak in natural mineral enriched waters which the ancients used to cure various ailments. The healing water comes from Espiritu Santo Springs, "where healing waters flow," and was considered to be a fountain of youth by early Spanish explorers.
Other attractions include Phillippe Park and a charming Main Street district. Fountain Grill at the Safety Harbor Resort is a great place to enjoy lunch. The Mediterranean Tapas plate is pretty delicious. Keep in mind that you can use the spa facilities for just $25 a person – a great budget friendly alternative to paying for a pircey massage! Enjoy a day of relaxing and detoxing, followed by a great lunch! Another great local restaurant is Nona Slice House serving great pizza and apps!
Daytrip 9: Lakeland
Distance from Tampa: 45 min
Highlights: Beautiful parks, easy side trip from Orlando or Tampa, quiet daytrip with little traffic, one of the last remaining drive-ins, alligator capital of central Florida
Lakeland is a small community located about halfway in between Tampa and Orlando. At first glance, the area does not seem to offer much, however, there are at least 2 attractions here which make the easy 45 min drive from Tampa well worth the effort.
First of all, the Circle B Bar Reserve is one of the best spots in the state for alligator watching. A walk down the super scary "Alligator Alley" trail pretty much guarantees that you will leave seeing dozens of alligators. The trails here are leafy and shady with much more wildlife to see than simply alligators. If you are not up for a risky walk, consider one of the free volunteer led tram tours, available on weekends.
The second reason to visit Lakeland is for the Silver Moon, a historic drive in which has been going strong since 1948. This is the last remaining drive-in in Polk County, and one of the few still standing in the state. As these drive-ins are so rare today, it's a fun opportunity to take a temporary step back in time to the days when summer nights were spent at the drive-in.
Daytrip 10: Silver Springs State Park
Distance from Tampa: 1 hour, 45 min.
Location: 5656 E Silver Springs Blvd, Silver Springs
Admission: $12-25 per person for the boat rides. Boats take off every 30-45 min from 10am-4pm.
Highlight: Florida's first tourist attraction, glass bottom boat rides, beautiful natural scenery
Silver Springs is still as popular as ever today as it was when it opened in 1870 as Florida's first tourist attraction. The park became famous for its' glass bottom boat rides which allowed visitors a clear glimpse of life under the springs.
Silver is one of the largest springs in the world with numerous plants and animals calling the springs home. You will see all sorts of aquatic life through the glass bottom boat. Alligator sightings are also common. The tour guide is very knowledgeable with lots of historical info & interesting tidbits about the area. After your cruise, take a walk along one of the beautiful nature trails.
These are just a few of the fun daytrips in the area. Also take a look at my Gulf Coast beach guide.