Unique Things to Do: A Guide to Unusual, Fascinating, & Off the Beaten Path Attractions
Roswell UFO Museum
The most extensive collection of UFO/Alien Exhibits
The Roswell UFO Museum is a must for any sci-fi fanatics, as well as anyone else interested in researching various newspaper articles and official documents (both pro and con) regarding the 1947 Roswell UFO crash. There are tons of documents plastered all over the walls, some containing strong proof of alien existence, and others totally denying the presence of other life forms. After visiting, you will leave more confused than ever!
Downtown Roswell is really quirky with lots of alien gift shops and even alien themed lamp posts. Even the McDonald's in town is shaped like a spaceship! Roswell is a really weird place that is worth checking out on any New Mexico road trip. In fact, it's one of the only towns you come across after hours of endless desert driving, thereby, making it a nice hotel stop along I-380.
Location: 114 North Main Street, Roswell, New Mexico
Rattlesnake Bridge
A unique snake shaped bridge that rattles when you walk across it
Although the desert itself is a strange and fascinating place, many of the big Southwestern cities have come to be associated with bland suburbia and unending chains. In areas like Tucson, you may have to work a bit harder to find unique attractions, although they still exist here and there if you know where to look. One of the must see roadside attractions is Rattesnake Bridge, a huge pedestrian bridge shaped like a rattlesnake over Broadway Blvd.
The bridge is so appealing that it was recognized by The Federal Highway Administration as one of the nation's best road projects. However, you do not want to simply drive under this bridge. To get the full experience either take a walk or bike ride, from which you will not only enjoy nice city views, but also get to see the tail shake & hear the rattling sound as you end your journey. If you happen to be visiting downtown Tucson, this unique stop is just minutes away, and thus an easy add on activity.
Location: Broadway At Euclid Tucson, AZ 85707
Count Orlok's Nightmare Gallery
A wax museum dedicated to everything Horror
Horror movies buffs must plan a trip to Salem, Massachusetts. Not only is the city the Halloween Capital of the US, but it is also home to the country's most interesting wax museum. In contrast to the usual wax museums which feature popular celebs, this one is dedicated to horror movie villains! The figurines are so accurate that it is quite a creepy experience, especially with the dim & eerie setting.
With characters ranging from Pennywise from IT to Freddy Krueger, even Winifred Sanders from Hocus Pocus, Count Orlok's truly is one-of-a-kind attraction that will please horror and Halloween fans alike! A unique experience any time of the year, although nothing beats a Halloween time visit when you can stroll through a most terrifying haunted house. Imagine walking around in the dark with creepy wax figurines staring out at you! Unfortunately, no inside photos are allowed, so you will just have to trust me on this one!
Location: 285 Derby St, Salem, MA 01970
The statue of 3 lies
Will rubbing the left foot of John Harvard bring you luck?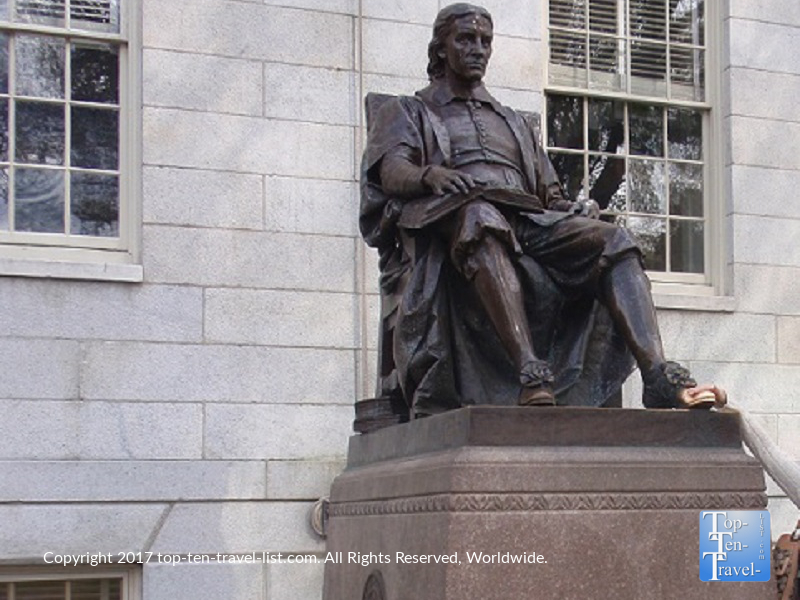 Did you know that you can tour the beautiful grounds of Harvard University? If you find yourself looking for a few unique fill in activities on your Boston vacation, this free & fun activity is definitely a worthy addition. Really, who doesn't want to move to Boston after just one visit downtown?! What an amazing city – I fell in love with the culture, architecture, and natural beauty on my first visit!
However, one of the unique aspects of the Harvard tour, asides from seeing all the beautiful historic buildings, is learning about university legends. One of the most interesting involves that of the John Harvard statue. For years, tourists from around the world have come to rub the left toe which is said to bring good luck. Who knows if it really brings any luck, but it's worth a shot!
The statue is nicknamed "the statue of 3 lies" due to the inaccuracies inscribed on the plaque. First of all the statue is not of John Harvard, despite the name being carved into stone. Congressman Shawn Hoar actually sat in as the model. There is no living representation of John Harvard. Second, John Harvard did not found Harvard! He did not even attend the school, but rather was the major benefactor. Lastly, Harvard University was not founded in 1638. Harvard was founded in 1636, making it the oldest higher education institution in the US. So, why does the statue have the date, the founder, and the likeness of Harvard all wrong?! We may never know!
Trees of Mystery
Soar above the tallest trees on Earth!
Trees of Mystery is an eclectic redwoods based attraction off of Hwy 101 near the California/Oregon border in the tiny woodsy coastal town of Klamath, CA. Despite being sort of cheesy (hey, that's part of the fun!), you'll get to enjoy some fantastic views and also learn a few interesting facts about the mysterious redwoods. An amazing gondola ride takes you soaring above the coastal redwoods to a 742 foot observation deck. From here, the views are simply breathtaking.
The interpretative trails (about 5 miles combined) pass a few really interesting redwoods including the Brotherhood Tree (the largest on-site at 297 feet tall and 19 foot in diameter, 60 foot in circumference) and the Cathedral Tree (9 trees growing as one in a cathedral formation – it's popular for wedding ceremonies). The small museum displays all sorts of weird artifacts including various Bigfoot stories and evidence collected over the years. As this entire Northern California area gives off an eerie vibe (due to the majestic ancient trees and dreary skies), it really is no surprise that this region continues to be a hotspot for Bigfoot sightings and other strange occurrences.
Location: 15500 US-101, Klamath, CA 95548
Pinball Museum Hall of Fame
The world's largest collection of pinball machines
Not many tourists know that there are many interesting places to explore all throughout Vegas, with fun not solely being limited to The Strip! Just minutes away from the excitement of The Strip is a 10,000 square foot facility dedicated to pinball machines from the 50's-90's. Luckily, pricing is still in the good old-fashioned range of just 25-50 cents a game. And, unlike the Vegas casinos, everyone can have fun at the Pinball Hall of Fame!
If you are a regular Vegas visitor and tired of the same old, same old, head off The Strip for some vintage, budget friendly fun at the Pinball Museum! With all our modern technology today, it's a pretty cool place to visit – a trip back in time to the "old days" of arcades. Be prepared for nostalgia overload as soon as you walk through the doors. A Jurassic Park pinball game, a Super Mario Brothers joystick arcade game, a claw prize machine game…and all this fun can be had without breaking the bank! Now that's what I call a great ROI in a city which becomes glitzier and pricier by the year!
Location: 1610 E Tropicana Ave, Las Vegas, NV 89119
Church of The Mother Road: World's Smallest Church
The smallest church on Route 66
In the tiny town of Winslow, Arizona, there is barely a hint of life. Taking a stroll through the downtown, you would think you were in a ghost town. Everything appears abandoned, except for a strange little church known as the World's Smallest Church. Despite the name, it is not actually the world's smallest church, however, it is the smallest on Rt 66. Also while in town, be sure to check out Standin' On a Corner, a site made famous in the classic 70's song "Take it Easy" by the Eagles.
Location: 116 E. 2nd St. Winslow, AZ