5 Places to Enjoy the Views in Sedona without Hiking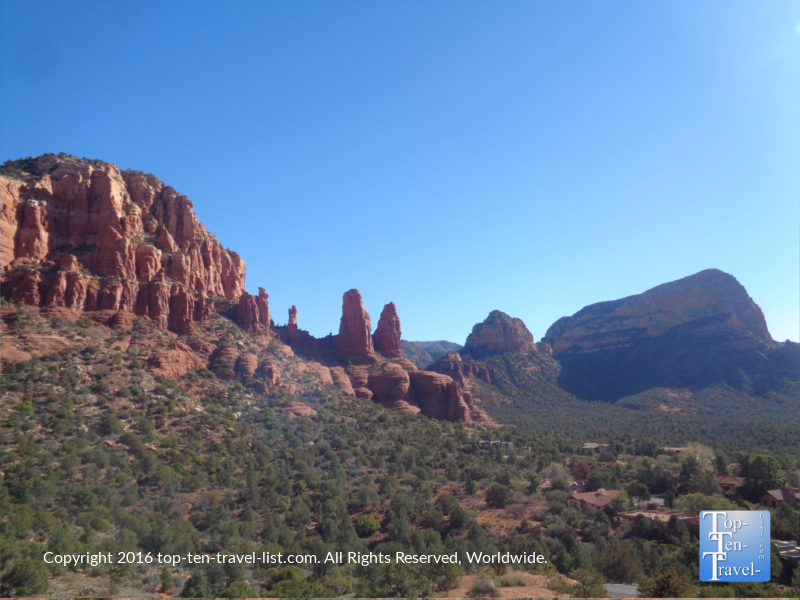 Sedona, Arizona is one of the most gorgeous vacation destinations in the Southwest, if not the entire country. With brilliant million+ year old rocks dominating the landscape, 100's of miles of colorful red rock trails, and several healing natural vortex sites (more on vortexes later on), Sedona really is the perfect vacation choice for anyone seeking a relaxing trip, accompanied by bountiful recreational activities in a one-of-a-kind natural setting.
Although exploring a few of the breathtaking hikes is most recommended (check out 12 of my favorite Sedona hikes), there are numerous ways to take in the majestic scenery without embarking on a difficult hike. For those of you seeking a bit more relaxation as opposed to a strenuous workout in the intense desert heat, here are 5 of the best non-hiking Sedona destinations for soaking in the fantastic red rock scenery. All require little to no effort on your part to enjoy the fabulous red rock landscapes!
The Chapel of the Holy Cross
The Chapel of the Holy Cross truly is an architectural wonder like no other in the world- an absolute must-see for any Sedona newcomers. This unique Roman Catholic church was built in between 2 massive red rock formations in 1956. Due to the prime location, spectacular views can be enjoyed both inside and out. Although the chapel is not open for services, anyone can come in to meditate, pray, or light a candle in honor of a loved one. As soon as you step inside, you will notice the beautiful stained glass windows and magnificent red rocks in the background. This truly is a chapel like no other in the world! Some of the most extraordinary views in all of Sedona surround the chapel – and best of all, no hike is required!
Location: 780 Chapel Rd, Sedona, AZ 86336, Hours: 9-5 (10 on Sunday)
Airport Mesa
The Airport Mesa overlook is one of Sedona's most popular destinations for photographers. It is also the go-to spot for taking in a breathtaking sunset over the red rocks. Viewing a dazzling red rock sunset is one of the most memorable things you can do on any Sedona vacation. Airport Mesa is considered to be one of Sedona's sacred vortex sites (The Chapel of the Holy Cross mentioned above is another). A number of hikes (including Boynton Canyon) are also considered vortex sites. A vortex is basically an area of concentrated energy that rises from the earth and supposedly balances energies & provides healing powers to whomever comes across it. Thousands of tourists are attracted to the area each year to experience the supposed benefits of this special vortex energy.
At Airport Mesa, you may just walk away with more than a simple photograph! If you are up for a bit of exercise, the Airport Mesa hike offers some of the most extraordinary 360 degree views in all of Sedona. At 3.5 miles round-trip and mostly flat, it is one of the easier options in town, although not recommended for scaredy cats due to several very steep drop offs – see above! Check it out if you are up for a longish, yet relaxing hike with unending views of the red rocks.
Location: 1185 Airport Rd Sedona, AZ 86336
Uptown Sedona
Just strolling around Sedona's charming tourist hotspot for a half hour or so, you will be able to take in some pretty magnificent scenery without much effort at all. A quick walk along the history stroll will give you a bit of background history on the ancient rock formations, along with more picture-perfect photos than you could ever possibly imagine. Uptown is a nice little touristy area where you can kill an hour or 2 in between other activities.
Touristy shops selling Southwestern specialties, Southwestern themed restaurants, galleries featuring the work of local artists, refreshing smoothie and ice cream shops, and more can be found in Sedona's most popular tourist stop. From here, you can also sign up for the uber popular Pink Jeep and trolley tours, although a hike is a less costly, not to mention a more memorable & rewarding experience. Be on the lookout for annual events such as the St. Patrick's Day parade and Christmas tree lighting, as well as ongoing events such as the 1st Friday Art Walk.
Location: Intersection of Arizona 89A and 179
Red Rock Scenic Byway/Oak Creek Canyon Scenic drive
Just driving around Sedona is a mesmerizing experience in and off itself. If you are unable to do a hike for any reason, a picturesque drive is your next best bet. There are 2 main drives to consider if you are looking to take in the best Sedona has to offer: Red Rock Scenic Byway and Oak Creek Canyon. Red Rock Scenic Byway (SR 179) will take you past several of Sedona's most prominent red rock formations. Drive slow and enjoy a cruise through one of the country's most unique landscapes. Don't worry – numerous pullouts along the 7 mile route give you the opportunity to stretch, take some photos, or simply just lust after the views. Or, better yet, stop for a hike along the magnificent Little Horse trail.
Oak Creek Canyon Drive
Another picturesque drive to add to your itinerary is Oak Creek Canyon (AZ 89a), a name given to the 14 miles of picturesque land located in between Flagstaff and Sedona. This drive is really unique and dramatic, as both the views (ranging from ponderosa pines, to flowing creeks, to towering red rock formations) and elevation (4000-7000ft) vary greatly along the route. Offering dramatic red rock vistas, quaint views of the perennial creek, and majestic views of the towering ponderoa pine forests, it really is the most stunning drive in the entire state.
Numerous activities along the way – scenic overlooks, hikes (check out the Cookstove & West Fork), Native American craft markets, restaurants (be sure to stop for breakfast at Indian Gardens!), secret swimming holes, Slide Rock State Park (an unusual park featuring natural waterslides carved from the red rocks) easily make this a half-full day activity!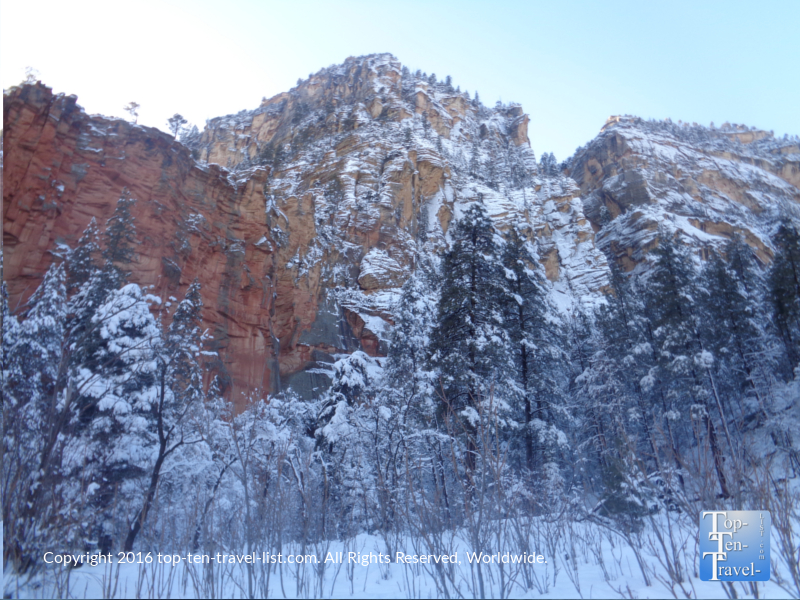 Here is a sneak peak of this beautiful drive. Note – this was taken early in the morning. Expect more traffic if your drive falls in the afternoon, on a weekend, or during a busy holiday period.
Various restaurants
It's no surprise that numerous restaurants have taken advantage of Sedona's truly inspiring setting by building their dining space around the red rocks. Although some restaurants offer great food & others amazing views, just a handful really please by offering both quality food and tremendous views of the red rocks via awesome outdoor patios. Below are my picks for the best dining-with-a-view experiences in Red Rock Country!
Che-Ah-Chi
Che-Ah-Chi is the premier restaurant at the beautiful Enchantment, Sedona's most spectacular resort. The Enchantment is beautiful in every aspect, including its' outstanding restaurants. Dining at Che-Ah-Chi is the best breakfast experience you will have in Sedona. As a local, I found myself coming back here time and time again for a relaxing weekend brunch date! With top notch food & service, along with to-die-for views via the floor-to-ceiling windows, you really can do no better. Or better yet, take a seat on the gorgeous outdoor patio to fully immerse yourself in this natural wonderland!
Location: 525 Boynton Canyon Rd, Sedona, AZ 86336
The Hudson
This newcomer to the Sedona restaurant scene is one fabulous local gem. A creative menu and extraordinary views both inside and out make it a prime pick anytime of the year. While the majority of the restaurants only offer views from the outside, The Hudson delivers with an award winning indoor dining area as well. Try the delicious Butternut Squash Ravioli for a real treat!
Location: 671 AZ-179 D, Sedona, AZ 86336
Salt Rock Southwest Kitchen
For a wonderful meal and laid-back vacation vibe (whether or not you are staying at this attractive Kimpton resort), plan for lunch one day at SaltRock. Here, you will be treated to delicious creative cuisine and a beautiful outdoor patio which features excellent views of the red rocks. As a bonus, the Southwestern landscaping is gorgeous. The highlight of the menu at SaltRock is a 3 course lunch tasting menu, which includes an appetizer, entree, and dessert for just 25 bucks – by far, one of the best values in this super expensive tourist area! Love the egg salad!
Location: 100 Amara Ln #101, Sedona, AZ 86336
Wildflower Bread
This decent knock off of Panera Bread (featuring a "Wildflower Two" similar to Panera's popular "You Pick Two" deal) features a tasty menu of healthy salads, soups, and sandwiches. Wildflower is a great casual pick for anyone seeking a laid-back lunch without any fuss. Not as good as Panera in my opinion, although many Arizona locals prefer it! The real highlight of dining at Wildflower is enjoying the restaurant's prime location in Uptown – right across from one of the most stunning red rock views in town. Take a seat on the outdoor patio (if weather permits) and enjoy a healthy meal accompanied by tremendous views!
Location: 101 N State Rte 89A, Sedona, AZ 86336
Hideaway House
The Hideaway is one of the best picks for anyone looking to feast on some comfort foods – you are on vacation, right?! This casual Italian hotspot makes all their delicious goodies on-site, so you can rest assured that you are not eating anything frozen or canned. The Hideaway offers the best pizza and apps in town. Be sure to treat yourself to the homemade garlic cheese blossom! During the warmer months, you can enjoy a seat on the beautifully shady outdoor patio, which features a weirdly out of place, yet attractive tropical inspired design, and of course, wonderful views of the red rocks!
Location: 231 AZ-179, Sedona, AZ 86336