Winter Fun in Pittsburgh: 10 Things to Do & See
Most tourists visit Pittsburgh during the warm spring and summer months to take advantage of the many parks, scenic overlooks, sporting events, and annual events in the region. However, a winter visit offers the benefits of cooler temperatures, fewer crowds, and cheaper hotel rates. The abundance of museums and indoor attractions means there is still plenty of fun to be had. Add in seasonal ice rinks, special holiday events, and easily accessible winter recreation, and you could easily fill up an itinerary. Below are the 10 best things to do on a cold winter's day in "The Burgh."
1. Go ice skating at PPG Place or Schenley Park
There are a number of great ice rinks throughout the Pittsburgh metro. The UPMC rink at PPG Place, in the center of Market Square downtown, is the most festive destination for the holiday season with a dazzling centerpiece Christmas tree. The choreographed tree show and festive holiday music add to the ambiance. On the downside, skating is expensive ($12 plus rentals) and online booking is often required in advance due to crowd levels.
Two cheaper alternatives include the rink at Schenley Park in Oakland and South Park Ice Rink in Bethel Park. Both these rinks are much larger, less crowded, and admission is only 5 bucks. If you have your own skates, this is a great budget friendly winter activity. South Park is particularly attractive with a NHL size rink, a special ribbon skating area, and a cozy fireplace to warm up. The North Park Ice Rink is a bit less crowded for those who prefer a less hectic skating experience.
2. Browse the pop art collection at The Warhol Museum
Did you know that pop art icon Andy Warhol is from Pittsburgh? In fact, there is an entire 7 floor museum dedicated to the artist, the largest museum dedicated to a single artist in the US. You will be able to explore 17 galleries housing over 900 paintings, 4000 photographs, 1000 prints and more. The museum is conveniently laid out in a chronological manner (starting at floor 7 and working down) where you will be taken on a journey through Warhol's life, from his early days in Pittsburgh to his burgeoning career and unexpected death in NYC. The museum is clean, nicely organized, spacious and not overcrowded, and there is a nice little cafe in the lobby.
Note: Bank of America members get in free the first full weekend of each month! Check out the Museums on US promotion.
More info on The Warhol museum
3. Explore world-class dinosaur exhibits at The Carnegie Museum of Natural History
One of the best winter attractions during the long cold season is The Carnegie Museum of Natural History. This spacious museum is home to a number of interesting exhibits including an impressive collection of dinosaur fossils, an amazing hall of gem and minerals, and a detailed collection of more than 2 dozen dioramas where you can explore wildlife of North America and Africa. Most impressive is the dinosaur fossil collection, of which 75% is real, not replicas. Most skeletons are real and the Apatosaurus louisae, Diplodocus carnegii, and Tyrannosaurus rex skeletons are holotypes.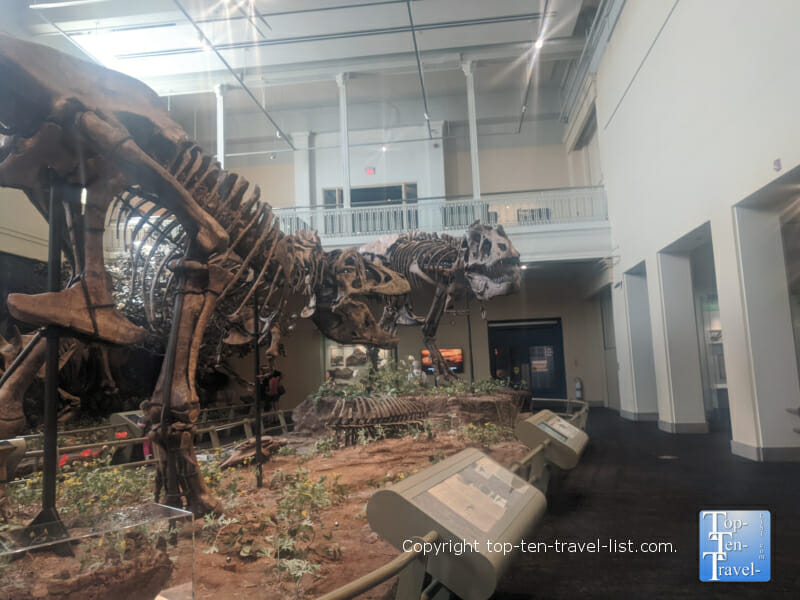 Best of all, this museum is connected to the wonderful Carnegie Museum of Art, so you can easily spend hours exploring and escaping the cold. Plus, admission covers both museums, making it one of the better values in the city. Like the Warhol, you will receive free admission the first full month if you are a Bank of America cardholder.
More info on The Carnegie Museum of Natural History
4. View amazing works at The Carnegie Museum of Art
This amazing Pittsburgh gem holds over 34,000 incredible works in a wide variety of mediums. A large portion of the museum is dedicated to modern and contemporary art. It is known to be the first museum of modern art in the country. Most impressive is the Hall of Architecture featuring 140 plaster casts of architectural wonders. The impressionist and post-impressionist painting collection is also incredible. The beautiful Hall of Sculpture is another must see: this enchanting space was modeled after the Parthenon in Athens, Greece.
Tickets are a steep $25 per person, although you also get to enjoy the museum of Natural History, conveniently located in the same building. Again, admission is free for Bank of America cardholders the first full weekend!
More info on The Carnegie Museum of Art
5. Take a blast to the past at Bicycle Heaven
Fans of vintage and antiques will definitely want to plan a quick visit to the world's largest bicycle museum and shop. Bicycle Heaven – an appropriate name for a museum loaded with retro bicycles from the ceiling to the floor, is a must visit by any bicycle lover. The space is dense and there is lots to see and explore in a small space including rare vintage Bowen Spacelanders (today worth up to 50,000 in good condition!) and even a few famous movie bikes (including Pee Wee's Herman's famous ride). The museum is funky and eclectic (the neon sprocket room is a must-see!) and overall a fun escape on a cold or rainy winter day.
5. Take a winter walk at the zoo or any city park
If you prefer to take your workout outdoors and avoid the germy, stuffy, overcrowded gym, a brisk walk around the Pittsburgh Zoo is a great alternative. The zoo is large enough (77 acres) to get in a nice moderate 2+ mile workout. As a bonus, it's much less crowded and admission several bucks cheaper during the winter months. A few indoor exhibits including the PPG Aquarium, Tropical Forest, a 5 acre indoor rainforest housing 16 primate species, and an underground seal viewing area, will help you keep warm even on the coldest days.
A few great parks to enjoy assuming there is no snow/ice:
Allegheny Commons – Pittsburgh's oldest park dates back to 1867. A walking path takes you past mature trees and tranquil Lake Elizabeth. After your walk, warm up with an espresso at Commonplace Coffee in the adjacent historic Mexican War streets neighborhood.
Highland Park – Take a 1 mile stroll along the reservoir path – a super peaceful place during the slow winter months. Bonus – its located just 5 minutes from the zoo.
Frick Park – Enjoy a refreshing 1 mile loop walk along the North-South Clayton Loop. Afterwards, warm up and explore the free Frick Art and vintage car and carriage museum.
More info on the Pittsburgh Zoo
6. Enjoy a quiet ride up the Duquesne Incline
Pittsburgh's iconic attraction is a century's old historic red cable car which travels up a funicular railway to the top of 400 foot Mt. Washington. This viewpoint is by far the most dazzling in the city. In fact, many major publications have rated it one of the most scenic skyline vistas in the country. Fares are just $5 round trip, so a great budget friendly activity. Winter is a great time to take the incline as you can avoid the lengthy wait and oftentimes enjoy the ride (and view) all to yourself! Views are dazzling both day and night, so if you have the time, be sure to see one of the country's best skylines in both mesmerizing settings.
More info on the Duquesne Incline
8. Explore the local coffee scene
What better way to warm up on a cold winter's day than by sipping a fabulous cup of coffee in a cozy space? Pittsburgh offers an abundance of local coffeehouses where you can relax, enjoy a drink, and plan your next adventure. A few great winter options:
Big Dog Coffee – Spacious coffeehouse with plenty of cozy seating. Interesting artwork. Great bagels.
Mediterra – Trendy coffee house + bakery with 2 locations and another on the way. Always busy – get here early. The chocolate croissants and seasonal danishes are awesome, so is the housemade bread. Order the shashuka for breakfast.
Defer – Trendy hipster coffee shop in The Strip District. Delicious dark roast coffee with 1 free refill. Try the Matcha green tea bread. Convenient to many Strip restaurants and shops.
My full guide to the Pittsburgh coffee scene
9. Take a stroll around the Phipps Conservatory
It's always nice to escape the cold with a warm walk around a beautiful always warm conservatory. Although Phipps is a bit small and quite overpriced, the plant collection is gorgeous. This natural oasis is located in the middle of the bustling Oakland neighborhood, an area loaded with shops, restaurants, hospitals, and several colleges. Permanent collections include bonsai, desert plants, ferns, orchids, and palms. Beautiful glass blown art pieces from renown artist Dale Chihuly can be enjoyed throughout various gardens. Be on the lookout for special events including seasonal flower shows, holiday lights, and winter lights.
More info on the Phipps Conservatory
10. Explore The Strip District
One of the oldest neighborhoods in Pittsburgh was once home to mills and factories (including the Heinz co.). Today, it has been transformed into a place to dine and shop, a place to live, and a place to work with many tech companies taking up residence. Enjoy a cup of joe at a local roaster, treat yourself to a sandwich at the original Primanti Bros, shop for ethnic groceries, pick up Steelers merchandise, savor an authentic Italian pastry, and explore the history of Pittsburgh at the Heinz History Center. These are just a few of the things you can do in The Strip District. Be on the lookout for many events including farmer's market, summer food festivals, yoga, and more. Winter offers a more peaceful experience, as the summer tourists crowds are long gone.
My full guide to Strip District attractions
Special holiday events
If you are visiting over the holiday season, you will have a number of festive seasonal events to enjoy. From special holiday plays, to a German inspired shopping village in the heart of downtown, to a gingerbread display now in its' 20th season, a few spirited holiday events will help to brighten up the dreary December skies.
Check out my full guide to the best holiday attractions in Pittsburgh
General indoors winter fun
In addition to the activities listed above, all the regular fun indoor activities like bowling, movie theaters, and malls can be enjoyed. Here are a few of my recommendations.
The Mall at Robinson – Best mall in the area. Great Starbucks and home to a number of local gems including the I Made It Market! Festively decorated around the holiday season.
Monroeville Mall – Dawn of the Dead filmed here – museum on-site. Although a bit outdated and run down, the mall is home to a number of unique stores including Pearl of the Orient.
AMF Mt. Lebanon – Nice basic bowling alley which doesn't get overcrowded. Great weekly specials.
AMC Waterfront 22/Cinemark Robinson Township – Decent matinee rates. Lots of restaurants in both areas.
Dave and Busters (Homestead) – Great location in the Waterfront mall.
Winter recreation
Besides enjoying the many ice rinks in and around the city, skiing and snow tubing are popular ways to enjoy the snowy season in Pennsylvania. Boyce Park is located just a half hour outside of the city and features the only downhill skiing in Allegheny County. Seven Springs Mountain resort is a popular destination for winter recreation and family vacations as the resort includes numerous amenities.
What will the weather be like?
Temps from December-March average in the 20's-40's. Skies are typically overcast and rain and/or snow are common. Definitely prepare with a heavy jackets, hats, gloves, and winter boots, especially if you will be walking around in the cold for lengthy periods.
Where to stay?
Downtown, the Omni William Penn and Kimpton Hotel Monaco are excellent luxury choices within walking distance of many theaters and restaurants. Cheaper hotel rates can be found in suburbs outside of the city (Moon Township near the airport is a good choice).
Local dining/shopping options
A few great places to shop/dine without ending driving around the horrible Pittsburgh traffic:
Downtown Sewickley – Charming Main St. home to many local businesses. Mediterra is an excellent choice for breakfast.
Downtown Mt. Lebanon – Home to many unique businesses including cafes, coffeehouses, record stores, and more. Check out Orbis Caffe (serving great coffee), Sesame Inn (delicious Chinese),and Badamo (best pizza in the Burgh).
Shadyside – Walnut St. is a dense shopping area home to a mix of national chains like Lululemon and Starbucks and independent businesses. Grab a specialty espresso at Coffee Tree Roasters and treat yourself to lunch at Mercurio (delicious pizza and gelato!).
Tip: Plan your day out on a Sunday or during the evening hours. All street parking is free on Sundays and Monday-Saturdays after 6pm. Parking is quite expensive in Pittsburgh (ranging from $1.50-4 per hour) and can add up fast if you are driving to multiple destinations.