19 Fun Facts (you may not know) about Tampa Bay
17. Venice, Florida is the shark tooth capital of the world
If you visit any beaches in the Sarasota area, you will likely notice beach goers using a weird looking shovel, attempting to dig for something, although it is not your typical seashell. Venice, Florida is "the shark tooth capital of the world." Millions of years ago, Florida was submerged with water, and although most of the sharks disappeared, the fossilized teeth remain! Casperan Beach is one of your best bets for finding these prehistoric treasures – visiting early in the morning or after a storm is the best time.
18. You can gator watch aboard the world's largest airboat at Myakka River State Park
Myakka River State Park in beautiful Sarasota is one of Florida's oldest parks. It is definitely one to add to your Gulf Coast bucket list as you can do just about anything here, from hiking leafy trails, taking a narrated gator cruise, enjoying a leisurely bike stroll, or taking a walk along the treetops via the 76 foot tall canopy walkway (the 1st in Florida). A cruise aboard the Gator Gal is a must – not only is it the largest airboat in the world, but the tour guides are super knowledgeable and entertaining. And, it is one of your best bets if you want to see a gator (safely) during your vacation. Not to mention – the views of Upper Myakka Lake are amazing.
19. Siesta Key Beach is home to the whitest sand in the world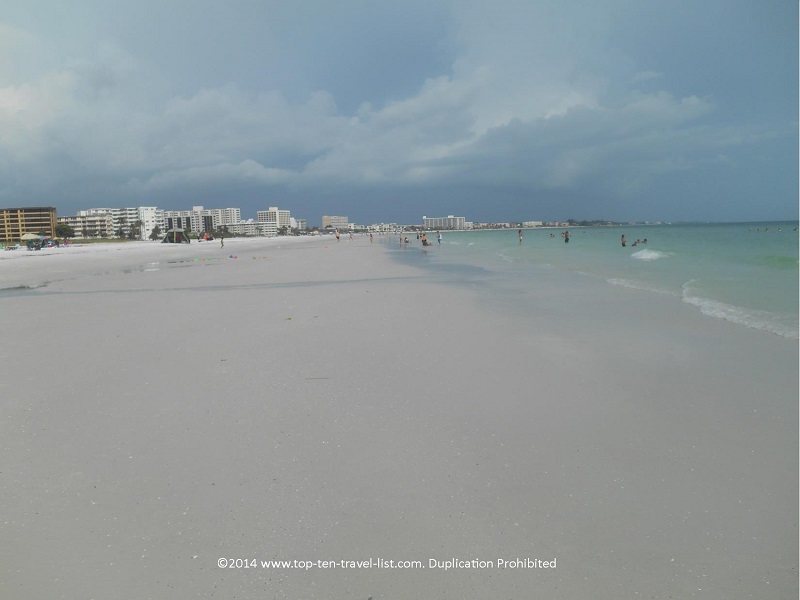 The sand at Siesta Key Beach is 99% pure quartz. It is the softest and whitest sand you will ever step foot on. Siesta is the ultimate getaway for anyone seeking a relaxing day on the Gulf  – it doesn't get much better than this. And better yet, it is one of the widest stretches of sand in the area so you actually have room to spread out a bit. Other fun activities to enjoy at Siesta and nearby Sarasota area beaches include dolphin sightings, paddleboarding, snorkeling, swimming, and beach volleyball. Bonus – there is lots of parking and it is free!
Check out my favorite beaches in Sarasota!