A Hot Summer Afternoon at Zoo Tampa
Zoo Tampa is a small 63 acre non profit zoo in Tampa, Florida. Although not the biggest, nor best zoo I have visited, there are several unique exhibits. The highlight is Safari Africa, a beautiful portion of the zoo which features: giraffes, elephants, zebras, rhinos, okapi, cheetahs, and meerkats. All the animals in this section have a nice big free roaming space available. Lots of great picture opportunities here as well!
Safari Africa
We were able to see a baby elephant!
A group of 4 giraffes. Did you know that giraffes are the tallest animals in the world?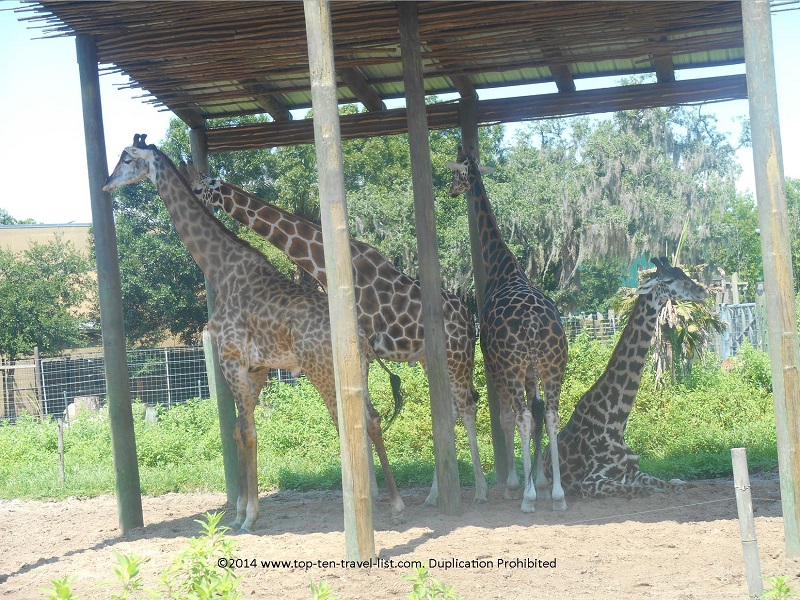 You also have the opportunity to participate in a giraffe feeding. The line is long, however, it's a pretty neat experience to see these beautiful animals up so close.
Primate World
Primate World is another great exhibit. In this area of the park, you will find many endangered species like orangutans and chimpanzees.
Aviaries
Two outdoor aviaries allows you to enjoy a variety of exotic birds in a free flying setting.
Asian Gardens
Asian Gardens features some of the most exciting animals in the park: leopards, rhinoceros, a Malayan Tiger, and the Sri Lankan Sloth Bear.
The Sloth Bear is a unique species of bear which eats both plants and insects. This interesting looking bear is found in the lowland forests of Sri Lanka. Luckily we were able to see it sitting upright during the day as opposed to sleeping. When we came back later in the day, it was sleeping. We enjoyed the opportunity to view this beautiful endangered bear.
The Florida boardwalk
As you walk along The Florida boardwalk, you will take in the sights of many animals native to the region, including: crocodiles, gopher tortoises, a bald eagle, and The Florida black bear and panther. We were really interesting in seeing the panther, unfortunately it was probably sleeping during our visit due to the extreme heat.
Manatee underwater viewing & aquariums
Surprisingly, the zoo lacks indoor exhibits. You would think with the hot Florida weather we would see more. A visit to the air conditioned Manatee underwater viewing and aquarium area is a great way to get out of the sun for a while.  The windows were a bit murky and could definitely use a deep cleaning, as you can see in the photos below. Nevertheless, it is still a nice exhibit worth checking out. The aquariums feature many different unique forms of sea life including sea turtles and lion fish.
Koala Bear
Lowry Park is one of the few zoos that houses a Koala Bear. Koala bears are a unique sight only found in a handful of zoos, such as the San Diego Zoo, the Columbus Zoo and Aquarium, and the Los Angeles Zoo. According to the Zookeeper chat, Koalas barely drink any water. They get their water from eating Eucalyptus plants.
On another interesting and disgusting! side note, Koalas babies eat their mother's fecal matter in order to obtain necessary bacteria for digestion. Coprophagia refers to the consumption of fecal matter and is actually common amongst many animal and insect species, including: flies, gorillas, and elephants.
Safari ride
A guided safari tram ride takes you through a special section of the park that is closed to pedestrians. This entertaining ride gives you an up close look at gopher tortoises, rhinos, Okapi, elephants, and more! It would have been more interesting if the ride traveled through the entire zoo (like Chicago's Brookfield Zoo), however, the ride was a nice relaxing breezy break from walking around in the blazing heat all afternoon.
Rides included with admission
Zoo Tampa is unique in that several amusement park rides are scattered amongst the zoo: a carousel, a small roller coaster, a water ride, bumper boats, and a few other kiddie rides. Personally, I felt it took away from the peaceful nature of a zoo, but those with kids might appreciate the extra entertainment. On the other hand, the water ride is a great way to cool off on a hot summer day – you will get absolutely soaked!
Best time to visit
The zoo is small, nicely laid out, and easy to walk around. There is some attractive landscaping in certain parts of the zoo, but just not enough shade for a summer visit. A visit during the really hot season (July, August, and September), is honestly unbearable due to the hot, humid temperatures. Despite the brutally hot August temperatures, we managed to cover the entire zoo, however, it was extremely uncomfortable. A late fall or winter visit would be ideal.
The splash pads are popular with the kids
A few of the shadier sections
Home to many endangered species
An endangered Species wall lists the current animals that are endangered, many of which are found throughout the zoo
Dining at the zoo
You will find a variety of restaurants scattered throughout the park. There is even a Starbucks for those who can't go without their morning coffee! Safari Lodge is a casual restaurant serving favorites like pasta, tacos, and sandwiches. I recommend enjoying a coffee at the zoo and packing a picnic lunch. If it's too hot to dine outside, consider visiting a local restaurant after your visit Ella's Folk Art Cafe and Mekenita Cantina are 2 great choices in the vicinity.
Zoo events
The Zoo holds an exciting assortment of events throughout the year, including the annual Zoo Run Run (a 5k race and walk that runs through the zoo and along the Hillsborough River), Creatures of the Night (a festive annual Halloween event featuring a pumpkin toss), and Wild Wonderland (a holiday extravaganza complete with a million lights, holiday treats, and fake snow).
Annual Memberships
Annual passes are available for $245 per family (4 plus 2 guests each visit). This is a great deal for zoo lovers as it includes reciprocal admission to over 160 zoos. Individual plus one guest is $115, and 2 person households plus one guest is $165. Members receive numerous benefits including free admission to annual, free beer samplings (1-3pm), restaurant and shop discounts, and discounts to participating zoos. This really is the best value as in all honestly this zoo is quite overpriced based on the size and focus on amusement rides rather than animals.
Things to know before your visit
-Summer temperatures in Tampa can climb into the high 90's with very high humidity! It's best to avoid a visit this time of year. Unfortunately, they offer no early hours during the hot season.
-Your $46 admission ticket includes all rides found within the park. If you pay for one day, you will receive free admission for the rest of the year.
-You can apply the price of your admission ticket towards an annual pass.
-Wear plenty of sunblock and preferably a hat to shield the sun.
-Drink plenty of water throughout your visit.
-Food and drink are not allowed in the park. However, there is a shaded picnic area right outside the park. You can get a stamp and re-enter the park.
-Giraffe feedings are an additional $3 fee.
-Discount coupons can be found at The Tampa Visitor's Center.
-Taking your time and including lunch, a visit to Zoo Tampa will take you approximately 2 hours.
Location, Hours & Pricing Information
Address: 1101 W Sligh Ave, Tampa, FL 33604
Hours: 9:30am-5:00pm
Parking: Free parking is available.
Admission: Adult tickets are $46, Seniors are $36 (60 and over), and children are $36 (ages 3-11)