Columbia Sand Key: Dining Cuban Style on the Water
Tampa's Columbia restaurant is world-famous for its' exceptional Spanish and Cuban cuisine, gorgeous ambiance, and lively Spanish flamenco dancing. The historic Ybor City location opened in 1905, making it the oldest continuously operating restaurant in Florida, as well as the oldest Spanish restaurant in the country. Today, you can enjoy Columbia's wonderful food offerings and ambiance at several locations throughout Tampa Bay.
History of Columbia
Cuban immigrant Casimiro Hernandez, Sr. founded Columbia's original Ybor City cafe in 1905. Back in the day, Columbia was a hangout for local cigar workers. Great cuban sandwiches and coffee attracted a daily crowd into the small cafe. As the cigar industry began to die out in the 50's & 60's, Ybor City continued to deteriorate. Many of the cigar workers moved out of the area. Read more about the history of the cigar industry in Tampa.
At this time, Columbia decided to build a showroom and offer live entertainment to draw customers back in. Columbia survived this rough period thanks in part to the addition of this live entertainment tradition which continues to this day. Spanish flamenco dancers perform every night except Sunday (Ybor location only).
Today, the same Hernandez family still run the 115+ year old restaurant. 4th and 5th generation family members continue to uphold the restaurant's traditions. The only difference is that today you can enjoy the great Spanish/Cuban food, not only in Ybor City, but also in St. Armand's Circle in Sarasota, Sand Key in Clearwater, the Riverwalk in downtown Tampa, the Tampa airport, and in the Central Florida town of Celebration (near Orlando).
Columbia on Sand Key
Columbia has earned a spot amongst Open Table's "100 most scenic restaurants in the US" thanks to its' beautiful Sand Key waterfront location. If you are visiting the Clearwater/St Pete area and seeking a wonderful restaurant which offers it all – great food, service, ambiance, and an amazing view – than you will definitely want to put a visit to Columbia tops on your dining must-do list.
This location offers the same wonderful menu as the other Columbia locations. What this Columbia offers in addition to the fabulous food offerings, is scenic views of the waterfront from both the indoor and outdoor dining areas. If your visit falls during the milder months, you will really want to make reservations for the gorgeous outdoor patio.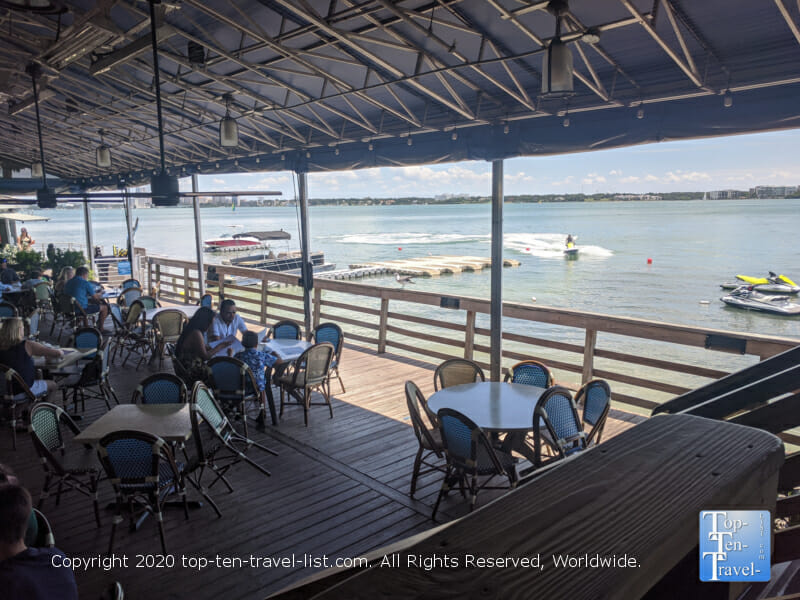 Inside, you will enjoy lovely views of the waterfront from the attractive Mediterranean styled dining room. The beautiful tropical plants, colorful design, and artwork, really give it an attractive aesthetic. For anyone seeking a nice treat while on vacation, you cannot get much better than a dining experience at Columbia.
Now on to the food offerings
Appetizers
Columbia is most famous for their trademark 1905 House salad. This award winning tableside salad features an interesting mixture of lettuce, tomato, olives, romano cheese, baked ham, Swiss cheese, Worchester sauce, and their famous garlic dressing. Order it tableside to share or add a smaller version with your entree.
The best app on the menu is the Black Bean cakes, a vegetarian favorite sure to also please anyone else who loves black beans. These savory cakes are served alongside guacamole and sour cream. It's the perfect starter dish for anyone looking to try something a bit different.
The absolute must try here is a bowl of Cuban Black Bean soup. This standout soup is based on a traditional family recipe. This savory dish includes seasoned black beans and white rice topped with tomatoes. It is super tasty and filling enough on its' own.
Hot Cuban bread and butter are served alongside each entree.
Entrees
Lunch (11am-4pm daily) is the way to go as entrees are more affordably priced at this time. From a traditional Cuban Sandwich, To Grilled Grouper, to Chicken and Yellow rice, there are plenty of choices whether you are craving chicken, seafood, or authentic Spanish paella.
Here are a few great entrees to try
Chicken Salteado
This dish uses a method of saute which was inspired by the Chinese who lived in Cuba during the 19th century. Chicken, onion, mushrooms, green peppers, diced potatoes, and garlic are sauteed on a hot iron skillet with a little olive oil. Served alongside is traditional yellow rice.
Chicken and Yellow Rice "Ybor"
This dish includes one-quarter chicken baked with yellow rice, onions, green peppers, tomatoes, spices, and olive oil. Very flavorful, light yet filling. A great comforting option with is not too heavy for Florida's hot summer season.
Vegetarian Paella
The Veggie Paella is not technically on the menu. However, Columbia is willing to accommodate vegetarians with a delicious healthy vegetable paella entree. This dish simply omits the meat or seafood in exchange for more veggies and beans. This traditional Spanish rice dish is overflowing with flavor even without the meat. The trademark yellow color is due to the use of saffron.
Dessert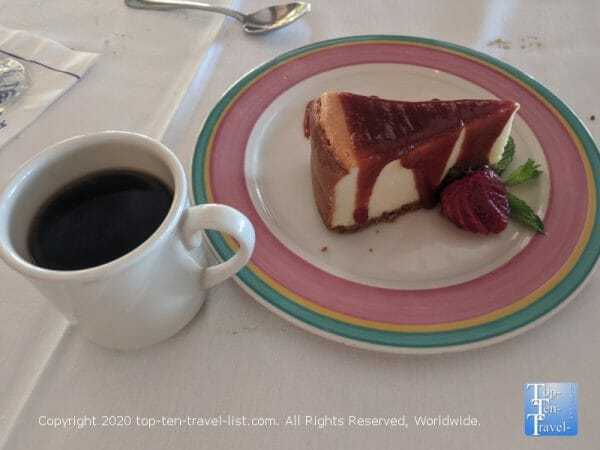 Dessert is usually the best part of any meal, however, it is a pricey addition. Who wants to pay more for unnecessary sugar and empty calories, especially when you are already stuffed? If any time, vacation is a great time to splurge on a dessert.
Columbia is famous for their guava cheesecake. This simple dish consists of NY style cheesecake topped with guava fruit. One of Tampa's nickname is "the big Guava." This name comes from an old businessman's quest to find wild guava trees in the region. Or, keep it authentic with Spanish style churros served with warm chocolate, caramel, and guava sauces. Do enjoy a cup of delicious local coffee alongside your dessert.
Address: 1241 Gulf Blvd, Clearwater, FL 33767
Parking: Free strip mall parking
Hours: 11am-9pm, 7 days a week
More to do in the area
*Dig your toes into the softest white sand in Tampa Bay at world famous Clearwater Beach.
*Collect seashells at Sand Key. This beach is a shelling hotspot. You may even find a treasured sand dollar here. Note: It's illegal to collect them while still alive.
*Take a cruise aboard Captain Memo's Pirate ship. A bit cheesy, although the views are great and you will get to see lots of dolphins.