Flagstaff Arizona's Restaurant Scene: The Most Overrated & Underrated Choices
Additional dining awards…
Best overall restaurant in town: Delhi Palace
If you have never tried Indian cuisine, Delhi Palace is a great place to start! Don't let the Walmart strip mall location fool you – Delhi Palace is one of the best restaurants in town, and definitely home to some of the best tasting Indian food you will ever find. The service is wonderful, decor is pleasant, and the food is always fresh and wonderful. Try the Vegetable Korma and the Saag Paneer: both outstanding! For the ultimate treat, visit during the daily lunch buffet (11am-2:30pm), where you can feast on all sorts of great Indian dishes for just 10 bucks!
Best fine dining experience:  Zenith Steakhouse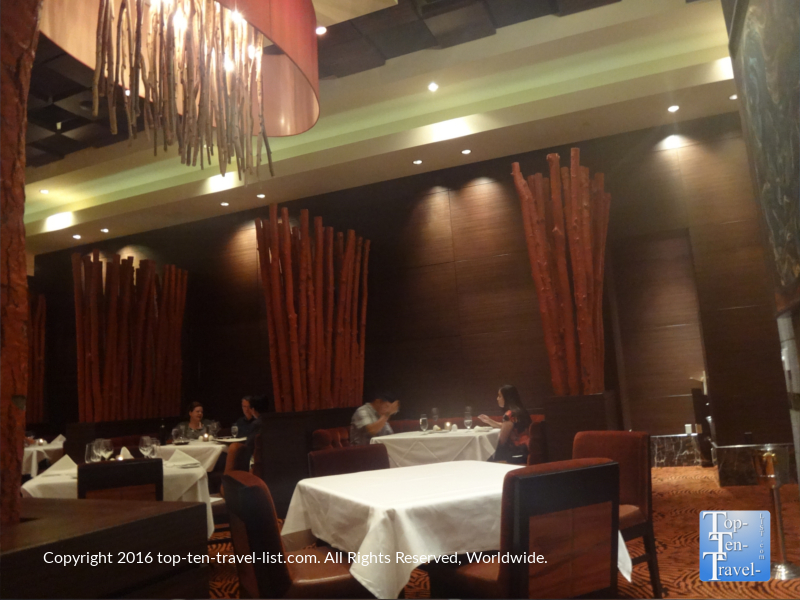 Zenith Steakhouse offers an elegant setting not found anywhere else in town. Located in the Twin Arrows Casino away from the congestion of the city, Zenith offers guests a classy dining experience, as well as an exceptional menu and top knotch service, making it the go-to date night/special occasion destination.
Best meal under 10 bucks: Mix or Wildflower Bread Company
There are many casual restaurants in Flagstaff, unfortunately many are overpriced and overall just not a great value. Two exceptions are Mix and Wildflower Bread. Mix offers a full salad bar, daily homemade soups, and fresh sandwiches. For just 10 bucks, you can customize your own healthy lunch option with more than enough toppings to choose amongst.
Wildflower Bread, a pretty good knockoff of Panera Bread, offers a similar menu of salads, daily soups, sandwiches, and tempting pastries. The "Wildflower Two," a copycat of Panera's popular "You Pick Two" special lets you taste half a sandwich or salad with a bowl of soup and a side of fresh bread. The soups, which vary everyday, are filling and delicious (try the Autumn Pumpkin!), the bread is always fresh, and the salads are green with lots of veggies. You will not leave hungry nor overstuffed.
Best bar style food: Lumberyard Brewing Company
Lumberyard Brewing offers the best pub food and atmosphere (take a free country line dancing lesson on Friday nights!) in town. Although it gets crowded, they actually have a larger space than most downtown restaurants and are therefore better equipped to handle the large crowds. In addition, the outdoor dining area is just perfect on warm summer nights. Out of all the casual pubs downtown (and there are many), Lumberyard offers the best value for your money, hires the friendliest servers, and serves the best appetizers (try the Southwestern Spin dip).
Best allergy friendly menu: Picazzo's Organic Italian Kitchen
This regional Italian chain is unique as it offers a 100% gluten-free menu. As the gluten-free trend is super popular these days, many diners will be happy to know that they offer a wide variety of gluten-free dishes never seen in a restaurant before (they even offer gluten-free ravioli!). Vegans will also be pleased with the variety of menu options, including a delicious Sweet Potato Ravioli smothered in a roasted cauliflower/garlic Alfredo sauce. Ingredients completely free of GMO's is another bonus.
Best service: Delhi Palace
Who would guess that a tiny restaurant located in a Wal-Mart strip plaza would offer the best service in town? No question, the waiters at this local Indian gem strive to leave every customer completely satisfied with their professional, above and beyond service attitude. Drinks are always refilled, the buffet station is spotless and continuously refilled, and they even go so far as to remember regular customer's specific requests!
Best coffee: Late for the Train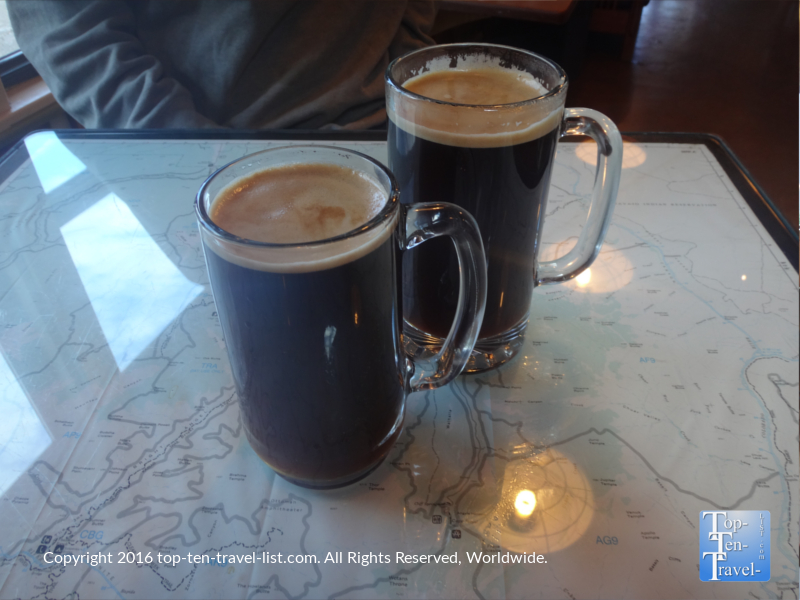 Late for the Train, a local roaster with 2 Flagstaff locations, offers the best espresso drinks in town. The Americano is perfectly smooth with a nice crema layer, and their mocha drinks are by far the most delicious you will find in this small town. Try the Dark Skies! With 2 convenient locations, including one downtown and another on Hwy 180 enroute to Snowbowl area hiking trails and the Grand Canyon, it's easy to enjoy a delicious drink before exploring the beautiful natural sights & attractions in this beautiful area of the country.
Worst coffee: Flagstaff Brewing Company
After trying many a bad espresso drink in town, I can say that Flagstaff Brewing Company offers the overall worst coffee experience. The drinks were not up to par, and unfortunately, the same can be said for the unfriendly service. They have a nice outdoor seating area, however, this does not make up for the low quality drinks and lackluster service.
Most overrated: Macy's, Runner Up: Steep
Sadly there are many over hyped restaurants in Flagstaff. However, the most overrated would probably be Macy's. Although everyone raves about the coffee here, I have to say that the espresso drinks are the worst in town (completely burnt tasting on every occasion). Rushed service, not enough seating, and overpriced coffee are just a few of the reasons why you should skip Macy's.
Steep, a trendy tea shop downtown, is another highly overrated hotspot. Steep is everything a tea shop shouldn't be – noisy with bad service and a strange almost bar like setting. Staff is unable to answer any questions about tea, which is rare as most employees at tea shops are passionate about tea and more than willing to make suggestions. To top it off, you often have to stand around waiting for a seat! It's too noisy to hold a conversation, which is sad as drinking tea is supposed to be a relaxing break. And if that isn't enough, they charge 3 bucks for a small mug of tea and over $5 for a chai latte! A huge thumbs down for Steep, which is sadly one of the few places to get tea in town.
Note: Your experience at any of these listed restaurants may differ than mine based on what you order, what time you visit, and the particular service you receive. I have given my honest opinion on which restaurants I believe to be overrated and underrated in town based on multiple visits.
What are some of your favorite and least favorite Flagstaff restaurants?