Hotel Savings: How to Score the Best Deals!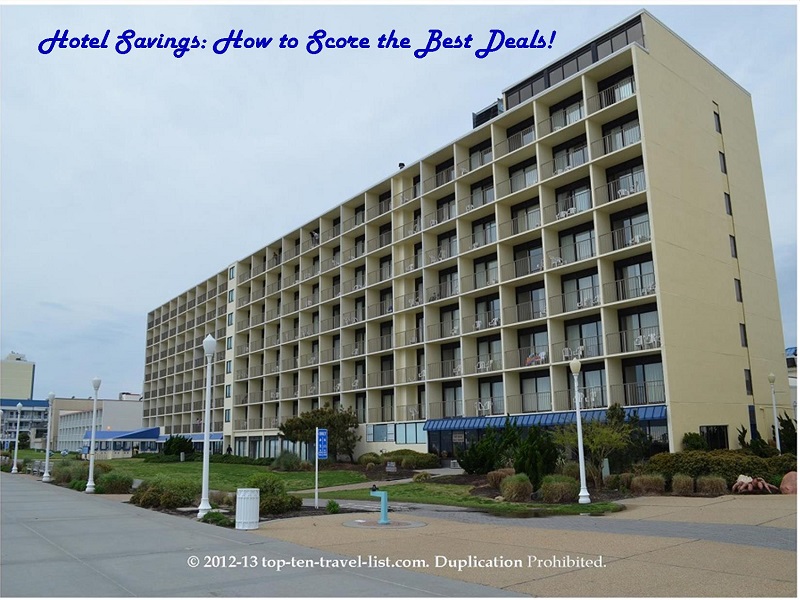 Spring is just around the corner and many of you are probably in the stages of planning your getaway. It is in your best interest to plan your trip as early as possible to enjoy the best deals. Why not try a staycation? There are probably dozens of things to do in your own city that you have never gotten around to exploring. Be a tourist for the day (or several) in your own town and you'll save on both travel and lodging expenses. Residents are often given discounts to local attractions. However, if you are looking for a getaway away from your hometown, there are still plenty of ways to save. Lodging is one of the biggest travel expenses. After many years traveling, I have come up with 10 great tips for scoring the best hotel deals:
1. Check online discount sites such as kayak.com and hotels.com
Hotels.com gives you one free night after you book 10 nights with them. Kayak is another great site which allows you to compare hotel costs from multiple sites at the same time. Both sites allow you to sort search results by price or amenities.
2. Book through Priceline
Priceline allows you to save 60% on hotels by bidding. You pick the star level of the hotel and then "name your own price." You will not know the name of the hotel until your bid is accepted.
3. Check the website of the hotel for deals
See if the hotel offers any special packages or promotions. Many times hotels will offer breakfast, parking, or spa packages.
4. You can save yourself some money by booking a hotel with a free breakfast
Use the search feature on hotels.com or kayak.com to sort by hotels which include free breakfast. Many of the standard chains like Comfort Inn, La Quinta, and Hampton Inn, Days Inn include a free buffet.
5. Book hotels with kitchenettes, especially if you are going away for a few days
This will save you some money on restaurants by enabling you to prepare snacks or meals in your room. As dining out is easily one of the top vacation expenses, a kitchen could possibly save you hundreds of dollars.
6. Skip the suites
Don't waste extra money paying for rooms and amenities that you aren't going to use. Concentrate on attractions around your destination instead of relying on a fancy room for your entertainment.
7. Check for coupon codes on Retailmenot.com
You can easily save money on your hotel by entering a promo code. This is a great way to save some money with putting in virtually no effort. Find your promo code via a quick search on this website.
8. If you are traveling with pets consider staying at a La Quinta Inn
La Quinta accepts pets with no added charge. There are locations all over the country and they have a great breakfast buffet.
9. Book in advance for the best deals
Most hotels offer the best discounts if you book at least 2 weeks in advance, preferably more.
10. Travel during the off season
It may not be the best time of the year for activities and entertainment, however, you will save big and deal with less crowds. This is especially true for popular destinations like Disney World, Universal Studios, and Las Vegas.
Check back regularly for more advice on saving money while traveling. Our next blog will deal with tips on saving on airfare.
Also be sure to check out my list of 100 money saving travel tips