25 Tips for Saving Money at Universal Studios Orlando
The Universal theme parks are just as fantastic as Disney. No trip to Orlando would be complete without visiting both parks. Any trip to Orlando is going to cost you. Park tickets alone to Universal Studios & Islands of Adventure can easily add up to several hundreds of dollars, depending on the size of your family and how many days you plan to spend at the park. This doesn't include additional vacation expenses like transportation, lodging, and food costs! Without proper planning & research, a vacation to Universal Studios can be quite costly.
Fortunately, a little pre-planning and common sense is all it takes to save big on your trip. A trip to Orlando's Universal Studios is not totally out of reach for those with a small budget. Following a few of the tips below can make your trip more fun and affordable.
Take a look at 25 of the best ways to save on your Orlando vacation
1. Consider driving as opposed to flying into Orlando
Driving is much cheaper, especially if you split the costs amongst several people. You can also bring with as much luggage as you can fit in your vehicle as opposed to paying extra airline baggage fees and airport parking fees.
2. If flying, book your flight in advance
Book as far in advance as possible for the best savings. Also, try to book your flight during the middle of the week and preferably outside of peak season (June-August). Be sure to compare multiple airlines on a website like Kayak. Early September and November are the least crowded times at the park. Not only will the park be less crowded at this time, but more importantly, the temps in Orlando will be much more bearable!
3. Plan your trip during the slow season for the best rates
September and November are typically the slowest months, although September will still be considerably hot, humid, and rainy. In exchange for the hot, rainy weather, you will enjoy lower rates on hotels and airfare. Plus, the parks will be much less crowded!
Massive crowds during a holiday weekend…
Versus a nice relatively uncrowded spring day at the Wizarding World of Harry Potter, which is completely packed to the brim during the summer season.
4. Research hotels several weeks-months before your trip in order to take advantage of the best deals
Also, be sure to check for vacation packages. Universal Studios has numerous hotel packages and air vacation packages available. You can also research individual hotels and see what type of deals they are offering. Sign up for their email list to receive special promotions.
Cabana Bay is a great on-site Universal hotel with many perks. First off, it's pretty affordable with rates often in the mid 100's. Second, a free shuttle to the parks is available. This helps tremendously as parking is $25 per day and Lyfts are not cheap. Third, you get 1 hour early admission to the parks. There is also a Starbucks on-site and a food cafeteria so you can enjoy a quick cheap meal before leaving for the parks. A giant pool with a lazy river and several pool bars will entertain you (cheaply) on non park days!
5. Plan park restaurants in advance
This will give you time to check out menus and prices before your visit. For a full listing of park restaurants, visit the Universal Studios dining page. I usually pack my backpack with sandwiches and small snacks and then treat myself to one meal a day -usually outside of the park in CityWalk or at a budget friendly chain like Jason's Deli. I'm not a huge on chains, but a few of my favorite more affordable choices include: The Olive Garden, First Watch, Panera Bread, Chipotle, and Giordano's (Chicago style pizza).
If you are going to visit a park restaurant, I highly recommend Mythos, a beautiful cave designed restaurant which has won many awards over the years including best theme park restaurant. The Veggie Pad Thai is wonderful. For more fun dining experiences, also check out my list of fun themed Orlando restaurants.
6. Book a hotel with a kitchenette
This will easily save you hundreds on your trip, as dining out is the 3rd largest expense next to park tickets and lodging costs. Another idea is to look into a condo rental vs. a hotel. You will have a full kitchen plus a host of additional amenities including laundry facilities, multiple bathrooms, a pool area and sports facilities, and extra space! Windsor Hills (although closer to DisneyWorld than Universal), is a great place to stay (about a 15 minute drive).
7. Stay at a Universal on-site hotel if you plan on visiting The Wizarding World of Harry Potter
Certain hotels such as the Hard Rock Hotel, Loews Portofino Bay, and Loews Royal Pacific offers guests a fast pass for each day of their stay. This is a great deal as the Express Passes normally start at $40 per day. Also, if you plan on visiting The Wizarding World of Harry Potter (which you should as it is awesome), you will want to stay on-site to receive hour early admission.
The Harry Potter section is pretty gigantic – there really is lots to explore, so this early admission really is a great value, not to mention you can explore the park in peace without the normal shoulder to shoulder traffic. Harry Potter fans, this is definitely the way to go!
8. Book a hotel with a free shuttle to the park
A free shuttle will save on car rental, gas, and parking fees ($27 per vehicle)! All Universal on-site hotels (and some outside hotels) offer free complimentary shuttles to the parks. On-site hotel options include the Hard Rock Hotel, Loews Portofino Bay, Loews Royal Pacific, and Cabana Bay Beach Resort.
9. Keep in mind that the more days at the park, the cheaper your per day cost
For example, park-park tickets for one day are $164, while a 3 Day pass is $293 (only $98 per day). Obviously, part of the hassle is getting to Orlando. There is no point in getting all the way down here to spend only 1 day at the park. More days at the park is obviously a much better value considering the time and effort it took just to get here.
10. Florida residents, be sure to check out special deals, both for the parks and accommodations!
Florida residents save up to $65 per day on multi day park-to-park tickets! Be aware of Blockout Dates (basically the entire summer, spring break, and around major holidays).
11. Purchase tickets online as opposed to at the gate.
Not only is it faster and more convenient, but you will also save up to $20 on multi day tickets.
12. Print out the Universal Savings Coupon booklet ticket with your park tickets
You can redeem the booklet at either park (Universal Studios Store or Islands Trading Post) for valuable discounts off park dining and shops.
13. Visit the Orlando Visitor's Center for coupon booklets and brochures
The Visitor's Center is a great place to find valuable coupons good for Disney, Universal, and other attractions in the Orlando area. It's also a great place to find ideas for other non-theme park attractions in the area. Also check your hotel lobby for brochures. Some of these have valuable coupons on the back.
14. Plan a few non-theme park days
Take some time to do other fun things in Orlando besides theme parks. Luckily, there are lots of free parks to visit, beautiful lakes to enjoy, and beaches just a short drive away. You'll save some money, while also getting to explore the non theme park side to Orlando, something all too many tourists forget to do!
15. Download Universal's free Wait Times app.
Plan your rides according to wait times. Get on more rides – more bang for your buck! Download the Wait Times app before your visit.
16. Bring with a set amount of cash for souvenirs and food
Stick to the budget – don't bring with a credit card. Credit cards tend to make you spend much more. Avoid the temptation to buy multiple unnecessary souvenirs which will end up in the trash when you get home. Stick to 1 or 2 nice mementos of your trip. Also, photos are free and probably most likely to be used for years to come!
17. Wear a water hydration backpack to the park
These nifty backpacks store up to several gallons of water. You will be good to go for the entire day without resorting to multiple pricey stops for park water bottles. Another alternative option that works for me is a large hiking backpack . It may seem strange to wear a hiking backpack into the park, however, I like them because you get a variety of different sized pockets, it's built to hold a hydration pack inside, and the weight is evenly distributed so that you are not left with sore shoulders the next day.
Although I typically use my backpack for hiking, it also came in handy for a recent Orlando vacation as I could fit in everything I needed for the day- wallet, snacks, hydration pack, sunblock, extra contacts, my glasses case – basically anything & everything. I never needed to stop for water or snacks, so it saved me time and money. For a smooth trip & also to save money, I highly recommend it! Here's a picture of me wearing my backpack while hiking (in Sedona) as a reference.
18. Bring your own water bottle
Simply refill your bottle at the drinking fountains (located throughout the park) as needed. If you do not feel like getting a hydration pack, simply back your bag with multiple water bottles. Although you can get free tap water at the park, it's a hassle to keep stopping and the lines are often long. Save time and bring your own. Freeze overnight if you have fridge access.
19. Purchase a bunch of snacks the 1st night of your vacation to bring with to the parks
Pack snacks in your backpack the night before your park visit. Good organization skills=more money in your pocket. This will help you resist the temptation to buy pricey, unhealthy park snacks. Plus, it's always nice to have something to munch on while waiting hours in line for a ride (and if you plan on going on the new Harry Potter ride, you will be waiting!). Anything that can withstand the heat is a good idea – pretzels, sandwiches, fruit, etc. Avoid items that melt like granola bars and anything chocolate. If you do need a cool down, you can't beat a Butterbeer or Dole Whip.
20. Bring your own lunch
Park food is really pricey, not to mention mediocre at best in quality. As an added bonus, packing your own lunch will save you from the long wait time at park restaurants. The line for the Harry Potter Three Broomsticks restaurant was almost as long as the ride! Don't waste all your time in a restaurant line – use it for the rides & attractions you are paying good money for! Sometimes, I bring lunch and then treat myself to a little snack like an ice cream or Butterbeer which still helps cut down on costs.
Please check Universal's food policy to plan accordingly
21. Concentrate on the best rides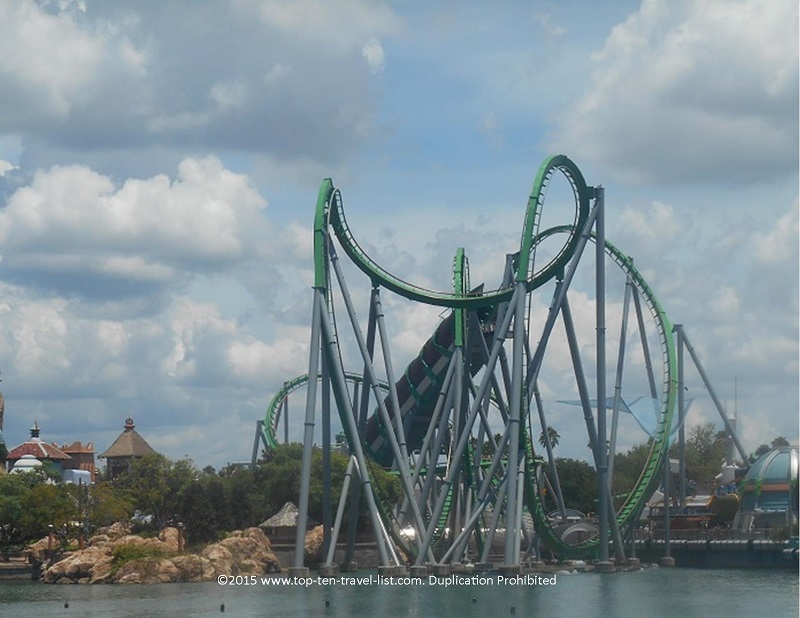 Realistically, you are not going to have enough time to see everything at both parks in one visit. Some of the rides are just not worth the long lines, while others are hidden gems that barely get any traffic. Here is my handy guide to the 13 best rides and attractions at Universal. In my opinion, these great attractions should be first on your list!
22. Skip the alcohol
Not only are alcoholic drinks pricey, but they also dehydrate you even more (not good when it is already in the 90's and humid!). Also, alcohol and rides do not mix! Universal consists mainly of roller-coaster and simulator rides which are already dizzying enough in themselves! Stick to water and lots of it to keep hydrating in the harsh Orlando sun.
23. Skip the pricey ride photos
If you want your photo by a ride, just take a picture of yourself standing next to the ride entrance. Or, have a non-rider take the group's photo while you are all on the ride.
Instead of taking ride photos, get your pics next to characters for free or take fun photos next to iconic sights like the Universal Ball.
Character photo opps…the best souvenir!
24. Check Groupon & Living Social for special deals
Sign up to receive Groupon & Living Social deals for Orlando prior to your trip. Search for hotel, attraction, & restaurant deals in the Orlando area.
25. Schedule a pool day in between park visits
Too many consecutive days at the park can leave you tired, overheated, and just plain miserable. Save some money by relaxing a day or 2 at your hotel and using the amenities that you paid for. This will easily save you hundreds of dollars, especially today considering the insane ticket prices. After a few days relaxing poolside, you'll be refreshed and ready for another day at the park!
**First time visitors, be sure to check out my handy and informative First Timer's Universal Planning post for a smooth, fun, and budget friendly vacation!
Have you used any of these tips? What are some of your best tips for saving money on an Orlando vacation?