The Best Stress-Free Travel Tips
Proper planning and research can make all the difference between a fun versus stressful vacation. As we are all spending a lot of money on flights, hotels, restaurants, and attractions, we want our vacations to be a fun and memorable experience, not a stressful one! The following stress-free travel tips will help ensure that you are ready to enjoy your vacation as opposed to just getting through it! Have you ever heard the phrase "I need a vacation from this vacation." Hopefully, following just a few of these tips will allow you to travel back home feeling refreshed and relaxed!
Book ahead of time
Do not wait until the last minute. Book the hotel, flight, as well as any attractions well in advance. Not only will this save you much stress in the days leading up to your trip, but you will probably save some money too! Also, it guarantees that your chosen hotel, flight, and attractions are available.
Set a budget ahead of time
Plan how much money you intend to spend on dining, attractions, etc. in advance and stick to the budget! Also check hotel and resorts for extra fees that you may have to pay in person. This will allow you to put extra money aside for the trip. Determine how much money you need to save and cut out a few luxuries each month (entertainment, movies, dining out, etc.) to save money for the trip.
Leave unnecessary electronics at home
Give your mind and eyes a much needed break. As many of us spend too much time on the computer today, it's great to take a mini electronic break whenever possible.
Avoid popular overcrowded tourist destinations like Disney and Las Vegas
If you are seeking a quiet, stress-free vacation, it makes sense to avoid the most popular destinations like Disney, Vegas, Times Square, etc. Also keep in mind that hotels are always pricier in these tourist destinations during peak season.
Avoid school break and holiday travel periods
This is the worst time to visit any family friendly vacation destinations like Disney World, The Smoky Mountains, and the Florida Gulf Coast. There will be so many people everywhere that it is near impossible to enjoy a stress-free trip. Also hotels and flights are bound to be more expensive. The same goes for busy holiday periods with 4th of July, Memorial Day, Thanksgiving, and Christmas typically being the busiest travel periods of the year.
Avoid summer travel
At this time, there will be more crowds, especially with the kids off school and many people taking their vacations at the same time. This in turn leads to pricier resorts, as well as pricier flights to prime destinations like beach towns and theme parks.
Consider a quiet mountain cabin rental
A cabin rental is the way to go if you love nature and/or mountain scenery. Benefits of staying in a cabin include peace and quiet and fabulous access to nature so you can recharge, rest, and relax. A few great rustic destinations are the Blue Ridge mountains of Georgia and North Carolina, the White Mountains of New Hampshire, and the Smoky Mountains of Tennessee.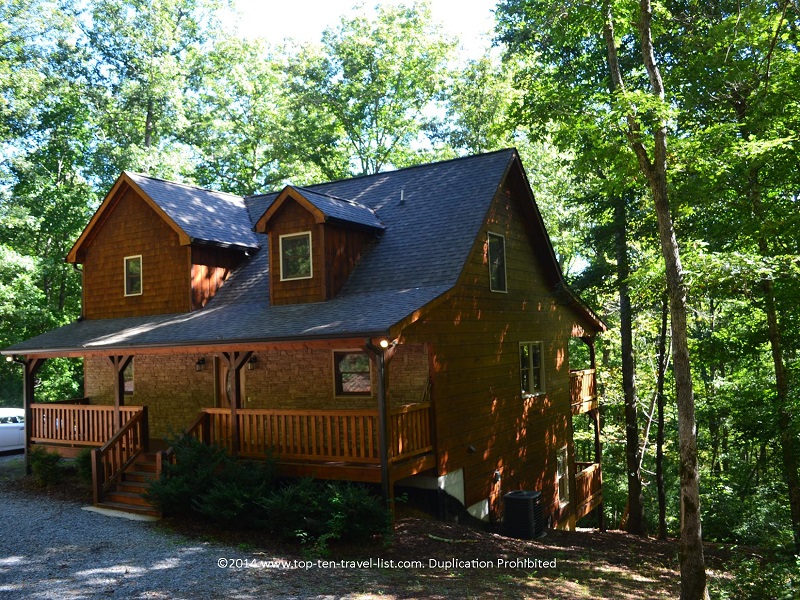 Make a to-do list several weeks in advance
This will help ensure everything is in order as you can keep jotting items down as you remember. Consider purchasing Pack This, Pack That notepads – the handy checklist will help ensure you do not forget anything.
Do not wait until the last minute to pack
Start 2-3 days beforehand and add items as you remember them. This way you will never forget anything.
Use travel apps
There are many great travel apps to make your trip more convenient. Check out the best-of-the-best.
Check airline baggage fees and weight restrictions in advance
Cut down on the amount of stuff you are bringing, if possible. Also print your own luggage tags – it saves time.
Refresh yourself on airline security rules
Enjoy a hassle-free security check experience by following the rules. Look into TSA PreCheck if you travel frequently.
Get to the airport at least an hour in advance
This way you will not feel rushed and stressed starting your trip out on a bad note. While getting there too early can be boring, it's better than running around stressed and feeling rushed at the last minute.
Install a home security system
Feel more secure when leaving for a long period of time with a new home security system.
Set up a pet monitor
If you will be gone for more than a few days, a pet monitor comes in handy. You can watch your pets from your phone conveniently while enjoying your vacation. Most include night vision, motion detection, and more attractive features. Some even include a treat launcher.
Arrange a pet sitter in advance
Save yourself a bit of hassle and find a sitter well in advance. Or, see if a family member, neighbor, or friend can watch your pet before resorting to an expensive kennel.
Arrange a ride to the airport in advance
If possible, skip Uber and Lyft – a big waste of money if you have another means of getting to the airport.
Don't overbook activities
You want some time to relax and enjoy your vacation. Too many activities crammed into too little days =stress!
Bring a laundry bag to separate dirty laundry
Great for unpacking stress-free when getting home.
If driving, get your car checked in advance
Get an oil change if you are due and a general check up. Also, fill up gas the night before so you can get right on the road.
Search for lunch destinations on your route
This will give you something to look forward to on long drives, and thus, break up the monotony of a long trip. Dining plans will also prevent arguing in the car over lunch options.
Plan a few detours to keep the trip interesting
An interesting side trip will give you the opportunity to stretch your legs and get in some fresh air. Roadside America offers a list of unique and exciting places.
Also check out my list of interesting roadside attractions I have come across in my years of traveling throughout the US.
Avoid overpriced gas station snacks
Trail mix and pretzels will not melt or overheat and they are not overly messy like chips and crackers.
Pack a little as possible
This way you do not have to lug around too many heavy suitcases. It may also save you some money at the airport. Some travelers like to bring an extra suitcase to bring home souvenirs.
Carry extra cash
Many tourists attractions and some restaurants are cash only. Avoid the hassle and extra fees associated with ATM machines by being prepared in advance.
Getting lost in nature gives you time to destress and take a break from work and electronics. Fortunately, numerous national parks are free including the Great Smoky Mountains, Congaree National Park near Columbia South Carolina, Cuyahoga Valley National Park in Ohio, and Redwood National park in Northern California. Check out my guide to the best free national parks.
Plan your vacation around a national destination i.e. national park
Bring plenty of thing to do on the plane/car ride
Movies, crossword puzzles, books, magazines, and mini game systems will keep you occupied on a long flight or drive.
Have coffee before you leave or bring with your own brew
It can be hard to find coffee directly on your route especially in isolated areas. They make plenty of travel mugs that keep drinks hot for hours.
Consider investing in Sirius radio
A lifesaver on long drives through isolated areas with few or no radio stations. Besides music, you can listen to comedy, news, and even sports stations.
Clean your car prior to your trip
Get rid of anything besides luggage and any other trip essentials. This will help to save on gas mileage plus make room for all your stuff.
Research restaurants in advance
A lot of trip stress involves picking a restaurant that your whole party can agree on. If your restaurants are all planned in advance, you can avoid any trip arguing. Plus, this is especially helpful for anyone with special dietary needs i.e. gluten-free, vegetarian, dairy-free, etc.
Stop at rest areas often
Rest areas are often few and far between. Stop at each one to use the restroom, to stretch your legs, fill up water bottles, eat a snack, etc.
Plan a hike or natural attraction
This will enable you to get in some fresh exercise and spend some relaxing time in nature as opposed to visiting all crowded, man-made attractions. Spending some time in nature is really the best destressor and it usually costs nothing!
Come prepared for long flights
For long flights, especially, come prepared with anything to make you extra comfortable. A sleep mask or pillow, along with noise cancelling headphones are must-haves. Also bring lots of reading material, crossword puzzles, mini game systems, etc. Snacks are a must as well.
Have at least 2 designated drivers
This way one person does not get totally burnt out and too tired to enjoy the trip!
Consider taking jet lag supplements
Nothing ruins a trip quite like jet lag. Besides special supplements, natural foods can also be used to avoid jet lag effects. Melatonin is supposed to help – you can busy supplements or increase eating foods high in melatonin before your trip. Tart cherry juice works wonder and also offers additional health benefits.
Plan relaxation time
Avoid spending your entire vacation hopping from one busy attraction to the next. For example, on an Orlando trip avoid back-to-back theme park days. In Vegas, take time to relax in the pool.
Clean your house before leaving
Do the dishes, take out the trash, etc. It's so nice to come back to a clean house especially when you have to unpack a bunch of luggage! After a long tiresome trip, you will be happy that you took the extra time beforehand. Also unplug all appliances and turn the heat/air up/down to lower your electric bill.
For long trips, put your mail on hold
It can easily be done online in just a minute or 2. Alternatively, have someone you know come over and pick up your mail, water your plants, take the dog out etc.
Book a hotel with on-site breakfast
It's so much more convenient to hop out of bed and get breakfast. Then you can get ready for your day and not waste unnecessary trip time. Some hotels offer free continental breakfast which is obviously the best way to go!