10 Ways to Save for your Next Vacation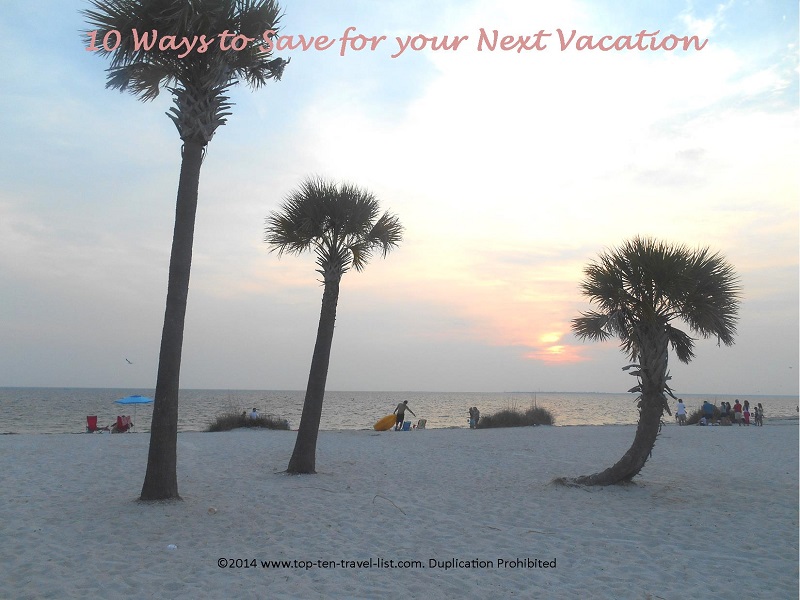 It is never too late to start saving for your summer vacation. A nice vacation can easily cost a few thousand, so it pays to start saving as early as possible. Here are a few tips to help you save up for your next summer vacation. All it takes is a bit of researching, budgeting, saving, and possibly finding ways to earn more.
10 Ways to Save for your Next Vacation
1. Figure out the estimated cost of your vacation and set up a budget plan – It is helpful to plan out all vacation expenses such as lodging, activities and restaurants in advance. This will help you estimate the overall total trip cost. Determine how much you need to save per month to give yourself a ballpark of what you need to cut out, earn, etc. Additionally, you can find a number of free apps for your phone.
2. Set up a separate bank account – Most banks such as Bank of America have an Automatic Savings Transfer. This system allows you to easily set up the date, time, and amount of money you want transferred each month. You are less likely to spend money that isn't easily available.
3. Enroll in Bank of America's Keep The Change – This program allows you to save money by rounding every purchase to the nearest dollar and putting the change into your savings account. Alternatively, you can throw all your loose change in a jar and cash it in the week before your trip.
4. Save your tax return refund – If you have a nice sized return, you can use it for your vacation. That way it doesn't feel like you are taking away from your ordinary living expenses.
5. Cook at home – This is one of the best ways to save money fast. Dining out is expensive and can easily add up to hundreds of dollars per month. Plus, (more often than not) it is unhealthy! If you spend $100 each week dining out you can save $400 a month and $1600 in the next 4 months. Not bad!
6. Give up a few extra luxuries – Give up expensive entertainment such as movies out. Ever notice how much movie tickets have increased over the years?! Movies can now cost $12-15 per person! Save up your fun for your vacation instead. The same goes for bars, nightclubs, arcades, bowling, etc.
7. Cut out coffee and alcohol – Brew your own coffee at home. This simple tactic will easily save you hundreds of dollars in the next few months. A $4 coffee each day doesn't seem like much until you realize just how much you are spending per month ($4 day * 7 days per week – you are looking at approx $30 per week or $120 per month!).
If you really like a fresh cup of coffee or fancy specialty coffees, purchase a Keurig brewer or espresso machine (I recommend Delonghi and Nespresso). Just make sure to buy a reusable K-Cup over the overpriced K-Cups. Alternatively, treat yourself to a coffee out just on weekends (this is my preferred method). Also, alcohol is nothing but an overpriced unhealthy, empty calorie habit. Cut it out for your health and watch your savings pile up even more for your trip.
8. Hold a garage/yard sale – You can easily make a few bucks by having a large sale. A yard sale is a great opportunity to clear out all your old junk while making some profit on the side. Put this money aside in your vacation savings account. Selling items on Ebay or Facebook Marketplace is another idea.
9. Take up a few odd jobs – See if anyone has any small projects you can complete to put away extra money in your savings. Anything helps and adds up in the long run.
10. Don't take out any new debt – Taking out additional debt will just lower the amount of disposable money you have available each month. It may seem like you aren't spending anything, however, you will be paying for those purchases for a long time and taking away from your available disposable income each month.
Now it's time to share your favorite vacation savings tips!