The best things to do in Orlando when it's TOO hot!
It's hot, muggy, and sunny pretty much the entire year in Orlando, with the exception of a handful of months. While the theme park water rides, afternoon thunderstorms, cool treats, and air conditioned line queues & shops can help a bit, sometimes it's just too hot to have much fun. In fact, I've found myself leaving Disney and Universal early on numerous occasions due solely to the intensely uncomfortable summer conditions.
While it's best to plan your visit during the milder fall-winter season, we all know that this is not always possible due to work, financial, or family concerns. Fortunately, there are numerous ways to beat the heat while still enjoying your vacation!
First off…
*Avoid planning back-to-back park days, especially during the dead of summer. You really need a day off in between park days to cool down, give your feet a break, and simply relax & rejuvenate. Spend this time cooling off in your resort pool or seeking out air conditioned indoor attractions (more on that in a bit).
*Consider a fast pass. This way you can skip to the front of the line and avoid unnecessary heat exhaustion. It's a great value during the hot season!
*Get to the parks right at opening. It's always a little bit cooler and less crowded in the morning hours. Consider booking a stay at one of Universal's resorts – you will get 1 hour early admission to the parks!
*Come prepared to deal with the heat. Wear light loose clothing. Bring a few water bottles (I freeze mine overnight). Consider wearing a camelbak. Have sunblock & sunglasses on hand. A mini water spray mister fan works wonders. So does a cooling workout towel (find one at any sporting goods store). Also pack cool light snacks (pretzels, fruit snacks, PB&J, crackers).
*Consider planning a day at one of the overlooked water parks. Summer is a great time to take advantage of a unique Disney or Universal themed waterpark. We often pass up on these because the main parks offer so much more bang for your buck.
Disney's Typhoon Lagoon – Tropical themed, known for its' surf beach
Disney's Blizzard Beach – Unique ski resort theme, known for its' chairlift ride
Universal's Volcano Bay – Tropical themed with a unique volcano and great lazy river
*Be sure to plan at least one day at Islands of Adventure. With several amazing water rides, Islands easily beats Universal Studios during the summer months!
3 Universal Water Rides Not to Miss
Dudley Do Right's Ripsaw Falls – Cartoon themed log flume ride with 2 huge drops. You'll get drenched on this one!
Jurassic Park – Fun ride themed after the movies with a steep ending drop. A quiet ride with fun dinosaur animatronics until the final descent – where you are sure to get soaked, especially if you sit in the front.
Popeye & Bluto's Bilge Rat Barges – Super fun circular rafting ride with 10 seats. There are so many fun twists, turns, and drops as you make your way down the rushing river rapids – you will get totally soaked on this one!
Tips to cool down at the parks
*Take advantage of complimentary ice water at any food stand. Drink up to prevent heat exhaustion. Avoid too many dehydrating drinks like soda and coffee. Or, as mentioned above wear a camelbak for easy access all day.
*Focus on cooling snacks like fruit bowls, salads, smoothies, wraps, rice bowls). Avoid fried and fatty foods.
*Splurge on a cool treat. Numerous ice cream shops can be found throughout the parks. For anyone needing a vegan treat, Dole Whip is a delicious naturally dairy-free frozen treat available at Aloha Isle at the Magic Kingdom. And, of course, Butterbeer (which tastes kinda like a frosty butterscotch/cream soda drink ) at The Wizarding world of Harry Potter is the ultimate summer cool down.
*Save water rides for the afternoon. Spend the morning hours waiting in line for any rides with a hot outside queue. Any super popular rides with a long outdoor wait, you will definitely want to get on earlier in the day. The afternoon is best spent enjoying water rides or cool indoor attractions like live shows, 3D movies, and any rides with air conditioned queues.
*Save your shopping for the mid-afternoon hours. Although it's tempting to rush right into the shops as soon as you enter the park, it's best to take a break and browse the shops during the hottest part of the day.
*Take a break and enjoy lunch at a sit down restaurant. This will give you time to cool down, rest your feet, and simply bask in the air. A few good options inside the theme parks…
A few great table service options
Three Broomsticks – Harry Potter themed cafe at Islands of Adventure. Serves British themed pub fare. Go light with a potato leek soup and salad combo, and definitely order a frozen butterbeer on the side.
Mythos – Underwater grotto themed restaurant at Islands of Adventure. Diverse menu of Mediterranean & Asian fare. The Pad Thai is excellent. Was rated the world's best theme park restaurant.
Liberty Tree Tavern – 18th century colonial themed restaurant at the Magic Kingdom featuring a buffet of Thanksgiving favorites.
Louie's Italian – Great pizza place at Universal Studios. Grab a jumbo slice for just 10 bucks and do treat yourself to the amazing garlic knots!
Be Our Guest – Super popular Beauty & the Beast themed restaurant at the Magic Kingdom. Reservations required for dinner.
Don't forget about the amazing indoor shows
There are so many great live entertainment opportunities within each park. Many tourists skip over them in favor of the rides. If you have been to Disney/Universal one too many a time, you may want to check out a few of the amazing shows! Here are the best…
Horror Makeup Show – Universal. I love this show! It's so creative, educational, and fun all at the same time. See how Hollywood does some of your favorite horror and make up special effects in a nice cool air conditioned setting. The best half hour break from the heat!
Mickey's Philharmonic 3D show – Magic Kingdom. This is an oldie, but a goodie. Although the tech is a bit outdated, this show features tons of great Disney songs and fun special effects.
Monsters Inc Laugh Floor – Magic Kingdom. Get ready for big laughs as you enjoy a fun comedy show with Mike Wazowski and gang. Not only is this one of the more overlooked attractions at Disney, but also a great opportunity to relax in the air for a half hour.
Rides with cool/dark indoor queues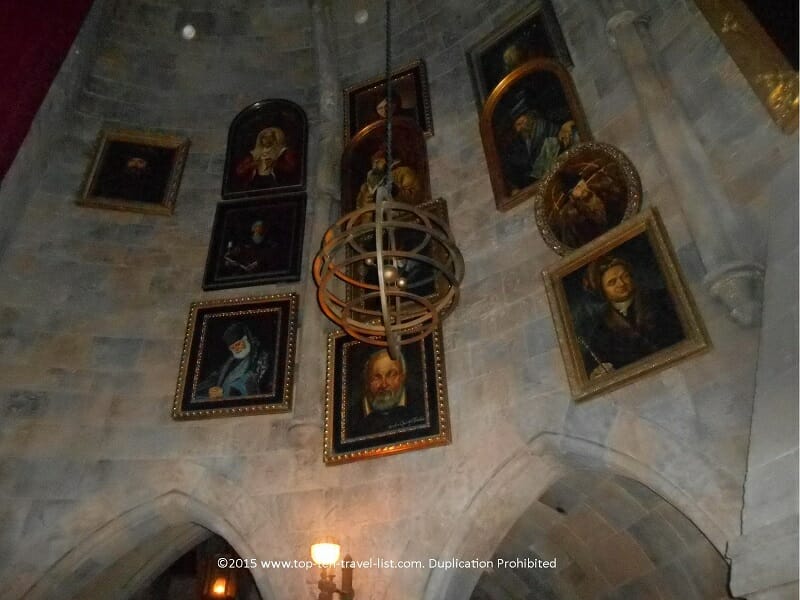 Harry Potter and the Forbidden Journey – The best HP themed ride also features the best queue in Orlando. The super cool dark waiting area takes you through the Hogwarts Castle with tons of cool special effects including talking portraits, moving newspapers, the sorting hat, and cast appearances via holograms.
The Mummy – This is an awesome themed movie ride with an awesome queue. It's so cool, dark, and mysterious, and even a bit spooky – and (almost) as much fun as the ride itself.
Hogwarts Express – A themed Harry Potter train ride takes you in between the two Universal Parks. Bonus – the entire waiting area is inside King's Cross or the Diagon Alley train station.
Other fantastic air-conditioned queues/attractions include Men in Black, Space Mountain, all the shops in Diagon Alley, ET, Escape to Gringotts, Pirates of the Caribbean, Toy Story Mania, Under the Sea, and The Haunted Mansion.
On the other end, the absolute worst queues during the hot summer season are The Flight of the HIppogriff, The Simpsons, Tomorrowland Speedway, Rock n roller coaster, Seven Dwarfs Mine Train, and The Hulk.
12 Fun indoor Orlando activity ideas
On your theme park off days, you will have no shortage of fun attractions to check out around Orlando. Many of these are located in easy to get to destinations like Disney Springs, Citywalk, and International Drive. Some resorts even offer free shuttle service (i.e. Universal to Citywalk). Fortunately, most of these attractions are indoors, and thus, perfect on hot summer days. Below are a few of the best ideas for indoor fun.
1. Play mini golf in the dark at Putting Edge
While Orlando is home to some pretty spectacular themed mini golf courses, it's way too hot to enjoy these course in the dead of summer. In fact, it's downright miserable. As a great alternative, Putting Edge is a unique glow in the dark mini golf course featuring 18 holes. A fun sensory experience with cool artwork surrounding you in every direction. A bit overpriced, however, still a fun way to kill an hour or 2.
2. Enjoy arcade games at Dave & Busters
Anyone who loves old school arcade or carnival style games will love the diverse variety of games offered at this popular entertainment destination. Test your hand at fair favorites like the goldfish bowl or clown toss, challenge yourself to modern faves like Guitar Hero, or go really old school with Skeeball. There's lots of fun to be had at Dave & Busters for all ages. Plus, there is a full service restaurant, a huge bar, dozens of flat screens, thus making it an ideal place to beat an entire afternoon of heat.
3. Treat yourself to a cool dessert
Smoothies, ice cream, frozen yogurt, acai bowls – it's easy to find pretty much any frozen treat anywhere you go in Orlando. Nothing is more refreshing on a hot day then a fruit filled smoothie, an energizing acai bowl, or fro-yo with your favorite toppings. Check out a few of the best below.
Jamba Juice – The best chain when you crave a good smoothie. Love that they offer several healthier plant-based options. Try the Vanilla Blue Sky featuring almond milk, vanilla coconut milk, blue spirulina, pineapples, and bananas.
Tropical Smoothie Cafe – Another great smoothie chain with numerous convenient locations. Try one of their super healthy, Super Veggie smoothies – a fun way to get your greens in while on vacation.
Menchie's – Best frozen yogurt self-serve bar. Lots of creative flavors including one vegan/low sugar option. Tons of tasty toppings!
Twistee Treat – Popular Florida ice cream chain serving soft serve, in over a dozen flavors. Also known for their waffle tacos, cookie wiches, and banana splits. Just look for the iconic cone shaped building!
If that's not enough, here's 20 more great Orlando ice cream shops
4. See your favorite celebs at the Hollywood Wax Museum
The first US wax museum, Potters, opened in St. Augustine in the 1940's. Today, you can find a wax museum in pretty much any American vacation destination. They tend to be a bit overpriced, however, if you are looking to escape the heat for a bit, it may be a worthy addition to your itinerary. At Icon Park's Hollywood Wax Museum, you will see many political, historical, and entertainment figures. Combine it with the Icon Ferris wheel for a discount.
5. Soar high above the city on the Icon wheel
At one point, the Orlando Eye (now the Icon) was the largest Ferris wheel in the world. Although it no longer claims the title, it's still a great activity for anyone seeking something cool to do outside the theme parks. Soar 400 feet above Orlando in an enclosed air conditioned gondola as you gaze upon the entire metro. Pretty views include vistas of lakes and preserves, and even a glimpse of Universal & Disney. When combined with the wax museum and a restaurant, you have a nice little day out away from the parks.
6. Shop for everything Disney (at a bargain)
You literally cannot drive down the street anywhere in Orlando without running into a touristy Disney gift shop. A hot summer day is the perfect opportunity to go bargain hunting for souvenirs. Compared to the theme parks, the merchandise at these off property shops is pretty affordable, with everything available from Disney mugs, to beach towels, to picture frames, to clothing available.
Note: there are tons of these gift shops along I-drive. Also, Disney's Character Warehouse Outlet at the Orlando Premium Outlets is a big hit with bargain hunters.
7. Hit the mall
There are a number of great indoor malls in Orlando. While the city is most well-known for their fantastic selection of outlet malls, it's a bit too hot to stroll around outside during the summer season. Check out The Mall at Millenia, one of the largest in the state with over 140 shops. Besides great stores, there are lots of great chain restaurants here including The Cheesecake Factory, PF Changs, and Brio Tuscan Grill. The Florida Mall, with over 200 stores, is another great choice as one of the state's largest.
8. Enjoy a themed restaurant
Orlando offers no shortage of over-the-top themed dining options. In addition to common vacation chains like Hard Rock Cafe, Margaritaville, and Bubba Gump Shrimp, there are number of interesting local options. These include Raglan Road (an Irish pub featuring live step dancing), Sanaa (an amazing African/Indian restaurant which looks out unto the Savannah at Disney's Animal Kingdom Lodge), and Toothsome Chocolate Emporium (a whimsical steampunk themed restaurant which serves crazy desserts).
9. Go bowling at a hip alley
Bowling doesn't have to be a boring smoke filled affair. Orlando is home to several trendy modern alleys including Splitsville Luxury Lanes at Disney Springs. Not only is the decor super swanky, but the food menu is super cool too with everything from sushi to grilled salmon to Chicken fried rice on the lineup. Of course, they also offer all your favorite comfort treats including nachos, pizza, and various fried apps. Frozen drinks, draft beer, wine, and specialty cocktails are also served.
10. Check out the local coffee scene
Although you can always find a Starbucks in Orlando (they even have several locations within the Disney parks!), there are also loads of great independent shops. Drunken Monkey is a eclectic funky independent shop which serves the best vegan soups (the broc cheese is incredible!). Bikes, Beans, & Bordeaux is a cool cycling themed shop with serves amazing sandwiches. Check out my top 5 picks for coffee in Orlando.
11. Check out a local museum
There are a ton of great museums to take advantage of on a hot afternoon. The Orlando Science Center, Cornell Fine Arts Museum, and The Orlando Museum of Art are great places to start. One of my favorites, The Morse Museum of American Art in Winter Park, features the largest collection of works by glass artist Louis Tiffany, known for his stained glass windows and iconic lamps.
12. Stroll around CityWalk or Disney Springs (at night)
If you do plan on venturing to either of these entertainment complexes, definitely wait until the sun goes down. Yes, it will still be miserably hot and humid with temps still hovering high above 90. However, it's a bit more comfortable without the sun shining in your face on top of the heat. Below are a few of the top sights within each destination.
CityWalk – Hard Rock Cafe, Margaritaville, Vivo Italian Kitchen, Toothsome Chocolate Emporium, Voodoo Doughnuts, Universal Studios Store, Hollywood Drive-In mini golf
Disney Springs – Raglan Road, Erin McKenna's Vegan Bakery, Splitsville Lanes, AMC, Ghirardelli Soda Fountain, Joffrey's Coffee, Sprinkles Cupcakes, Planet Hollywood
Check out the full Citywalk and Disney Springs directory of entertainment offerings.