10 Fun Date Ideas in Greenville, SC
Greenville, located in the heart of Upstate SC, has been making headlines in recent years. The thriving city continues to win awards for its' lively Main Street, diverse foodie scene, and proximity to natural attractions. Despite South Carolina's recent ranking as one of the loneliest states to spend Valentine's day, Greenville has been rated one of the most romantic weekend destinations in the US, as well as one of the most charming destinations in the South.
The tree-lined downtown, serene Reedy River Falls, quaint restaurants and boutique shops, and abundance of scenic hikes nearby make Greenville a nice budget friendly romantic getaway choice for couples seeking a low-key weekend destination. Whether you are looking to celebrate a special occasion at a nice restaurant, spend quality time in the mountains, or simply spend a relaxing weekend together, Greenville has you covered.
Here are 10 fun Greenville date ideas!
For nature lovers – Take a quiet stroll around Falls Park
The highlight of a visit to Greenville is taking a stroll around the serene 32 acre Falls Park on the Reedy, the shining centerpiece of downtown. This peaceful park is considered the natural oasis in one of the fastest growing cities in the country. Featuring a waterfall, tree-lined nature paths, and tranquil views of the river, it's the perfect place for a romantic stroll.
Get up early in the morning (before everyone else does!) and enjoy this peaceful park all to yourself. If you need a caffeine boost, swing by Spill the Beans for a delicious house coffee or cocoa. If you have the extra time, take a break and enjoy your coffee on-site, where you can grab a window seat and enjoy serene views of the falls. They also serve excellent gelato!
Take a walk across Liberty Bridge for a photo worthy view of the waterfall, and then follow up with a quiet stroll along the Reedy River at Falls Park. Hands down, a walk around Falls Park, is the best morning date in Greenville.
How to get here: Falls Park is located at 601 S. Main St. Plenty of free 2 hour parking is available along Main St.
For coffee lovers – cozy up with a delicious mug of coffee at Methodical
For those who need to start the day off with a great cup of coffee, Greenville has you covered with numerous independent coffee shops lining Main St. If you insist on high quality coffee, as well as a nice ambiance, you will want to skip the common chains in favor of one of Greenville's many local coffeehouses.
Methodical is the best coffeehouse for a date for several reasons. First off, they serve their drinks in gorgeous Blue Willow china. Second, the attractive 2 story layout with big windows overlooking the downtown creates an elegant ambiance not found at other area coffee shops. And finally, the quaint outdoor patio is perfect for casual sipping and people watching during the warmer months.
And, as for the quality of the coffee, Methodical has been voted as one of the best roasters in the US. Their single origin coffees are so smooth, their pour over is the best in town, and they offer Siphon coffee, a brewing method which produces the smoothest, most flavorful cup of joe. Best mocha in town too! Oh, and their hot cocoa is also the best in town!
How to get here: Methodical is located at 101 N. Main Street. Again, free 2 hr parking is available along Main St.
For the art lovers – Explore the largest collection of watercolors at the Greenville County Museum of Art
Any art lovers visiting Greenville will want to add a trip to the GCMA to their to-do list. This small museum is home to the largest collection of watercolors by acclaimed artist Andrew Wyeth. Additionally, a large collection by renowned American artist Jasper Johns is also featured. Special exhibits vary throughout the year. Recently, the museum featured works from noted artist Roland Poska.
Strolling around this quiet museum is the perfect date idea for any couple seeking a low-key activity away from all the crowds. The museum is never crowded and it's free so you don't have to spend a dime. Although I do recommend pairing a visit to the museum with a nice lunch. Greektown Grille and Pomegranate on Main are 2 excellent choices.
How to get here: The museum is located at 420 College Street. Parking is pretty cheap, and should only cost a buck or 2, depending on the length of your visit.
For a romantic brunch – Enjoy a quiet meal at Passerelle Bistro
Greenville prides itself on its' growing restaurant scene, with more than 100 unique restaurants lining Main Street. If you are seeking a romantic breakfast destination, you will find several nice choices. While most tourists head to the more trendy grab and go style places (Biscuit Head, Sully's Steamers), you can skip the crowds in favor of a more laid-back full dining experience at Passerelle Bistro.
Passerelle is a quiet French cafe with a pretty patio overlooking the waterfall. This local gem specializes in French fare, and offers a quiet, refined ambiance not found at most of the more popular places in town. This place tends to stay a bit off-the-radar, thus providing the ideal tranquil ambiance for a date. The brunch menu is delicious and way more affordable.
Passerelle features a romantic setting, an excellent brunch menu, and a beautiful view of the falls. Don't leave without treating your date to the dessert sampler!
Soby's – romantic & delicious!
If you are up for shelling out a few bucks, Soby's offers a wonderful Sunday brunch buffet. The ambiance is really nice, the service is great, and the food is wonderful. For under 20 bucks, you get to enjoy a made-to-order omelet bar, numerous breakfast dishes and sides, several lunch offerings, and the most delicious dessert assortment in town. The presentation is elegant and the service refined, so really the perfect setting for a Sunday morning date!
Romantic Lunch destinations
For lunch, check out Handi Indian or Pomegranate on Main. Both of these restaurants are elegantly decorated, are rarely ever crowded, and most importantly, they both serve delicious food! Update: Handi unfortunately closed. Jianna (Italian) and Larkin's (American) are 2 popular tourist options.
Handi – A tasty all-you-can-eat lunch buffet, plus a gorgeous setting!
Pomegranate – Tasty kabobs, fantastic service, plus a romantic outdoor dining area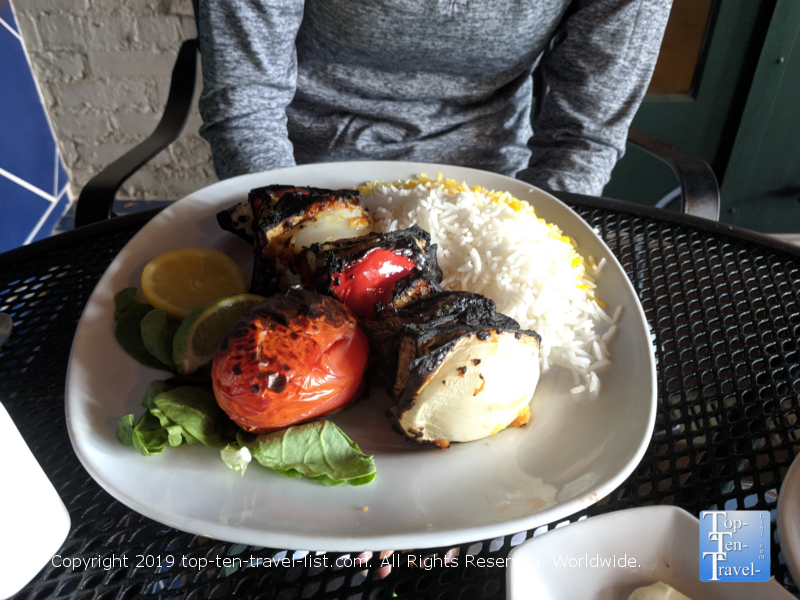 How to get here: Passerelle is located at Falls Park (601 S. Main St.). Handi is located at 18 N. Main St. Soby's is located at 207 S. Pomegranate is located at 618 S. Main St. Free 2 hr parking is usually easily found in the early morning hours.
For the winter enthusiasts – Skate under the twinkly lights of Main St.
Any winter enthusiasts visiting Greenville over the Christmas season will definitely want to plan for an ice skating date. Ice on Main, the most popular winter tradition in the Upstate, comes to Main Street in November and stays busy until closing at the end of January.
With holiday tunes and twinkling lights in the background, ice skating is the perfect romantic winter date idea. What's better than enjoying some quality time with your significant other while also enjoying one of the best calorie boosting workouts? If you get lucky, you may even get to see a little snow. Greenville averages a few inches each year. A few pics from a rare early December snowstorm.
If you need a snack after burning all those calories, take a stroll over to Kilwins for a chocolate dipped treat or Old Europe (further walk) for a slice of decadent cheesecake or macaron. And of course, nothing quite goes with ice skating than a rich cup of hot chocolate. Methodical serves the best in town.
How to get here: Ice on Main is located at: 206 S. Main St. Methodical is located at 101 N. Main (a short walk).
For the athletic couple – Take a ride along the Swamp Rabbit trail
For those who prefer to burn calories together, the Swamp Rabbit trail is for you. This 22 mile multi purpose trail runs through Greenville and a portion of the nearby small town of Travelers Rest. Unfortunately, many portions of the trail are frequently under construction, however, it's still the best recreational option for fitness buffs visiting the city.
My favorite portion of this path starts right behind the popular Swamp Rabbit Cafe. This local coop/bakery/coffeehouse is a real treat for coffee and pastry lovers. They make all their treats on-site using local ingredients. Their coffee (Counter Culture – Durham, NC) is excellent too. Treat yourself to a chocolate croissant, blueberry slab pie, or vegan donut – don't worry you will quickly burn all those calories off during your bike ride!
Whether you are into biking, jogging, walking, or rollerblading, the Swamp Rabbit trail is the must-do for fitness buffs who must get in a great workout, even on vacation! As the popular saying goes, "The couples who sweat together, stay together!" Another nice section of the trail begins at Lake Conestee Nature Park – this is the quietest, most serene, & shadiest section of the path.
How to get here: The Lake Conestee section of the path is located at: 601 Fork Shoals Rd. Free parking. The Swamp Rabbit Cafe is located at 205 Cedar Lane Rd.
For the adventurous – Explore the great outdoors at Paris Mountain State Park
What better way to connect than by spending the day hiking, kayaking, or picknicking in a peaceful natural setting? At Paris Mountain State Park, you will find a variety of nature trails, most moderate in intensity, along with a small waterfall, picnicking facilities, and beautiful views of Lake Placid. Kayak and canoe rentals are available if you feel like taking your workout to the water.
For an easy nature stroll, I recommend the 0.75 mile Lake Placid loop. If you are seeking something a bit more challenging, consider the Sulphur Springs loop (3.6 miles). As one of the closest hiking areas to the city, Paris Mountain is a convenient quick nature escape for those who desire to leave the city congestion behind for a bit.
How to get here: Paris Mountain State Park is located at: 2401 State Park Rd. Admission is 6 bucks per person.
For the romantic – Enjoy a quiet stroll down Main Street
Charming Main Street in downtown Greenville is definitely the best place in town for a nice date. The tree-lined streets, al fresco dining, and a beautiful central park make it a great place to spend the day. Whether grabbing a coffee, browsing boutique shops, checking out an art gallery, or even seeing a show (check the schedule at the Peace Center), there is always something to do downtown.
Numerous events are on the lineup all year long, from Artisphere in February, to the TD Saturday Farmer's market from May-October, to special holiday themed festivals throughout the year.
Check the Visit Greenville event calendar for a list of upcoming festivals.
Consider stopping for a romantic lunch or dinner. Romantic dining choices include: Larkin's on the River, Giovanni's Italian, Soby's, Passerelle, Bonjour Main, or Jianna.
Or, you may want to consider strolling over to the quieter West End section of Main Street. This area is a bit more low-key with less tourists. Here you will find a quaint tea shop called Crafty Cats. If you love cats and tea, this is the place for you. The decor is beautiful and the tea is excellent (do try the beautiful Blooming Tea pictured below). Coffee, beer, and snacks also available.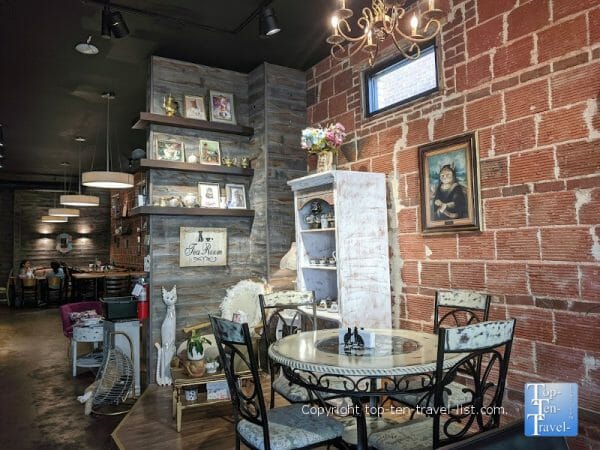 For the sports fans – see a game at Fluor Field
Baseball fans will want to book tickets to see the Greenville Drive, a class A affiliate of the Boston Red Sox. Games start at just 5 bucks, so this is a great budget friendly date idea. Even better, right across the street is the Shoeless Joe Jackson Museum. Shoeless Joe, known for the Chicago Black Sox scandal, actually grew up in Greenville, and thus, his house has been turned into a memorabilia museum.
Start with a browse around the Shoeless Joe Jackson Museum, enjoy lunch at a nearby restaurant (Liberty Tap Room is a popular brewery within walking distance), and then cap your day off with a game at Fluor Field – the perfect Greenville date for sports fans! Also, a visit to the Shoeless Joe Jackson Memorial Park (the site where Joe once played in the city's textile leagues) is another must visit for fans.
How to get here: The museum is located at 356 Field Street, with Fluor Field right across the St. Museum parking and admission is free! The memorial park baseball field is located at 406 West Ave.
Greenville Drive schedule and tickets
For dessert lovers – Treat yourself to a pastry & espresso at Old Europe
Asheville's oldest and most popular coffeeshop has now opened a second location on Greenville's trendy Main Street. After strolling around the shops for a bit, you will probably be more than ready for a break from the crowds. As Old Europe is located on the quieter West End of downtown, it remains a bit off-the-radar. Thus, it is the perfect place for an afternoon coffee date.
Old Europe offers a full espresso menu, plus the most enticing selection of pastries. Whether you are craving a savory slice of quiche, a decadent slice of cheesecake, or a traditional French macaron, they have just about every tempting treat you can imagine available. Really, It's hard to settle on just one!
Let me recommend the Veggie Quiche, the chocolate croissant, and the banana bread for starters! Order an espresso to go along with your treat, grab a window seat…and Voila! you have the perfect little cheap date!
Other popular dessert destinations on Main St. include:
Spill the Beans – Cute coffeeshop by Falls Park which also serves gelato.
Kilwin's – Serves delicious ice cream, hand dipped chocoaltes, and fudge.
Marble Slab Creamery – Known for their extravagant "Majestic Shakes"
How to get here: Old Europe is located at: 716 S. Main St.