Top 5 Christmas Events in Greenville, SC
Winter in the Upstate South Carolina region is a more relaxed, enjoyable time of the year with cooler, drier weather, fewer crowds, and a diverse lineup of festive Christmas events. While the forecast will likely call for no snow (although rare snowstorms are possible), there is still enough of a chill in the air to to make it "feel like" the holiday season. So, bundle up, grab a hot cocoa, and enjoy the sights of the season.
While the area does not offer much in the way of grand light displays, there are a number of seasonal events, a real ice rink, and even a few holiday shows on the lineup. Additionally, the close proximity to the Blue Ridge mountains and lack of crowds this time of year means it's the perfect time of the year to enjoy the great outdoors (there are dozens of beautiful waterfalls within a 1-2 hour drive). Seeing a frozen waterfall is quite a unique experience!
Below are the 5 most festive Christmas events to check out during your December Greenville visit!
Ice on Main
The top event to check out during the holiday season is definitely Ice on Main. There is no activity that says Christmas quite like ice skating. Really, what Hallmark Christmas movie does not feature the trademark ice rink scene? Growing up in Chicago, I always visited beautiful Millennium Park at least once every holiday season.
While the South may not be known for winter recreation, you will have the opportunity to enjoy the traditional winter activity of ice skating in the city of Greenville, which is home to one of the only non-synthetic rinks in the state. Surrounded by Christmas trees with holiday music softly playing in the background, skating in downtown Greenville is the perfect holiday activity.
Note: be aware this rink gets really busy (unfortunately way too many people and skating aids are allowed at the same time), and thus, this ice rink is best visited during the week!
Location/Pricing info: The rink is located at: 206 S. Main. Rink admission is fairy cheap at just 8 bucks per child and $10 per adult. Enjoy discounted $5 skating on Tuesdays.
The Festival of Trees
The Festival of Trees is an annual celebration featuring dozens of themed Christmas trees. These beauties are displayed across 4 hotels in downtown Greenville. The Hyatt Regency hotel features the most elaborate display of the bunch with dozens of creatively designed trees lining the atrium of this beautiful property. This event runs the entire month of December, so be sure to check it out during your visit to Greenville.
As an added bonus, the Hyatt is home to an excellent local restaurant called Roost which features organic farm-to-table cuisine as well as a popular all-you-can-eat breakfast buffet. There is also a Starbucks on-site – what better way to enjoy dozens of decorated Christmas trees than with a tasty Peppermint Mocha in hand?
Location/Pricing info: The Hyatt is located at: 220 N. Main. The event is free. Free 2 hr parking is usually available along Main St.
Poinsettia Parade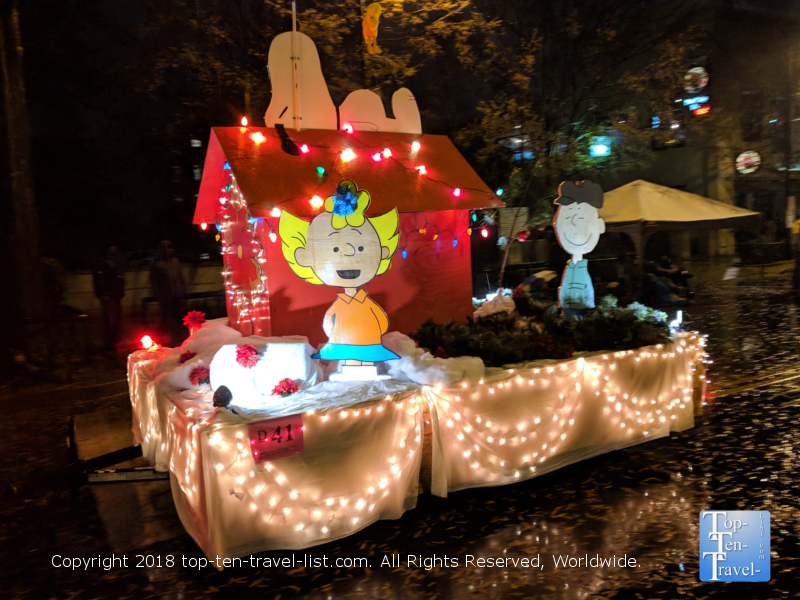 The Poinsettia Parade, now going strong for over 75 years, officially marks the start of the holiday season in Greenville. This high energy parade, featuring festive floats and spirited music, draws thousands of locals and visitors each December.
Scope out your spot on Main Street early to avoid the traffic and hassle of finding parking and get ready to be entertained by more than 90 festive floats! Make it a full night out by visiting one of Greenville's local restaurants beforehand (Tupelo Honey & Greektown Grill are all great choices!).
Location: The parade route runs along Main St
Night of Lights
Night of Lights is another local Greenville holiday tradition to look into. A new event for 2018, which featured the lighting of the city Christmas tree, live entertainment, and several food trucks, is sure to be on the lineup in upcoming years based on the huge crowd turn out. Along with the lighting of the grand tree, you can ice skate, browse art galleries, check out the shops, and treat yourself to a nice dinner.
Location/pricing info: Night of Lights takes place along the Main Street in downtown Greenville. The event is free to attend.
Poinsettia Postcards
From December 6th – January 5th, beautiful artistic postcards decorate Main St. These festive holiday themed postcards add a special holiday flair to the city. Each is designed by a local school or non profit. Locals and visitors alike can vote for their favorite.
After checking out all the gorgeous postcards, stop by Spill the Beans for a cup of coffee, tea, or a scoop of gelato. Coffee Underground also serves great coffee in a cozy big space. Methodical Coffee serves the best hot chocolate in town!
Special Holiday Events
TD Holiday Saturday market – The very popular TD Saturday Market, held on Main St. from May-October returns on December 10th for a special holiday market. From 9am-1pm, you can stroll around and find the perfect gift for or treat for anyone on your list.
Holiday Fair – The Greenville Holiday Fair is going 50 years strong. Shop for unique handmade arts and crafts at the Greenville Convention Center.
Swamp Rabbit Holiday Flea Market – A small holiday fair takes place every December at the popular Swamp Rabbit Cafe, a local cafe/coffeeshop/co-op store. They also host a holiday pie night on 2 separate occasions. Anyone with a sweet tooth will definitely want to plan a visit! Location: 205 Cedar Lane Rd.
Santa 5k – Each December, hundreds of Santas race down Main Street in downtown Greenville. This is a fun festive event, regardless of whether or not you are a seasoned runner – a great way to get into the holiday spirit while also getting in an invigorating workout. More info on the Santa Run.
Window decorating contest – Most of the local businesses lining the streets of downtown Greenville compete for the prize of best window display. You will see all sorts of creative displays as you stroll down Main Street. Location: Downtown Greenville.
Kringle Holiday Village – Fluor Field becomes a holiday winter wonderland with a European inspired holiday market. As most of these holiday villages are free in cities across the US, the $15 fee is quite steep. The event features entertainment and kid's activities. Not recommended for adults or couples, however, families may think it is worth the admission for the kiddie rides/attractions.
Free holiday movies – The Peace Center downtown offers a free screening of The Grinch on Dec. 2nd. Also NCG Cinemas in Spartanburg screens Elf, The Grinch, and The Polar Express for free on select December weekends.
Other fun things to do over the holidays in Greenville
See a show! There are a number of fantastic productions each season at various theaters throughout the region. Past productions included The Nutcracker at the Peace Center, It's a Wonderful Life at the Greenville Little Theater, and the Trans Siberian Orchestra at the Bon Secours Wellness Center. Check the Peace Center, Bon Secours and Center Stage websites for news on upcoming productions.
Shop for old-fashioned gifts at Mast General Store. Located in the heart of downtown, this nostalgic general store offers an old time candy counter, holiday decorations galore, and plenty of unique knick knacks for that hard to shop for person on your list. Location: 111 N. Main.
Breakfast at Stax's Omega Diner. Stax's Omega is one of the best breakfast choices in town. They also put up the most festive holiday decorations. You will not find more Christmas cheer at any other Upstate restaurant. The food here is excellent, service is always friendly, and the decor is delightfully over-the-top. Location: 72 Orchard Park.
Note: there are a number of drive-thru light shows. In my opinion, they are overpriced and overrated. Thus, an easy skip.
Fun in nearby Asheville
National Gingerbread Competition – Although this event is not actually located in the Upstate, it's worth a mention as it is definitely worthy of the hour drive to Asheville. A 25+ year old tradition, this amazing competition held at the ritzy Omni Park Grove features dozens of intricately decorated gingerbread houses.
The winning creations are displayed around the property and open to public viewing ($25 parking fee). While you are here, treat yourself to a wonderful breakfast at the Blue Ridge Artisanal Buffet, featuring all your favorite breakfast fare, along with breathtaking views of the Blue Ridge mountains. Location: 290 Macon Ave. Asheville, NC .
Also be sure to check out my list of holiday festivities in the Asheville region.