5 Hot CoffeeShops in Asheville, NC
Asheville is no longer a stranger to the tourism scene. Seasoned travelers are well aware of the trendy town which sits in the midst of the beautiful Blue Ridge mountains. Asides from a prime location, the bustling town is known for its' abundance of eclectic foodie establishments. Coffee lovers will be pleased to know that the city continues to make headlines for its' unique local coffee scene. No need to resort to bland Starbucks here as there are so many incredible independent coffee roasters to choose amongst.
Here are 5 of the best-of-the-best to add to your itinerary!
High Five Coffee
Best for: Relaxation and great scenery
High Five is one of the most popular coffeeshops in Asheville. Fortunately, they have 3 locations to pick amongst so no one location gets too busy. If you are up for leaving the trendy downtown, there is a really nice location about 10 minutes north of Asheville along the French Broad River. The serene setting definitely gives High Five in Woodfin the award for most relaxing place in the area for a coffee break.
On the downside, they only serve coffee in paper cups. Bring your own mug for a discount and proper coffee drinking experience! They have partnered with excellent North Carolina based roaster, Counter Culture. Enjoy a cup of house brewed drip or opt for a speciality drink. Come for the great coffee – linger about to enjoy the beautiful river views!
Old Europe
Best for: Amazing pastries
Old Europe is probably the busiest of the local coffeehouses. With a prime downtown location and an assortment of decadent treats, this really is no surprise. Although the coffee itself is not the best in town, the treats sure are worthy of the caloric splurge. From croissants, to cheesecakes, to savory quiche, you will find just about anything and everything to tempt you here. Of course, you really cannot go wrong with a classic macaroon.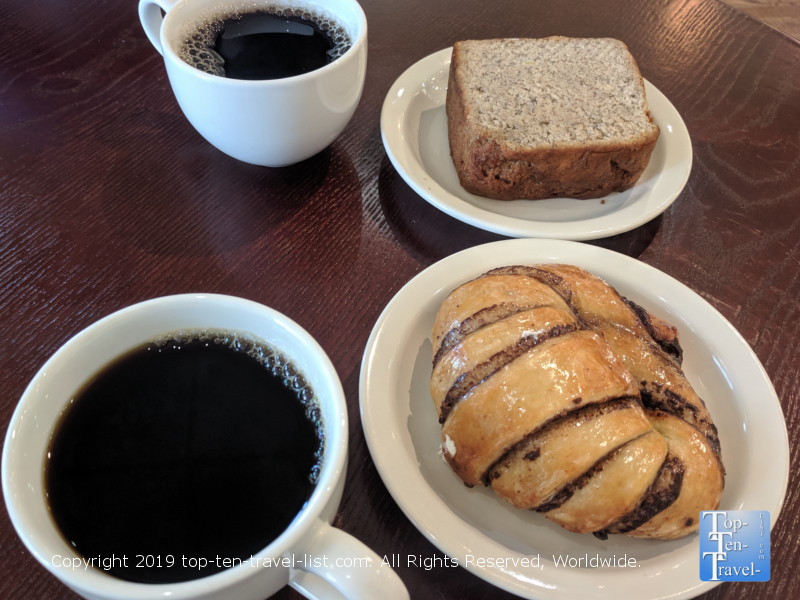 Old Europe is the best place in town for an espresso and pastry date, that is, as long as the crowds are not too extreme.
Izzy's Coffee Den
Best for: Top knotch coffee
Izzy's is by far the winner in terms of coffee quality. They serve beans from renowned roasters like Stumptown (NYC) and Counter Culture (Durham, NC). You can always expect a great cup of joe here. Plus, they make the best mocha and espresso based drinks in town. The Americano is always delicious. Izzy's now has 2 locations, with the most relaxing being a cozy house on Haywood Rd. If you are looking to read, relax, or simply enjoy a cup of coffee in peace, this is definitely the preferred location.
Battery Park Book Exchange
Best for: Book lovers
Battery Park Book Exchange is an eclectic bookstore/coffee shop/champagne bar located within the ritzy Grove Arcade shopping complex. The space is filled with rooms of interesting books – you could literally browse here for hours. Additionally, they serve champagne, wine, and coffee, plus a few light snacks.
The coffee is actually pretty decent considering their speciality is alcohol based drinks. However, the real reason to consider a visit to Battery Park is to enjoy the gorgeous decor and bustling vibe. And, the books! Really, there is no shortage for the book lovers out there. Really, any book lover needs to place a trip to Battery park high on their list.
Double D's Coffee Roasters
Best for: A most vibrant, eclectic atmosphere
Double D's is by far the most interesting place to get coffee. You cannot miss this most unique coffeeshop, as the business operates inside a double decker bus right in the middle of all the action on Main Street. While sipping on our perfectly made drinks, we overheard a customer say "I feel like I am in Harry Potter." Today, most of the eclectic establishments which put Asheville on the map are starting to fade away. This makes a visit to Double D's even more appealing.
The house coffee is excellent and organic. All your typical espresso based drinks, plus smoothies, milkshakes, and a few specialty drinks based on the season (try the Apple Cider chai!) can be enjoyed. Signature drinks include a Peppermint Bark mocha, a Creme Brulee latte, and a Lavender Honey latte. Basically, there are tons of interesting choices here for coffee lovers as well as anyone else looking to simply enjoy the weird vbe. Also, don't feel bad treating yourself to a slice of cheesecake or a sundae on a hot summer day!