10 Fun Things to do at Disney Springs
Disney Springs is one of the many great entertainment destinations in Orlando. Being located just a 10-15 min drive from the Walt Disney World theme parks makes it a top choice for post park fun. Additionally, if staying at a WDW resort, you receive complimentary transport.  Even if you are planning an Orlando trip without visiting a theme park, Disney Springs is still a fun place to add to your itinerary. At Disney Springs, you will find a little bit of everything – eclectic theme restaurants, shops, shows, and even occasional live entertainment.
Here are 10 fun activities you will want to check out at Disney Springs!
1. Dinner at Raglan Road
Raglan Road is a fantastic Irish pub in Orlando. It's not too often that you come across an authentic Irish pub in Florida. Raglan Road offers an incredibly beautiful setting consisting of beautiful mahogany woods and stained glass which were built entirely in Ireland.
The menu includes Irish favorites like Shepherd's Pie, Fish and Chips, and a Guinness Beef stew to name a few.  The addition of gluten-free and vegan options makes the restaurant accessible to almost anyone. The kitchen staff is well informed of allergens and will customize almost any meal to meet your preferences. They have a dedicated fryer for gluten-free goods so you can order your fish and chips, french fries, onion rings, and fried scallops! And vegan Shepherd's pie – what a find!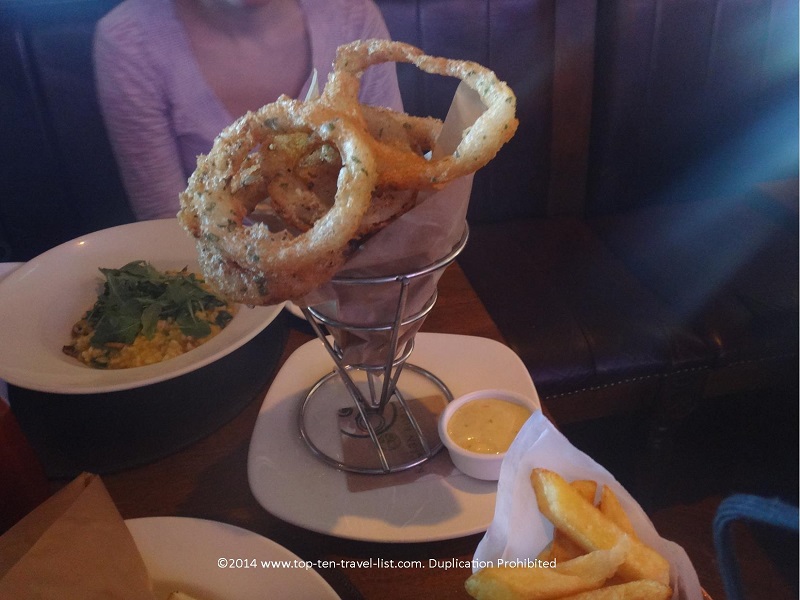 Aside from the wonderful decor and food, Raglan Road offers a full lineup of Irish bands and Irish stepdancing performers. Monday-Saturdays live step dancing performances occur every hour between the hours of 5 and 10. Overall, Raglan Road is just a fantastic time: it's St. Patrick's day every day at Orlando's best Irish pub!
2. Take a scenic ride on Characters in Flight
For the best views of Disney Springs, book a ride on Characters in Flight. This Disney themed hot air balloon ride takes guests 400 feet above the grounds. It's quite affordable and fun for the whole family and a good way to kill some extra time in between meals/activities. The ride itself is pretty short (about 10 minutes), however, the pricing is pretty affordable ($25 for adults, $20 or kids) considering the fantastic 360 degree views. Update: The attraction has been renamed Aerophile.
3. Shop for holiday decor at Days of Disney
Those who love year-round Christmas shops will have a ball in Downtown Disney's Days of Christmas. Here you will find many unique Disney themed ornaments, decor, and collectibles for yourself or anyone on your holiday gift list.
4. Bowl at Splitsville Luxury Lanes
Sure the bowling at Orlando's luxury retro themed bowling alley is expensive, however, you are on vacation and everything in Orlando is overpriced. Bowling is a fun activity for the whole family and this alley is conveniently located right in Disney Springs. One of the highlights here is an extensive menu featuring upscale offerings (including gluten-free options) and nightly live entertainment. Pricing varies based on day of the week/number of people in your party. A great early bird special (open-12:30) includes unlimited bowling: if you happen to have any free time one morning be take advantage of this fantastic deal!