A Winter Wonderland: Snow Blankets Sedona's Stunning Red Rocks
One of the rarest and most spectacular sights out West is seeing Sedona's towering red rock formations topped with a fresh layer of snow. While these million plus year old rocks are an incredible sight to behold year-round, the views right after a winter storm really are striking. Because the snow melts fast in this high desert region of North Central Arizona, you really need to time your visit perfectly in order to enjoy the unusually beautiful winter landscapes. As an added bonus, there tends to be less people out (with the exception of mega crowded holiday periods), so you can enjoy this non traditional beauty all to yourself.
How often does it snow in Sedona?
While Sedona occasionally sees snow, it never stays around long due to the intense winter sunshine. Temps can get really cold at night (often reaching the 30's), however, it typically warms up to the 50-60 range by day. This year, Sedona received a rare Christmas Eve snowstorm that brought in 3-4 inches of snow! To see this amazing red rock desert blanketed with snow on Christmas morning truly was a spectacular sight for locals and any lucky tourists visiting the area. A White Christmas in Sedona is extremely rare, so consider yourself lucky if you happened to catch a glimpse of this rare desert treat.
I was able to capture a few amazing winter photos on December 26th, although a day earlier would have been ideal. Although the snow was starting to disappear, I was still able to capture a few remains of the beautiful storm that took the area by surprise. Below are a few of the hotspots that look particularly fantastic in the snow!
Oak Creek Canyon drive
A drive along picturesque Oak Creek Canyon is a must anytime of the year, however, after a winter storm the setting is even more spectacular! If you start out on this drive from Flagstaff, you will get to witness a drastic change in winter scenery. The drive begins by takings you through snowy pines at high altitude (7000 ft), and eventually switches over to the more mesmerizing & unusual sight of snow dusting the red rocks near the end of the drive when the elevation drops near 4000 feet.
Along the way, we passed gorgeous flowing creeks surrounded by snow, drove through canopies of snowy trees, and eventually were surrounded by the towering red rocks blanketed with snow. Stopping for a winter walk along the West Fork trail, treating yourself to a wonderful espresso and breakfast at Indian Gardens, and filling up your water bottle with the best natural spring water (near Mile marker 387) are all musts anytime of the year.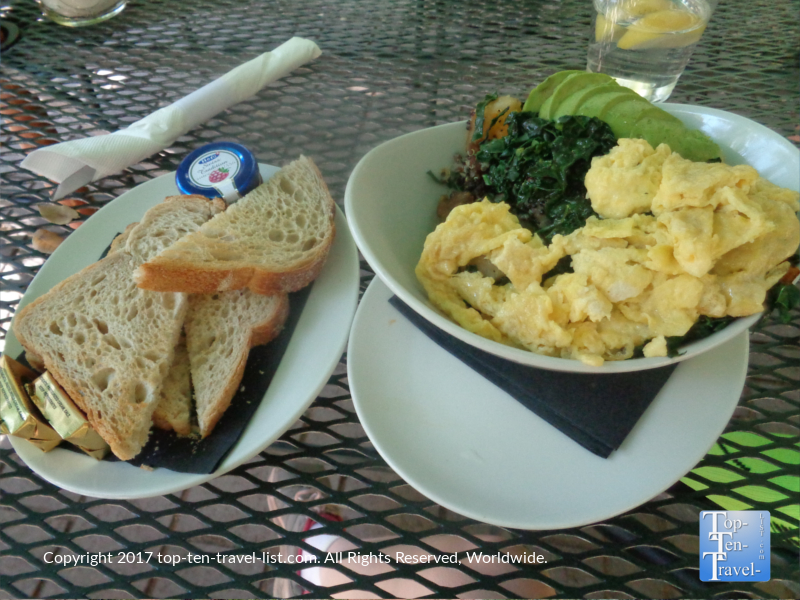 The West Fork Trail
The West Fork trail is one of Sedona's most scenic trails and this is no secret. West Fork is the most popular trail in the Coconino National Forest and visitors flood the trail & congest the roads each summer and fall. This is no surprise as the plentiful shade and fun creek crossings make it a prime summer destination. Fall is even more crowded as the trail sees the area's most diverse fall colors (resembling a New England style trail).
Winter offers a drastically different setting with barely any crowds and a rare glimpse of the gorgeous red rocks and creeks in a totally different setting. It's a magical winter wonderland type feeling that you will not experience anywhere else in the area. The contrast between the red rocks and snow is unbelievable. Be aware that the first creek is often much too high to cross, and you will need to turn around at this point (save the full hike for the spring). Regardless of much of the hike being off limits, the short trek is nevertheless worth it for the awesome photo opps and quiet winter wonderland experience.
Check out a few pictures from my winter walk!
Midgley Bridge
Midgley Bridge is one of the last stops on Oak Creek Drive before entering Sedona. Because of its' intense beauty, as well as being a starting point for several popular trails (the Huckaby and Jim Thompson), the small parking lot tends to get really crammed even during the off season. If you can find a spot, Midgley is an amazing place to take some winter photography. The bridge itself is quite a sight, and thus, is one of the area's most photographed wonders.
But the real reason this stop is so popular is due to the gorgeous red rock vistas, which are amongst the best in town, and even more stunning after a winter storm. If you walk down a bit on either the Jim Thompson or Huckaby trail, you will be able to capture the rare sight of a prickly pear cactus buried in snow! Either of these trails are prime photography destinations with just a simple little winter walk is all that is needed to capture the beauty, although a full hike is recommended in the more desirable fall and spring months.
Uptown Sedona
Oak Creek Canyon drive eventually leads you into the Uptown Sedona area. This cute touristy section of town is home to a bunch of shops selling cute cacti & Southwestern themed novelties, touristy Mexican & American restaurants, & a an overlook area featuring stunning panoramas of the red rocks. Uptown Sedona is one of the rarest places to see snow as there is not much shade, and thus, the snow really begins to melt the second the sun comes out. Regardless of whether or not the snow sticks, it's a fun place for first time visitors to shop, dine, & enjoy more of the fabulous red rock views.
Flagstaff
While Sedona is quite a sight after a snowstorm, neighboring Flagstaff (just a quick 30 min drive away) sees much heavier snow each winter & also offers much more in the way of winter recreation.  The city ranks amongst the snowiest in the US with over 100 inches per year. Opportunities for winter recreation are plentiful throughout the town. A few winter play areas to check out include the state's most popular ski resort, (Arizona Snowbowl), the Flagstaff Nordic Center, and Wing Mountain & Fort Tuthill Snowplay/sledding areas.
Additionally sleigh rides are offered in the Coconino National Forest by Hitchin' Post Stables and a busy indoor ice rink allows you to enjoy one of the most fun & calorie blasting winter past times. And for more budget friendly winter recreation, take a winter walk or get your snowshoes out and explore the various forest and park trails. Check out my post on winter fun in Flagstaff for more ideas.