5 Coffee Shops to Check Out in Philadelphia's Historic District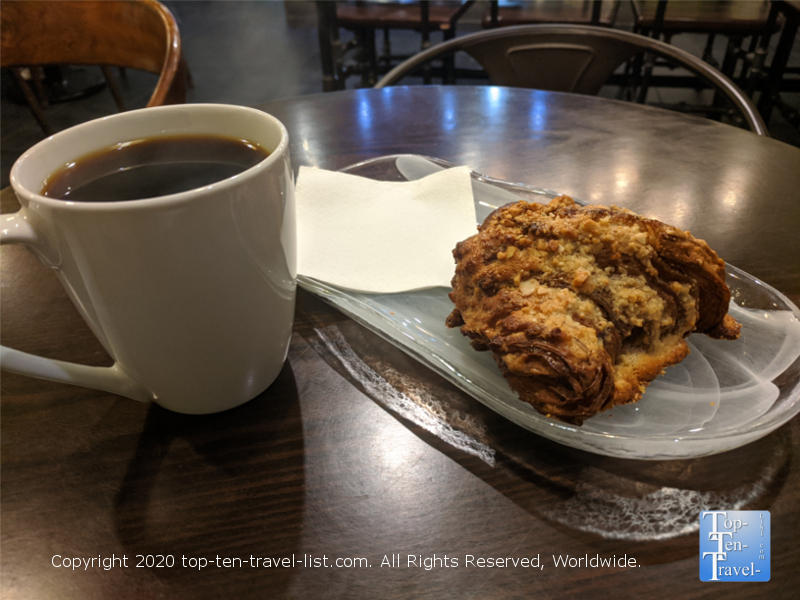 On your first trip to Philly, your must-do list will likely include visiting Independence Hall, the Liberty Bell, along with all of the renowned historical museums. Fortunately, most of these attractions are clustered about in a central historic neighborhood called Old City, aka "The Birthplace of America." If you are out and about in the early morning hours exploring (a good ideas as traffic builds up as the day goes on!), you will probably be seeking a good cup of coffee.
Local coffeeshops typically offer higher quality coffee/espresso, as well as a more unique ambiance and better service than your common chain. Also, a light breakfast at a coffeehouse is often much more affordable than a full meal at a sit down restaurant. And most importantly, because the service is quick, you can save some valuable time for exploring the city's rich history!
Below are 5 fantastic coffeeshops conveniently located within walking distance of Old City's best historical sites. Sit back and enjoy a fresh pastry and a handcrafted drink before you start racking up all those miles!
1. La Colombe
Location: 100 S. Independence Mall
Nearby attractions: Liberty Bell, Independence Hall, The President's House, Second Bank Portrait Gallery
La Colombe is the most well-known coffee roaster in Philly. In 2014, La Colombe opened its' original roastery back in Center City's trendy Rittenhouse Square neighborhood, and now operates in 7 cities. One of the best locations (opened in 2015) is just a 1 minute walk from Liberty Bell. This place is always busting with people. If you visit during the spring/summer season, be sure to take a seat on the gorgeous patio.
La Colombe serves delicious artisan coffee, espresso drinks, and hot cocoa. The presentation in custom made mugs is such a nice touch. For an upscale coffeehouse experience, La Colombe is your best choice. The homemade pastries are fresh and enticing each morning. It's hard to walk out without treating yourself to something from the tantalizing display case. Treat yourself to a fresh moist blueberry muffin or flaky chocolate croissant.
2. ICI Macarons
Location: 230 Arch Street
Nearby attractions: Elfreth's Alley, Christ Church Burial Ground, National Constitution Center
ICI is one of the hidden gems of Philly's bustling coffee scene. This coffeeshop is sort of tucked away on a quiet side street. Thus, it is the perfect relaxing choice if you are seeking peace and quiet. Finding a low key place to enjoy your morning coffee really is not a bad idea considering all the crowds, traffic, and congestion you will be dealing with later on in the day.
In addition to the laid-back ambiance, ICI offers quality coffee & tasty treats. The highlight is a tempting assortment of homemade macarons. Just about every flavor you can imagine, they have it. Start with an indulgent dark chocolate, an antioxidant packed green tea matcha, or a relaxing lemon/lavender flavor. If you need a little something more to fuel you through your morning, no problem! A selection of fresh pastries is there to tempt your sweet tooth. Try the peanut butter & jelly croissant for a creative modern twist on the old classic. So delicious!
As for their coffee, both the drip and espresso drinks are wonderful. Presentation here is fantastic and the service is always great.
3. Menagerie Coffee
Location: 18 S. 3rd Street
Nearby attractions: Benjamin Franklin Museum, Museum of the American Revolution, Science History Institute, National Liberty Museum
Menagerie is a great coffeehouse choice for anyone seeking more of a modern, minimalistic environment. The brick walls, large windows, and tree stump coffee tables definitely add a sleek, stylish touch not found at other nearby coffeeshops. If you arrive early enough in the morning, you can enjoy a prime people-watching window seat.
Menagerie offers a very casual, relaxed vibe, and thus, tends to attract both repeat locals and new tourists seeking a laid-back experience. Menagerie serves coffee from Dogwood, a renowned roaster in the Minnesota region which recently ranked as one of the nation's top roasters. Also, they offer a small selection of local eats and treats, so you do not need to stop elsewhere for breakfast.
4. Bodhi Coffee
Location: 410 S 2nd St
Nearby attractions: Headhouse Farmers Market, Hill-Physick House, Philadelphia Magic Gardens, Spruce Street Harbor Park, Riverrink, Society Hill
Bodhi is a wonderful coffeeshop located in the charming historical neighborhood of Society Hill. They serve the wonderful NYC based Stumptown Coffee as well as PT's, a Topeka based roaster which was ranked as one of the "Top 10 coffee roasters in the nation" by Thrillist. If you are seeking a quaint laid-back local hangout for coffee, Bodhi is definitely the recommended choice.
Located on a charming historical street surrounded by old architecture, you really feel immersed in the city's rich culture at Bodhi. Grab a window seat and enjoy admiring the pretty old buildings. This place is small and quiet – the perfect ambiance for a low key date. An abundance of pretty plants give the interior a nice natural zen-like vibe. Right across the street is a wonderful farmers market, so stop by for some fresh produce, bread, or bakery items before or after your visit!
5. Cafe Ole
Location: 147 N. 3rd Street
Nearby attractions: Elfreth's Alley, Fireman's Hall Museum, National Museum of American Jewish History, Numerous local art galleries
Cafe Ole is a cozy little local coffeehouse known for their delicious coffee and Mediterranean style food offerings. If you are looking for a great breakfast to go along with your coffee, Cafe Ole is the perfect choice. The house coffee here is delicious, amongst the best in Philadelphia, although I do wish they served coffee in mugs as opposed to paper cups.
The highlight of a visit to Cafe Ole is the wonderful breakfast fare. If you are seeking something simple and affordable, treat yourself to a bagel sandwich, priced at just 5 bucks. However, if you are seeking a filling comforting breakfast meal, you really need to try the Shakshuka. This traditional Middle Eastern breakfast dish consists of poached eggs simmered in a delicious seasoned tomato sauce. Try the Vegetarian version which includes hummus, spinach, mushrooms, and chickpeas. For those with a sweet tooth, they also serve crepes and French toast!