Persy's Place – New England's Largest Breakfast & Lunch Menu!
Persy's Place is a local family-style restaurant with locations across Southeast Massachusetts. They advertise their menu as being "New England's Largest Breakfast & Lunch Menu." I can see this being true! Compared to other restaurants in the area, the variety of menu items is astonishing! There are so many breakfast choices that it is a bit overwhelming to be honest. They even offer an all-you-cat-eat eggs or pancakes deal! In addition, daily specials are also offered.
The coziest place to dine
Persy's Place offers a warm, comfortable atmosphere. I love the wood decor and tables – it feels like you are dining in a log cabin. I love dining here in the winter months as the vibe is just so cozy. Regional souvenirs and unique games available for purchase. Each table has fun brain teasers games to keep you entertained while you wait for your food.
Best breakfast in SE Massachusetts!
We have been to several of the New England Persy's locations. This time we headed over to the Middleboro, Massachusetts location. Service was good, food came out fast, and prices were very reasonable. I ordered the New England Harvest Quiche, which was a delicious home cooked combination of zucchini, squash, and tomato made with egg whites. So delicious and filling! Most entrees are served with 2 sides of which you have your choice amongst 10 or so options. I went with the home-fries and Pumpernickel toast.
Mike ordered The "Dapper Dan" special, which consisted of 3 eggs, 2 buttermilk pancakes, and grilled Chicken Caesar. He also had this choice of 2 sides in which he opted for hash browns and a cinnamon crumpet. He enjoyed his meal as well.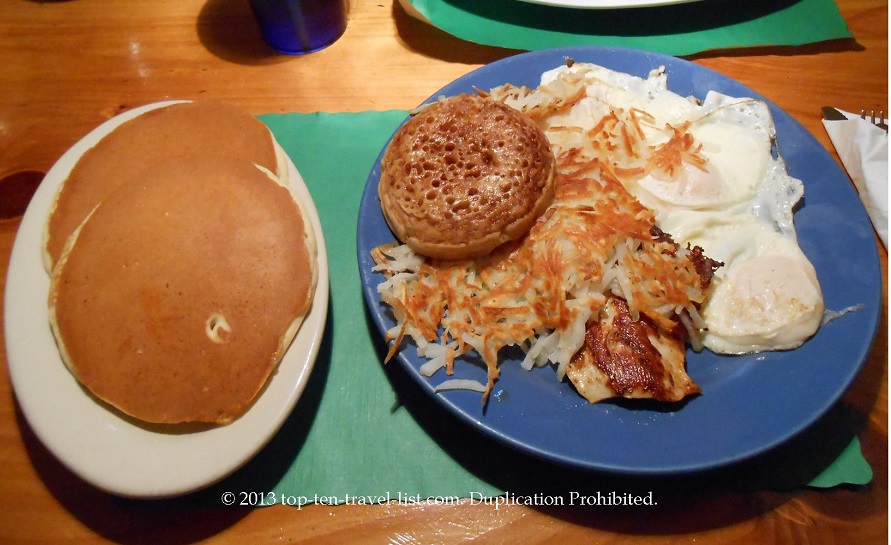 Persy's Place has plenty of options for everyone on their enormous menu. If you are looking for vegetarian, healthy, or special diet options you will find them all on this menu. Whole grain and egg white substitutions are available on many items. If you cannot find something on Persy's menu, good luck finding something anywhere else!
I definitely recommend Persy's Place for an enjoyable meal served in a friendly, cozy, woodsy atmosphere. Check out the breakfast and lunch menus!
Additional info
Persy's Place Middleboro
43 Bedford Street
Middleboro, MA
Hours: Open 7 days a week from 7:00am – 3:00pm

If you liked this post, then check out Corner Cafe – Newport, Rhode Island, A nature walk at Massasoit State Park, Dinner in Plymouth County, Massachusetts – The Cabin, and Mamma Mia's Italian – Carver, Massachusetts