Running with a View: 19 Fantastic Paths!
Minuteman Bikeway
Distance: 11 miles (22 miles round-trip)
Difficulty: Easy
Address & Parking: Although you can start at several points, the best place in in Bedford where you will find a large, free lot at 110 South Road. Bedford, MA 01730
One of the best places to run in Massachusetts lies 30 minutes north of Boston along the restored former railroad route  now known as the Minuteman Trail.
Massachusetts' Minuteman Man trail is one of the top rated rail trails in the country. Rail trails are former railroad routes that have been converted into public recreational paths. The Rails-to-Trails Conservancy included this path in its' Hall of Fame directory. This is no surprise as this popular path provides year round recreation for local commuters, daily exercisers, and adventurous tourists.
This gorgeous tree-lined 11 mile trail is perfect for slow, relaxing weekend runs. As you travel through the northern suburbs of Bedford, Lexington, Arlington, and Cambridge, you will enjoy both the peaceful sights of nature and areas of historical significance.
Fall is an amazing time to visit. As we all know, New England is the top place in the country for fall colors. Massachusetts is no exception, with the Boston area coming alive with colors starting in September. The Minuteman Trail is one of the best places in the Boston area for gorgeous fall foliage as it is lined with all different sorts of trees. A fall run is simply a must-do while visiting the area. What better setting than a gorgeous colorful path with crisp colors and a hint of scattered leaves amongst the trail?
Tip: There is an entrance to Trader Joe's about 4 miles into the path if you need to refuel (how convenient is that?!) This is a great place to get a snack, turn around, and finish 4 additional miles for a total of about 8 miles.
Marvin Braude Bike Trail
Distance: 22 miles (44 miles round-trip)
Difficulty: Medium
Address & Parking: You can start the trail at any of the beach towns, however, the best place to find free parking is near the starting point in Torrance, also one of the most scenic sections to run along. Check the signs and you should be able to park along the road. If no spaces are available, you will find a large beach parking lot with meters. If you decide to complete the Manhattan Beach portion of the trail, you can input 2 Manhattan Beach Blvd. Manhattan Beach, CA into your GPS and search for parking lots or meters near this pier address.
22 miles of sunshine filled views of sand, water, volleyball, and surf. As you run down this iconic Los Angeles trail, you will encounter other runners, bikers, and skaters all enjoying the beautiful California weather. This trail is perfect for year round use.
Whether you plan on completing 4 miles or 14, the views are sure to be spectacular. Along the way, you have the opportunity to see many famous LA area landmarks including: The Santa Monica Pier, Manhattan Beach Pier, and the Venice Beach boardwalk.
L.A.'s best path stretches from Torrance all the way down to Pacific Palisades. One of the most scenic portions of the path is the section through beautiful Manhattan Beach – it also happens to be one of the quietest portions with barely any traffic. This path is also conveniently separated into a separate cycling and 2.1 mile walking/running trail. Great for avoiding traffic jams! The Manhattan Beach portion is perfect for quick, scenic runs.
A beachfront path like no other. Surfers, volleyball players, cyclists, runners, piers, restaurants, and unending views of the Pacific Coast…a summer run doesn't get any better than this! When the top attraction in Los Angeles doubles as exercise, you know it's going to be a great time! A Southern California gem not to be missed!
The path is flat and well-maintained. It is relatively easy minus the heavy wind near the short Marina del Ray section.
Overall, the Marvin Braude Trail is a great way to get out and explore all the beach towns of Los Angeles while also getting in a fabulous workout. An A+: a beautiful treasure in Los Angeles.
Tip: Complete a run through each section of the trail (on different days of course!). There are so many sights to see, with each section offering its' own unique views and attractions.
Erie and Ohio Towpath Trail
Distance: 85 miles (170 miles round-trip)
Difficulty: Easy
Address & Parking: The Cuyahoga Valley section of the trail runs from Independence to Akron, Ohio. There are several trail-heads within the park. Parking at Trailhead 39 on Rockside Road in Indpendence, Ohio is a great place to start.
The Towpath Trail is a massive 85 mile long multi-purpose route which runs through 4 counties in Northeastern Ohio (Cuyahoga, Summit, Stark and Tuscarawas). It's the place to run in Ohio, whether you are training for a simple 5k or full marathon. This pleasant trail follows the canal and features great shade coverage.
Tree-lined views for the majority of the trail means that the fall season is particularly stunning. There are more than 48 trailheads to choose amongst. One of the most scenic sections of that path travels through Cuyahoga Valley National Park from Independence to Akron (20 miles of the trail cross through the park). Brandywine Falls is the most popular sight in the park and a great place to relax and take a recovery break.
If you are too tired to run the return route, you can always take a scenic ride aboard the Cuyahoga Valley train ride (Run Aboard! Program) for a special rate of only $3 (normally $9). You have the choice between the first train southbound or the last train northbound. So, plan how far your want to run in advance and be sure to take the train back for a relaxing, scenic recovery ride.
The trail is clean and well-marked and pretty desolate. The views are outstanding. There is no better place to train for a marathon in Ohio! Who knew Ohio had such pockets of beauty!
Tip: Plan your run in the Cuyahoga Valley section during the fall season. Then, take the train back at any one of the 6 stations for fabulous fall photography opportunities!
Huntington Beach Bicycle Path
Distance: 7.5 miles (15 miles round trip)
Difficulty: Medium
Address & Parking: The beach is located at: 21601 Pacific Coast Hwy, Huntington Beach, CA 92646. Free parking can be found along the side streets (check the signs) or in various paid parking lots.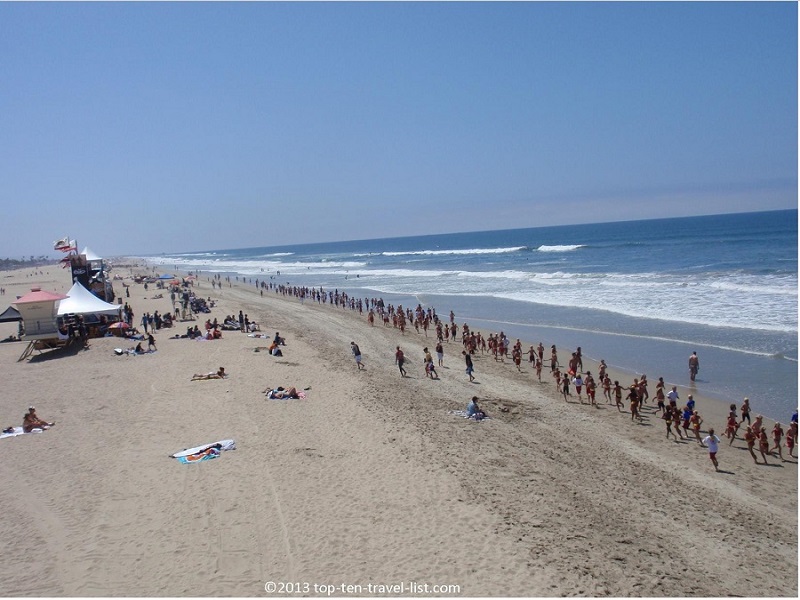 Southern California's number 2 beachfront path is Huntington Beach State Park's 7.5 mile oceanfront multi purpose path. A clean, wide trail that is sure to please all different types of athletes. You will see everyone out here – runners, walkers, roller-skaters, skateboarders, and cyclists.
Both short and long distance runners will appreciate the flat, paved course. The unending views of the Pacific Ocean make you anticipate your run, rather than dread it. It's hard not to want to get out there and join everyone else in the fun. How can you not appreciate the beautiful ocean views? The round trip distance is absolutely perfect for those training for marathons -not too long or short.
Huntington Beach is one of the most scenic and active beach communities in Orange County. As you are running, you are likely to see surfers, volleyball players, and live events taking place, especially during the prime summer months. You may be tempted to join in the fun after your run. Or better yet, take a well deserved break and relax at the beach for an hour or 2.
There are drinking fountains, snack shops, and restaurants along the way. There is no separate path for bikers and runners, however, this should not be a problem if you visit early in the mornings. The only downside to this path is the windy conditions. Be aware that this path tends to get quite windy, especially on the return route.
Huntington Beach is a great town with plenty of things to do before an after your run. You will have your choice amongst dozens of waterfront restaurants, plenty of shopping, and of course endless beach activities!
Tip: Weekends get crowded! Visit on a weekday morning for reduced traffic on the path.