Hiking Hotspot: 2 Great L.A. Hikes with Views of the Hollywood Sign
When thinking of Los Angeles, the first terms things most people think of include crowds, tourists, Hollywood, traffic, smog, and pollution. With a metro area population of over 12 million, things can get pretty hectic and crowded. However, if you venture into the mountains, you will find pockets of peaceful natural beauty, and if you visit during the right time you just may experience a little peace and quiet.
Because L.A. is surrounded by mountains, it is home to a number of great hiking opportunities. Two of the best tourist hikes within the city limits are the trails at Runyon Canyon and Griffith Observatory. Both of these hikes offer terrific views of the city, the iconic Hollywood sign, and the beautiful Griffith Observatory.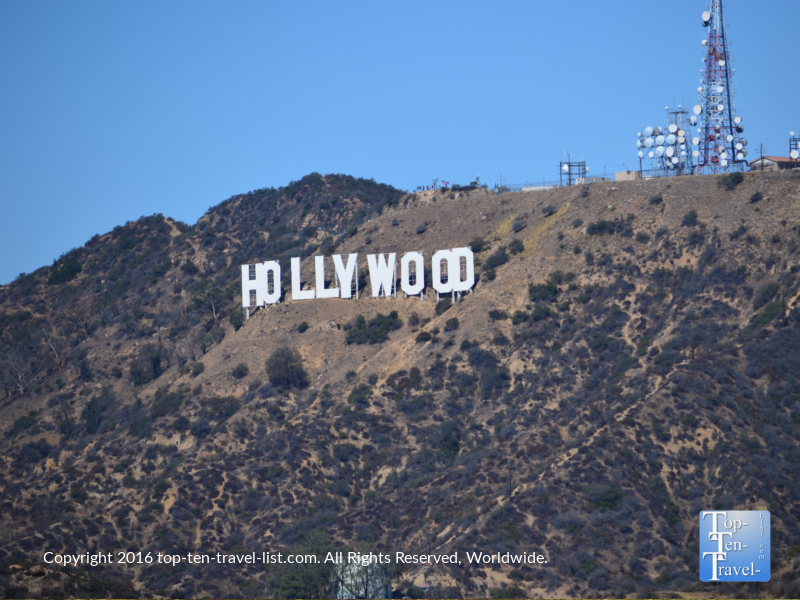 Runyon Canyon
Runyon Canyon is located right in the heart of Hollywood, just a few blocks away from Hollywood Blvd. Weekends are very busy, however, weekday mornings are quite calm. Runyon Canyon is known to be one of the top spots in the cities to spot a celebrity (other than a TV show taping). Shows such as "TMZ" have highlighted various celeb sightings over the years. That being said, if you want to avoid the tourists trying to celeb watch, it's best to avoid weekends!
Escape the crowded Hollywood attractions and visit the real attraction. A hike at Runyon Canyon is sure to be a more memorable experience than anything else you will see in Hollywood, which honestly is nothing special. This beautiful oasis provides a much needed refuge from the traffic and congestion of the city.
The main trail consists of a 3 mile loop with a few steep uphill climbs. Hiking this moderately intense trail will not only give you a fantastic all over body workout, but also the opportunity to enjoy prime viesws of the city, the Hollywood sign, and surrounding mansions!
Sometimes, we need to just stop and take a look around. Runyon Canyon shows us that all cities look beautiful from afar. Add in the beautiful mountain views and iconic landmarks like the Hollywood Sign and the Griffith Observatory, and you will see that this hike is jam packed with photo opportunities.
Visit on a weekday if you are looking for a serene, natural experience away from the crowds. The morning workday hours do not see many hikers. You may see a handful of walkers and a few joggers, but nothing like the hordes of tourists that come out full force on the weekends. Runyon Canyon is the perfect place to escape for an hour or 2. Take in the beautiful views around you, get in a fabulous workout, and take some great pics of the beautiful mountains.
Tip: Try out one of the free yoga classes, held several times daily. Check the Runyon Canyon Yoga Schedule to plan your visit.
Griffith Observatory
Another terrific, yet often overlooked hike in the L.A. area is the Griffith Observatory trail. Too many tourists and locals just head straight into the Observatory without a second glance at the trails. This is a shame because the trails here offer the best view of the Hollywood sign in the city. You will never get as up close a view as you will experience on the Griffith hike.
This is one of the best urban hikes with fantastic views all around.  The trail is short and moderately easy with spectacular views of the city and beautiful Observatory. The hike is much easier than Runyon and features better views of the Hollywood sign, so casual hikers just looking for views should probably choose this trail. On a clear day, you can see all the way down to the ocean. Bring your camera with for this hike! Beautiful panoramic views of L.A. await you at every angle.
And don't miss out on the wonderful L.A. skyline view from the deck of the observatory. Let's just say that the views are as good as it gets on a non smoggy day!
Tip: Visit before sunset for great night views of the city. Also, be sure to visit the Observatory itself which has wonderful exhibits and shows, a scenic observing deck, and public telescope viewings. Best of all, admission is free!
Tips for a smooth hike!
*Wear a hydration backpack. You are hiking in the dry desert and will need plenty of water. One water bottle, especially on a hilly hike like Runyon, just isn't enough.
*A GPS watch comes in handy for tracking your distance, pace, and total time. The Forerunner is my go-to multi purpose fitness watch which I use on every run, hike, and bike ride. It's waterproof, has a long battery life, finds the satellite easily, and hooks up to your computer so you can track your progress over time.
*Hike in the morning. The temperatures will be a bit cooler and there will be less foot traffic, meaning a more peaceful & enjoyable experience and better photo opps.
*Try to pick a clear day so you can enjoy the city views.
*A quality wooden hiking stick is always recommended, especially for uphill hikes like Runyon. Benefits of using hiking sticks include less stress on your joints, better traction especially when going downhill, extra balance when walking over rough ground, a better workout in your upper body, and extra protection in case of a wildlife encounter (bang and wave your stick to ward of mountain lions, etc.)
Address & Parking Information
Runyon Canyon is located at 2000 N. Fuller Ave. Los Angeles, CA 90046. Free parking is available on the side streets (just watch the signs).
Griffith Observatory is located at 2800 E Observatory Rd, Los Angeles, CA 90027. A free parking lot is available as well as side street parking.