Prescott, Arizona: "Everybody's Hometown"
Prescott is a small city in North Central Arizona, known for its' desirable mild 4 season climate, small town setting, Victorian architecture, and scenic natural surroundings.
With just 40,000 residents, Prescott feels much less congested than Phoenix, yet still offers many of the same amenities including great outdoor recreational activities, numerous golf courses, abundant entertainment & shopping, and plenty of local restaurants. Driving into the city you will find many chains lining I-69, however, if you venture into the downtown area and explore the surrounding trails and lakes, you will see that this small Southwestern city has much to offer both residents and tourists.
4 season fun!
Even though Prescott is just an hour and a half north of Phoenix, it sees 4 distinct seasons due to the high elevation (5200 feet). In Prescott, you can enjoy the changing seasons without too many extremes. Mild summers (mid to upper 80's on average compared to Phoenix's unbearable 100+ averages), a chance of snow each winter, and even a hint of fall foliage are the norm. Prescott is located within the country's largest ponderosa forest. This in terms means you can see plant life not found in the Southern portions of Arizona.
"Everybody's Hometown"
The city's slogan is "Everybody's Hometown," because almost everyone no matter where they grew up can find something here that reminds them of their hometown. The small town vibe is all around. Highlights here include a charming downtown area lined with historic buildings and many beautiful Victorian homes. This definitely sets it apart from the more suburban towns populating much of Arizona. Of course, Flagstaff and Sedona are also quite unique.
Charming Downtown Prescott
Downtown, the historic Yavapai County Courthouse stands out as an attractive centerpiece. The courthouse looks especially beautiful in December with a fabulous Christmas light display.
Also of historic interest is Whiskey Row, named as so for its' lineup of historic, western style saloons (once home to over 40). An abundance of local shops and restaurants line the streets of downtown Prescott. You could easily spend a few hours just strolling around. You will find many cowboy and country western themed shops. Prescott is known for its' laid-back cowboy culture. In fact, it is not unusual to see many residents dressed in full cowboy attire! Anyone who loves the Old West vibe should appreciate the culture of Prescott.
Must-do's while visiting Prescott
Take advantage of the numerous outdoor recreational opportunities
With beautiful mountain views, a mild 4 season climate, and access to 4 lakes, the small city offers the perfect setting for all types of outdoor fun. Miles and miles of trails can be found throughout the Prescott National Forest, which surrounds the city. Kayaking, mountain biking, hiking, boating, and fishing are just some of the fun outdoor sports you can enjoy during your time in Prescott.
Below are a few of my favorite recreational spots
Peavine National Recreational Trail
One of Arizona's few rail trails, the 5.5 mile out and back Peavine trail follows the former Santa Fe, Prescott, & Phoenix railway which was built back in 1893. You can choose to walk, bike, jog, or even horseback ride along the trail's easy, flat surface. Great views of both Watson Lake and the stunning Granite Dells rock formations will have you reaching for your camera the entire journey.
Thumb Butte Trail
Thumb Butte, a gorgeous short hike within the Prescott National Forest, is recommended if you are limited on time. This trail is conveniently located just minutes from town, offers a diverse range of scenery (from wooded ponderosa pines, to interesting desert plants, to beautiful mountain overlooks), and the chance to explore nature in a quiet, uninterrupted setting. The trek is about a mile uphill, followed by a mile downhill. The uphill trek is definitely a workout, although well worth the effort for the panoramic views of the city and mountains.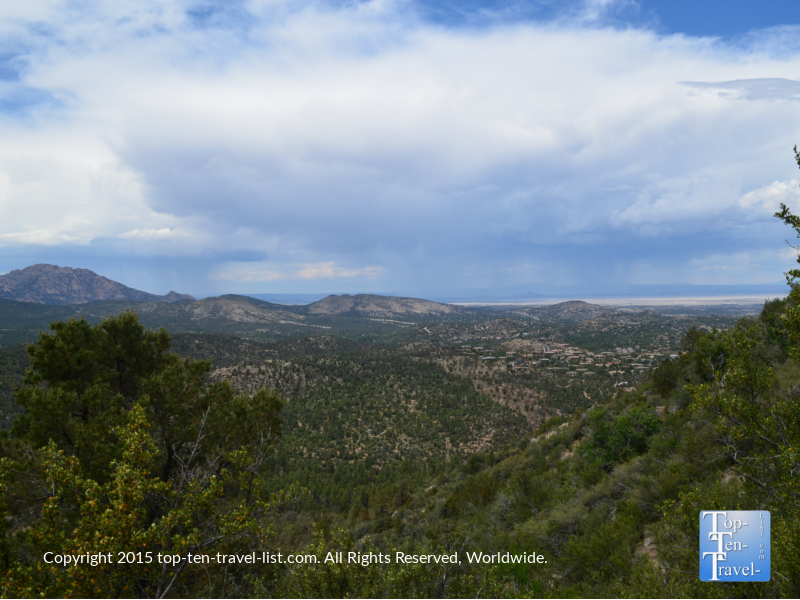 Constellation Trails
The Constellation Trails system, located near the Phillipe Museum, is a great place to enjoy a leisurely hike away from all the congestion. Great views of the rock formations here, along with an abundance of interesting plant life to enjoy along the way, make it one of the more scenic choices near town. A series of connecting loops combine for just over 2 miles of hiking – the perfect distance for relaxing weekend hiking.
Heritage Park Zoo
Heritage Park Zoo is a wonderful small non-profit wildlife sanctuary, which is very nicely landscaped, affordable (just ten bucks), and home to a surprisingly nice variety of animals despite its' small size including black bears, tigers, mountain lions, and leopards. You can easily walk around the entire zoo in about a half hour-45 minutes, making it a great place for a refreshing light morning walk.  Heritage hosts a variety of community events throughout the year including a fantastic holiday light display known as Wild Lights.
Local dining
There are many chains in Prescott, however, you can still find great local choices especially if you head downtown. Cuppers Coffeehouse on historic Cortez Street is a great choice. They have a lovely outdoor patio, great espresso drinks, and excellent homemade quiche. Wild Iris is another nice coffeehouse offering a shady outdoor garden patio, fantastic drinks, and tasty homemade pastries. Rosa's Pizzeria & Genovese's Italian are 2 great downtown choices for anyone seeking tasty homemade Italian cuisine in a nice setting.
Annual Events
Prescott puts on a number of annual events aimed at both locals and tourists. Some of the most popular include The World's Oldest Rodeo, The Jazz Summit, art walks, and various mountain biking/nature themed events. These are all great, however, the best time to plan your visit is during the month of December when the city offers a whole lineup of fun holiday events and attractions.
Arizona's Christmas City
Prescott is known as "Arizona's Christmas City" due to the abundance of seasonal events planned throughout the month. Highlights to add to your itinerary include: Zoo Lights at Heritage Park, the holidays lights parade downtown, a fantastic drive-thru light show at Fain Park, over a million beautifully arranged lights at Courthouse Square downtown, "The World's Largest Gingerbread Village" at the Prescott Resort, horse drawn carriage rides, and much more.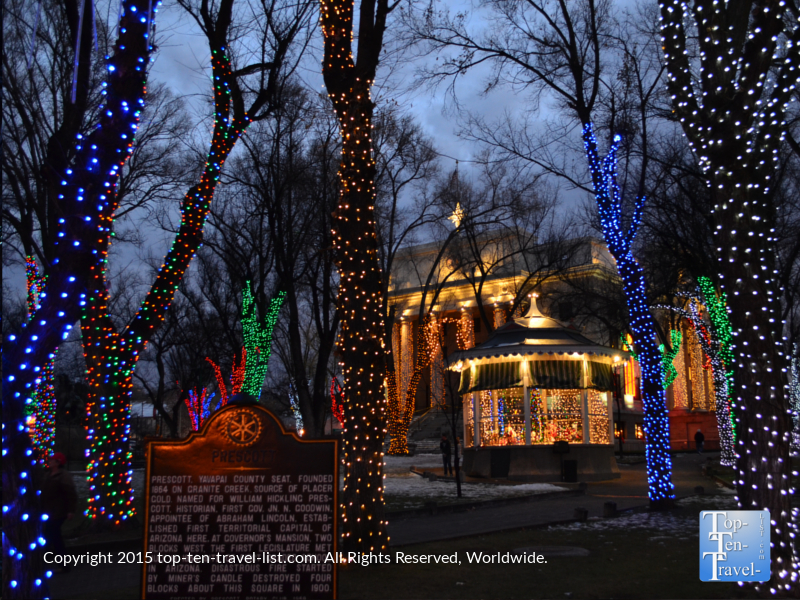 December is a great time to plan your trip to Prescott, especially if coming from warmer climates like Phoenix and Tucson. The chilly temperatures, historic architecture, holiday culture, and chance of snow, make it a great escape from the hot, routine atmosphere of other Southwestern cities.
As you can see, there is plenty of fun to be had in Prescott year-round. Offering a little something for everyone, from outdoor enthusiasts, to foodies, to those who enjoy unique cultural traditions, Prescott is a town everyone will feel at home in.