Hiking Sedona's Oak Creek Canyon: The Spectacular Cookstove Trail
In terms of hiking in Northern Arizona, it doesn't get much better than a day out exploring the beautiful scenery of Oak Creek Canyon, a unique area of Arizona home to dense green forests and towering multi-hue sandstone formations. A number of hiking trails are available to soak in the views of this incredible area, which happens to be the second most popular tourist attraction after the Grand Canyon.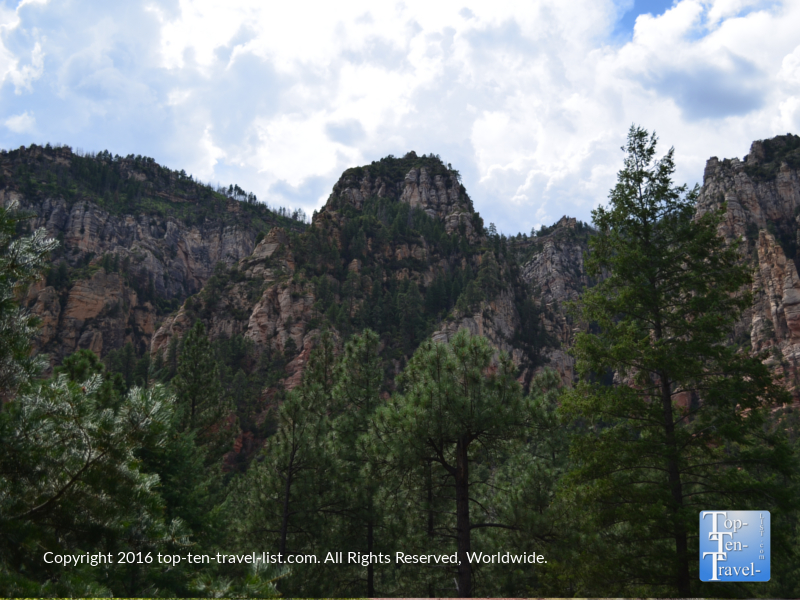 The gorgeous Cookstove Trail, a quiet, desolate, and short Oak Creek hiking trail, is a fantastic cardio workout offering fitness buffs some of the best views in the area. Although the 0.7 mile out-and-back trek will take no longer than an hour, it's quite a tough workout, especially in the hot summer months. The trail begins with a series of very steep switchbacks up the East side of the canyon. In certain sections, the trail is so steep that staircases have been put in. With an elevation gain of almost 1000 feet, it's definitely targeted for more advanced hikers.
Those who are up for a fitness challenge will be rewarded with some pretty nice scenery as a trade off for their hard work. Great views of the colorful rock formations pop out at many points along the uphill climb. It's just over a half mile up, although it seems much harder due to the steepness. Taking a few much needed breaks along the way will allow you to take some great photos and take in the breathtaking scenery. A note of caution to those scared of heights – the first section of the trail has a number of steep drop offs!
This trail offers a rare glimpse into the diverse trees and plant life which make up Oak Creek Canyon, a nice change of scenery from the typical cacti and scrub views you will encounter on the majority of Sedona hikes. This high desert area supports a wide range of plant life. You will find plenty of shade due to the abundance of ponderosa pine, oak, and sycamore trees. Oak Creek also happens to be one of the best areas in Northern Arizona for fall leaf peeping due to the variety of deciduous trees. Summertime, you may be lucky to see some gorgeous wildflowers. You may also see a few prickly pear cacti as these sturdy plants can thrive in all different climates and grow in altitudes up to 9000 feet. Wildlife on our visit was limited to endless views of lizards scattering around the trails, although the area supports a diverse range including black bear, mountain lion, and javelina.
Cookstove, is by far, one of the quietest trails in the area as it is often overlooked by tourists taking in the amazing sights along the beautiful Oak Creek Canyon Scenic drive. The sign is quite hard to see as you are distracted by the beauty of the area. Fortunately, this means that the majority of the time you will have the entire trail to yourself. The serene walk through the forest combined with a lack of crowds make Cookstove one of Sedona's more peaceful, less touristy feeling hikes. On one slight downside, it can be a bit noisy at the beginning due to the heavy road traffic on Hwy 89a. Don't worry – the noise begins to wear off as soon as you climb up because as at this point you will only be paying attention to the intensity of your workout and the magnificent views!
At the summit, you are treated to one of the best overlooks in town! From here, you can venture back down for a quick out-and-back hike of just under a mile and a half, or you can connect to the Harding Springs trail to make it a more challenging, longer loop trail. I recommend taking it easy if visiting during the warmer months and simply completing the out-and-back for a nice scenic, short trail. Take a break and recover from the strenuous climb before completing the much easier trek downhill. As you arrive back, you will be greeted with the smell of campfires coming from nearby Pine Flats Campground, making the experience feel more rustic and nature themed.
On an interesting side note, the Cookstove Trail was originally built to give firemen access to the canyon's wooded slopes, but is now used recreationally by hikers wanting to explore this gorgeous area of Arizona.
Tips
*Be aware that the intense summer heat can make any steep hike at high elevation feel that much harder. It does not matter if it is a dry heat – it's very hot either way, especially when climbing uphill at high altitude. Save the Cookstove trail for fall or spring – it will be much more comfortable!
*Plan your hike early in the morning. Temps will be much cooler, traffic will be less congested, it will be easier to find parking, and the trails will be less crowded.
*Bring lots of water for this trail. The short distance is misleading – this is a moderate-hard hike. Fill up a camelbak or bring several water bottles. Fill up at the spring station located directly across the street from the trail for the most delicious water ever!
*Stop for a relaxing breakfast at Indian Gardens, located just a few short miles up from where the hike begins. This fantastic local gem offers a great menu of healthy breakfast favorites and the best espresso drinks in town, along with a shady outdoor patio to enjoy the red rock views.
*Wear hiking shoes with good traction and always carry a stick for extra balance. You can find one at any local hiking store in addition to the Visitor's Center located next to Indian Gardens.
*Take frequent breaks when climbing uphill. The uphill climb in the high elevation, combined with hot weather, makes this hike a lot harder than your typical uphill hike.
*Cool down at Slide Rock State Park, a unique Arizona attraction featuring natural waterslides made out of the red rock. For a cheaper alternative, the creek can be accessed via the Huckaby trailhead located near Midgley Bridge, near the end of the scenic drive.
Hiking Details
Distance: 1.4 miles roundtrip
Difficulty: Moderate-hard depending on your fitness level and time of year (summer heat= harsher conditions)
Location: The Cookstove Trail is easy to miss if you do not look up directions in advance, hence, its' appealing secluded nature. Drive down scenic Hwy 89a until Milepost 387. Here, you will see a natural spring water station on the right side of the road. You can't miss it as plenty of people will be filling up water jugs and there is also a popular campsite right next door. You can park your car in any of the pullouts and simply cross the road to begin the hike.
There is no fee to park in this area.