Exploring Gorgeous Walnut Canyon National Monument in Northern Arizona
Walnut Canyon National Monument is one of the most beautiful places to explore in Northern Arizona. Located just 7 miles outside of Flagstaff, a day trip is easily incorporable into any vacation plans. Historic artifacts have shown that Archaic people occupied the canyon thousands of years ago. The first permanent settlers, known as the Sinagua (from the Spanish name for the region meaning "mountains without water"), lived in the area from approximately 600 to 1400 AD. Although they left behind no written history, archaeologists have learned about their living situations through various means such as exploring the rimtop and canyon cliff dwelling sites, studying left behind objects such as tools and ornaments, and comparing the Sinagua to other Ancient peoples of the Southwest.
The canyon rim was used primary for farming, mainly drought resistant crops like corn and beans. More than 20 varieties of plants, used for food and/or medicine, still exist today. These include elderberry, yucca, and wild grape. Homes were usually built on cliffsides, which faced the south and east. This was done to take advantage of the sunlight.
Walnut Canyon is a truly amazing sight. The 60+ million year old canyon is 20 feet long, 400 feet deep, and 1/4 mile wide. As you hike the trails, you will notice a diverse assortment of plant life including ponderosa pine, juniper woodland, upper Sonoran desert, mixed conifer forest, and riparian bottomlands.
Hiking at the Canyon
There are 2 trails to enjoy the beautiful scenery at Walnut Canyon National Monument: The Rim trail and the Island trail. Because of the short distance, it's best to combine both trails into a single visit. Views are great along both trails, especially the Island Trail.
The Rim Trail follows a short, easy course along the rim of the trail. You will pass beautiful ponderosa pine forests along the 0.7 mile round-trip journey (the hike should take about 30 minutes or so). There are 2 scenic overlooks to enjoy the beautiful views. In addition, you will experience some nice views of the San Francisco Peaks (on clear days). This trail is very easy and suitable for almost everyone.
Check out these great views from the overlook!
The mesmerizing Island Trail
The Island Trail is moderately challenging, with a 185 step downhill and uphill climb (not too challenging as there is a staircase, however, a great workout for your lungs and legs). The trail could be rough for the unfit, especially those not accustomed to the high elevation (7000 feet). The views are incredible, so if you are up for it, go for it, just be sure to just take plenty of breaks along the way. You will see tourists of all different fitness levels out there enjoying the tremendous views. Don't focus on how many time you have to stop, rather that you complete the journey!
Check out these fabulous views!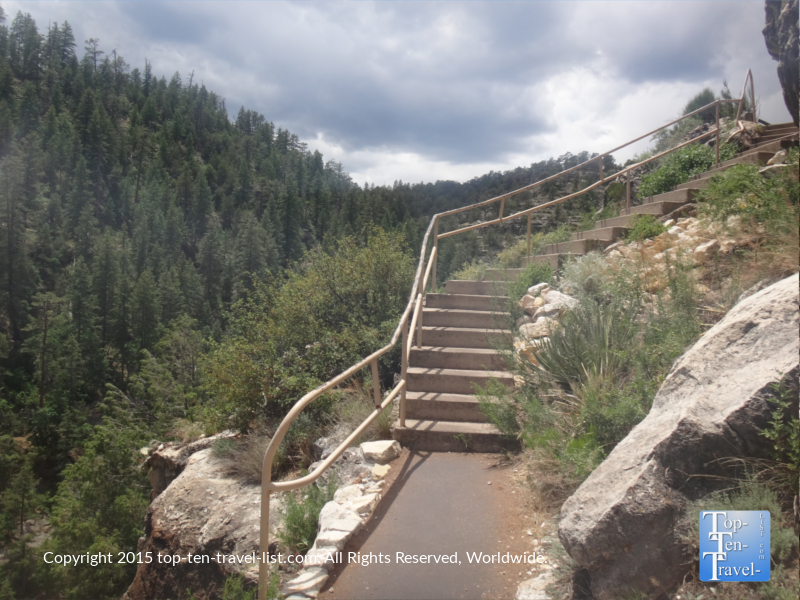 The Island trail is about 2 miles round-trip (about an hour-1.5 total) and consists of breathtaking canyon scenery, including 25 cliff dwellings. As you make your way along the mile long trail, you will come across diverse plant life, from Upper Sonoran desert natives (cactus and yucca) to pretty mixed conifer forests. It's really neat to be able to travel through such diverse scenery in such a short period of time.
Overall, both trails feature wonderful views and are well worth the short walk. Both trails combined come in at under 2 miles and will only take about 2 hours out of your day.
Wildlife at the canyon
The combining diverse vegetation and rocky terrain at Walnut supports a diverse group of wildlife, with coyotes, pronghorn antelope, wild turkeys, mountain lions, black bears, and elk as some of the more interesting sightings in the area. Wildlife will vary depending on different environmental factors. More likely than not, you will not see any major animals like bears and mountain lions unless you visit early in the morning during the off season. And even then, it's rare to see any animals out and about.
Seven Wonders of Flagstaff
Walnut Canyon is one of the "Seven Wonders" near Flagstaff. Please visit by Flagstaff: The City of Seven Wonders article to explore other breathtaking wonders in the Northern Arizona region.
Tips for a great visit
*Wear sunblock – there isn't much shade available!
*Wear your hiking/gym shoes as you will be climbing both uphill and downhill. You will definitely work up a sweat!
*Be prepared to go down and back up 185 stairs.
*Pack a picnic lunch. There are plenty of shady areas to enjoy your meal out in nature after your hikes.
*Don't hike this trail until you are acclimated to the high altitude. Hiking 2 miles at high elevation is a much harder experience.
*Bring a water bottle. You should always carry water when hiking, especially in dry, high altitude areas like Walnut Canyon.
*Hike in the morning hours during the summer months to avoid the intense, dry afternoon heat and sunshine.
Address, Hours, & Admission Fees
Location: 3 Walnut Canyon Rd, Flagstaff, AZ 86004
Hours: 9am-5pm (Nov-May 21st) and opening at 8am (May 22nd-October 31st). Closed on Dec. 25th and Jan 1st. If hiking the trails, you must arrive before 4pm.
Entry to Walnut Canyon is $15 per person or $25 per vehicle. An annual pass is $45 and thus easily pays for itself in less than 2 visits. This is a great deal if you live in the region as you also get to access Sunset Crater and Wupatki National Monument.